march madness
It's been too long since we've updated. Our biggest news in March was that the baby has made it successfully past the age where Dora went to be with Jesus. This, and the fact that #3 now kicks Abby several times a day to remind her of his/her presence, has been a HUGE relief. I told #3 in his/her baby journal that if s/he goes to heaven, it's a really great place and not to be afraid, but we are really excited that s/he seems to be staying on earth a while with us. Next week we get the "big ultrasound" where all the body parts are carefully checked and (usually) the gender can be determined. Look for news on that front next week!
A healthy pregnancy wasn't our only news in March. John and his dad had a blast at the Carolina-Duke game and came home hoarse from cheering. John has been prophesying that "the Heels will go all the way" (as he has every year that I've known him) and it looks like he's even swept the President up in his fervor.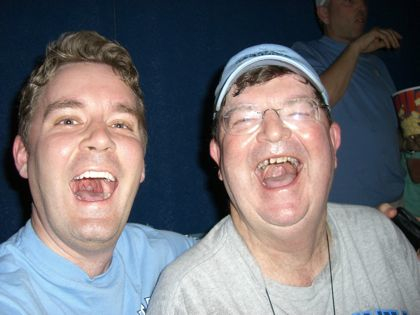 Much of our time and energy in March was taken up hosting our Japanese exchange student, Megumi. She is 20 and studying Agriculture/Biology at Shimane University, but she came to the US for March during her break between semesters (they get two months off). She took English and Bible classes during the mornings, went sightseeing with her group in the afternoons, and spent the evenings and nights with us. It's a really neat cultural exchange program run by Japanese-American Christians.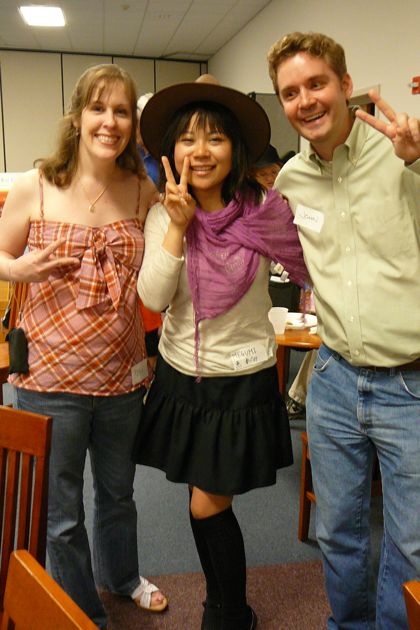 This was our second time hosting a Japanese student (we hosted Motoi in 2006), and we really enjoyed our time with Megumi. We knew she was a good match for us when we read that one of her favorite foods was cheese. Despite her humility, we found her English to be so good that we could talk about almost anything, from poetry to current events to rap music. Sometimes she stumped us with a good question, like Why are there rabbits and eggs in the stores? Other times we had questions for her, like How do you type in Japanese? or Why do you drink so much orange juice? (She would drink a couple tall glassfuls a day!)
Megumi impressed us with her willingness to help around the house, her tenderness toward older people, and her intelligent conversation. She was also willing to play board games with us over and over until we all won (wonder who came up with that idea). Some of our favorite memories occurred in the kitchen, where we made Japanese tempura, American banana bread, birthday cake, strawberry ice cream, cheese grits, catfish, sweet potato casserole, and praline cheesecake.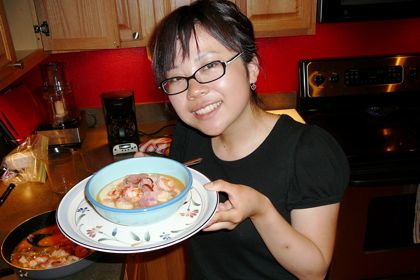 Another special memory we shared was seeing the space shuttle launch with the first long-term Japanese astronaut aboard, and two weeks later, seeing it return to Kennedy Space Center. It was the most beautiful launch I have ever seen, and I have never seen a shuttle return before (although we only saw this one on the Kennedy IMAX screen). After the crowd in the packed theater cheered, Megumi told me she would remember that moment until the day she died. After hearing that I was glad we took the trip out there!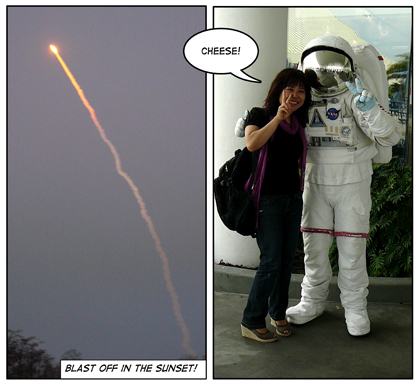 One day we talked about names, and Megu asked why Americans had middle names. My first thoughtful response was, why don't YOU have middle names? After discussing the meaning of names in different cultures, Megumi asked us to give her a middle name. We decided on Faith, because our prayer for her is that God grants her faith in Jesus Christ as her Savior.