hopes and prayers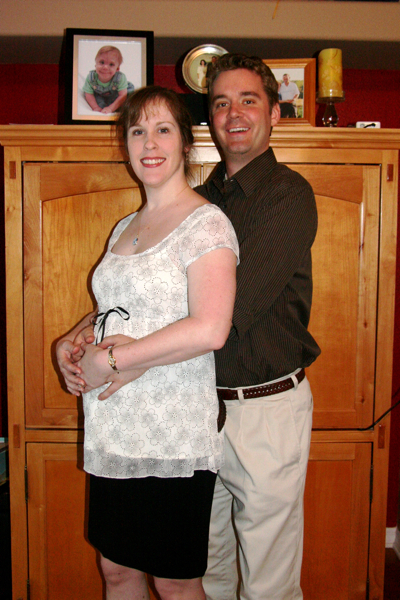 Number Three is known around the Throne. I'm not just talking about the fact that "[his] frame was not hidden from You when [he] was made in the secret place" (Psalm 139:15). Beyond His own intimate knowledge, God has appointed certain people to commit to pray daily for #3, and I don't mean just people like us and the grandparents either. Like his big brother, #3 is shaping up to be a group project that many are taking part in through intercession. We wouldn't want it any other way! His 12-inch, 1-pound case is continually before the Father, between the prayers of Jesus (who lives to intercede for us) and those of his team on earth. To all of you, thank you for praying for him and us.
Last Saturday, I was particularly glad of those prayers. Out of the blue, I experienced some slight bleeding in the morning. Suddenly the possibility that #3's life was required of us was before me, and I was not ready. The plans, the hopes, the assumptions, the complacency that had gradually gathered around my heart these last months were suddenly revealed in stark relief, as the familiar shapes of trees and structures suddenly jump out at you when lit by lightning. My faith felt atrophied and weak from disuse.
Fortunately he was kicking mightily through the whole thing, so at least that told me he was alive! After discussion with John and a few phone calls to medical people, it was determined that I should rest, drink water, and wait to see if the bleeding continued before going to the hospital. And that, praise God, is where it ended. I never had any more blood, and after some appointments this week, everything checked out normal. Number three was dancing on my bladder during Thursday's ultrasound, so I got some good views of his jigging feet, legs, and "boy parts," but unfortunately nothing above his hips. Can you see his foot next to the arrow below?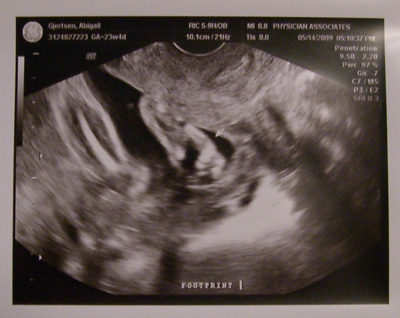 This Mother's Day was bittersweet for me. During our years of infertility, Mother's Day was a painful church service which I avoided, and I still feel a residual suspicion of any all-out elevation of the maternal. "Mother" has been a tenuous title for me since then, anyway. Two years ago I celebrated my first Mother's Day with James in the NICU, where the nurses made me a card with James's little footprint on it and taped it to the outside of his isolette. Last year I had two children to celebrate, unaware of their impending losses.
This year we enjoyed the memories we had of James and Dora, and the steady stream of kind comments from strangers who have discovered them at sweetbabyjames.info. And I have to say, I felt a lot of joy at the growing evidence of the vigorous life of #3. The hope that he represents took most of the edge off of what could have been a hard day.