What's in a name?
Valor,
Someday before you're too old you may wonder what was going through your parents' heads when they named you. The runner-up—in case it makes you feel any better—was Vigor, a name your mother remembered from a book,  Seventh Son, by Orson Scott Card. That was the first name that actually got us thinking about "virtue" names, and it would have celebrated how your physical vitality distinguishes you from your older brother, who died at fifteen months, and your older sister, who died at fifteen weeks' gestation.
Vigor would have been appropriate given how you behave in your mother's womb, shifting and kicking and growing. Last week we even caught you doing something your older brother could never do—touching your toes—and it looks like it even made you smile. It definitely made us smile: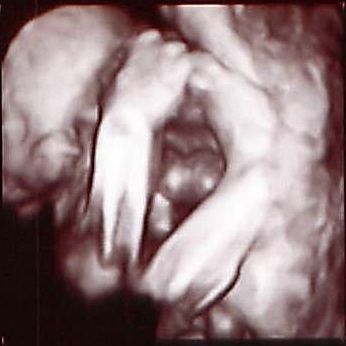 But we didn't like how Vigor sounded phonetically, and it wasn't the complete idea your dad had in mind.
The idea of valor, or bravery, captures much of what we desire for you and for ourselves. One dictionary defines it as "having great courage in the face of danger." We see true valor as acting selflessly, or for the benefit of others, where there is real danger and need, and without regard to personal loss. It's sacrificing yourself for a greater cause. Valor is not flashy, a device to garner publicity or attention, but rather a humble strength.
We started to esteem the quality of valor after James was born and diagnosed. After our expectations of a healthy, above normal, intellectual child had been crushed, the qualities that James did have became much more beautiful to us than the ones we thought our child would be entitled to. He didn't display the demanding selfishness that anyone would expect from a baby, but (for the most part) patiently accepted and endured the painful treatments he received every day. He drew upon an inner resolve, not dependent upon how he was feeling, to live and give smiles to others. This is a glimmer of valor. You don't have to wait to be a grown-up to have it.
You don't have to be a superhero, either. Opportunities to show valor often come in times of suffering or crisis, and we all experience these things from time to time. Your daddy's friend Xiao showed valor when he dealt with his brain cancer diagnosis, resolving to hope in God when the odds were against recovery. He led his family to pray, "This is the day that the Lord has made; let us rejoice and be glad in it" (Psalm 118:24) instead of despairing or demanding different circumstances. He patiently depended on his wife for everything when he lost his abilities to work and walk and talk at the age of 33.
We look forward to reading The Lord of the Rings with you, where one of our favorite characters is a diminutive gardener named Samwise Gamgee who demonstrates valor. As much as we see bravery in literature and in movies, the idea is sometimes lost in the real world, as we've found that people readily call selfish acts and publicity stunts "brave." Remember, valor is humble and sacrificial as well as brave and strong.
As much as we want this name to describe you at your best moments, we wish it would describe us, too. It's something we are hoping you will see in us as God helps us. A character of valor is more valuable than health or fitting in or intelligence. If you feel our expectation for you is high, remember, we hold it out as a goal for ourselves as well.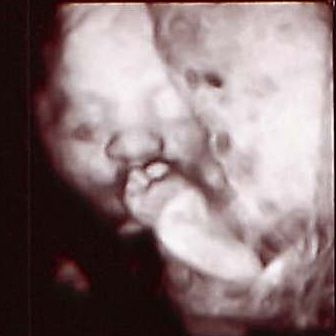 Your second name, Edwards, is after Jonathan Edwards, the great American Puritan preacher and writer. He was also the first missionary biographer (of David Brainerd).
We chose Edwards as a namesake because he was the first theologian to emphasize joy or delight in God as a part of God's character as well as the Christian's. Any valor that we possess, buddy, comes through the strength and inspiration of God, following as we would be that perfect example, Jesus Christ. But we want you to know that there is a reward for the sacrifice and the exertion of valor, and that reward is true joy! Hebrews 12:2 says. "Let us fix our eyes on Jesus, the author and perfecter of our faith, who for the joy set before him endured the cross, scorning its shame, and sat down at the right hand of the throne of God." Joy motivated Jesus, and we want it to motivate us too, rather than some heavy sense of duty or requirement. Edwards is in your name to remind us all that knowing and serving God is our ultimate source of joy.
Secondarily, as a practical matter, we wanted a more common middle name for you, in case you should choose to use it instead of Valor to blend in more as "Edward" or "Ed." (We very much wanted your name to memorialize our friend Xiao, but Valor Xiao Gjertsen would have been a little much for people, don't you agree?) The clincher that sealed Edwards for us was that Xiaojian's name means "Morning Sword," and Valor Edwards is an anagram of "Red Lava Sword," which seemed related. Sometimes your parents are as weird as you suspect. And yes, sometimes, they are even weirder.
Love,
Mom & Dad