building a fortress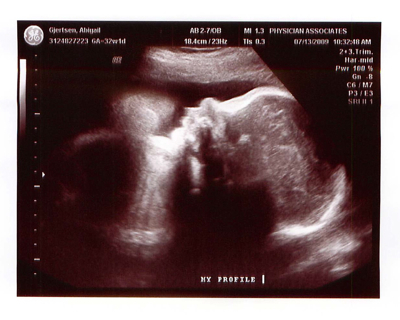 Here is the face of Valor a week and a half ago, at 32 weeks. What a chub! Look at that chin! At that appointment, he was measuring in the 64th percentile for size, estimated to be 4 lbs. 8 oz.!  We couldn't help but think of little Jamesey, who struggled so hard to get to the four-pound mark during his second month in the NICU. He hit it four or five times before he finally kept the weight on.
While Valor dreams on, hungry and stretching and growing, waking up when Mommy opens the freezer door or Daddy makes loud raspberries on his warm house, we have been dreaming up the rest of his medieval nursery.
Keying off Mom's inspiration hanging, we ordered a crib set in solid hunter green and John designed 12 shields for the crib bumper. Mom created them using a beautiful mixture of piecing and applique. We hope he enjoys looking at the bright shapes and colors.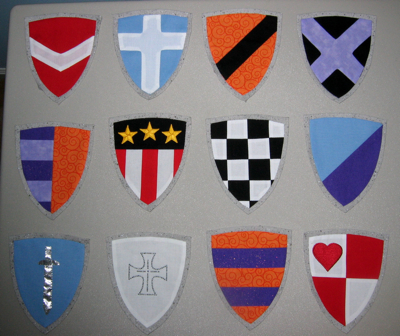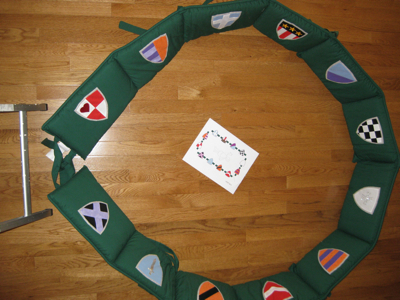 Our friends John and Jen helped us choose a light green for the walls. They came to paint yesterday, and when we moved the dresser out from the wall we found one of James's purple strings of beads, a used lancet cartridge, and a cotton ball with two spots of blood on it from a heel prick. It brought back memories of that extremely rigorous routine we kept, checking his sugar every couple hours, constant little pricks that we hope didn't hurt him very much. And the beads reminded me of how he loved to play and smile. He brought so much change with him, and left such a gap behind.
I have been trying to say goodbye to James's room for a few days now. I remind myself that James doesn't need his room now, that he has a much better room in his heavenly Father's house (John 14:2), and that he is happy for his brother to be in his old room. It's still hard for me to make the transition, though, and I think about all the times I rocked James in there and just miss my little fragile, beautiful man.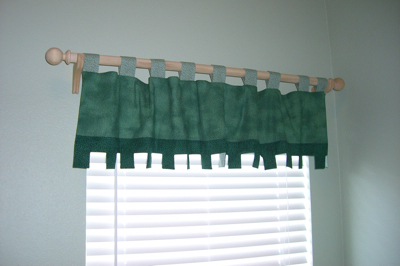 You can see the new wall color in the above photo. It matches the lightest green on the dragon hanging. Mom helped me make the crenellated valance a couple weeks ago, and I really liked the effect so I added a crenellated border to the bottom of the crib skirt  all by myself (it just takes me a lot longer than it takes her). Here it is, draped over the loveseat.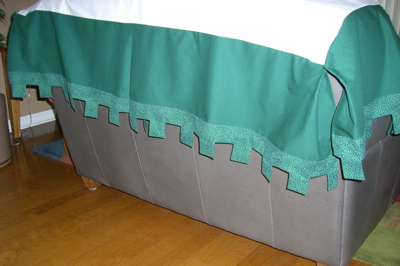 My most fun project for the nursery was the crib mobile. I couldn't find any medieval-themed mobiles, so I thought I would put little stuffed dragons on a stripped-down existing mobile. Then I came across this set of finger puppets, and decided they were lighter and cuter to boot! After they arrived, I used them to entertain a friend who was about to have surgery (you know those hospital privacy curtains that have netting on the top? great stage). John enjoyed playing with them, too: here the knight is boxing the dragon with his bare fists.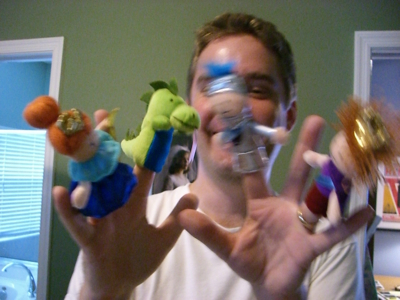 We named the knight Sir Valor and the wild-haired royal Prince Hairy. I sewed loops on their backs and weighted the people's torsos with some wooden beads, and here are the preliminary results: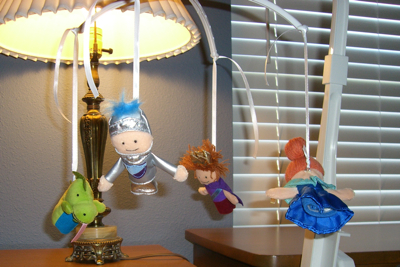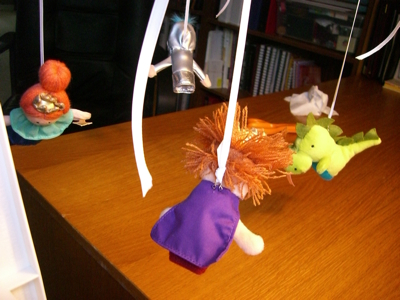 Not a bad crib mobile for under $30. So, those are the main pieces of our medieval nursery-in-the-making. Our friends the Lis are visiting for the next week or so, so we are waiting to put it all together until we have a little more space. We'll post some pictures of the final version when we do.