crafting a legend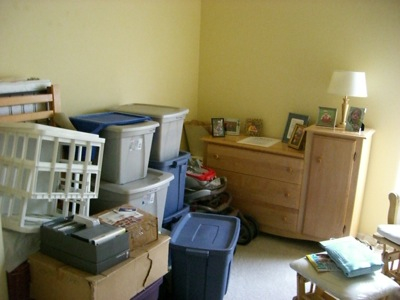 Right now the nursery is still packed up into bags and boxes. The stroller is folded into a silent crouch, and the crib is collapsed against the wall. We had originally intended to re-use James's safari nursery set for the next kid, but when he died we thought it would be better to just start fresh, though we kept most of his clothes, toys, and baby gear.
Before we named #3, we were in disagreement about how to re-decorate the nursery. I had bookmarked a cute forest animal crib set with little foxes, owls, bears, and deer. However, it also contained raccoons, an animal that John despises after some close encounters (ask him sometime). Now, John was set on decorating the nursery with a sci-fi theme. I am not kidding: he wanted aliens, UFOs, and robots going around the crib bumper, and as a concession to me he allowed that they could be smiling. (Fortunately he couldn't bookmark such a crib set because it doesn't exist.)
When we decided to name the baby Valor, a new nursery theme surfaced that we could agree on. No frogs, ducks, cars, or polka dots for this little warrior. We wanted medieval knights, castles, shields, and dragons! Tales of dastardly deeds and magical exploits and Good vanquishing Evil! However, we soon discovered that this set did not exist either, except in a glittery-pink princess format.
This was momentarily discouraging, but then John had the idea of enlisting my master-seamstress mom to help us create the look (something she would have never acquiesced to with the robot theme, let me tell you). You might remember that she made James's Children With Diabetes Quilt for Life, as well as two other traditional quilts for him. My mom sews like Michelangelo painted, and all my life I have requested the impossible from her sewing machine. She's never disappointed yet!
So we asked her to sew a medieval-themed banner to hang up over the changing table/dresser. I tried to leave all the details in the artist's capable hands, but John slipped in that he wanted a silver knight and a fire-breathing dragon.
Mom mulled it over for a while, and a couple weeks ago we got a card with little squares of the fabrics she had chosen. Today she emailed me that the banner is done! Here are some photos from her creative design process. First, she sketched the individual pieces onto grocery bags to use as templates.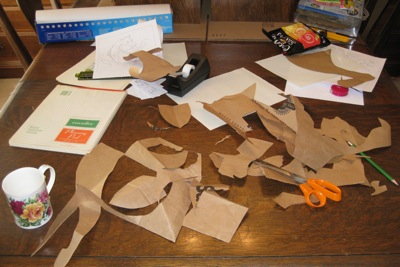 Next, she finalized the shapes and traced them onto freezer paper, which was then ironed onto the wrong sides of the appliqued fabrics.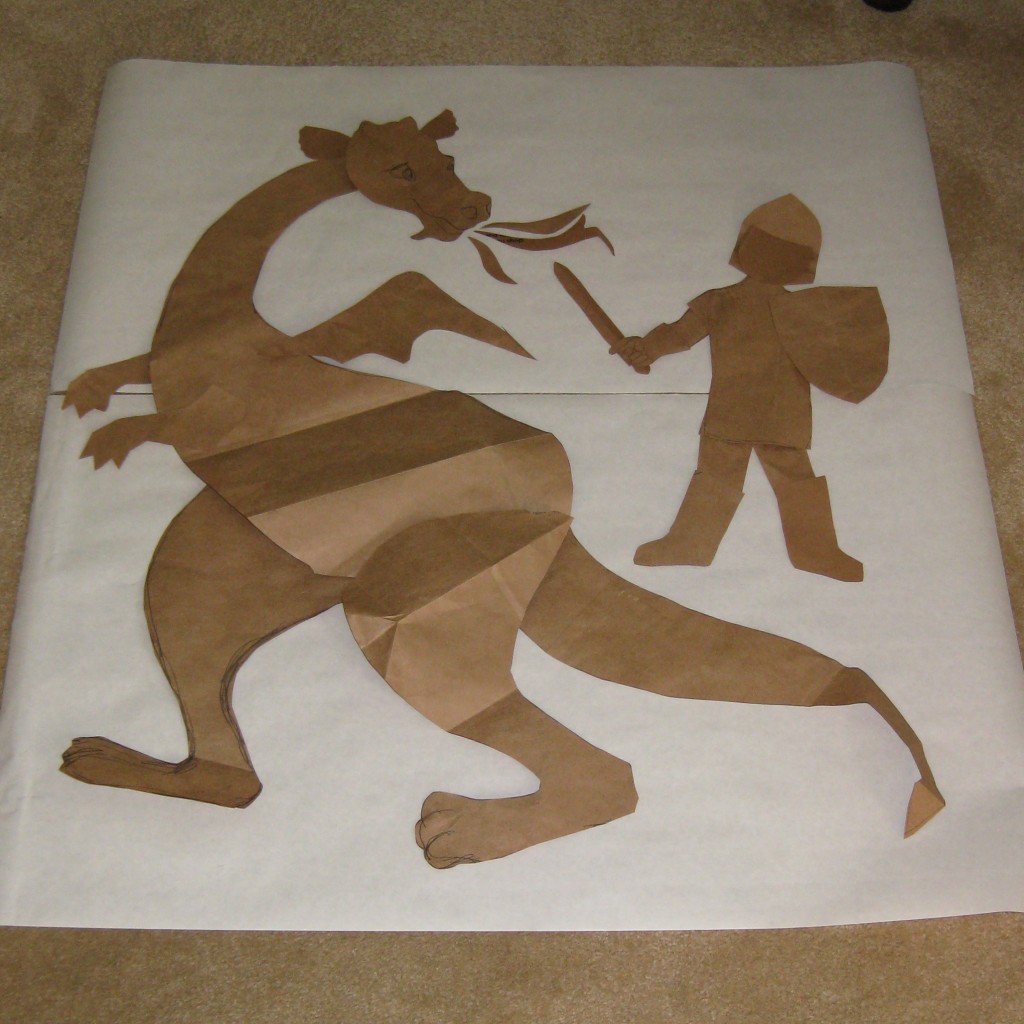 Skipping some more steps (piecing, appliqueing, quilting, binding, I'm probably forgetting a lot of others), here is the final product: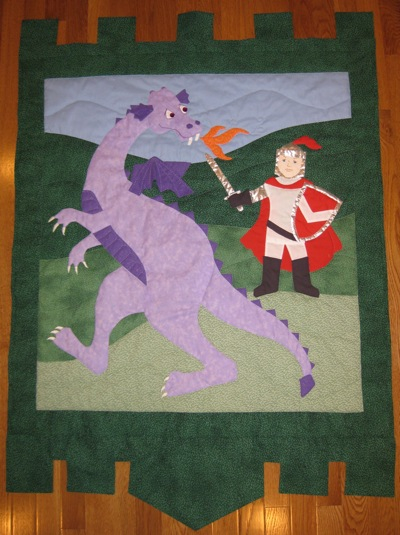 The chevron on the knight's shield also makes a "V" for Valor! Check out the look of calm determination on his embroidered face: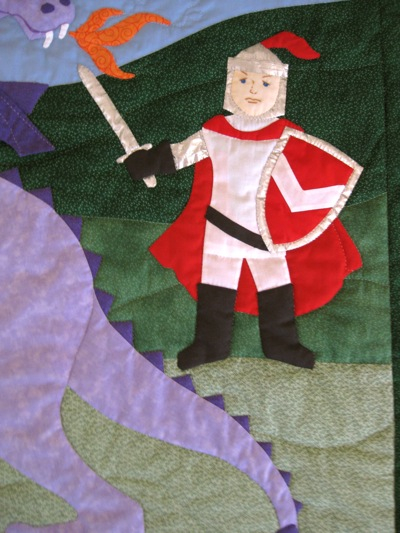 Can you see a little of Maurice Sendak's "Where the Wild Things Are" in the dragon's posture? And look at the purple jeweled eyes and 3-D wing and ear: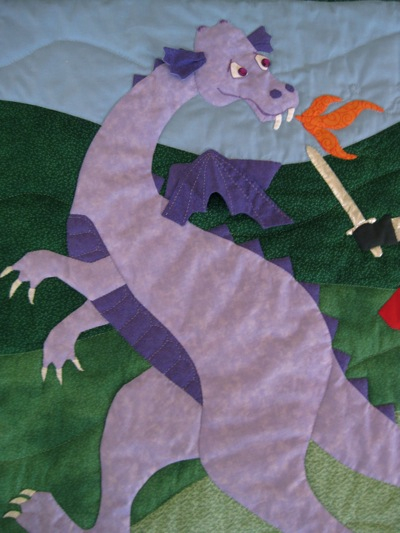 Wow. Amazing, as usual! Thanks, Mom! Valor is going to love looking at it.
We will post more as the other nursery decor is created, as well as what Design des Troy comes up with for medieval baby announcements and thank-you notes.