heraldry
This quilt and the commentary below were contributed by Valor's Grandma, Lamons.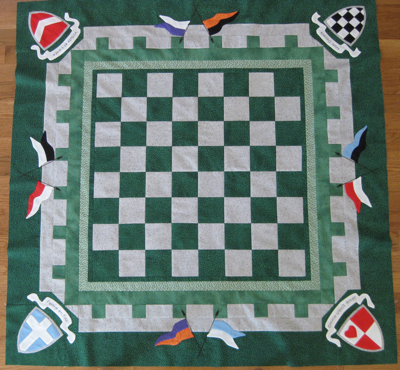 Maybe this doesn't look much like the traditional baby quilt to most people. Where are the cute baby animals, the soft pastel colors? I'll admit that my first idea was cute baby dragons chasing each other playfully around the castle walls. I still think that would have been fun.
With the medieval theme, though, my mind kept coming back to a chessboard and the game knights played in those days to hone strategic skills for battle. That became the design anchor. Shields to match the ones on the crib bumper and gay tournament pennants came next, to add dashes of color to attract baby eyes. To this I added Latin and French mottos to carry out the true medieval flavor. In looking through the mottos actually used on knightly crests, I discovered the very attributes that I hoped God would bless baby Valor with:
Virtute et Valore – "By Virtue and Valor."


I pray that he will live his life with good character and courage.

Ferme en Foy – "Strong in Faith."


May he always remember where strength comes from and stay in a close relationship with God.

Omnia Vincit Amor – "Love Overcomes All."


As Christ proved when He gave His life for us.  May Valor have the kind of love described by Paul in the 13th chapter of 1st Corinthians.

Non Dormis – "I Sleep Not."


At first this may appear to be a curse among the blessings, especially to new parents. But what the knight who bore this motto meant was that he would always be ready and prepared and the enemy would never catch him off guard…a great virtue in a military man. This applies to life. Preparation is all-important, be the challenge a homework assignment, college entrance exam, job interview or military engagement.
So the quilt kind of evolved into a prayer, a blessing and a roadmap. If the chessboard represents the playing field of life, with its challenges, complexity and occasional "checks," then the mottos tell how to achieve victory in this life and the one to come. It's also just a quilt, made with love for a special baby. I hope it will give Valor a comfortable place to have "tummy time," furnish warmth when nights are cold, transform into a tent to play in and be a remembrance of a grandma who loves him.