smiles and smells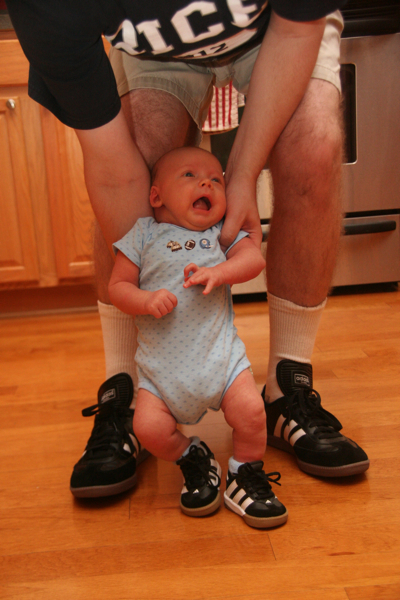 A week ago V weighed 11 lbs. 6 oz. He has been steadily gaining 2 oz. a day since he was a week old. Yesterday I started unpacking the 3-6 mo. clothes. They are the ones James wore from 8 to 11 months, and here Valor is wearing them at 7 weeks. It doesn't seem possible that they are related!
Valor gave me his first smile on Friday when I was about to feed him. It was an awkward open-mouthed smile that looked like a cry with its ends turned up. I went nuts and shrieked, "I got my first smile!!!!" I was hoping the positive reinforcement would convince him to repeat it, but he went right back to the disapproving look afterward.
No more smiles for a couple days, then I got one, then another, and today he has had the most yet. Yesterday John had 3 to my 6, but then the house decor came from behind when Valor started beaming at the leather couch and the Shakespeare posters. At least he has good taste. Today he smiled at the Halloween candy page in the grocery ad. He couldn't know, could he??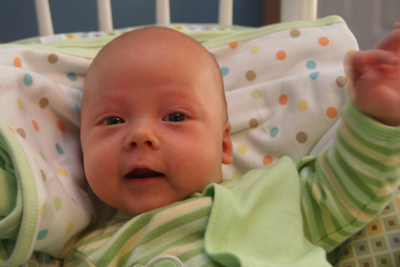 It turns out my subconscious was smart to try and delay dirtying Valor's nice clean pile of cloth diapers. I have spent the last few days trying to discover the secret of getting them back to their original neutral smell and how to correct my diaper laundry routine to keep them that way.
I had several good suggestions from my commenters, and anyone who has searched the internet for help knows that there are as many different opinions out there about cleaning as there are cloth diaper mamas. (I wish Alton Brown would do an episode on diaper laundering, because I would love to hear some scientific answers dispel the myths and contradictory advice.) Most people agree that breastfed-baby poops can go straight into the washing machine without being sprayed off into a toilet. And I had been drying my dipes outside already, so that wasn't fixing the problem either. Here is my thought process…or maybe my list of mistakes is a better description!
Valor's laundered dipes still smelled a little poopy after our first week or two, which seemed different than the ammonia smell most people complain of when they say their baby's cloth diapers stink. I thought they weren't getting clean enough, so the first thing I tried was more detergent (1/2 the directed amount instead of 1/4). Still stinky. Then I reasoned that there were bacteria that needed to be killed, so I tried a capful of bleach, which made the smell worse–like poop and bleach together.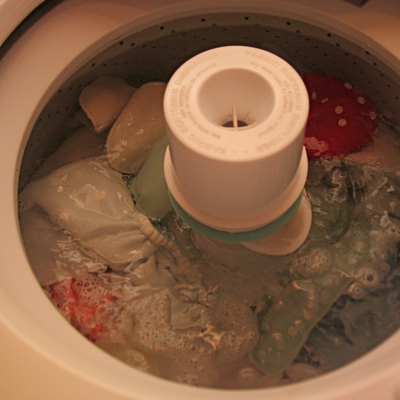 I found a routine from Catherine on borntolove.com to deal with stinky dipes, and the first step was to rise them until there were absolutely no more detergent bubbles and then dry them outside. This took 8 rinse cycles! After this stage John described them as smelling like a wet dog. So I went to Catherine's second routine and soaked them overnight with baking soda, then did a hot/cold wash with detergent and my water heater turned up to 145 degrees. I still had bubbles after the second rinse, so I rinsed four more cycles to get all the detergent out again, and hung them outside. This time the smell was gone! Yay!
But I can't keep rinsing them that many times! Most people say they get theirs clean with just one second rinse. So my new theory is that I am using too much detergent, and that buildup is trapping the smell. The next time I wash, I'm going to try 1.5T of detergent and see if that washes out with 2 rinses and still makes the dipes smell clean. If that doesn't work, I'm switching detergents.
Update @11 pm: I found I was already using 1.5T of detergent, so I cut back to 1/2T, and that seemed to work! I might even be able to get by with less. I'll keep tweaking!