sun, sun, sun, here it comes
As a financial advisor, I take a lot of enjoyment out of finding smart things to do with money. Roth IRAs are smart. 401(k)s with employer matching is smart. Flexible Spending Accounts are smart. But this fall, I may have found my hottest investment investment idea ever.
(And by hottest, I mean that it has a surface temperature of 9941 °F.)
"The sun is hot, the sun is not a place where we could live.
But here on earth there'd be no life without the light it gives."

— They Might Be Giants
Yes, the House of Gjertsen has gone photovoltaic!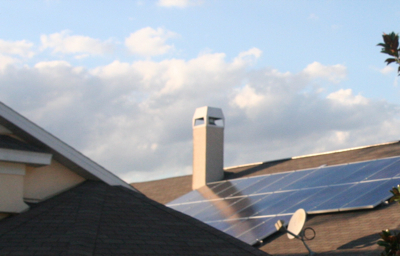 To understand how this happened, I need to back up a few months. I was driving home from work, feeling the Florida sun beat down on me because I was trying to maximize my fuel efficiency by not running the air conditioner. It dawned on me (ha ha) that if the intense sunshine we get in Central Florida could only spin my electrical meter backwards, it would feel a lot less uncomfortable.
I did some research. Turns out Central Florida is rated merely "good" in terms of sunshine, measuring at something like 5.5 "sun hours." There are places out in California and Nevada that get even more sunlight. But the other factors which make a house a good candidate for solar power are:
A southern facing roof.
No significant tree shade.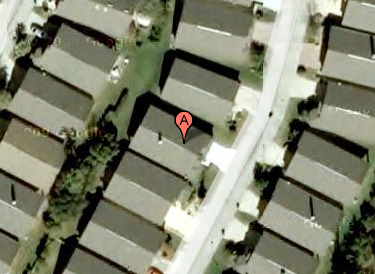 Check and check.
Doing a bit more research, I discovered that:
1. For the past couple years, Florida has been stimulating investment in solar power through a rebate program that offers $4/watt, maxing out at $20,000 for a 5 kilowatt residential system. Though it's a very popular program and seems perpetually to be out of funding, it has so far been able to apply for and receive funding from two federal sources which are, in turn, funded by the American Recovery and Reinvestment Act of 2009.
2. Also incorporated into that gargantuan piece of legislation was a more generous credit for Residential Energy Efficient Property. The income tax credit for solar used to be limited to $2000, but for 2009 it is 30% of the full installation cost, without limitation.
3. With solar energy technology becoming more affordable, production of solar panels was starting to really take off just about the time that the financial system collapsed, and the recession's effects rapidly reduced their demand. Like most of the rest of the economy, prices fell further. I interviewed three solar installers in Central Florida, and ultimately decided to go with Solar Ray. Not only was their pricing the most competitive, but Michael Brown, who designed our system, holds a prestigious NABCEP Certification for Photovoltaics. (As someone who goes after national certifications, I favor rewarding the most educated.)
The Nitty Gritty
So a 5,040-watt system is $30,000. Assuming the state rebate of $20,000, and the federal tax credit of $9000, it really doesn't cost a lot! And a system of that size should generate an average of around 24kWh of energy per day (so far I'm getting less, but the daylight hours are shorter and it's been a little cloudy). At the prices that Progress Energy charges us (13¢ per watt and rising), I expect to save about $100 every month on utilities (if I ever produce more than I use in a month, Progress Energy cuts me a check!)
In case anyone else is analytically-inclined, I created a spreadsheet which breaks down the value proposition of a photovoltaic system in terms of NPV (Net Present Value) and IRR (Internal Rate of Return).
For those who are not accustomed to NPV and IRR, these are methods typically used by corporations to evaluate various capital investments. NPV analysis looks at every expected future inflow or outflow, and discounts their weights according to the time-value of money using a required rate of return. Any NPV greater than zero means it is equivalent in value to receiving that amount of money right now. IRR, on the other hand, is a way of measuring the return on investment. In a series of uneven cash flows, the IRR represents an even rate of return which is equivalent over the life of the project. (Another way of saying this is if the IRR were used as the discount rate to calculate NPV, NPV would be 0.) Any IRR greater than the required rate of return is a good investment.
Okay, so some of you are like, "um, that's more corporate finance than I ever wanted to know, and uh, where are the pictures of Valor?" Patience.
The spreadsheet goes over my assumptions in more detail, but the bottom line is that if Florida pays the rebate, it's a slam dunk—a complete return of capital invested in a few years. And even if Florida doesn't pay the rebate, the project has a positive NPV (although it puts more considerably more stress on the assumption of resale value). And that's even using a required rate of return of 5%—which is a lot higher than the 0.17% interest I was earning on the $30,000. Don't have that kind of liquidity? I'm certain most people could get a low-interest renewable energy loan at much less than 5%. Don't live in Florida? There are actually quite a few states and municipalities and utility companies who are subsidizing photovoltaic installations. You can find out what's available where you live at http://www.dsireusa.org/
Smaller Footprints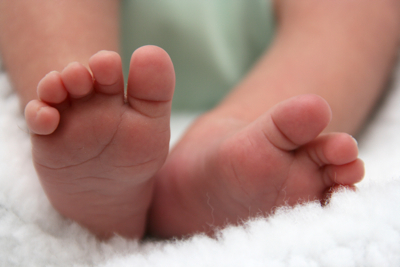 (there… there's your picture! Get it? Smaller footprints!)
Although our decision to put solar panels on our roof was undertaken as a financial investment, at the risk of stating the obvious, it is also what financial types call a "socially responsible investment." I'm not sure I believe all the hype about climate change, but I'm trying to educate myself. Whatever the case, I'm happy to reduce my CO2 emissions, and especially happy I can substitute a renewable source of energy for fossil fuels. I want to be part of a generation that strives to leave this world in better shape than we found it. I'm still somewhat of a neophyte at it, but that's how I understand the whole idea of sustainability. Now that we finally have a child who may inherit this world from us, it has become a little easier to understand.