wise guy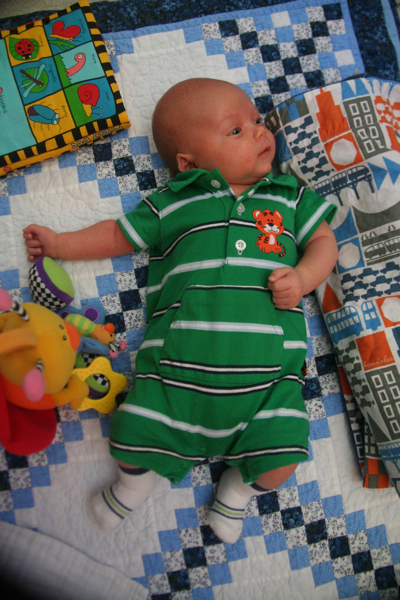 Sunday morning, Valor peed on me, spit up into my cupped hand, and launched the largest booger I've ever seen onto my shirt. But all that was okay, because Saturday night, he slept through the night.
Yes, the elusive grail of every new parent: Valor slept 7 hours without waking up to eat, for the record at age 5.5 weeks and probably about 11 lbs.. We thought it might have been a fluke, because we had worn him out with a couple of events that day, but the next night he slept 6 hours, and last night he slept more than 7. (Now if we can just get him to stop yelping randomly while he's dreaming, maybe I could sleep that long, too.) It looks like BabyWise worked for us, or maybe Valor was just born wise.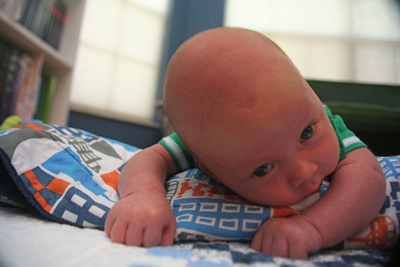 On Saturday, I also finally started cloth diapering. I looked deep within myself to discover why I was procrastinating, and besides waiting for a quiet day with no major trips out of the house, I realized that I was putting it off because I didn't want to get the nice clean cloth diapers dirty. Ah-ha! The insidious truth. So I laughed at myself and we got "going."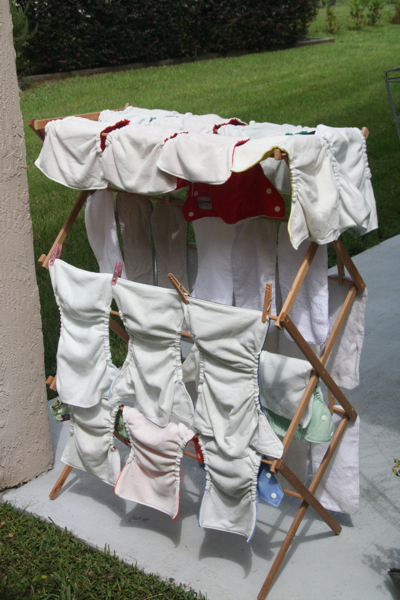 When I was a baby my mom used a cloth diaper service, but it was my best friend Susan (the photographer) who convinced me to try cloth diapering with Valor. Both of us would like to be a part of saving the earth, but what we really need is to save money; so when she told me cloth was not only environmentally, but also financially friendly, I was interested. Between her patient explanations of how she does it with her girls (ages 2 and almost 4) and a thorough set of written instructions from another friend, I felt equipped enough to try out cloth diapering. I'm using Fuzzi Bunz pocket diapers and inserts, most of which we bought used on ebay; Purex Free & Clear liquid detergent; and Wahmies diaper pail liners.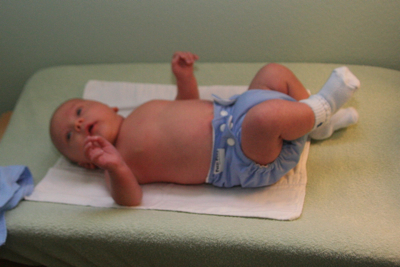 I can't say, like some other mom testified, that Valor loved them as soon as I put them on him. He was pretty fussy, actually, probably from my squeezing him as I tried to figure out how tightly to snap them. I have also learned that you can't "knock off" newborn poop into the toilet like you can older kids' poop (it's too liquid, sorry TMI), so I just leave it on the diaper to be washed. And, so far, they are coming out clean, but sometimes one will have a little lingering smell, so I will be troubleshooting that. Other than that, it's going fine. I am not even doing diaper laundry quite as frequently as I thought I would have to.
So, how does Valor feel about all these new developments? Does he feel more rested after more consecutive hours of sleep, or more or less comfortable in cloth diapers? Does he appreciate Daddy making raspberries on his leg, or Mommy's kisses or songs? We don't know, because he still maintains what looks like a disapproving, skeptical glare over most things. This kid is hard to impress!