man of the cloth, pt. 1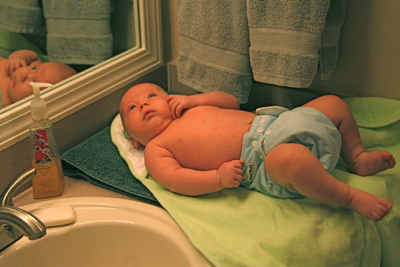 It's been two months since I started cloth diapering, and after the first month of learning, the routine has been smooth and—gasp—even fun. I never thought I would say that about anything remotely connected to poop! To help me on my way, I had advice from some friends who CD'd, plenty of internet searches (lots out there, much of it contradictory), and good old trial and error. I'm going to try and share some of what I've learned for the interested newbies out there. Maybe it will save you some time and headaches.
1. Selecting cloth diapers
Modern cloth diapers aren't your mother's cloth diapers. They are shaped to fit the booty so there isn't any crazy origami folding unless you still want to use prefolds (the cheapest option). The newer brands of diapers have wacky names like Happy Heinys [sic] and BumGenius. There are a lot of diaper types and brands out there, so look around if you want options.
My experience is with one type of pocket diapers called Fuzzi Bunz Perfect Size, which were highly recommended by a few friends. Some sites call them "the Cadillac of cloth diapers"; in fact, a recent survey ranked pocket diapers as the favorite cloth type, and Fuzzi Bunz as the most popular pocket brand. Pocket styles are a good choice for humid climates like Florida because you can separate the thick absorbent insert from the pocket part for faster drying. I went with Fuzzi Bunz Perfect Size, which meant I had to buy smalls, and then (very quickly, since Valor grew fast) mediums, rather than the One Size Fuzzi Bunz because the Perfect Size type got better reviews. Most kids won't need anything bigger than mediums before they are potty trained.
I also like Fuzzi Bunz because they are easy enough for the GPs, husband, and hypothetical babysitter to use. Not rocket science. They also hold their resale value (see below). Here is Valor, now in his big-boy mediums: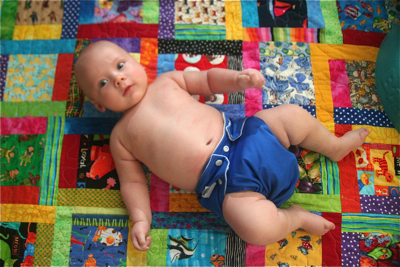 2. Buying cloth diapers
It's cheaper and totally reasonable to buy good-quality used diapers, which you can do on ebay or diaperswapper.com or craigslist. However, there's always a buyer beware aspect to these transactions. I would ask these questions before you buy:
How many do you need? (this page has a chart) The more you get, the less frequently you do laundry. On the other hand, you want to make sure you like CDing before you get a huge stash.
Are they the size you want? (see here for Fuzzi Bunz' sizing chart)
Are they stained? Can you handle it if they are?
Do they come with inserts or not? (note that polyester inserts can pill the fleece on the natural-fibered dipes, so you want to stick with non-synthetic inserts, even though they dry slower)
Are they new or old style Fuzzi Bunz? (old style has pointy tabs, less top stitching, and less elastic—new style is superior)
Is the elastic still springy (not crunchy or flat)?
Does the seller accept returns for a refund? (in case you get a really crunchy, flat set like I did once)
Is the PUL still sealed well?*
*I had an issue with the PUL (the waterproofed side) separating on three of the used diapers I bought on ebay (the seal peeled away from the colored cloth layer). The original owner emailed me her receipt and Mother of Eden replaced them with NEW dipes, even though the damaged ones were a few months out of warranty. They even threw in a couple free packs of cloth wipes! So I can attest that Mother of Eden/Fuzzi Bunz customer service is great, especially if you have an original receipt.
Your baby is going to be in size small a pretty short time (until about 6-8 mo. for non-Valor-sized kids), so getting used size smalls is a good deal—they won't be beat to death by the previous owner. Once you get to the mediums you are more likely to find that used sellers have a set of really wiped out dipes, since their kid has worn them for 2-3 years. If you prefer to get a set of new dipes, this site has free shipping, and has provided Valor with a bunch of spankin' new beautiful mediums (thanks GPs!!!).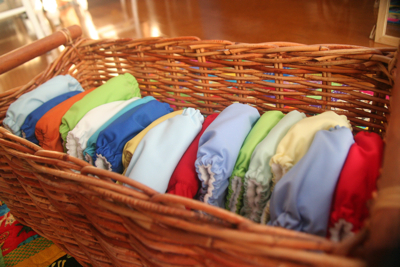 3. Getting Started
I started Valor on cloth when he was just over 1 month old. The poop frequency dialed back about then, and that's also about where I regained consciousness from the walking sleep of new parenthood. He was already well into the size smalls then. I got 15 small dipes to start with, and changed him after each feeding, about 8 times a day. I wash a load every morning because it takes all day for them to dry outside.
I still keep disposable dipes on hand for when we travel or go out for extended periods, although I asked for some little wet bags for Christmas so I can start using cloth on the road more.
So what else do you need besides the dipes?
2 large pail liners to fit an 13-gallon trash can (I used Wahmies, but there are many kinds); getting two allows you to wash one while you use the other
a 13-gallon trash can with a tight-fitting lid and a pedal mechanism for hands-free opening (Target)
eventually you'll want to switch to cloth wipes (you can buy or make these yourself easily by zig-zagging some fleece or flannel; just make sure it's not polyester so it doesn't pill your dipes); I have 3 10×5″ and 12 4×5″ right now
I just wet the wipes with water and stack them in a plastic container, but you can buy special "wipes solutions" or cubes, or easily make some yourself
I spray 10:1 diluted California Baby wipes solution (available at Target) directly on his bum for tough dried-on poops (sorry, TMI). It soothes his skin and smells great
a lot of people like diaper sprayer or scraper toilet attachments. I haven't gotten into that since V is still on breastmilk only, and his poops all dissolve in the wash; maybe later I'll need one…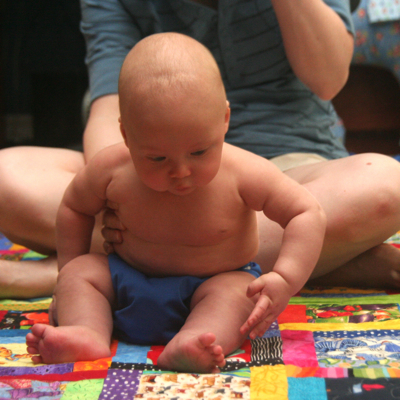 4. Change me booty
You have to wash the dipes before their first use (it actually takes 3 initial washes to get the inserts to max absorbency). When dry, stuff the insert into the pocket and tug at it until it's flat. I usually do this before I store the dipes in the drawer, so they are all stuffed and ready to go.
Grab a fresh dipe and snap it on. Fuzzi Bunz have a bunch of snaps so you can choose the ones that fit your baby as s/he grows. I use trial and error (i.e. wet clothes mean it was too loose) to determine if the settings are right.
Once it's snapped on, you are not done! Reach around the back and make sure the tag and the fleece are not hanging out the back of the dipe. Tuck it all inside. If you don't, it will wick the moisture out the back of the dipe and get his clothes wet. If you have it on properly, leaks will be pretty rare.
Ready for a change? Unsnap the wet/poopy one, clean him up and snap on a new one. Then step on the pedal of the trash can (that you've lined with the pail liner) and shake, shake, shake the insert out of the pocket (without touching the poop). Drop the insert, pocket, and any cloth wipes you used into the can and you're done.
Next time I'll cover washing and drying the dipes. The routine has turned out to be much easier than a lot of the ones I've seen described.