touch of grey
"The glory of young men is their strength,
gray hair the splendor of the old." –Proverbs 20:29, NIV
In December 1962 my father rode home from a hayride with three of his best buds. They all fell asleep and the car hit a tree, hurling my dad through the windshield (no seat belts back then). He broke his upper and lower jaws on both sides and still bears a network of scars on his face from the glass cuts. My grandmother, who was 40 years old at the time, said that it was so traumatic for her that her hair turned grey because of it.
I struggle with a fear of aging. It's tied up with my vanity. Youth has buttressed the scant helping of looks I was apportioned to begin with, and the thought of losing the tight, smooth skin or plain, brown hair color makes me terrified of becoming less desirable as well. Not just to my husband, but to my culture that is obsessed with beauty, charm, and newness. I wouldn't always be the hip, fun teacher; the sexy wife; the energetic young mom…
My fears started to subside after having James. My priorities shifted, and life was a little bit less about me. If I had stretch marks all over my stomach, or a c-section scar that marred my "bikini bod," it felt like there was a good reason for it. Like a badge of courage, saying: "I made it through a difficult, scary time, I learned about my limitations and about sacrifice, and I am wiser (and more filled with faith) because of it." In fact, when I read a scientific news article naming stress as a cause of grey hair, I remembered the family tradition about my grandmother and was kind of surprised that I didn't turn grey after having and losing James and Dora. (Yes, I know that stress is not the only factor for greyness.)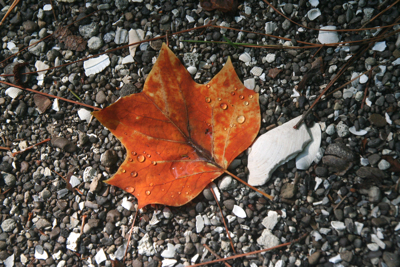 But the other day I pulled some of my hair back to put into a barrette and noticed a hair in the middle that was kinky and lighter than the rest. Was it blonde, or was it…? I looked closely, and sure enough, it was my first grey hair. My first, strong impulse was to yank it out! Get rid of it! (Denial is one of my favorite coping mechanisms.) Then I tried to make the best of it: it's curly! I've always wanted curly hair. Then I struggled to remember why grey hair seemed cool not that long ago. Then I thought, I'm not stressed; this is about the least stressful time of my entire adult life (no school/job/family crisis). Why am I getting grey hair now, instead of two years ago?
Then I realized, this grey hair has been growing for a while. How long? I figured out the growth rate of my hair from the short pieces that have been growing back in since Valor was four months old. I carefully measured the grey hair, pulling it to its full, un-kinked length. I counted back to the time it was "born"… June 2008. What happened in June 2008?
Ah. That was the month our daughter Dora died for unknown reasons (at 16 weeks' gestation). And suddenly, that grey hair became a precious thing. A mark of suffering, a strand of memory, a link to a dream of our little girl.
Happy Birthday, Dora Jewel. You are still our precious gift, waiting to be unwrapped.
Note: I'm turning off comments for this post only. Stay tuned for a Valor update!