Finding a home: Part 1
About 70 days ago, my Facebook status was:
Friday night : finding a replacement for Gino's Pizza :: Sunday morning : finding a replacement for Orlando Grace.
Both endeavors have left me hoping there's something else out there.
All the colons, above, are the Aristotelian notation for an analogy. Since 2005, I understand analogies have been eliminated from the SAT. Kids these days… how can we expect them to think logically?
I digress. This post is not about analogies.
Nor is it about pizza—though I'm happy to report we did find a reasonable approximation of Gino's at Mario's in Havelock. (However, their pizza comes with two extremely thin paper plates wedged under its edges and no serving utensils, so we bring our own plates and silverware. Makes us look really odd, but have you ever tried to cut pizza with a plastic knife?)
No, this post is about finding a place to worship God in small town, USA.
But first, here is the obligatory photo of our little speed racer, without which I'm sure I'll get flamed in the commentary: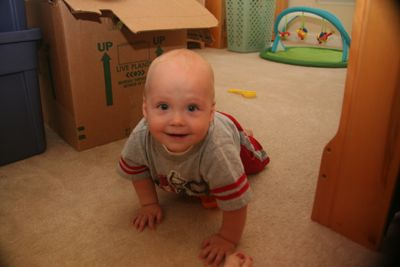 By brief way of background—for those who have not known us well, who maybe stumbled into our little "House" from Epbot—Abby and I are Calvinists. In a nutshell, that just means that we believe in a God who is not thwarted by anything, whose perfect wisdom and love and supremacy are revealed in the Bible. We believe—and our lives bear testimony to this reality—that God is all about rescuing sinners from eternal punishment, the just consequence of our sin.
We all start off as enemies of God, believing that we know better than he does, and thinking that he is forbidding good things out of meanness when we read his rules for a happy life. But God loves us and wants us to be part of his family, having mercy on us without compromising His holy justice toward our sins. He accomplished this through the atoning death of his son Jesus, which is the gospel—his very own blood paid to punish our guilt. The nuance with Calvinism (or monergism) is that we believe God actually saves the elect, not merely makes salvation possible to all; the rescue starts with the Rescuer, not the choices of men and women who the Bible describe as dead in their sins. In every heart that cries out to God for mercy and desires to be a part of his family, the Holy Spirit has first done a work of regeneration to first incline it to act that way.
Ah, such boring subtleties these must seem to some. Let's see if Shai Linne can help make it more interesting:
Anyway, that's our background and how we've come to understand our own adoption into God's family. Where we've moved to, there's a pretty strong historical influence from Free Will Baptists and Wesleyans, who take a different view of grace. While we affirm that many Christian denominations make up the Church as a whole, whether they agree with us or not, our hope to find a congregation with a similar understanding of grace limited our choice of churches.
Additionally, Abby and I are emotionally-motivated, sing-at-the-top-of-our-lungs kind of worshipers. (That's probably why we got married: we could actually stand next to each other in church and hear someone besides ourselves.) The church we left back in Orlando was a good fit—it had instruments that plugged in as well as an intentional connection between theology (what we believe about God) and a heartfelt affection to God. No doubt that's a relatively new style for reformed churches, influenced by leaders like John Piper and C. J. Mahaney.
Well, we knew in advance that New Bern was probably not going to have a carbon copy of Orlando Grace. But we've spent a lot of time looking for one, which has been the most discouraging part of this whole adventure of moving. In the lack of a local fellowship to connect with, I've felt the kind of dulling or stalling-out of my faith. Last week I found the phrase "ineffective or unfruitful" in this passage particularly unsettling:
For this very reason, make every effort to supplement your faith with virtue, and virtue with knowledge, and knowledge with self-control, and self-control with steadfastness, and steadfastness with godliness, and godliness with brotherly affection, and brotherly affection with love. For if these qualities are yours and are increasing, they keep you from being ineffective or unfruitful in the knowledge of our Lord Jesus Christ. —2 Peter 1:5-8
Prior to making the decision to relocate, I emailed a questionnaire to several New Bern churches. I guess it's no surprise that the most encouraging response came from a pastor who's church we're now prepared to join.
Tabernacle Baptist Church is a historical church in downtown New Bern which has been around since the 1800s, but has been led for about a year and a half by a young pastor with a shepherding heart, Scott Gleason. I've corresponded with Scott via email and at lunches on a couple occasions, and Abby and I are convinced that Tabernacle is where we're going to peg our tent, so to speak.
We've been greeted very warmly there, and have been encouraged to see a wide spectrum of generations worshiping there together. Scott is a fine preacher, and strikes me as a patient, peacemaking man, with a heart that beats strongest for discipleship.
So tomorrow we'll probably do the (awkward, to Abby) Southern Baptist thing, and walk down the aisle during the invitational, formally expressing our desire for church membership.
It doesn't match exactly the template we were looking for in terms of doctrine or worship style, but there is enough there to make it work. Perhaps we'll have to bring our own plates and silverware. (Not really—I'm drawing an analogy.)
Tonight we celebrated a hard search completed with a pie at Mario's.