Snips and snails and puppy-dog tails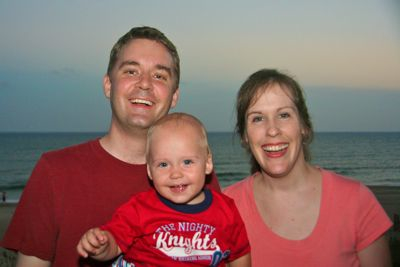 Sorry we have been so long between posts! We have been very busy moving, traveling every weekend to various family events, and slowly cleaning, unpacking, and settling in to our new house. There are a million projects to do, and a million things to get at the hardware store! But we are really enjoying it. We'll post more on that later.
Thank you to all the friends who let us know last week that you were remembering James on the anniversary of his death (8/20/08). John and I watched the videos of his life and wept over him again for the first time in months. Two houses and two years later, it's easy to feel disconnected, like it all happened to someone else. Looking back on that time of grief, I thought of Psalm 124:
1 If the LORD had not been on our side—
let Israel say–…

4 the flood would have engulfed us,
the torrent would have swept over us,

5 the raging waters
would have swept us away.
I don't know how else to explain how we survived that time and still had any joy, hope, or faith. I recalled how much it ached not to have his weight in my arms, those first days. And this year, our merciful God has filled my arms again.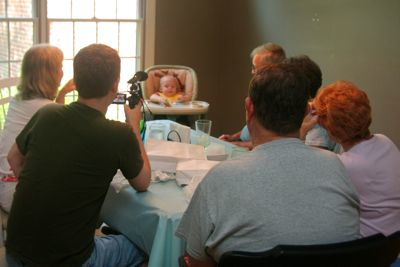 Today all the Supergrands gathered for a very special occasion. Today Valor (who is already wearing 24 mo. clothes) officially graduated from being a baby into being a little boy (and one who likes cake!):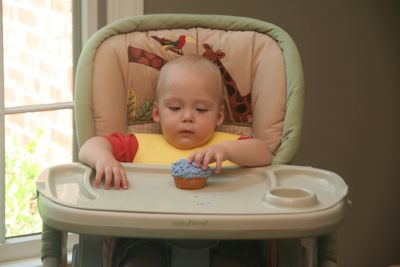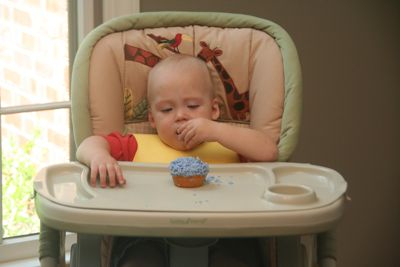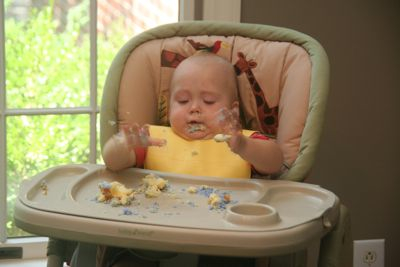 When we take a walk, if Valor sees a dog (even from quite far away) he does this excited high-pitched "squeak! squeak! squeak!" and opens and shuts his fists. This, translated, means, "I really like that and want to touch it!" He also does it for the cartoon frog on Baby Signing Time and whatever food his parents are eating (to get us to give him a bite).
So of these three choices of Valor's apparent favorite things (besides his grandparents), we decided to go with dogs for his birthday theme. No, we didn't get him a dog! But I did cobble together a dog cake. Necessity being the mother of invention, I was happy with how it turned out. In case you are interested, here is the process.
I started with a box mix which made 1 loaf cake (baked at 300° for about 40 minutes, then 325° for 17 more minutes), plus 6 cupcakes and 6 mini cupcakes (325° for 18 and 10 minutes respectively). In hindsight it would have been better to make a jumbo cupcake (using a custard dish) in place of a couple of the regular-sized ones. I had to send John out to buy a large muffin.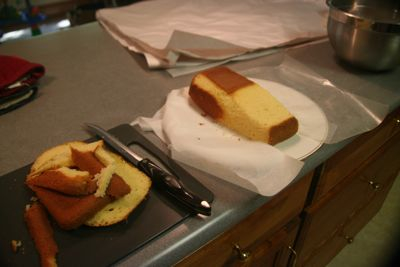 Cut off the crown of the loaf cake, turn it over, and shave it so the butt is higher than the front of the body, and take off those boxy corners.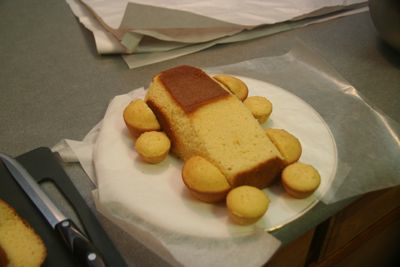 Split the cupcakes and use them for legs, and the mini cupcakes for paws.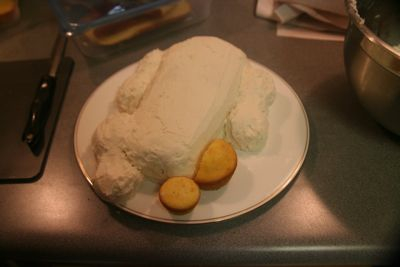 Frost it all in place to get the crumbs to stay put.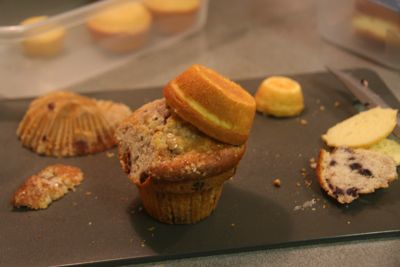 Up to this point I had thought through what to do. This is where it got crazy. I cut off a plane of the jumbo muffin (it was really a regular sized muffin with a puffy top), cut off the crown of a regular cupcake, and stuck the two flat surfaces together with 3 toothpicks. This is the head and snout.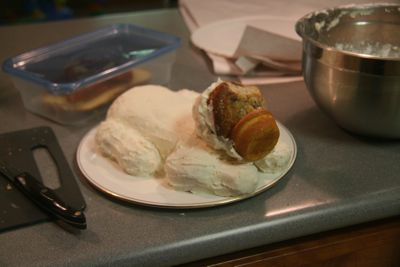 Frosted the bottom and back and stuck it in the bod with a popsicle stick. The snout is resting on the front paws, so that helps with the weight problem. When I started frosting the front, my knife pulled away and created this little whisker. That inspired me to do lots of whiskers and make him like a Scotty-type dog.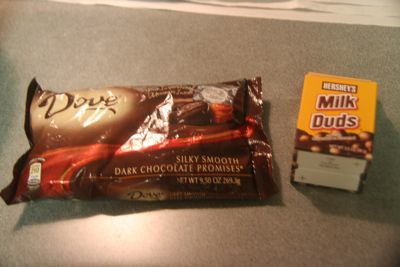 Here are some of the accessories I used, along with buttercream frosting and a square of melted chocolate almond bark. The Milk Duds are the eyes.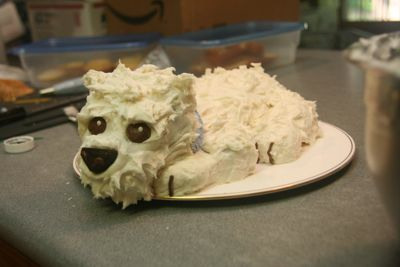 Chop off the top side of a Dove and you have a nice doggy nose. I piped the paws and the tail with the almond bark on wax paper, below (I made a few because they were fragile and I needed backups).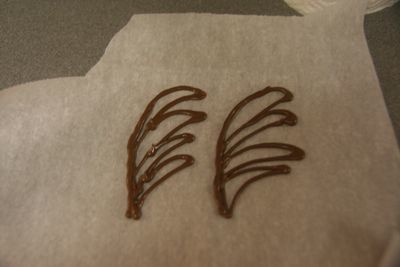 I started to do a red collar out of some decorating gel I had, which was a disaster. It was runny and made the dog look like someone had slit its neck. So I put some gel coloring into the rest of my white icing and made a blue icing collar to cover the mistake. Then I realized I didn't have his name on it anywhere so I piped "Happy Birthday" and "Valor" on the cake plate.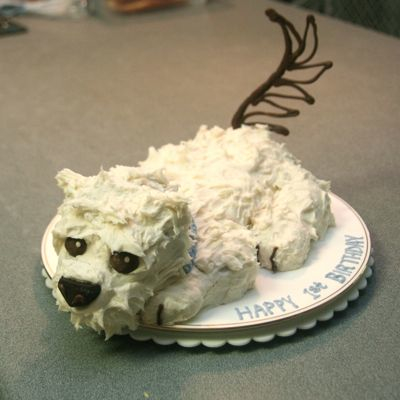 I think he liked it! He seemed to recognize it as a dog-like thing, because he squeaked a little.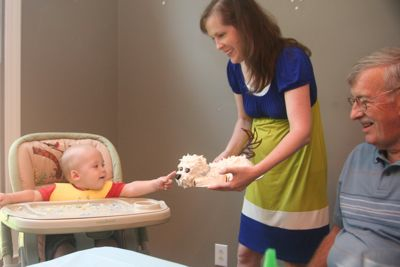 He even pulled off the Dove chocolate nose and ate it!
Valor had a great time opening presents (he is just starting to get the hang of tearing the paper, and has stopped putting it all in his mouth) and just had a blast playing with his toys and his GPs. Chase-crawling is big fun right now. So is curling ribbon.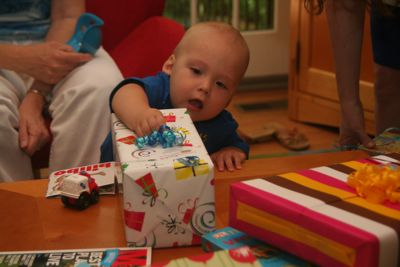 Happy Birthday, Valor! May you say one day, with the psalmist,
"You brought me out of the womb;
You made me trust in You even at my mother's breast.
From birth I was cast upon You;
From my mother's womb you have been my God." Psalm 22:9-10
Enjoy this slideshow of his life so far, and praise God with us as we celebrate the gift of Valor Edwards!