boy wonder
I'm pretty strict on what I would consider a "real" first word. It has to be clear that he knows what he is saying, not just babbling a string of sounds that happens to sound like a word. When Valor was about ten months old, he said "six o'clock" (with several witnesses present). However, he repeated it right after someone else said it, he had no idea what it meant, and he never said it again. So I didn't count it.
At his one-year checkup, I told the doctor I was a little concerned that Valor didn't say any words yet. He could sign a few things, like "more" and "all done" (really just a big arm flail for the latter), and plenty of "ma-ma-ma" and "da-da-da," but not in conjunction with anything meaningful. The doc said not to worry, the language light bulb usually goes off by around 18 months.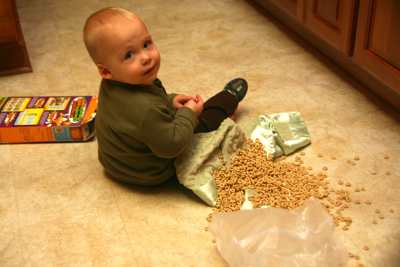 Sometime later I read that between 1 and 2 the toddler's brain adds more that 2 million synapses (connections between brain cells) every second. By age 2 toddlers have more than 100 trillion synapses, the most they will ever have in their lives. This period is called "synaptic exuberance." What must it feel like to get so smart, so fast? To learn and form connections without even working hard at it? And all while everyone around you keeps treating you like a baby?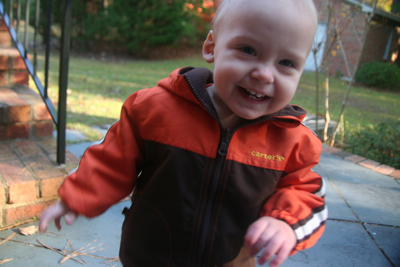 At 14 mo., Valor started walking confidently, no longer needing to hold onto a hand. About the same time, he said his first real word. Not "Mommy." Not "Daddy" (that was his third word). Not "juice," or "ball," or any of the things I have heard people give as typical first words. Valor's first word:
"Wow."
Yes, I'm kind of embarrassed to admit it. I guess we do say "wow" a lot in the House of Gjertsen. I counted it as his first real word because he always uses it in the context of wonder or amazement, often while pointing at something he likes, wants, or wishes to comment on. His tone of voice is admiring and impressed. He really seems to understand what it means.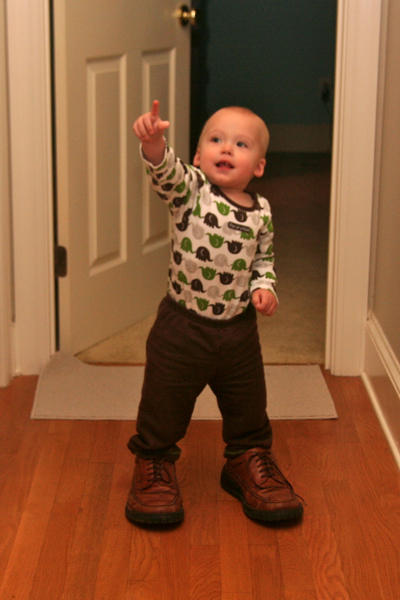 As flattering as it is to be pointed at and regaled with an admiring "Wow!" whenever I walk into his room and find him standing in his crib, it also seemed like a pretty linguistically poor term to be impressing on a little mind. If I were grading a paper, I would mark out most instances of "wow" and request that the writer try to say something more emotionally descriptive. But after thinking about it, I hope Valor's first word says something more than just the fact that his parents' slang needs some updating. I hope it means that our house is a place of wonder, of encouragement, and celebration. I hope I say "Wow" (or the trendier equivalent) many, many times to Valor as he grows up. I hope we continue to express thankfulness and amazement at a son normal in every way his brother was not, and unique in his own ways.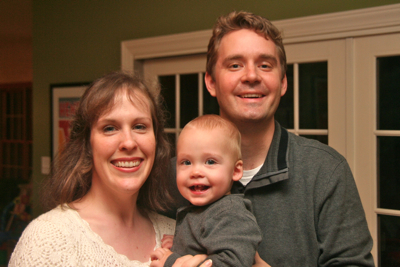 Valor got a lot of mileage out of "wow" when it was his only word. It was appropriate in so many situations! Eventually he added "go," "Daddy" (still no "Mommy," right now we are both "Daddy"), closely followed by "doggie," and "all done/gone." "Read" comes out "wee," but we are working on it. He understands at least 20 more words, a fact which can be demonstrated by asking him to point to certain pictures in his books. (Another recent example: He loves potato chips, which he can have at lunch if he finishes his other food. Last night when we sat down to dinner, Valor looked unenthusiastic. John said, rhetorically, "Where are the chips?" and Valor paused, looked at him, and turned around and pointed hopefully to the top of the pantry.)
With all this synaptic exuberance ahead of him, "wow" seems like a good place to start.