Christmas in Florida
Valor spent his (second) Christmas in Tallahassee, home of his Grandma (who is indicated with an approximation of the sign language for "Grandma") and Grandpa (whom he started calling "Papa" on the 12-hour trip down there). Their big present for him was a shiny red wagon. When he saw it on Christmas morning, he pointed and said, "Wheel, ohhhhhh, wheel!" "Wheel" now lives in our garage, and every time we take him out to the car he exclaims, "WHEEL!" and we're pretty sure he's not talking about the Prii.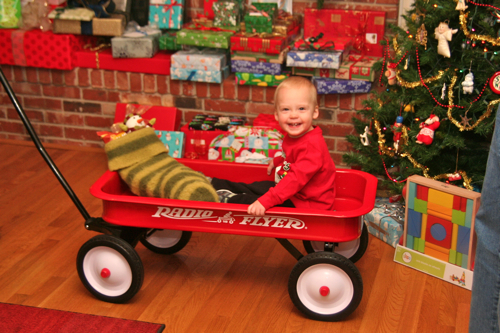 Speaking of wheels, he also got a little fold up garage with ramps for his smaller Chuck & Friends wheels. I love the action shot of Handy the Tow Truck careening backwards down the ramp, all wheels in the air, while Valor claps his hands in approval: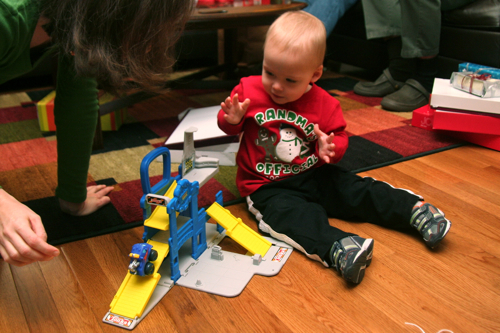 One of our gifts to Valor was a tool set with a cordless drill. It comes with two bits, one of which is a Phillips driver which can screw plastic bolts into and out of the toolbox. It also has a hammer and "nails" for when he's feeling less focused. I definitely felt the joy of having a boy when I saw his excitement at being "just like Daddy."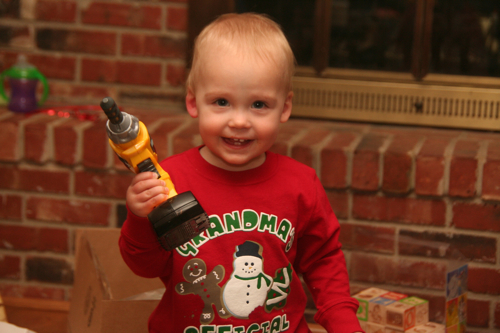 This year Valor also learned about gingerbread men, which his talented Grandma made quite a stash of. The only confusing thing was that Grandma wore a pin which Valor correctly identified as a gingerbread man, except that it was made of plastic: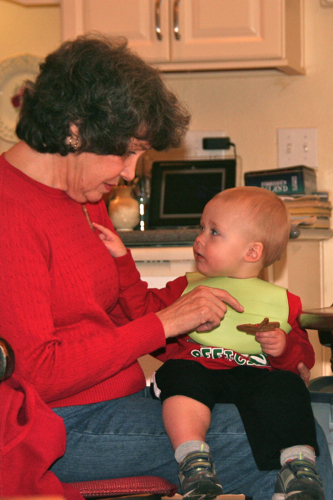 All things considered, Valor did very well on the long car rides and behaved very nicely in spite of the overwhelming amount of gifts he received. It really helped that he had no conception of Christmas that made him expect anything.
Judging from some of the comments we've received recently, we've had a fresh surge of new readers of late. As a special way of greeting some of the newcomers, as well as providing some post-holiday entertainment for the regulars, it's time for something that has become a recurring feature at the House. That's right, sharpen those pencils, because it's time for another…
drumroll…
Double Crostic!!
OK, try to contain your enthusiasm. I'll remind everyone of a few things:
Please don't use the comments on this post to spoil the answer for those who are still working on the puzzle.
However, feel free to use the comments to ask for hints, or read clues I'm willing to offer.
You are welcome to use any external resources, including the internet. Incidentally, I don't personally think that is cheating, but I do try to design the clues so the internet is only slightly helpful. That said, those puzzle purists who desire a challenge may be able to solve it internet-free. At least one person already has.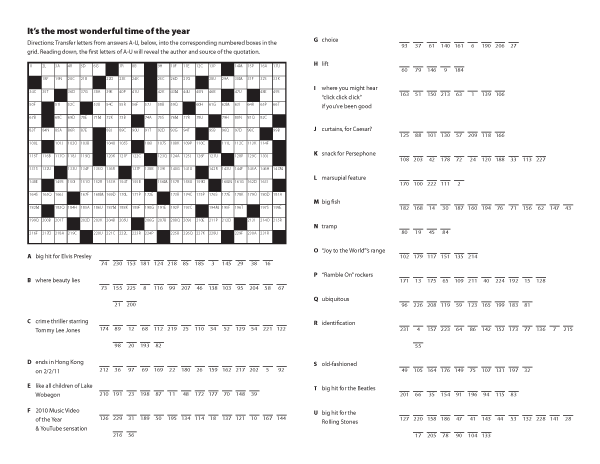 Click on the image above to get started!
Happy New Year!