pure joy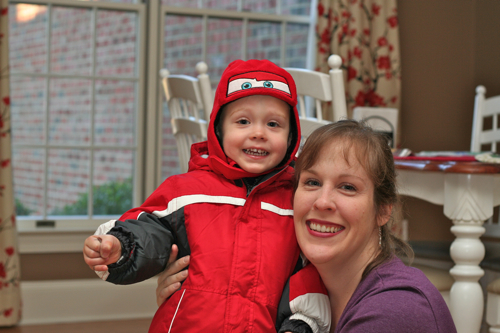 We've fallen behind on our updates, sorry about that. I don't have a great excuse except that our holidays with different parts of the family stretched through most of January, and then we also had some troubling news about #5 that we didn't want to burden our parents with. It's hard to write when you can't write what's on your heart, so I didn't. So first I'll update you on the baby, and then catch up on the rest.
At my high-risk ultrasound in mid January, I was expecting good things because we already knew #5 had made it past our miscarriage point, that his brain looked properly separated, and that everything seemed to be on track. The ultrasound tech didn't give me any other impression, so I was surprised when I was called into an office and given a sheet of paper titled "Clinical Significance and Genetic Counseling for Common Ultrasound Findings."
She explained that #5 had a cyst on each side of his brain that could point to a chromosomal problem, namely trisomy 18 (an extra copy of chromosome 18 in every cell). If he had it, he would have major medical problems as well as mental retardation. He would probably not live to his first birthday. He didn't have any other markers, so she put the chances of him actually having the trisomy at 1%. But there was no way to know (since I didn't want to risk an amniocentesis) until further along.
Sitting in her office, I felt surprised but foolish for being so. I of all people should have learned by now that there are just no guarantees. Quickly I felt myself shift into my old special-needs-parent mode, asking lots of questions, very clinical, turning off my emotions until I could indulge in tears later. But it wasn't the same as when I first heard about James's problems. I didn't linger in denial, for one thing. I also didn't feel despair. Instead I felt the strength of God bear me up, the Holy Spirit reminding me to accept what God sent as something that He could use for His glory. Thank You, God, for strengthening our faith through trials (James 1:2-4).
After that, on the way home, the tears came. John and I decided not to worry the GPs with the information since the trisomy was not a likely outcome. In fact, if someone told us that there was a 1% chance that something was wrong with our baby, we would think those were pretty awesome odds considering how many things can go wrong overall. So we tried not to think about it other than to pray and ask a few others to pray. But it did make it a little harder for me to work on picking out a name, getting a room ready, and things like that.
If #5 had the trisomy, he would have difficulty swallowing the amniotic fluid so he would be very small and there would be lots of fluid around him. This would show up on an ultrasound in just a few weeks. So yesterday was my 24-week ultrasound and I was straining to see the gestational age as the tech drew her little ovals around the head and stomach. The estimated age, based on the size of these body parts, ranged from 23 weeks and a few days to 24 weeks and a few days. The leg bones measured for 25 weeks!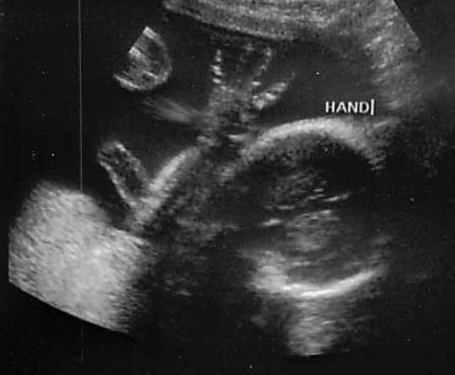 So #5 is not too small, in fact, he's going to be another tall boy like his brothers. Almost certainly with no extra chromosomes. Thank You, God! Now I have this mental picture of a family portrait with me, John, Valor, and a younger brother. A child to keep for a while. Someone to grow up in our House.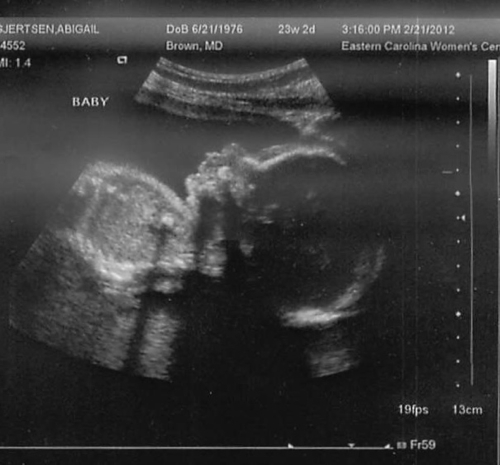 So, Valor has been a busy boy since we last spoke. He is still crazy about letters and trying to make words. Also still crazy about tractors, food, and his grandparents.
With his Nana and Papa Bill on Christmas Day: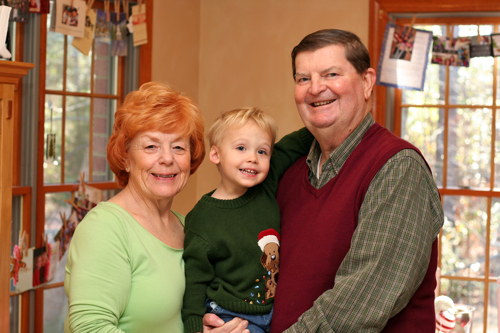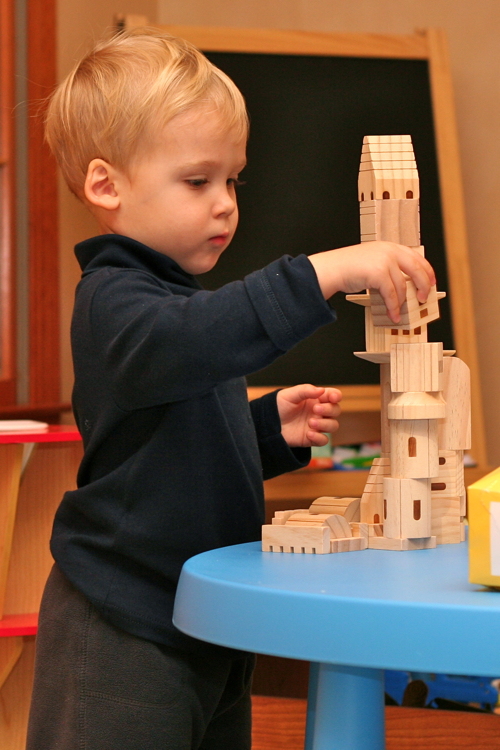 We drove down to Florida to see my parents while my dad recovered from his heart bypass surgery. He's doing very well! Valor loved the time with Gaga and Papa.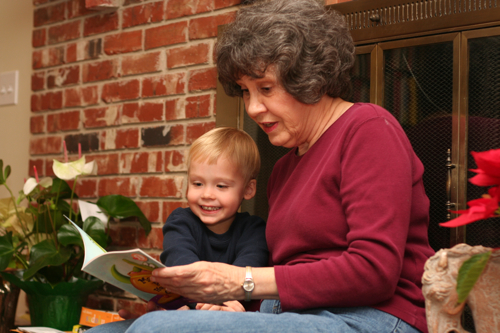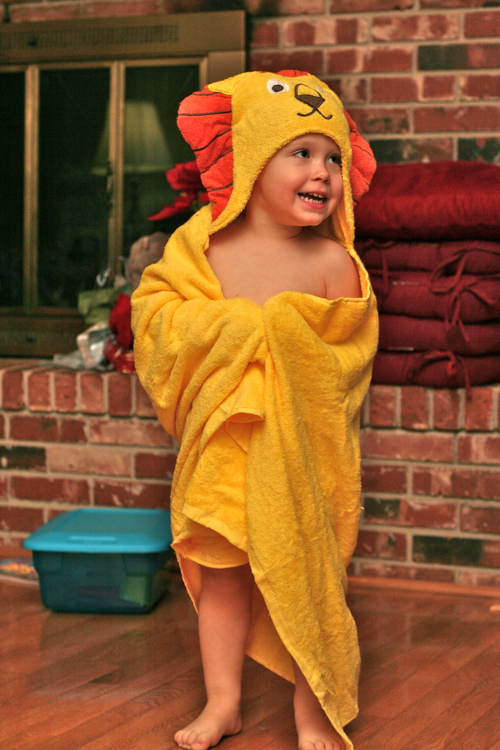 We also saw John's brothers and sisters-in-law in January for a late Gjertsen Christmas in NC. Here they are showing Valor how to fingerpaint. After they left, Valor said, "Where are my lot of uncles?"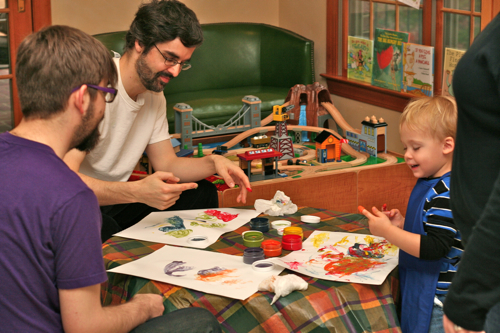 My friend Martha came from Raleigh for a quick visit with her 3.5 little ones: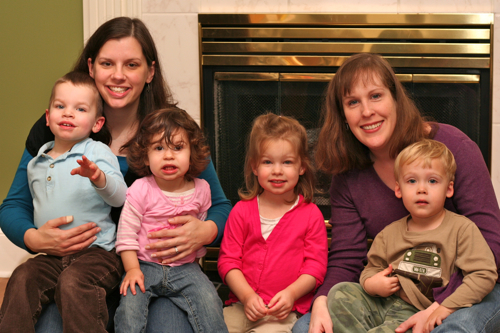 And we got to go to the Carolina-Virginia basketball game with our friends from Orlando, Josh and Cheree: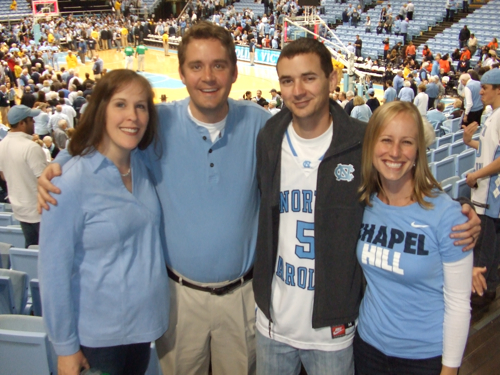 They dedicatedly tried to teach Valor to play UNO. He loved the tractor pictures on the cards they got him. Valor had the biggest tantrum he's ever had the night after they left. One of the things he was yelling was, "I want Miss Cheree!" I know he wishes he could have traded me in!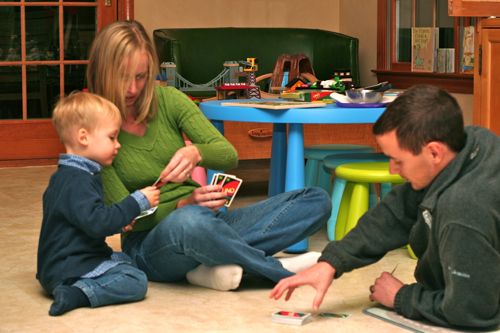 Valor has a bathroom stool so he can climb up to brush his teeth and wash his hands. Recently he realized that he could transport the stool to other parts of the house to access items a little more freely. Now nothing on the countertops is safe. John has dubbed the stool "the siege engine."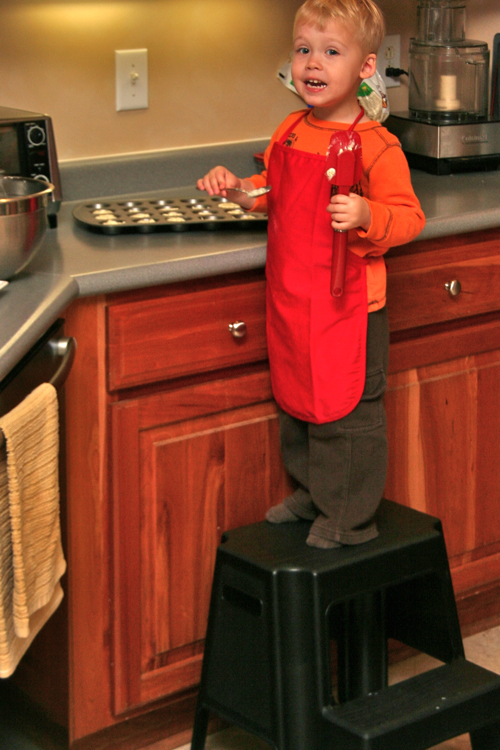 Imitation is the sincerest form of flattery. If Valor sees me put on an apron, he wants to have one and cook with me. If John works on the car with his tools, Valor runs for his hammer and screwdriver. When it's time to cook the bacon, he gets out his pan, tongs, cloth bacon, and fusses until I give him a plate and paper towel to soak up the imaginary grease.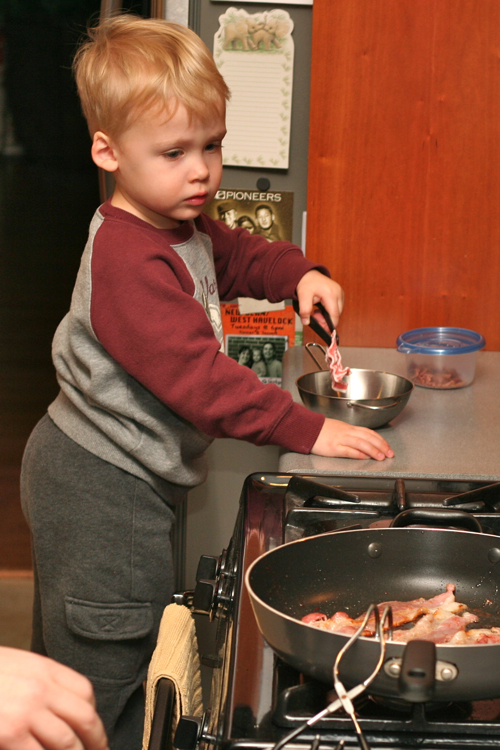 Valor is learning to sound out words. Today he spelled out "GO" by himself without me even being there. I think he might start to read soon. He's also started a little bit of letter writing. Holding the pen correctly is the hardest part.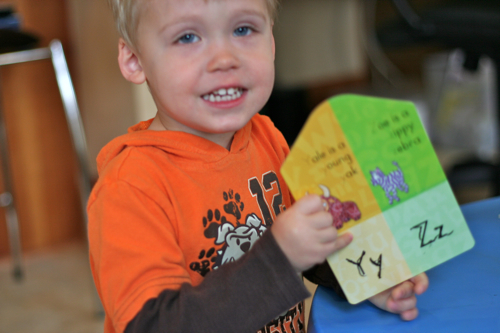 The last couple months, Valor has suddenly begun to sing. His favorites right now are "All Creatures of our God and King" and "This is the Day." It's really fun to sing with him (although he doesn't usually hit the right notes) and I hope it's a long time before he becomes too self-conscious to sing with me.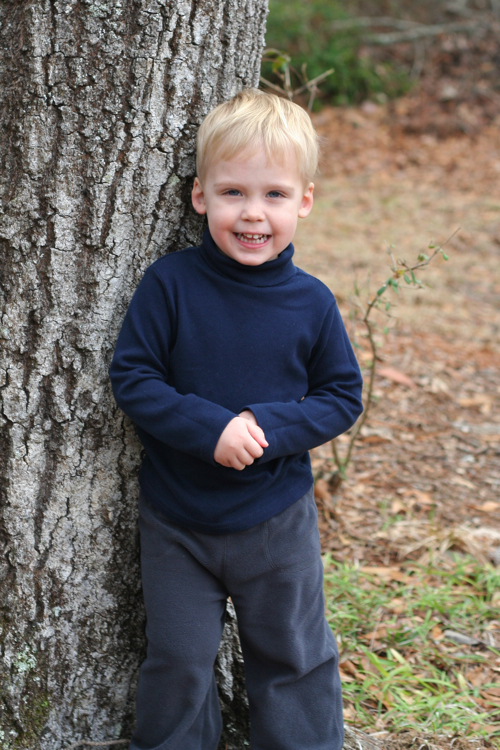 Today John walked into the kitchen with a demented grin on his face. I asked him what was so funny, and he said he was thinking about the puzzle he is making for the baby's name.
Yes, we have a name. Yes, you will have to solve the puzzle to see it. I'm not sure when it will be ready, but if no one is able to solve it, I think John will consider himself successful. My c-section is likely to be June 4 or 6, so if you skip the puzzle, you will find out then anyway!