man of the cloth, chapter the last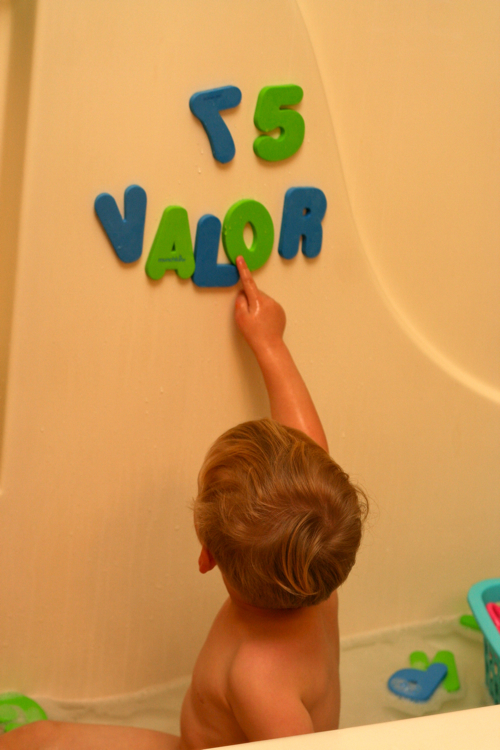 It's been way too long since I posted about cloth diapering. But tonight as I put what I think might be Valor's last load into to the washing machine, I figured it's now or never. So if you don't want to read about diapers and potty training, you can skip this one (or just look at the pictures)!
A lot of what I said here and here hasn't changed, but a few things have since I wrote my first two cloth diapering posts. For one thing, I had said that a friend told me I'd only need Fuzzi Bunz Perfect Sizes S and M. Now I know that my kid is bigger than my friend's kid (Valor hangs out in the 90th percentile), so he has been in FB size L since he was 6 months old. Now he's stayed in that size for over two years, but full disclosure, I had to get 3 separate stashes of S, M, and L. That increases the financial outlay for cloth (thank you, Grandparents).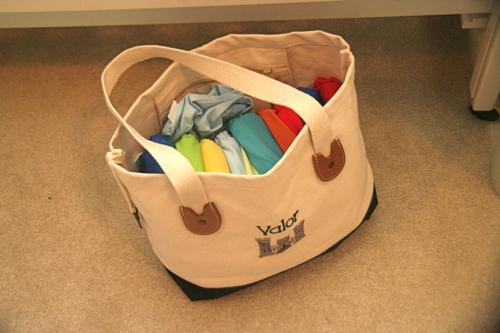 Another thing I learned a while back: I tried traveling with cloth, with lots of cute wet bags and so forth, and it was just too much of a pain in my opinion. So I regularly switch him into paper diapers when we go out for a long time or for the weekend or for church, etc.. I could make an exception if I were going to stay at someone's house for several days that was friendly toward me washing diapers in their machine. But with having to bring the diaper detergent, figure out the amount for their washer, etc., I just find it easier to let it go for a while.
Valor also had problems with recurring impetigo rashes on his bottom from about 1-2 years old, and the medicine for it was suspended in a petroleum jelly so I had to switch him to paper whenever I was treating him for that (so as not to goop up the cloth dipes). The doc said the rash had nothing to do with his using cloth diapers. But treating it was another reason to have paper dipes on hand.
Also, around 12 months old I started double-stuffing the nighttime diapers to absorb the extra nighttime pee. That means I put in 2 inserts instead of 1. I think the Fuzzi Bunz size M and L use the same size inserts, so I just pilfered a few from the M set to add in at night. I have a few "seconds" diapers that ran larger than normal, so I used them at night with the extra stuffing. I never had problems with leaks, but I do not think that Valor is a "heavy wetter."
I never got a diaper sprayer to squirt off poops into the toilet; I just used toilet paper. Even when using disposables, I roll off the poops (once they are less liquidy) into a toilet, so the trash is less toxic. Valor uses less diapers per day than he used to, so I wash about every 3-4 days instead of every other day now. As far as detergent, I have been happy with Rockin' Green, one bag of which lasts me a year. I have been a little disappointed with the scents; they never smell much at all to me when I put them in the wash; but I have never needed to "strip" my diapers since I started using RG because the diapers have stayed clean and absorbent. I just got a bag of the new "Soft Rock" to try with the new baby, and I'm curious to see if that formula gets more stains out than the Classic Rock. I don't use Publix Free & Clear on my dipes anymore because there is no Publix around here, curses! though I still beg my parents to bring me detergent when they visit.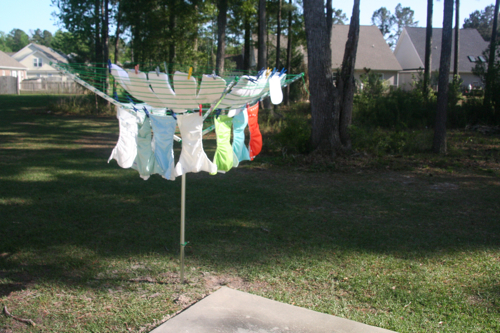 When we moved to coastal NC from Florida, a few things changed about my routine. The water here is soft, but not as soft as our water softener made it in Florida, so I use 2 teaspoons of detergent instead of 1. It's not as convenient to hang them to dry, and half the year they could hang outside all day and still not get dry because there's just less sun time than in Florida. So I use the dryer 95% of the time and just ignore the stains that I might be able to bleach out in the sun.
A couple nights ago I watched Valor cavorting in his footie PJs with a giant double-stuffed diaper making his butt look so big and cute, and I realized my little baby is just about all gone. Today completed his first week of potty training, and–thank the Lord–it has gone well! I used the book Potty Wise by Ezzo for a lot of what I did.
We had a false start in February when he saw me buy the potty chair and got really excited about sitting on it. I didn't think he was ready yet because he never told me he had to go to the bathroom, and never complained when dirty or wet, and disliked having to get his diaper changed when it was dirty or wet (he wanted to keep doing whatever he was doing). This proved to be true; Valor had no idea how to consciously will the pee to come out, and it really tore him up because he wanted to do it so badly. After about a day and a half, we decided to withdraw from the field with honor and try again later. I also decided during that false start that I had to get him training pants, not just cloth underwear, because it stressed me out too much to be worried about him having accidents in the house.
I blocked off the week after Easter to try potty training again because we didn't have any outings, so we could stay home and stay focused. Valor is just over 2.5 years old now, and although he still hates stopping to get his diaper changed, and still doesn't indicate awareness that he's about to let loose with anything, he's more self-aware of his bodily functions. I think the time since the "false start" might have actually helped awaken him to that.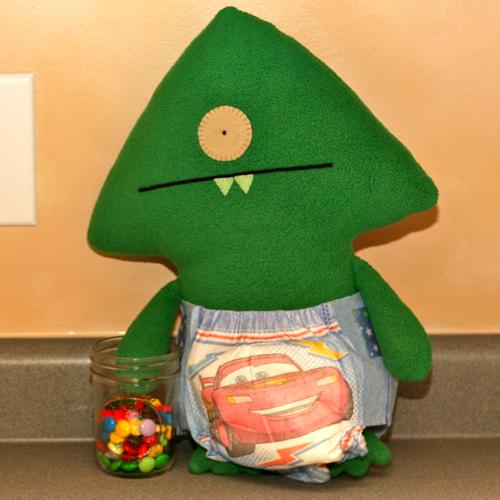 The book tells you to use a doll dressed in training pants to help teach your toddler the steps of using the potty, but Valor doesn't play with dolls or even with stuffed animals. He did have a monster that had humanoid-enough feet to wear the pants, though, and he has had great fun helping the monster go potty and watching him "eat" his reward of M&Ms.
I told Valor that the monster, Mommy, Daddy, and all the grandparents were on his "potty training team," and we got all pumped up about it. Lightning McQueen is also on his team because he's pictured on the training pants I got. Valor has been really excited; it's pretty cute. We drink special "potty training juice" and he gets his favorite candy as rewards for staying dry (3 M&Ms), going pee pee in the potty (6 M&Ms, replaces the previous award if earned), and going poopy in the potty (7 M&Ms). We also place calls to team members to report progress and they respond with the appropriate sentiments.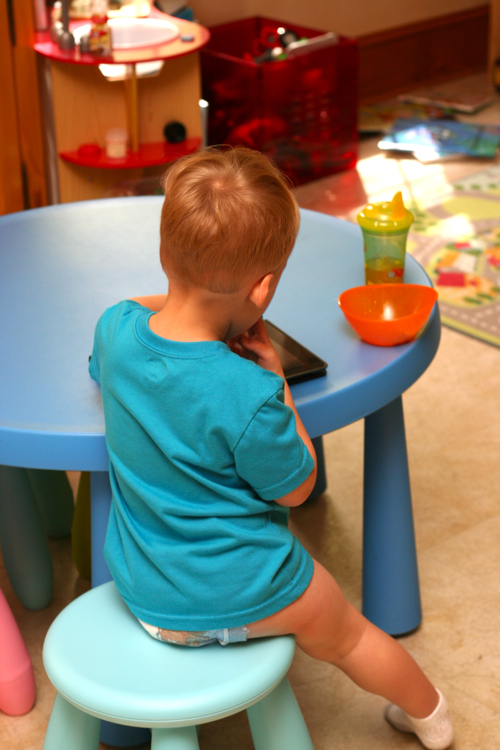 The first day went pretty well, hit and miss, with me taking him to the potty every 30 minutes!, reading books to him, and him squeezing out tiny amounts of pee to enthusiastic praise. Even when he wet his pants, they were training pants so there were no messes to clean up for me, so it wasn't very stressful. Then day 2 I started trying to stretch the time out and we kind of lost focus. Day 3 was very discouraging; he went back to regularly peeing in his training pants; the only exception was, he stayed dry during his nap (3 hours). That was a surprise. I told John that night that I wasn't sure whether he was ready and that we might need to stop. He had no success with poop training any of this time.
Day 4 was a turning point. Starting mid morning he had a stretch of 24 hours with dry pants, including his nap, and with very little nighttime pee. He was starting to get more pee out with each try and in larger total volumes, which stretched our schedule out to more like a hour and a half. Pooping was still in the pants, but the peeing part was looking really good. I started thinking about writing my own book about how awesome I was at potty training. 🙂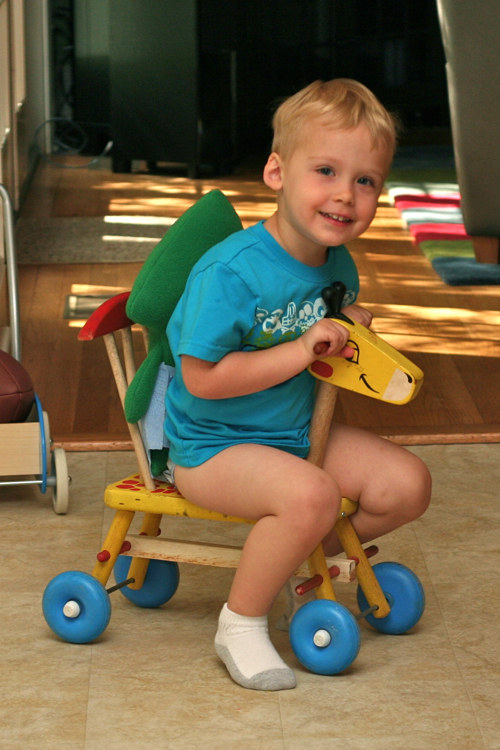 Then Day 5…more sad faces than happy on my clipboard notes. And Day 6…the day Daddy takes care of him all morning…he stays dry all day! And today, Day 7, for the first time, with much cajoling and coaxing (7 M&Ms!), I convinced him to sit on the potty and poop for the first time. He was so proud! So far every trip to the bathroom has been Mommy-directed; he never says, "I need to go to the bathroom." He still resists going if he's absorbed in a fun activity. But I think he's made really good progress. So good that I can't see just using one cloth diaper a day (during the night) and then washing them just a few at a time. So tonight I put the dipes in the wash for what may be the last time. We'll spend a while longer in training pants until he's more consistent…and then it's on to briefs.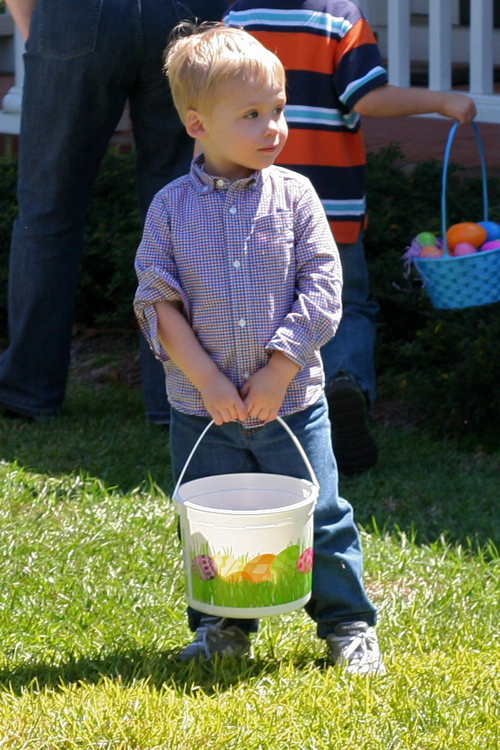 My "man of the cloth" is growing up!