our little monthkin!
Percy is one month old today! I can't believe how fast it has gone. I'll just hit a few highlights from this month and some details that I want to remember for myself.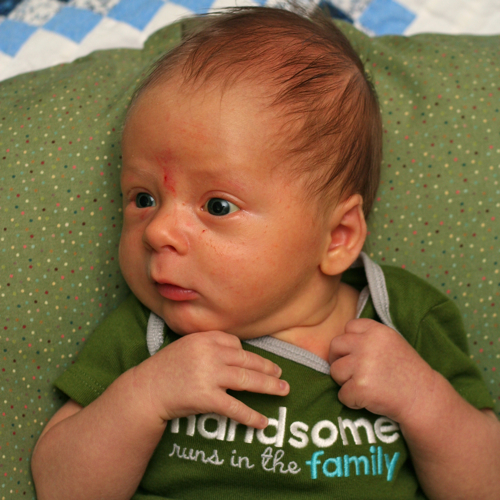 Our last night in the hospital we took advantage of the opportunity to play games with our friends, Margaret and Ole. I was cord- and catheter-free and had actually gotten a shower so I was feeling pretty good.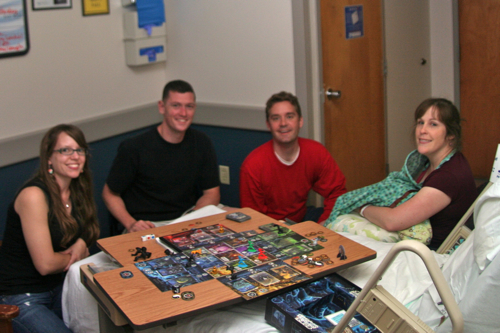 Taking care of Percy seems easier than it did with Valor. I don't know whether he gets the credit for being a great baby, or if I just feel more confident the second time around with a healthy baby. The first night home from the hospital was tough, just like it was with Valor, because my milk comes in on day 4 so baby's pretty hungry that third night. Remembering that it would be just one bad night made it much easier to go through. I didn't have any emotional breakdowns this time like I did with Valor. And John made French Toast the next morning, after all that baby-crying in the night!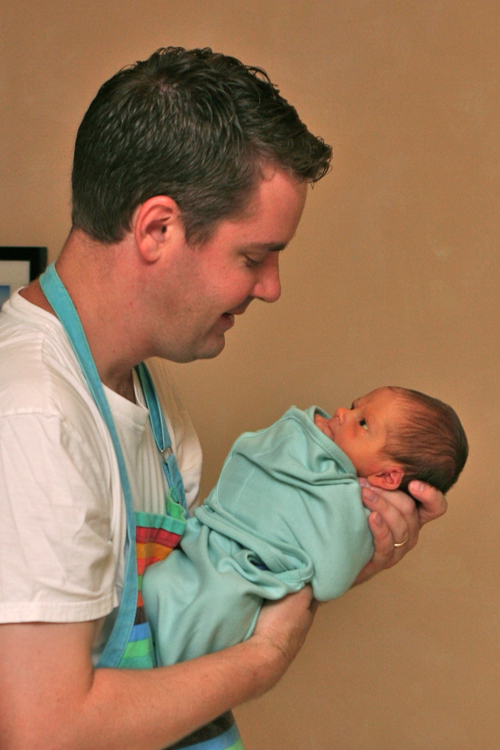 I'm still happy with BabyWise, but this time I find myself following it more flexibly. The first ten days I just fed Percy when he was hungry, not trying to do any particular schedule. He was immediately very good about taking a full feeding each time, although I had to work sometimes to keep him awake. He has a funny habit of latching on, tasting a little milk, and then quitting and pulling off until I re-latch him for the long haul. I think Percy eats faster than Valor did, which makes that easier (hope this lasts until toddlerhood–boy is Valor a slow eater!).
He was good at sleeping during the night from the start, and he established a pretty good schedule for himself during that time. He tends to eat closer together during the day and farther apart at night. So after ten days I sketched out a schedule that worked with our family meals and that was close to what he was already doing. It is something like this: eat at 6:15, 8-9ish, 11:30ish, 2, 5, 7-8, 10:30-11. Then a night feeding at 2-3. He could go as much as 4 1/2 hours at night between feedings. At this stage Percy usually stayed awake the entire time between feedings, or slept the entire time.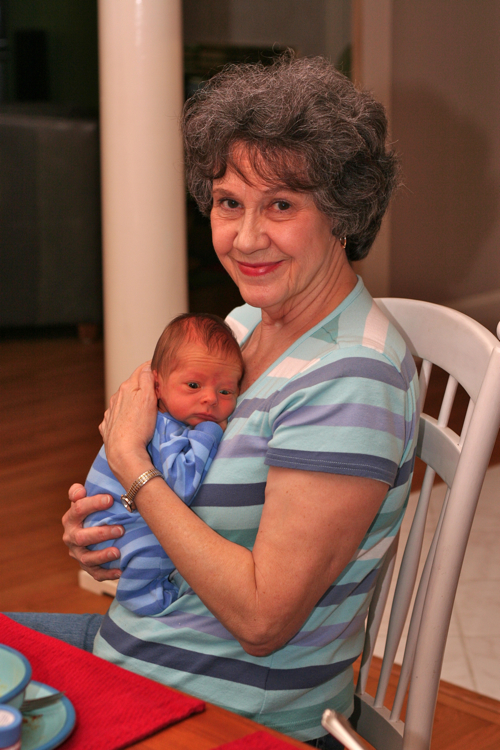 After two weeks old, my parents left, and I started implementing the BabyWise feed-waketime-sleep cycle. The hard part is getting him to go to sleep after being awake (ie, not nursing him to sleep). I remembered from Valor that getting himself to sleep by "crying it out" just isn't going to work when he's younger, so I decided not to torture all of us by trying to do it as young as I did then. Instead we developed a routine to get him sleepy that he recognized and responded to after about a week. I swaddle him with his hands near his face (loves his hands, just like Valor), pop in the pacifier, hold him sideways, and sway back and forth while I shush him and pat his bottom. He's usually asleep in 5 minutes after starting this.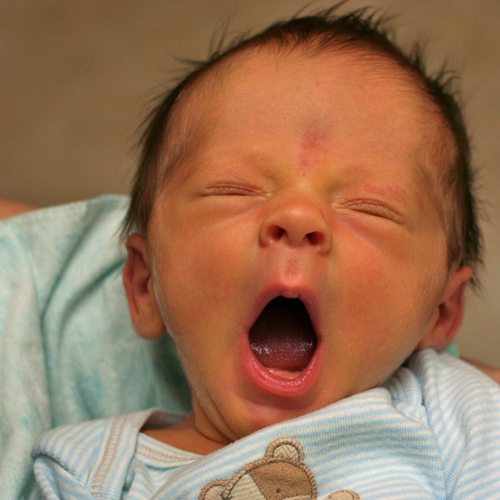 Once he is almost asleep, I put him down in the crib and leave. There are often multiple put-downs if he wakes back up and cries, but as the days go on and he learns to self-soothe I plan to put him down sooner in the process and pick him back up less.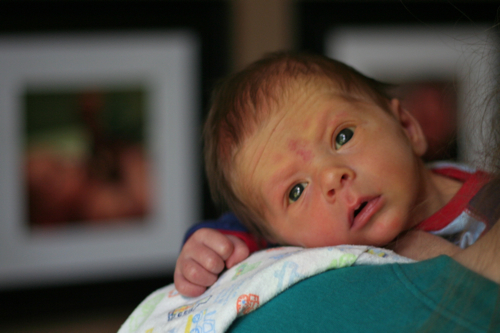 The third week was the hardest as I worked to get him to sleep after being awake. Then he got the hang of it and now he is usually able to do the feed-awake-sleep cycle successfully at the 8, 11:30, 5 feedings. I put him straight to bed at the 6:15 am and the 2 pm feedings because I use the time to shower/eat breakfast in the morning, and then to nap  in the afternoon (Valor still naps 2:30-5). I have been able to nap almost every day since my parents left, which takes my sleep from 6 hours up to 7 or 7.5 most days. He gets fussy after the early evening feeding and is sometimes unable to go down after being awake. But he's still great about falling asleep at nighttime for a good stretch.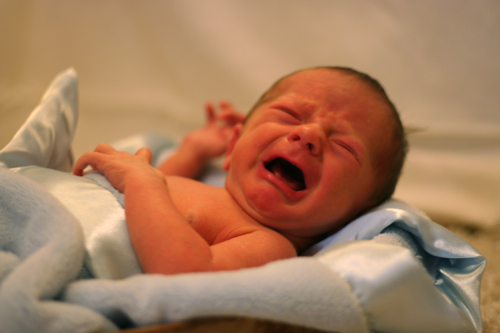 He does cry, especially when his parents are trying to do silly photo shoots. He also makes an interesting sound, actually (besides crying). It's a cross between a horse's neigh, a derisive chortle, and a throat-clearing. It seems to be an all-purpose sound, because he makes it when he is annoyed, surprised, pleased, or concentrating on something (like a poop). He's just starting to make proper voice sounds with his vocal cords, I have only heard a couple. But I have spent many minutes trying to define or describe the back-of-the-throat sound he does. I still can't do it justice. I need to record it.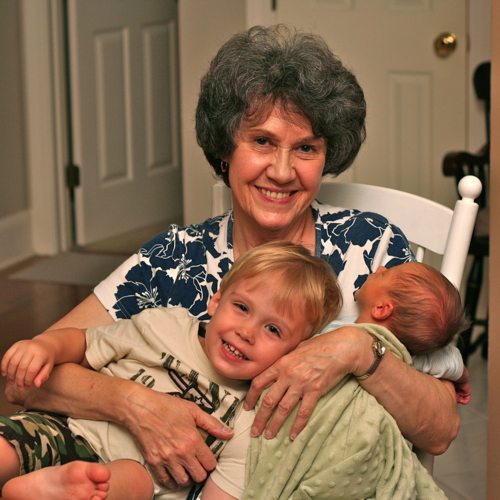 So, where is Big Brother in all this? Valor basked in the love and attention of his grandparents while my parents visited for the first two weeks. He also gloried in his many big-brother gifts from kind friends and neighbors. With all the love he was getting, he didn't have to deal too much with the baby living in the pack-n-play in Mom's closet.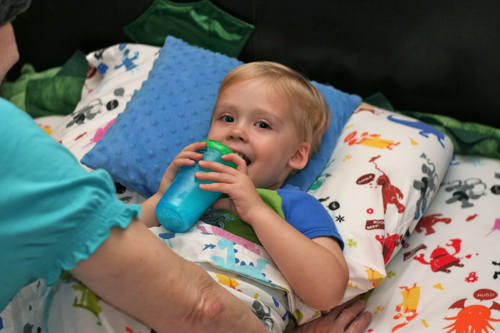 The morning after Percy came home, I walked into the dining room with the baby and Valor said, "Baby Percy is still here?!" with surprise. Since then he has warmed up to accepting him, giving him gentle strokes and pats, offering Percy his favorite Mimi (security blanket), informing me with concern, "My baby is crying!," and only occasionally poking him in the eye.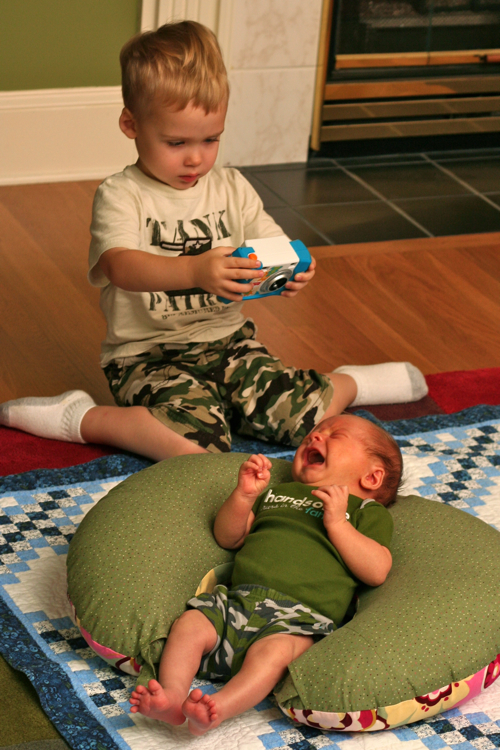 It's been a challenge to try and do things with Valor while taking care of Percy. I still am not allowed to pick up Valor for a couple more weeks, so that's hard, too. We've spent most of the time at home, which makes it easier to keep a schedule with Percy, but Valor is getting a little stir crazy. It's a big help when John is home to play with him, read to him, or take him out and about.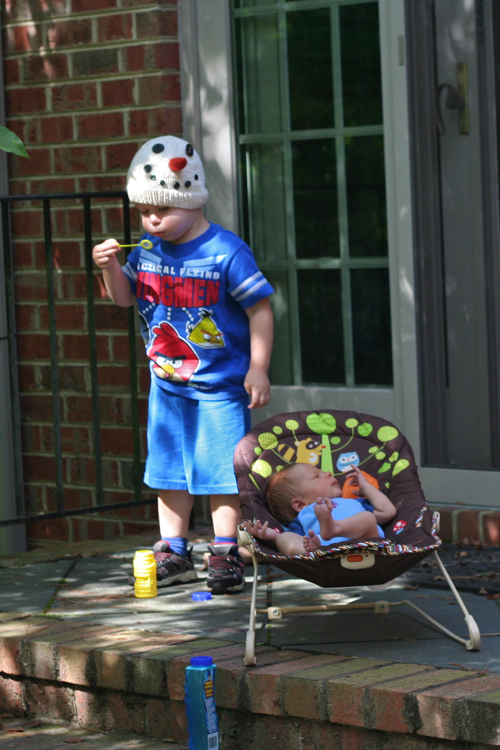 Today we were in the church nursery with the one-year-olds, and it was surreal to take care of kids that were almost Valor's size yet not speaking any words yet. Valor communicates with pretty complicated sentences and ideas now, so it's fun to talk to him about almost anything. He still doesn't get irony or sarcasm, but that is probably something I am going to kick myself for wishing for whenever he does start to get it (and use it).
It's been a pretty tiring month. My memory from Valor is that it gets easier with every month that passes, so that encourages me when I'm feeling exhausted. Fortunately I'm not the only one in the family that needs naps.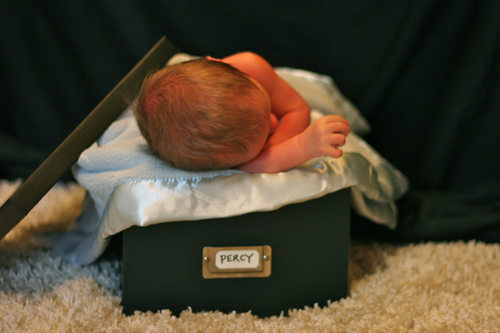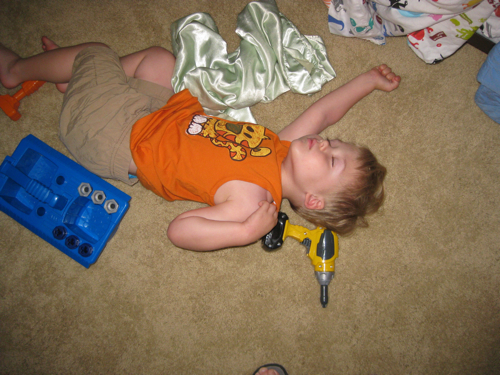 I am looking forward to Percy sleeping through the night…and a real smile from him. For now, I have a sleep-smile that will have to do!