oh yeah
As in, "Oh yeah, we still have a blog, don't we?"
This whole experiment with writing down our family's story in blog form looked a lot different when we had one special needs child in the NICU; now that we have two healthy children, it feels a lot less urgent to sit down and write a few words. In truth, we're all doing very well; maybe difficulties press more words from us than the easier times.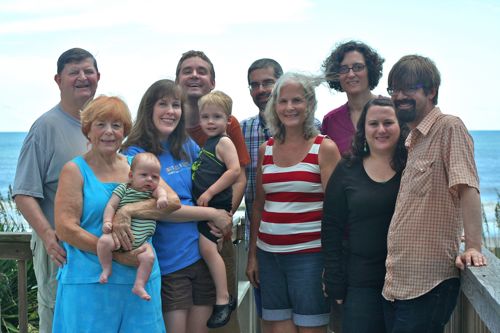 Last month my family assembled from all corners of the country for a long weekend at my mom's new beach house in Pine Knoll Shores. My mom, stepmom, both my brothers, and I have birthdays in August or September. We actually had an idea 4 years ago to build a five layer cake with one layer of each birthday person's favorite flavor. But that was the summer James died, so the cake plan didn't materialize. Four years seems like an eternity ago.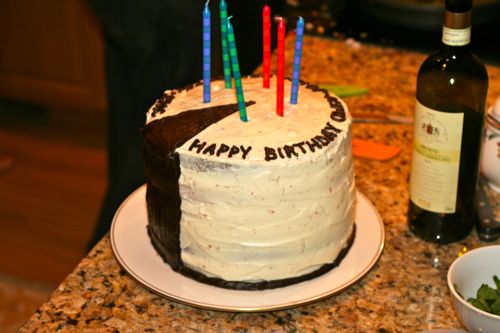 One thing that's changed is that Valor adds another August birthday, so technically we should have had six layers. But while five layers makes a nice proud cake, six layers seemed sort of Tower of Babel-ish in its pretension. So we stuck with five. I estimated we would need four tubs of icing to frost the cake. Notice how Abby cleverly and artfully fashioned a wedge with chocolate frosting to disguise the fact it took slightly more than four tubs. From top to bottom, the layers are carrot, spice, butter yellow, strawberry, and devil's food. I remember that four years ago Jen Yates doubted me on this, but it was actually a quite harmonious medley of flavors.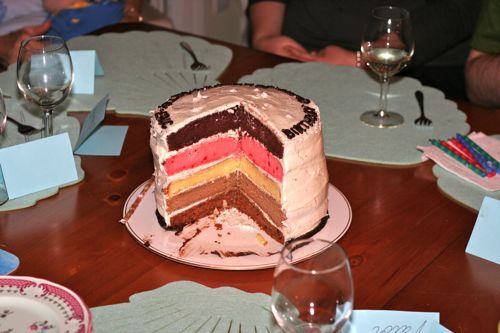 While Valor didn't get his own layer, on the very next weekend we celebrated his birthday back at our house, so he got his very own cake. For months we've been asking Valor what he wanted his cake to look like. He still remembers the tractor cake well from last year, and requests to watch the home video frequently. But this year his most-repeated request was for a Snot Rod cake. Now most of you without preschool boys are probably asking yourself, what the heck is a Snot Rod? Snot Rod is the orange muscle car from Pixar's Cars movie. He has a supercharger and wicked allergies which cause him to shoot fire out of his zoomies when he sneezes. He is probably on the screen for less than a minute total, but in Valor's world, he's pretty much the main attraction of the movie.
But rather than making the whole cake look like Snot Rod, Abby and her mom ordered the die-cast models of the whole hot rod crew from the movie—Snot Rod, Wingo, DJ, and Boost—and arranged them on a cake with a fudge road in the shape of the number "3":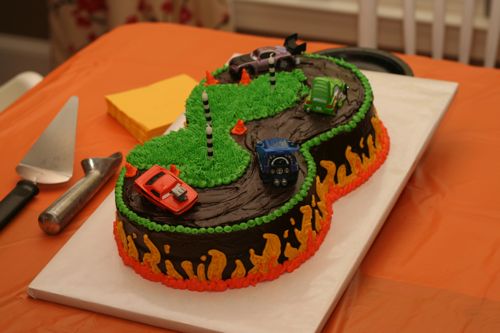 We set the cake out on the table right before the party, and when we added the toy cars to the top, Valor's excitement level got intense. Someone left him alone for a minute, and when Abby came back in she saw half the icing from the road scraped off the cake and Valor trying to figure out why the cars wouldn't roll properly (maybe because they were caked with fudge icing?). He had been trying to roll them along the road on the cake. She freaked out for a minute, but then realized it was just confirmation that A) he loved the cake and B) he is still just three years old. Fortunately there was extra icing for this cake to fix the road before the guests arrived, so no harm done.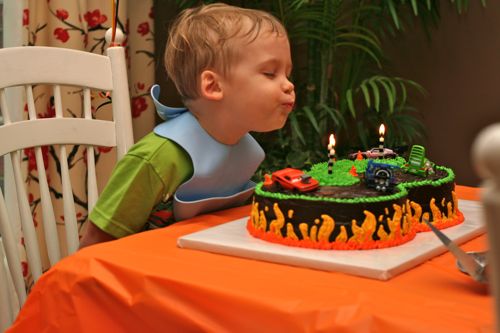 For many weeks I've been planning and working on a project which was unveiled for Valor's party. Loosely themed around the colors of Wingo (and the end is a little like Wingo's spoiler wings if you turn your head sideways), I created the Wingo Wash, a homemade 50-foot slip-n-slide with PVC "car wash" gates. Although the design was original, I mainly synthesized an idea from the book Geek Dad about making a slip-n-slide with an idea from Make magazine on how to stain PVC and instructions I found online about screwing mister spray jets into PVC.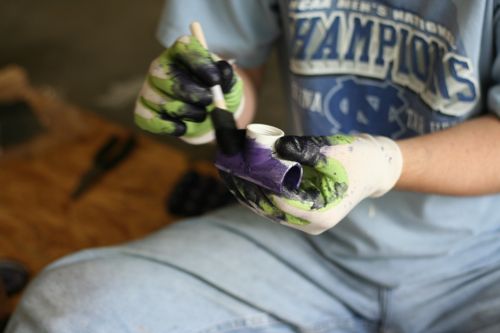 The result was pure awesomeness: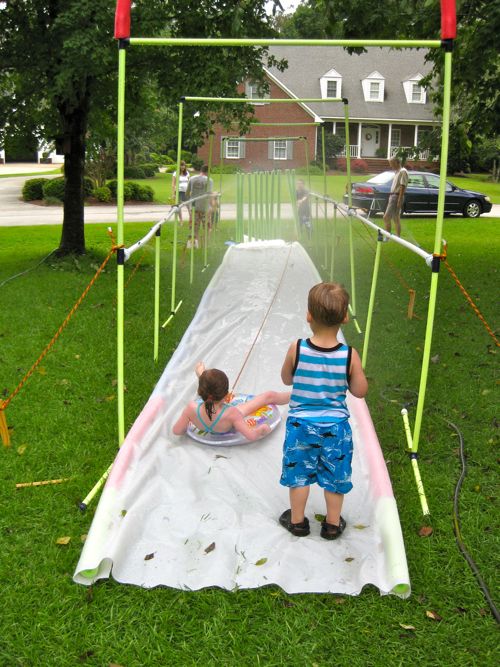 Oh, yeah. And Valor has a new favorite home video.