the other Gjertsen boy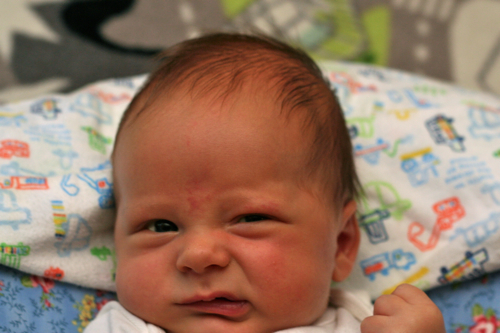 What kind of stinkin' family blog is this if one member of the family is gettin' less coverage than Ron Paul?
Speaking of coverage, take a look at this mop compared to Valor's baldy look at the same age.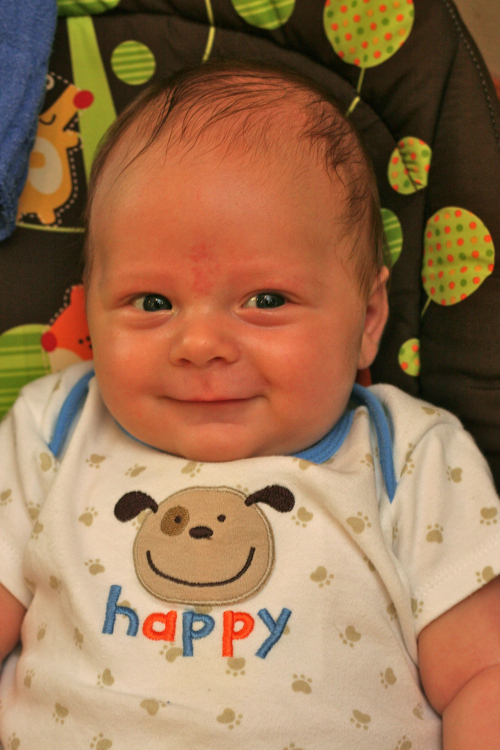 Does he look smug? Maybe it's because Percy knows he's a monster, and a hairy monster at that. His weight/length numbers make Valor (who was a 95%ile baby) look like he was a girl. Percy is off the charts for length as well as weight, weighing 18.5 lbs. at 3 months and 25.5″ long. He'll be four months in a couple more days, and he now weighs 19.5 pounds. He's into 9 month clothes (12 month for anything with footies).
Fortunately he's a happy, hairy monster who eats and sleeps like a dream baby. Percy should get none of the blame for how long it's taken me to sit down and write this post. He started sleeping 5-6 hours at night by 6 weeks, and by 11 weeks he slept 8-9 hours. Now at 17 weeks he goes 10+ at night. Credit to BabyWise again for getting us on a good sleeping/eating routine!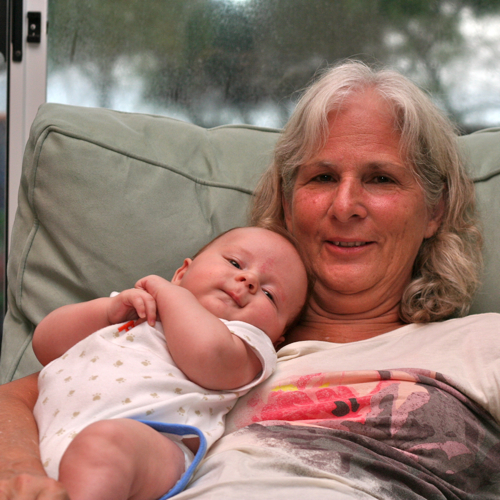 Here I am going to digress for a minute and get a few things down about Valor. He has grown into a "big boy" in so many ways (still waiting for the toilet-using way, though). He is not afraid to go in bouncy houses and slide on wet bouncy slides (especially with Daddy cheering him on).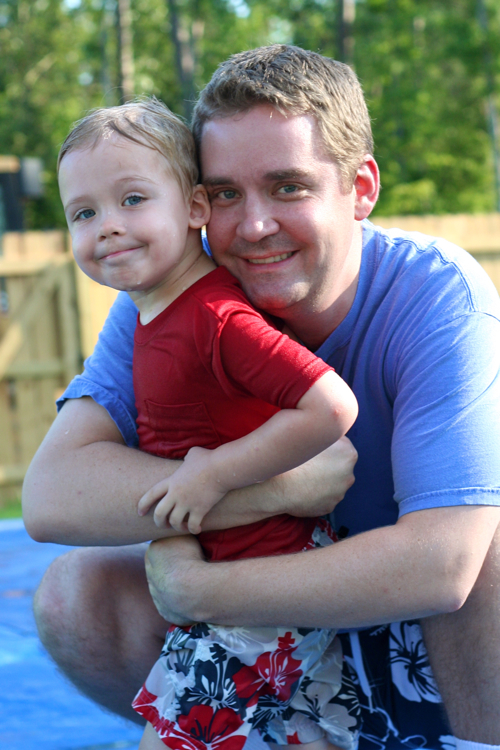 He can ride a bike with training wheels for a mile (although he needs me to push him to get started).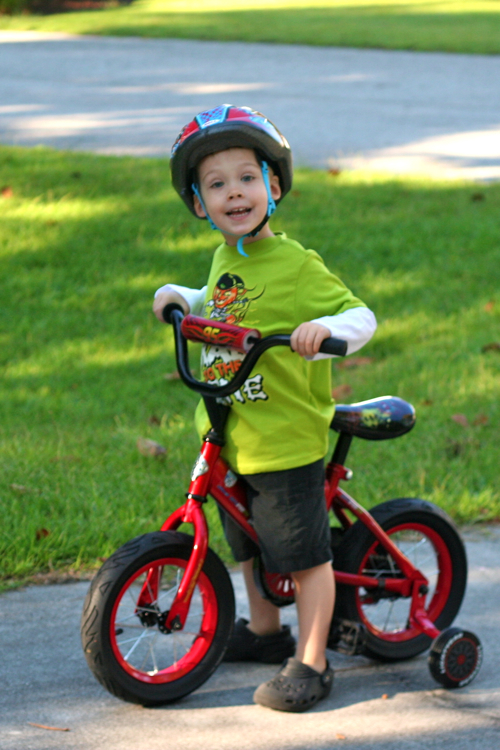 Almost as soon as he hit three, we got more tantrums resulting from his desire for independence. He can get really upset if you do something for him (like put him in his carseat) that he wants to do by himself. He also is getting annoying with repeating words over and over ("Mom? Mom? MOM?? MOM!!!), asking questions that he already knows the answer to, or just overall wanting to be "in charge." I lose my temper with him many days, sad to say. I can't believe how much we used to look forward to him talking…now I enjoy how quiet Percy is!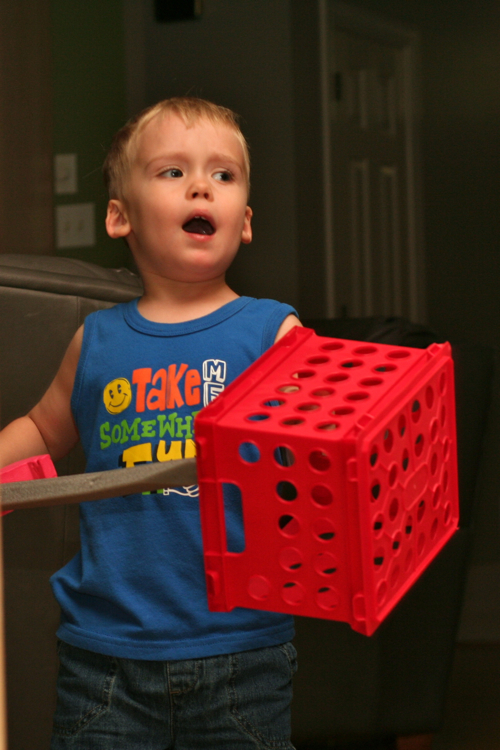 On the bright side, Valor is starting to enjoy drawing and writing, and can write his name with the letters all oriented properly now.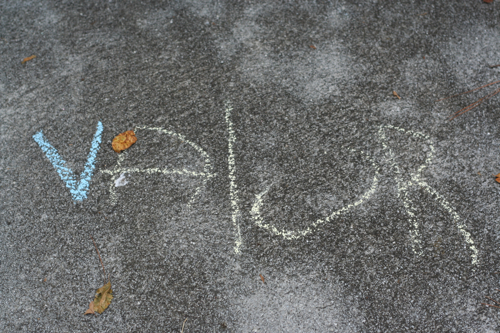 He can sound out words faster and is starting to read bits of books. I'm not sure what exactly qualifies as "reading" but I think he is there or close to it! I am so proud of him! Of course, sometimes the words he gets excited about are not necessarily what I would choose!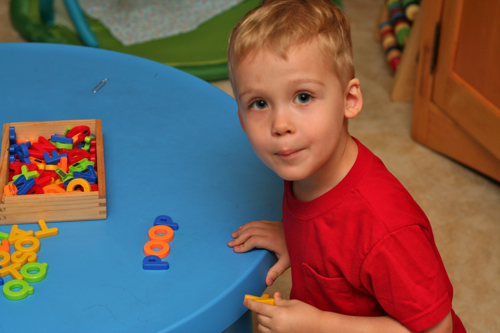 Just when I think I can't take living with a three-year-old anymore, he turns around and draws a picture of me with my name on it, and I melt. I love being "MOm"!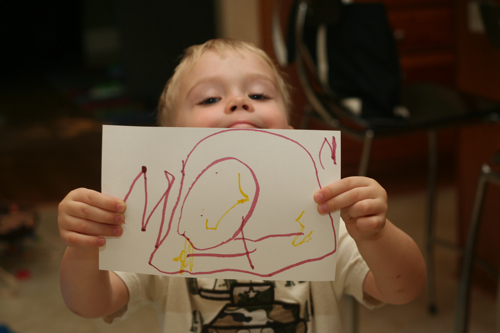 Percy has successfully captured the hearts of all his grandparents. He recognizes their faces and voices and loves seeing them in person or on Skype.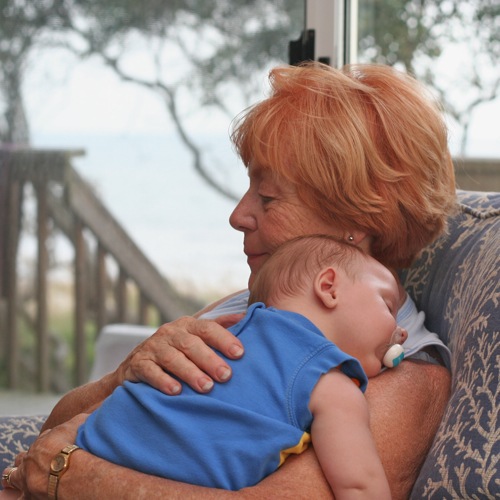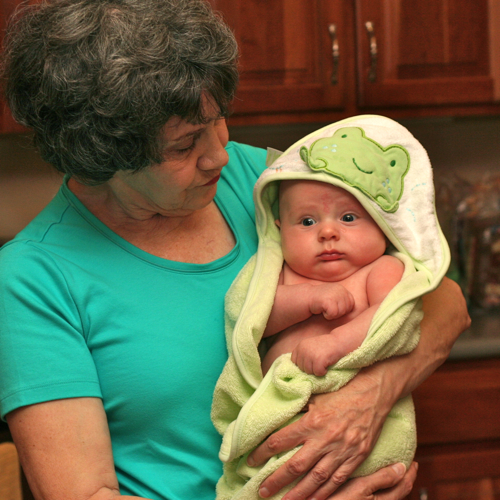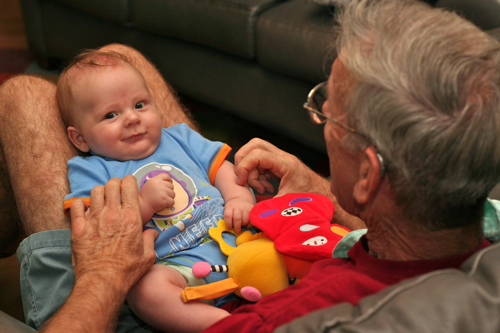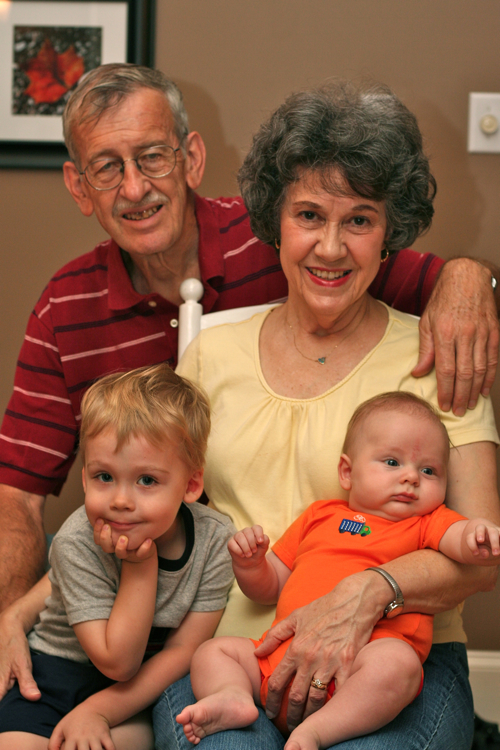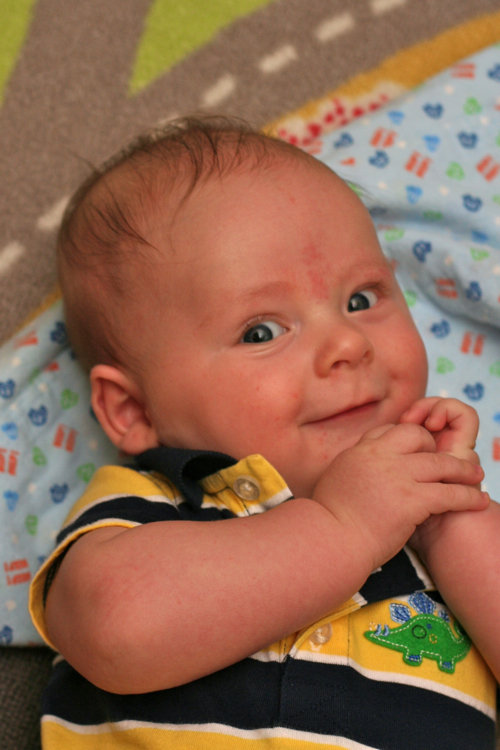 Percy smiled a little earlier than Valor did, at 6 weeks; he started laughing a 11 weeks (frequently at his entertaining brother). This past week he started rolling from his back to either side, so he is able to really move around his crib. And he seems to be interested in books already!
Here he is in his soft-serve hat from our friend, Laura.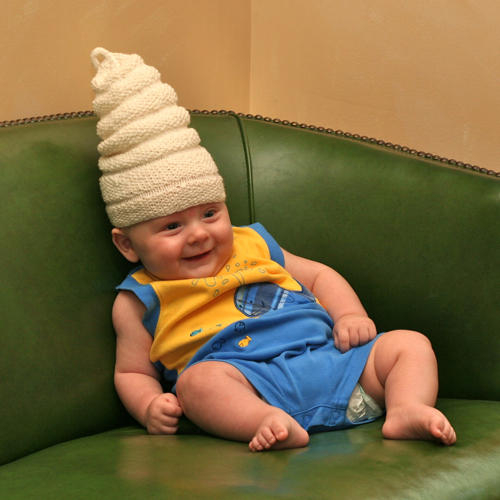 Valor has started interacting more with Percy. A couple weeks ago he offered Percy one of his foam swords and pretended to sword-fight with him (or maybe, since Percy was prone on the bed, Valor was pretending to vanquish him). If Valor leaves the house while Percy is awake, he often whimpers, I think out of boredom, without having someone to watch. If Percy cries, Valor will pile toys on top of him. Today Valor told Percy a story with a book. It's been really touching to see this brother relationship develop.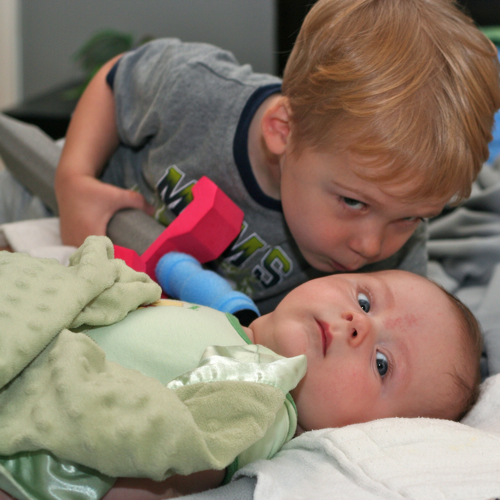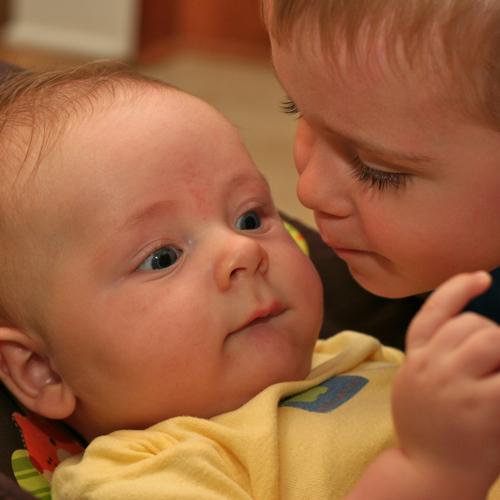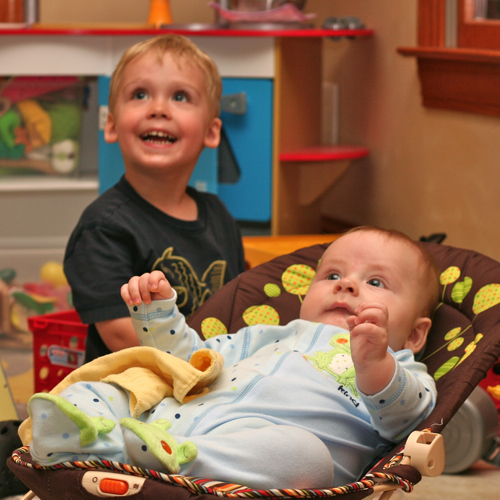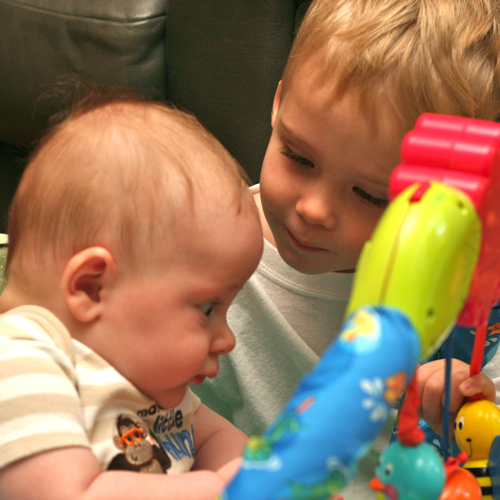 Percy loves examining his hands, and he has already developed the power to GET! He can grab squishy things and put them in his mouth. Sweet munchies on this little happy helicopter! I told you, he's a monster!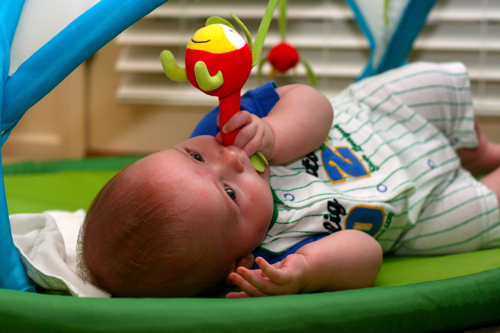 I went ahead and snapped a picture of Percy in a candy corn costume since he will have outgrown it by Halloween. We are looking forward to fall weather, pumpkins, and costumes!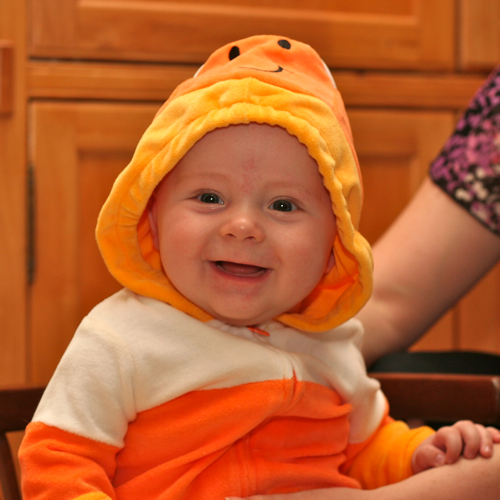 Last month at Valor's first trip to the dentist, the hygienists asked him what he was going to be for Halloween. We hadn't talked about it yet, so I was surprised to hear his improvised answer: "I'm going to be a trick-or-treat boy and get candy in my pumpkin bag." Since then he has chosen a costume—the making and wearing of which will probably be documented in our next update.
Just in time for Christmas…