turning leaves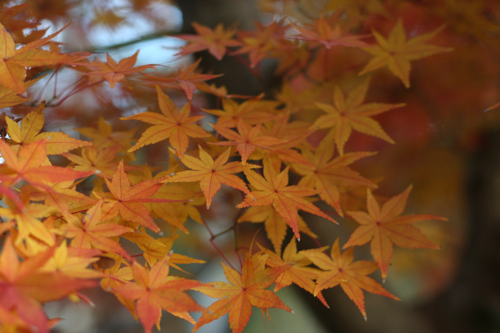 I didn't think we were going to get any fall color this year, but about two weeks ago the trees exploded. It's going to be over soon, but I have enjoyed it.
Life with two boys is very busy. I am constantly doing laundry, making food, and cleaning up after food. I never feel like I have enough time alone with Percy to play with him, so I feel like he's not getting near the amount of attention that Valor did at his age. Valor very much wants to be in our company, so hopefully his entertaining antics and chatter can make up for some of what I am not giving little P.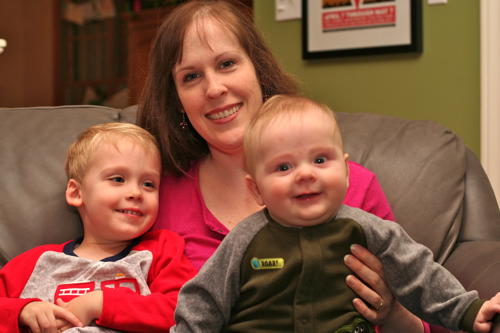 The only time I get alone with Percy (besides feeding him) is when Valor naps in the afternoon. Then I can play with Percy, put him down, and enjoy my daily "Hour of Power." That's the 40 minute-to-2 hour block of time I get alone to enjoy my glass of eggnog and use my brain and get something done. I sometimes call a friend to catch up, but I am also working on some writing projects for church and a Bible study with my friend Kelly, which I really need and enjoy. It makes my spirit and my brain happy. Recently I heard a speaker talk about "calling," something that we have passion for all our lives; and I think my calling includes working with words… writing and editing.
Recently I've been feeling that Valor needs to take more responsibility for praying—getting comfortable expressing his need and love for Jesus in his own words. I usually pray over him a couple times a day, plus we take turns saying grace at meals, so he should have a good sense of what to say (you'd think). So near the beginning of November I asked him what he was thankful for, intending to prompt him to make that into a prayer, but all he could come up with was "food" (which is what he always says for his grace at breakfast) and "Leakless, DJ, Snotrod, Boost, and all the car friends on my poster." Now this is exactly what he said about this time last year, because at that time he just looked at his walls for inspiration. However, the Cars poster has been out of his room now for 6 months. That told me that it was simply a memorized response, and that he he no idea what it meant to be thankful, or what he should be thankful for.
Around that time I saw something in a magazine that inspired me to re-cover a bulletin board and make a Thanksgiving Tree. The idea was to spend some time each night during our family devotions to talk about what we were thankful for and write it on a leaf to put on the tree. I made the tree trunk out of twisted craft paper that had been used as packing material, three twists braided together. Then I stapled them on and trimmed the edges. At the beginning, as you can see below, Valor was still stuck on "food" and "my movie friends" (which is how we summed up his list of car names). The other two leaves we kind of prompted him for. We continued to add more through the month.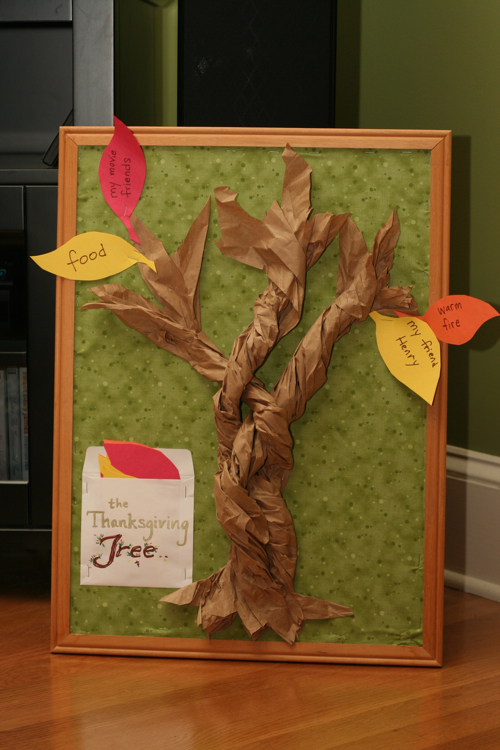 Valor has been progressing slowly on two major milestones: potty training and reading. He is pee-trained during the day but resisting poop-training pretty strongly (so he is in paper pull-ups all day and a diaper at night). Pants are optional now, as he can do the whole potty session by himself except for getting his underpants back on. He's able to read many short words now, although he doesn't have many "sight words" yet (and, the, etc.). He can work through entire sentences with help. He still loves his letters. And he continues to amaze us with what he can remember and the concepts he puts together. When he's not driving us nuts with his three-year-old mix of independence and neediness (and very opinionated demands), he's a lot of fun to be with.
Tonight I took the boys out for a last-minute Thanksgiving grocery run. I realize how little Valor goes out at night when he exclaims over Christmas lights and headlights. On the way to WalMart we sang "The Star Spangled Banner," which I had taught him back around Election Day. He asked, and I explained, every unfamiliar word (dawn's, hailed, gleaming, broad, stripes, perilous, ramparts, gallantly, streaming, etc.), so by the end I had sung the beginning of the song about 50 times. Well, tonight we sang it again for the first time since then, finishing as we pulled into the parking lot. Valor shouted, "Look! It's nighttime and the flag is still there!" and lo, there streamed a spot-lit American flag on the roof of WalMart. I couldn't believe the timing and his quick observation and connection to the meaning of the song.
Not to be outdone, Mister Percy has been learning new tricks as well. He loves his solid food and cries if we sit down at the table without a bowl of something for him. You can tell he doesn't miss many meals because at 5 months he weighed 22 pounds and was 29 inches long. That is waaaaay above the 98th percentile for his age. Even with the chubs, though, he can roll over from his back to his tummy (although it makes him mad), and he has just started sitting up this past week.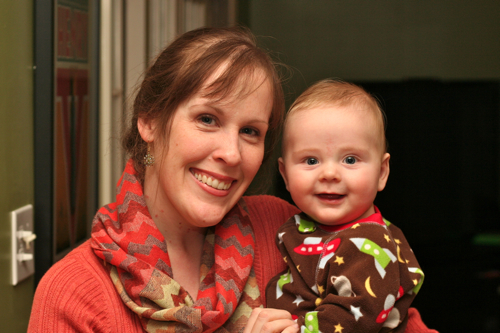 What a big boy!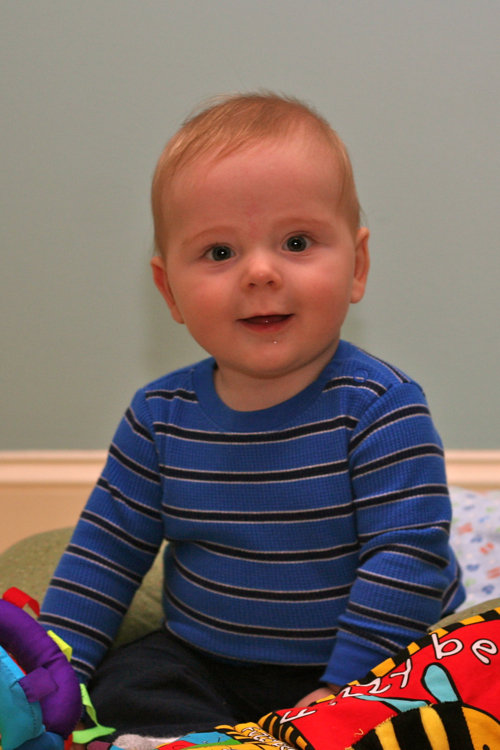 Last weekend we visited our old friends Dave & Christie, who were the other half of the original "young marrieds" Bible study at our church in Orlando. They recently moved to NC, where David works for Caterpillar and Christie homeschools her beautiful, sweet kids. Christie has done an amazing job of keeping in touch with us (plus we remember how she set the bar for delicious after-study desserts), so it wasn't hard to pick up right where we left off with them.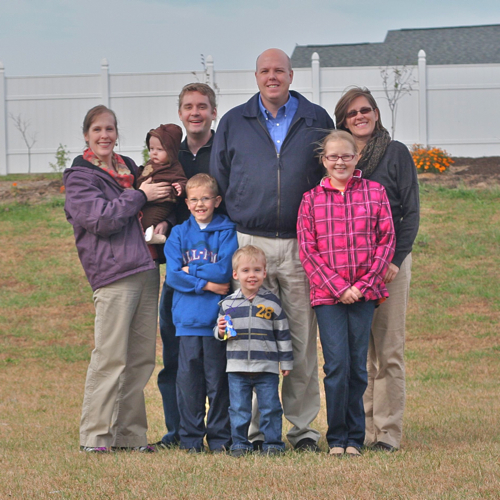 We played games, shopped at Whole Foods, ate chocolate cake, talked about homeschooling and church, played more games, ate more cake, and toured Dave's massive Caterpillar shop—which was a dream world for Valor. It felt like we wandered into a giant's futuristic workshop. Dave let Valor climb on everything (except the 30-foot-tall chipper-shredder).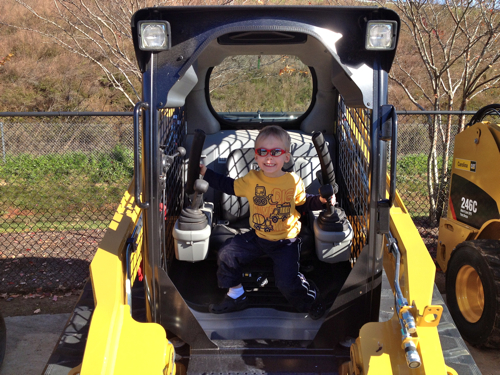 Now we are getting ready for our first "at home" Thanksgiving—my first ever without my parents in 36 years! I feel like this is a coming-of-age rite that I may fail (at least I can depend on John to do the turkey). We are looking forward to celebrating with friends. After the grocery store Valor had a fit because he wanted to drink the special drinks we got for Thanksgiving. I tried to explain that we don't do the special-day things before the special day; it would be like if I ate his birthday cake the day before his birthday. Then he got mad at the idea of my example. Sometimes with a three-year-old, you just can't win…which is why it's a relief to look at this easy guy: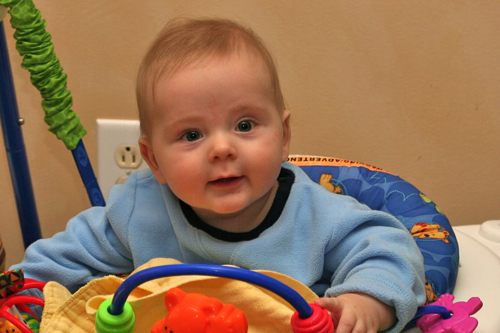 Over the last couple weeks Valor has gotten much better at coming up with real things or people to write on the Thanksgiving Tree (we didn't let him list any more food or movie characters). Even his parents made it on there (shocking). And today, for the first time, he prayed—spontaneously—a prayer of thanks before his nap, and again, before his bedtime. They were something profound like "Thank you for the clean bed, AMEN" and "Thanks for covering me [with clothes]! AMEN!" Well, maybe not profound, but just simple, honest, and trusting in a good God that cares for him like a Dad. So…yeah…maybe they were pretty profound.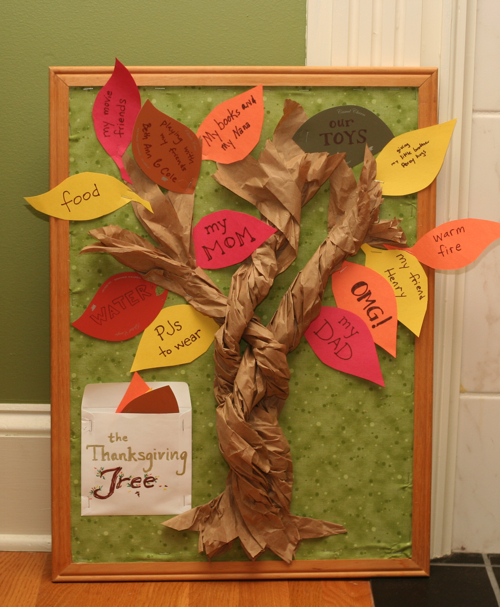 Happy Thanksgiving from the thankful House of Gjertsen!