a year of Perseverance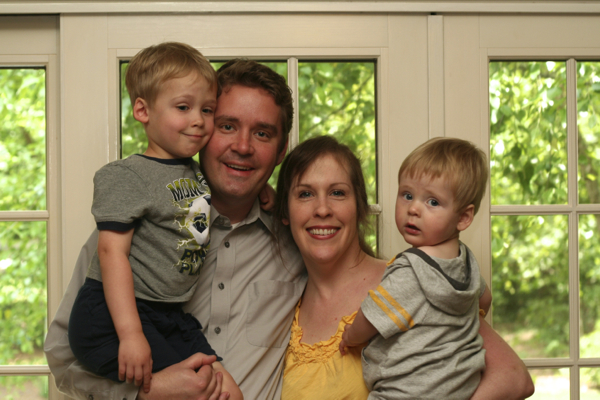 I am so grateful when I consider that this is our family now: John, me, a boy who no longer smiles normally for the camera, and a little–baby?–who is still learning to smile for it. In order to get a good family picture you need patience and perseverance! In fact, this whole post is about perseverance, specifically our little man Grant Perseverance, who turns one today! (If you make it to the end of the post, you can watch his birthday video!)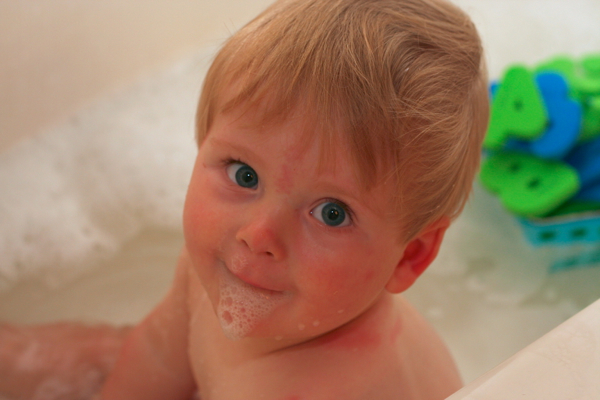 Percy is developing into such an interesting individual, and I've been terrible about recording special memories of him on paper, so I need to get some down here. Percy loves bathtime, and he likes to drink the bathwater (hence the bubble beard). He has a good time when Valor bathes with him, as long as Valor does not take away his favorite bath toy (a tiny baby shampoo bottle, which he also drinks bathwater out of). But he also enjoys a bath to himself.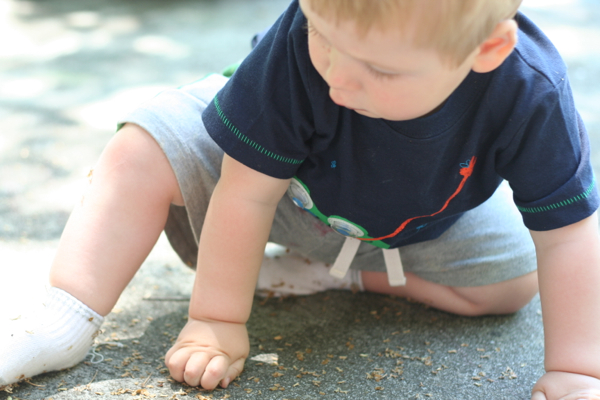 He is very interested in his world. Percy loves to go outside, and dirt does not deter him one bit. He likes trees and flowers and the sky, pointing at them to learn their names. Dogs make him laugh. Right now he can crawl when he wants to move very quickly, or scoot more slowly if he wants to use his hands or hold something while he goes. He also cruises everywhere that he can grab onto something, and can stand for a few seconds unassisted while he works on something with his hands before he has to grab for support again. He is an independent and persistent problem solver, trying several different tacks with toys and tools to get them to work.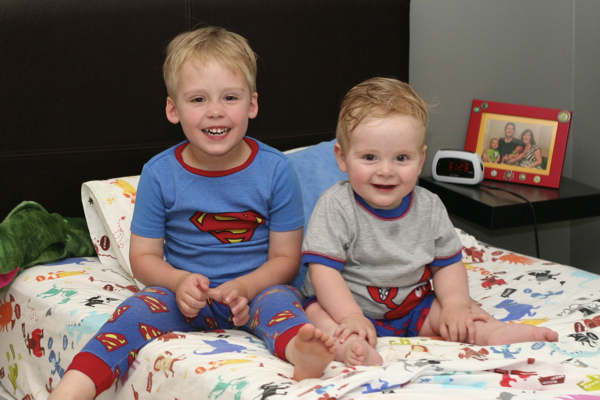 Besides his first word, which is his most frequently- and reverently-spoken word, Percy can say "book," "nana" for banana, and "all done," which he uses to mean that he is ready for the next thing (including mealtime). I think he says "mama" when he wants more food, so hopefully he means "more" and not my name by that! He signs "all done" when he says it, but we need to work on "please" and "thank you" because right now he just does a pterodactyl screech or says "mamaaaaaa!" when he wants food.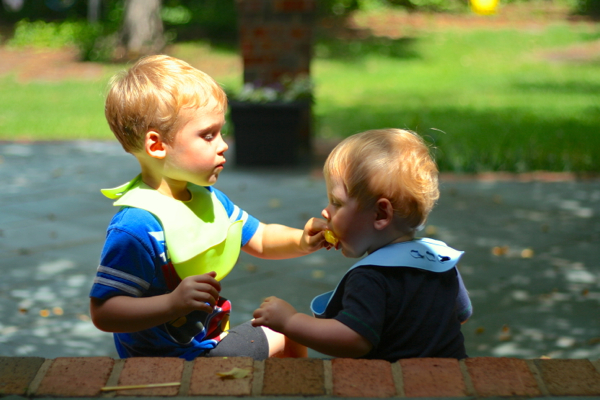 Percy weighs 27.5 lbs., which means he has gained 20 pounds this year. He is off-the-percentile-chart-heavy, but he carries it on a very tall frame. He loves to eat most any kind of food, including meat, cheese, yogurt, vegetables, and fruit. He's not a big fan of bread. Amazingly, he still only has two teeth! He's working hard on the top two, which have induced some tearful times, but they are still not through. Valor already had 6 teeth at this age.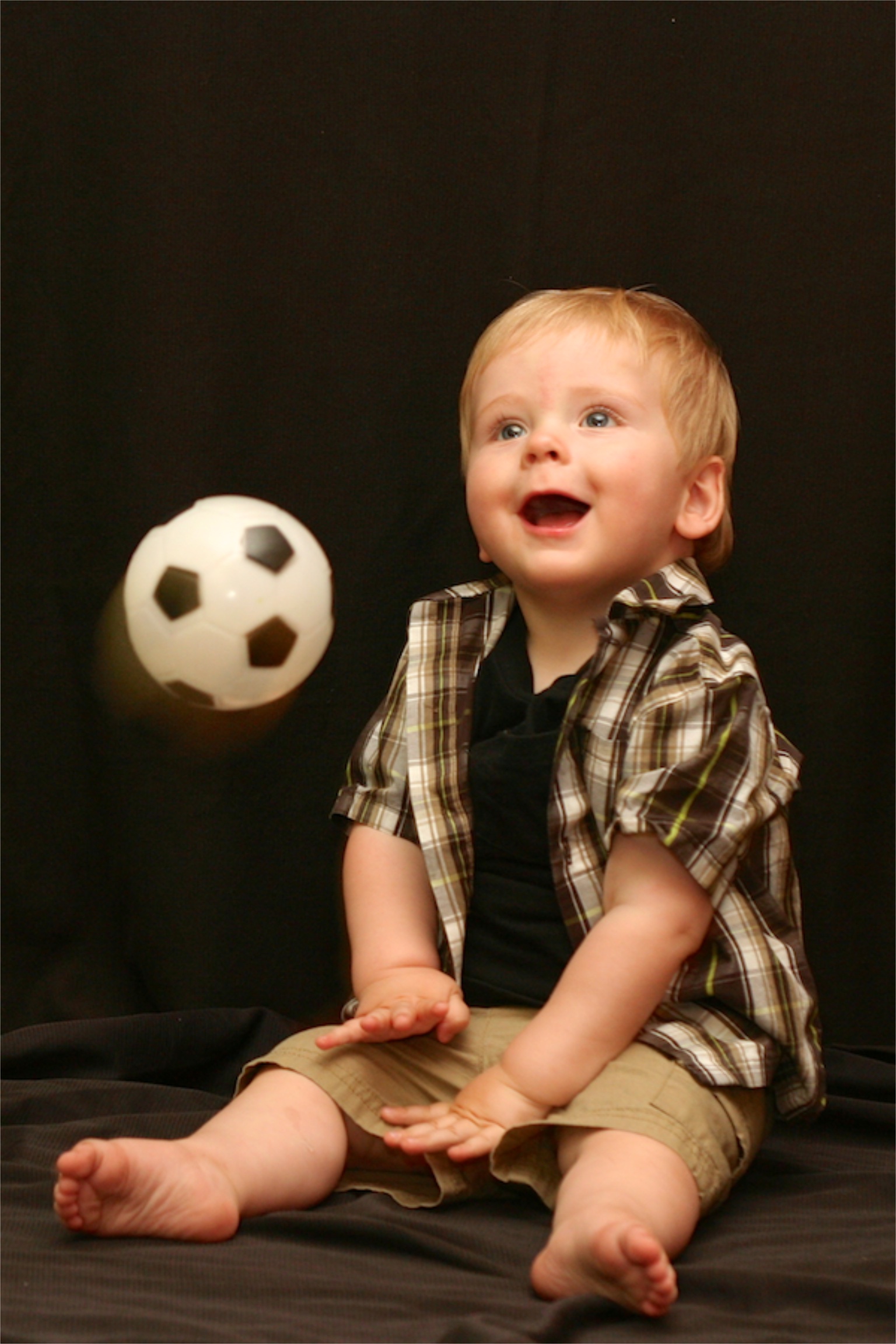 The most unexpected preference that Percy has displayed is clearly for balls. He loves to roll balls, throw balls, catch balls, and bounce balls of every type and size. He chuckles when you roll a ball with him, and laughs if he catches it. Valor was not into balls at all, so it has been a delight to see this special side of Percy. When he pitched out his first word a few weeks ago, it was easy to decide on the theme for Percy's first birthday party!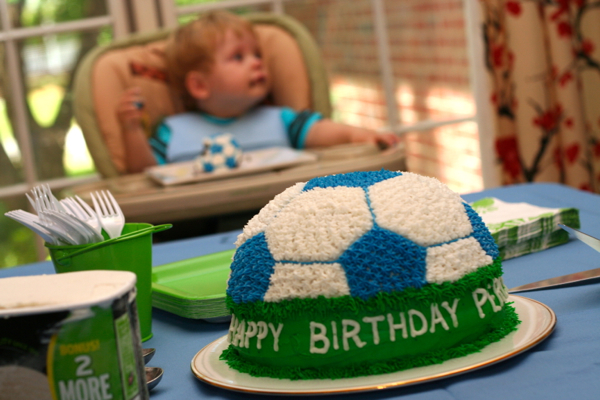 We celebrated a week early since John had a schedule conflict with Percy's actual birthday. The weather was perfect, and all the grandparents plus the next-door neighbors were able to come! I made the cake out of two cake mixes, one baked in two 9-in. round pans, and the second baked in a Wilton half-soccer-ball pan. Our lunch was BBQ pork sandwiches, sausage cheeseballs, and "Fruit Ball" salad with watermelon, pineapple, and grapes. When we sang "Happy Birthday," all looking at Percy, he was puzzled and looked from face to face to discover what this strange new ritual meant. But when the candle was blown out and the cupcake was brought near, he needed no instructions to proceed!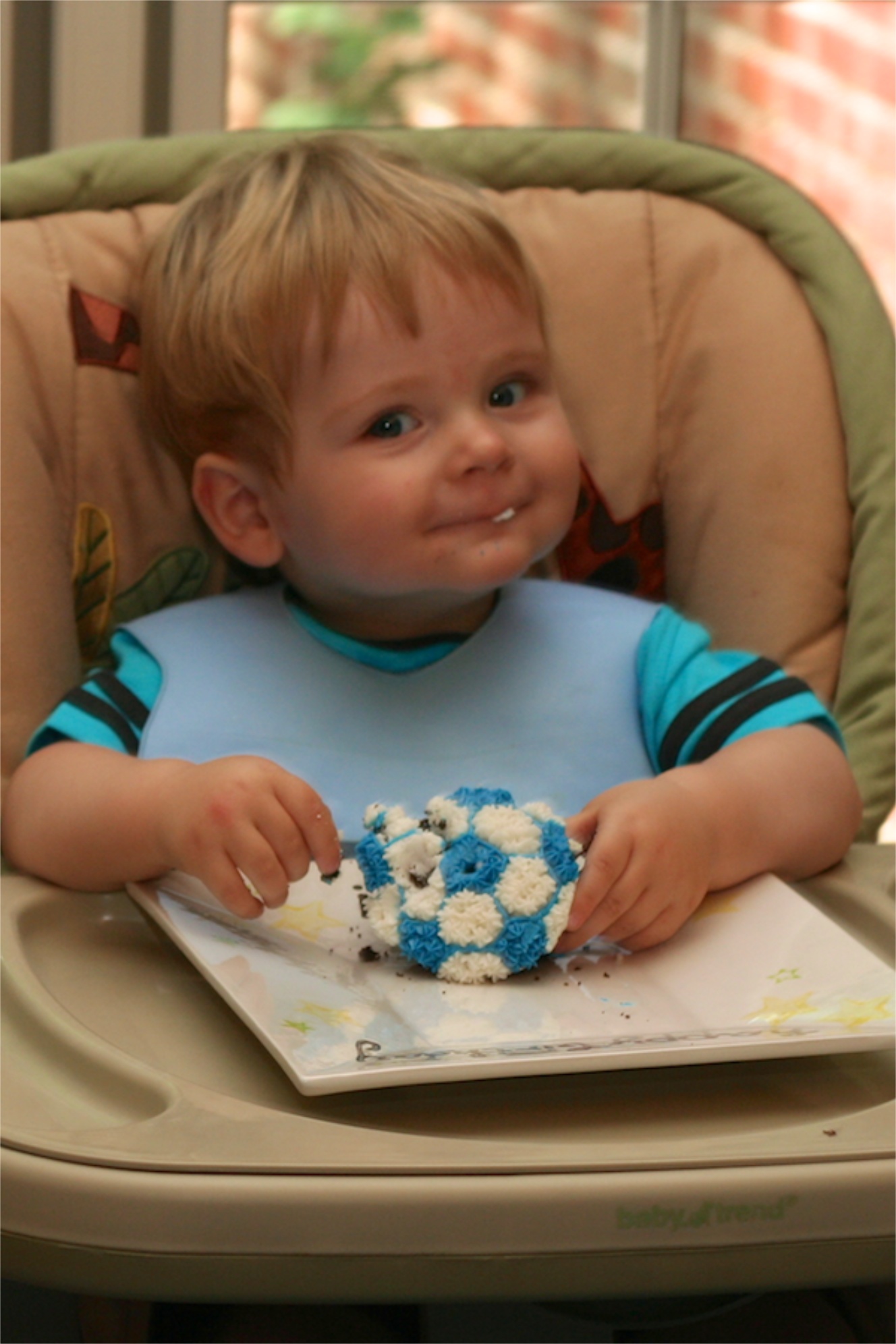 After the cake and presents, we went outside to play with Percy's "big gift" from us–a plastic pool. He loved it and was much more eager to get wet than Valor was at his age!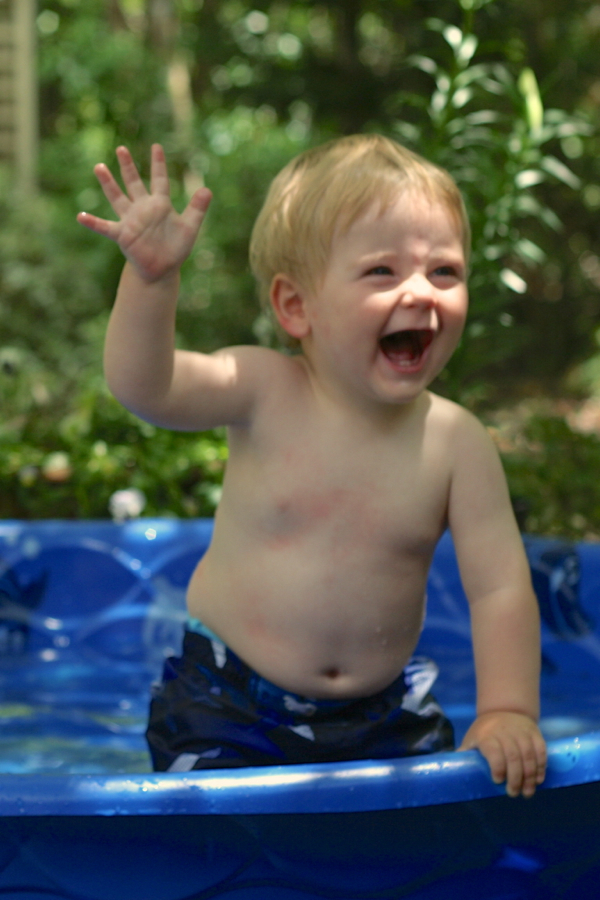 After a few minutes of fun, Percy tumbled over the side, and his cries were quickly ministered to by his grandparents (although he turned out to be more mad than injured). Then it was time for naps to sleep off the big day (I needed one too)!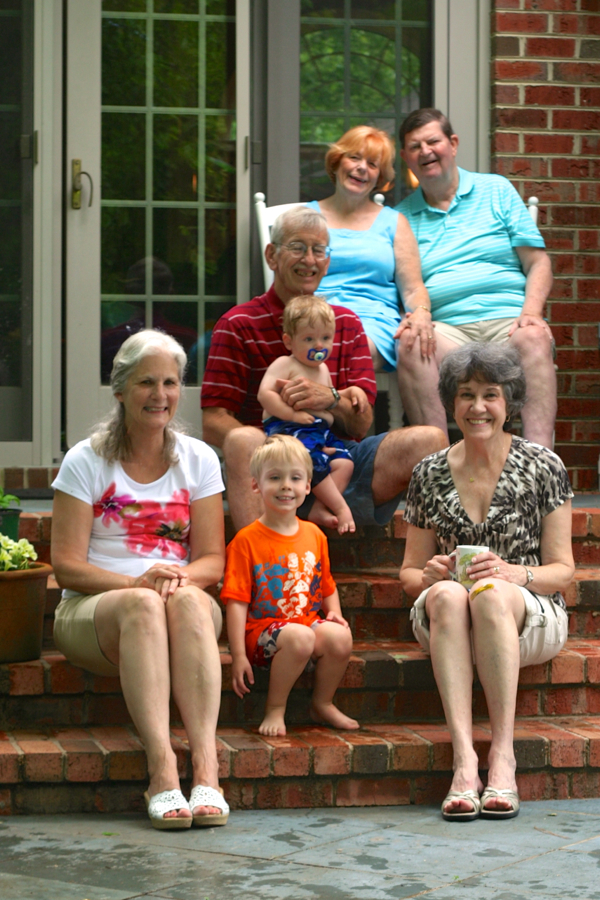 Grandchildren are the crown of the aged, and the glory of children is their fathers (Proverbs 17:6).
Our kids are so blessed to have these amazing grandparents, and how wonderful to have them all together on Percy's special day!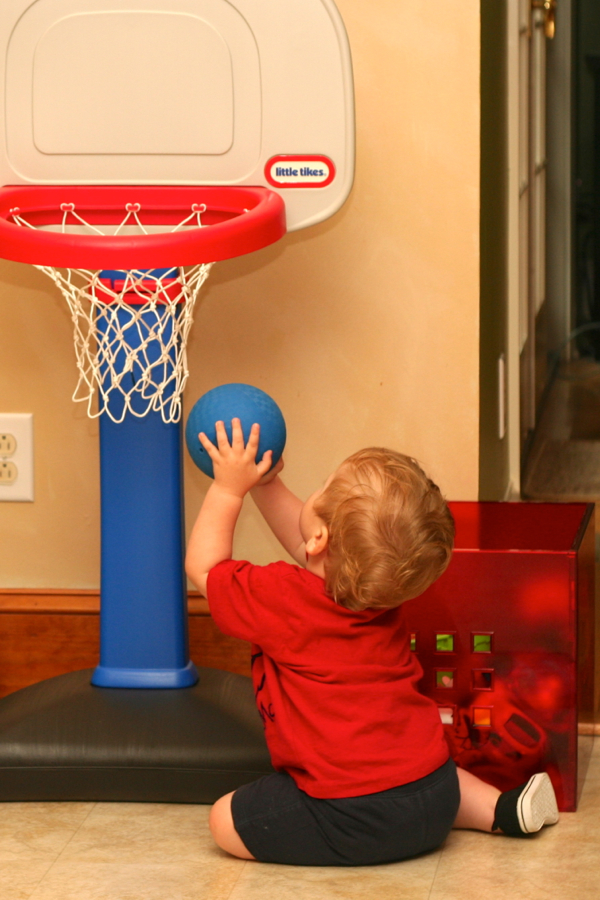 Even though he can't stand up by himself yet, it took about 2 seconds for Percy to figure out what to do with this birthday gift from Grandmommy. These ball skills definitely did not come from Mom! Time to look for talent agents!
Finally, John crafted an amazing first-year video for Percy. We hope you enjoy it, and may God grant us all perseverance for next year as well!