blasting off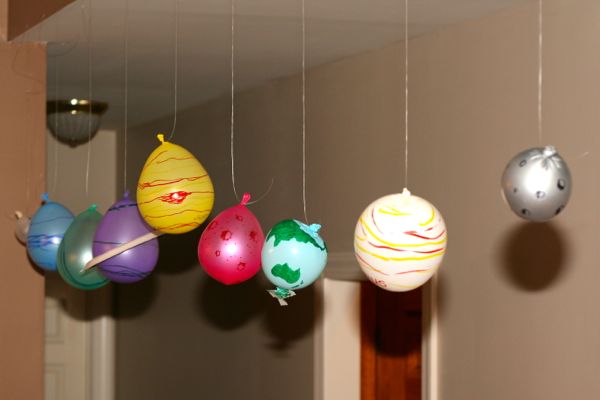 The key to hosting a Solar System party is: you have to planet. Bahahahaha. Ha. Ha.
For Valor's 4th birthday he chose a planet theme. My friend Margaret helped us with all the craftiness. As the kids arrived, we gave them a page of Sticko solar system stickers (eBay) and black construction paper so they could create their own solar system.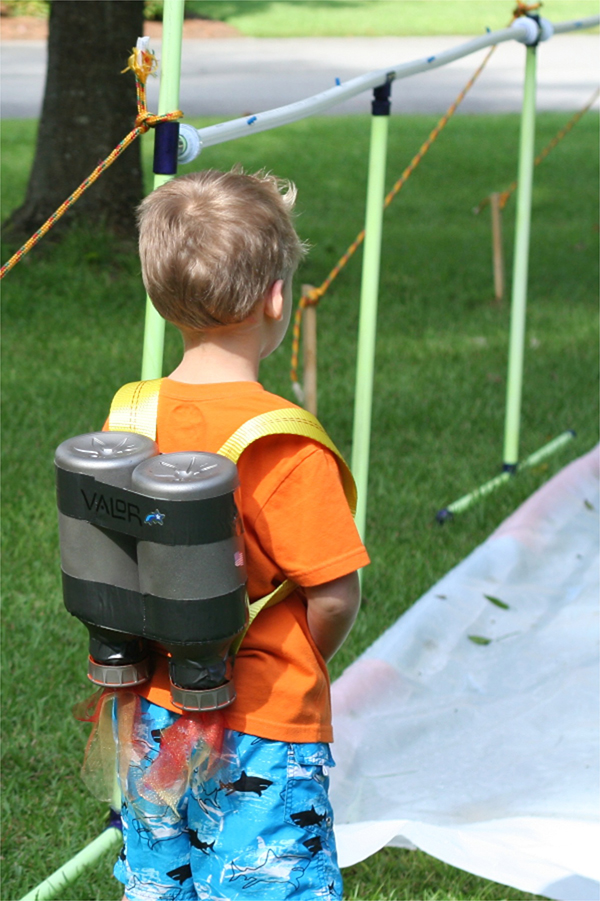 Then we ushered them to the front yard to find their jet packs! There are a lot of examples online of how to make these, but we made them from scavenged and donated empty OJ bottles and coke bottles for the big kids, all the way down to itty bitty soda bottles for the babies. I sprayed them with plastic primer, then silver spray paint. Then John duct taped them together in pairs and added utility straps and names in permanent marker. For the flames Margaret cut yellow, orange, and red sparkly fabric into pointy strips (the yellow about 11×2″ , the orange about 9×2″, and the red 7×2″). We layered them, folded them in half, and pulled them up through a hole John drilled in the lid. Then we stuck a short nail through all the layers, sideways like a straight pin through all the fabric, and pulled the fabric back out of the lid until the nail was flush against the inside of the lid, keeping the fabric from pulling out. Then fluff the layers and done! We had to make a few duct tape repairs during the party but overall they worked great.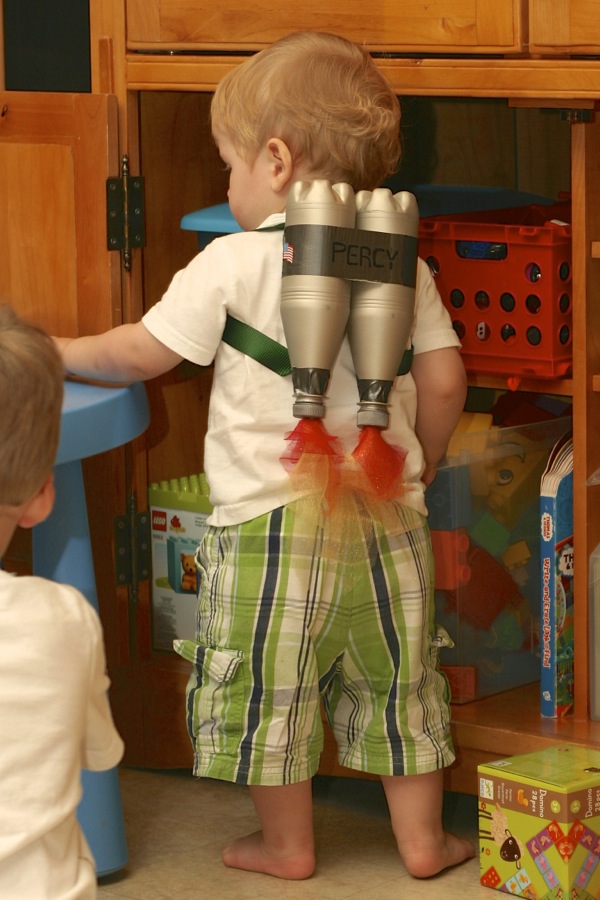 If you remember last year's post, John created a "Wingo Wash" that was a PVC-pipe spray tunnel with a slip 'n' slide. This year it made a happy return as a "Rocket Launcher," and was a big hit again.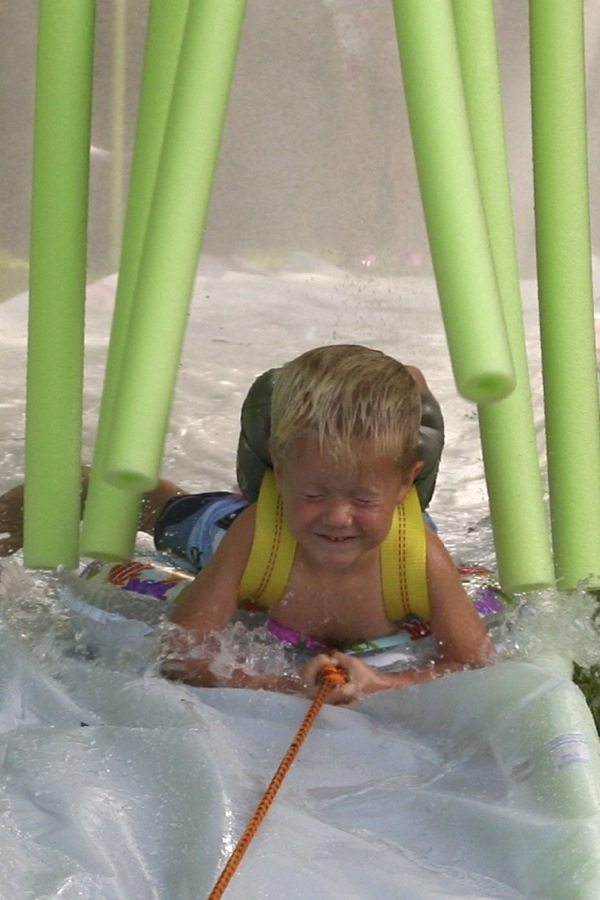 For the cake I went the easy route and bought a set of plastic glow-in-the-dark planets rather than try and make them myself. I made two chocolate cakes and used canned chocolate frosting. Then I streaked a yellow frosting bag with orange to create the sun's flames, piped orbit lines in white, and added a rocket with a "4" on it. The final touch was Trix Swirls cereal around the bottom edge to look like more planets.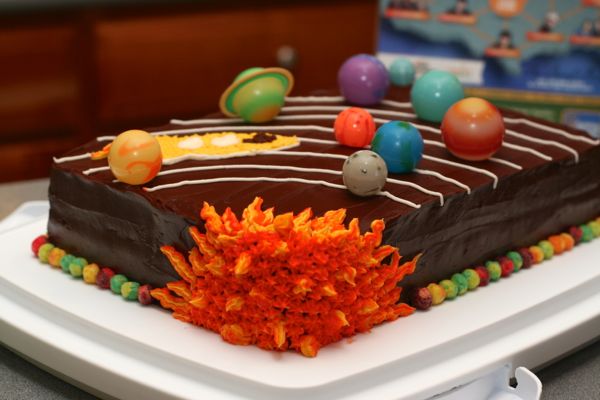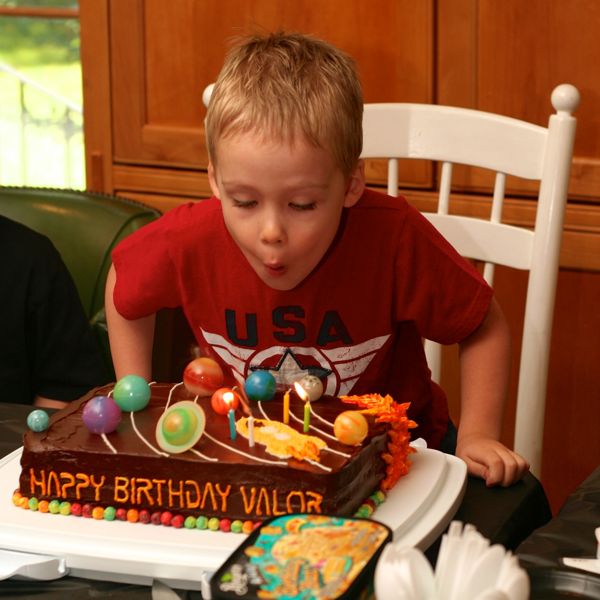 Margaret and I made favor containers that looked like rockets using an idea from a Martha Stewart page. We spray-painted cardstock silver with the leftover jetpack paint, cut them into pac-man shapes, and made cones using double-sided tape. We added flag stickers and names. Then we cut four red cardstock fins for each cup, folded them, and stuck them on with doublesided tape. We punched holes in the cups and lids and threaded through string for handles. Inside we put a little bag of Trix planets and marshmallow stars, some plastic spacemen, a bendable alien from Amazon, and some glow-in-the-dark planets and stars with stickum stuff to put them on their walls.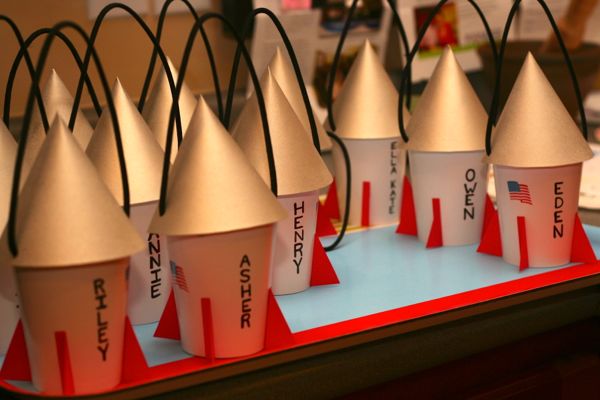 We are now in the fifth week of homeschool for Valor (with Classical Conversations), and we're both learning a lot. Valor can memorize facts very quickly if they are put to music! It's quite mindblowing. For the first three weeks of school Valor had a relapse with potty training, which I think was just from the stress of all the new things he was learning and thinking about. After he got past that, we got serious about stopping his thumb sucking, something he's been trying to stop since he turned 4. We got Mavala Stop (the bitter-tasting stuff you paint on your thumbnail) and it did the trick; he slept at night fine. However, Valor was unable to get to sleep for his afternoon naps for three days after he stopped sucking his thumb. I was about to pull my hair out, because I depend on that time to get a lot of school planning and other work done! Yesterday was his first successful afternoon nap since he's stopped sucking his thumb, but then he struggled to get to sleep that night. So still working on some sleep challenges.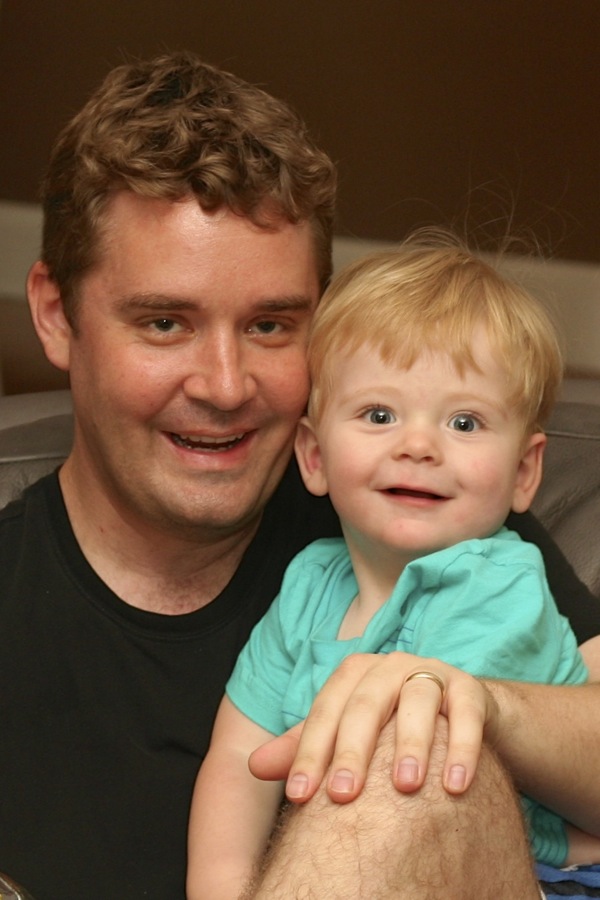 Sometime about a month ago I noticed that Percy's front teeth were really sharp and funny-shaped. The dentist confirmed that he chipped his two front teeth, and I have no idea when he did it! It could have been in any one of a number of falls, and I feel like a terrible mom that I didn't realize it when it happened. Anyway, he's going to be a bit of a snaggletooth until his permanent teeth come in. He still only has 6 baby teeth.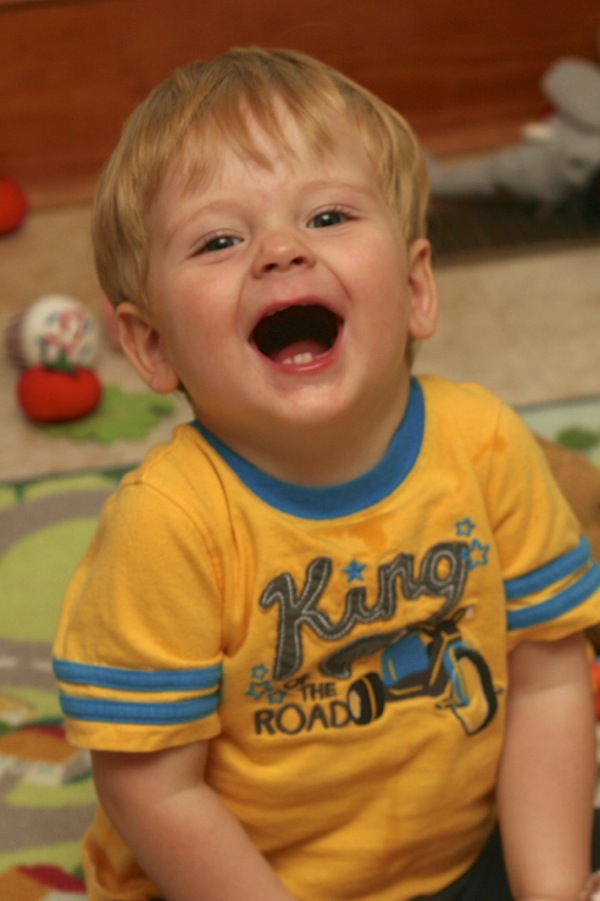 Percy is very curious and less cautious than Valor. About a month ago he loved to go into our unguarded bathroom, open my makeup drawer and select a lipstick, and then walk over and throw it into the toilet. I guess he felt like he was shooting a basket, but he really culled down my lipstick choices before we broke him of the habit! The other day he opened his diaper pail, threw dirty diapers around, and deposited his paci inside for me to discover later. He's a handful, but his smile and waddling gait still melt our hearts.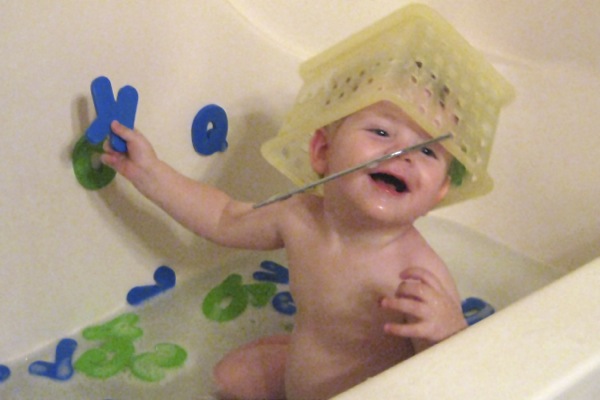 In general, Percy is able to obey much more than he used to, and he can feed himself with a spoon and fork in a mighty way (and he eats a lot!). He can walk well now, not falling so often, and is even starting to run. He is making lots of sounds, but his word list is still pretty short at 15 mo.: Mamamamamma, Dada, Gaga, Nana, Papa, Up, Go, all done, nana (for banana), moon, Barbara, "ba" which is his name for pacifier. And of course, the ubiquitous "BALL," which has broad application to everything from the moon to blackberries. He can sign milk, thank you, more, and please (which looks more like the throat-cutting motion, so maybe he means it as a threat instead of a request).
He can understand and obey things like "Go get the ball!" or "Bring me your bowl" or "It's bath time." He does not appreciate being laid down to have his diaper changed. Percy is still taking a light nap, 20-45 min., in the mornings, and a 2-3 hour nap in the afternoons. He loves animals, balls (still), and going outside. He will watch ball games on TV with John, which Valor never did. He's happiest when his belly is full, and it's hard to keep it that way! He weighs 29 lbs. now.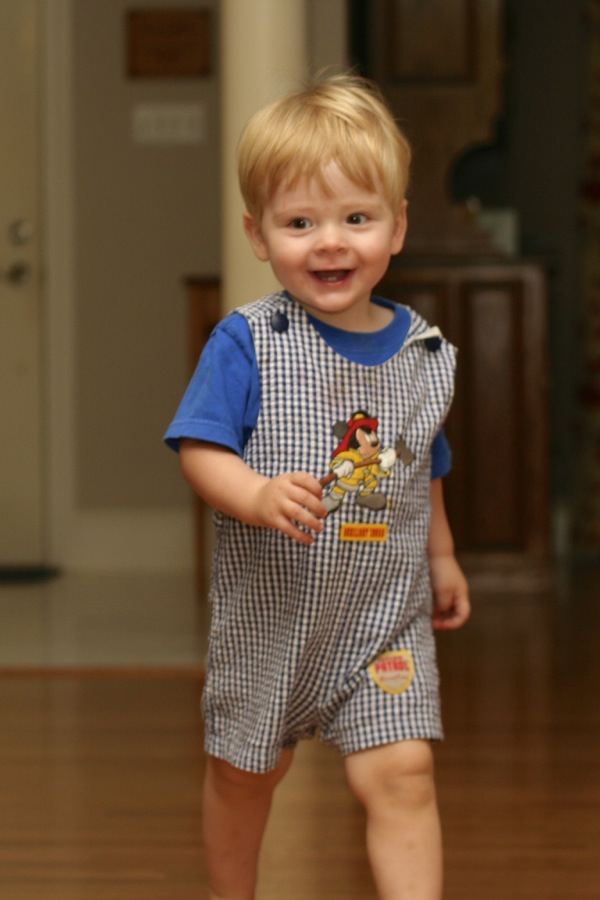 Valor is becoming a very good big brother, most of the time! He will try and keep Percy from doing what he should not do, but if I don't get there fast enough he just pushes Percy down or hits him. He is reading more and more, and can dress and wash himself (but splashes a lot). He can open the car door, get into his seat, buckle himself in, and close the car door! Hallelujah!
Valor can write in upper and lower case letters and loves to copy words. He draws complex machines with gears and buttons and smokestacks. His favorite subject in school is art, and he can color within the lines of a coloring book now. He can set up a chess board, tell you how most of the pieces move, and play a short game. John takes him to Lowe's to do kids' building projects, and reported that on the last project Valor can actually drive the nails into the wood all by himself.
We were randomly watching TV the other night, when John found a show we had never heard of before: American Ninja Warrior. Both children were completely transfixed. Valor said he wanted to compete someday at Mount Midoriyama. And he wasted no time starting to train.
We are enjoying Valor's lack of a self-editing "reality filter" when it comes to brainstorming Halloween costume ideas for this year. So far he has offered: Saturn, a bed, a gun, a skunk (which he discarded when I told him there would be no stinky spray coming from him), a shoe, a ceiling fan/light, a coffee maker, Earth, a jar of peanut butter, an ant, and a shirt. Not a person wearing a shirt, but a shirt itself.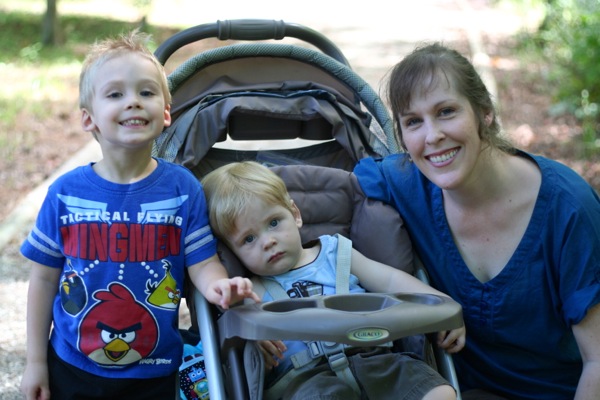 Sometimes it seems like our kids are conspiring to give us second thoughts on having another baby (like when Percy gets ahold of a chef's knife, or Valor refuses to go to sleep although he is obviously tired). But the gospel of God's love, the same thing that gives us strength to love and forgive and press on with our kids, motivates us to open our family to an unwanted one.
We are traveling to Knoxville soon to adopt #6, our blastocyst baby. Please pray that the embryo that we are adopting is able to implant well and grow healthily in my womb. It will be a couple weeks before we know whether it worked. Valor has already suggested some names for her, if it is a her: Buttercup, Pretty, and Flower.
We are coming for you, #6. We can't wait to bring you to the House of Gjertsen!