thawing
I have an hour to myself, so I'm going to snatch a few photos and lines from my journal to update you all on our family.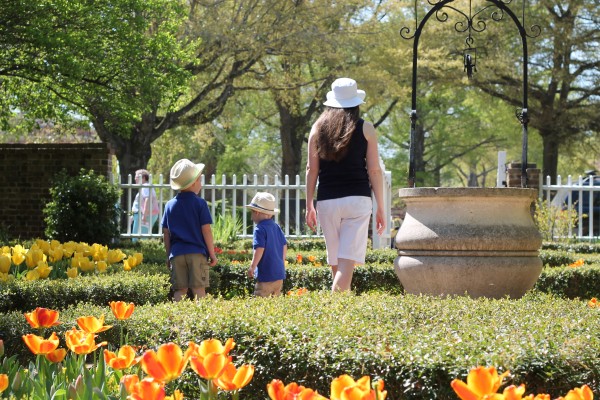 The recovery from my surgery to remove Bitty back in January was smooth. My obgyn said she couldn't explain what caused the unusual implantation or the incomplete miscarriage, but that everything looked healthy afterwards. The only issue was the staph infection the hospital passed me, so now I have a little scar on the tip of my nose. I like to think of it as a reminder not to forget our Bitty.
This time away from the blog has witnessed a thawing, not just of the weather, but also our spirits. We have been blessed with a growing desire for and commitment to personal time with God, better accountability, and encouragement from our church leaders and friends, including some sink-deep-into-the-soul sermons. I am seeing my prayers for growth answered, and like seeds underground, I feel our roots going down deeper into Christ. It is a welcome season.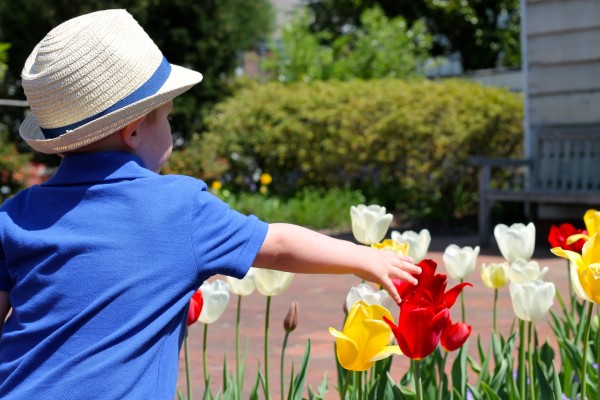 Feb. 1: Tonight Percy inverted the bathtub-toy basket over his head, peered through the holes at me, and said, "I see-ooo!" and laughed! Three-word sentence!
Feb. 5: This morning Valor and I were reminding each other how God can turn bad situations to be used for the good. Valor said, "Hooray for God!" and Percy imitated him, arms up—"'Ooray God!"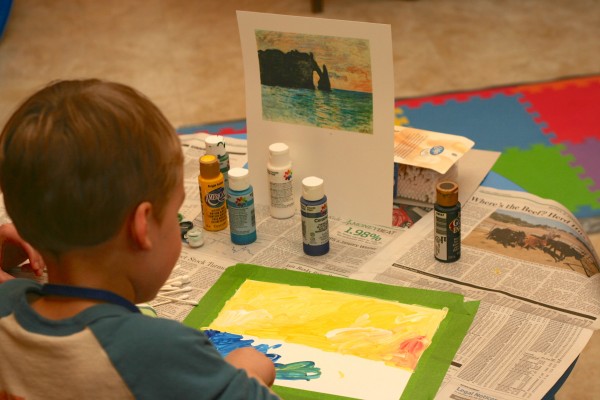 Feb. 6: Today Valor's CC tutor called to tell me that he punched a younger student in his class while they were horsing around.
Feb. 10: Today we went to the library. How delightful it is to see Valor sprawled on his stomach, caught up in a book! Reading! Percy, not to be outdone, is saying numbers 1-9, not including 7, and out of order.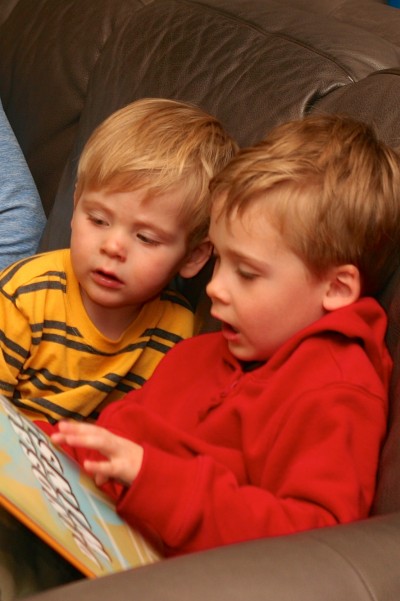 Feb. 16: For a while now Percy will respond by holding out his palm when I say "I love you" and make the ASL sign. But today he also said, "love-ooo" back! Joy!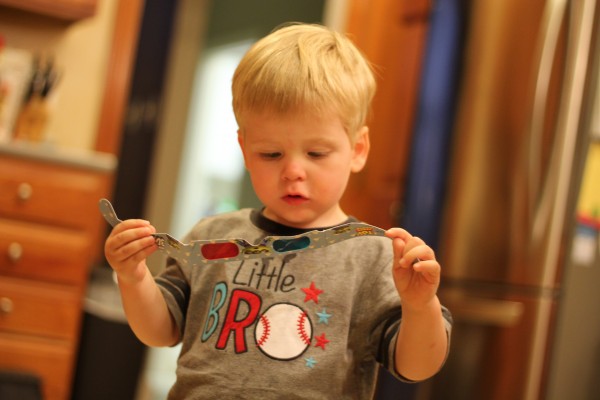 Feb. 17: Today at the beach Valor played outside in the sand by himself for quite a while, doing imaginary play. Gradually growing in non-electronic, self-entertainment!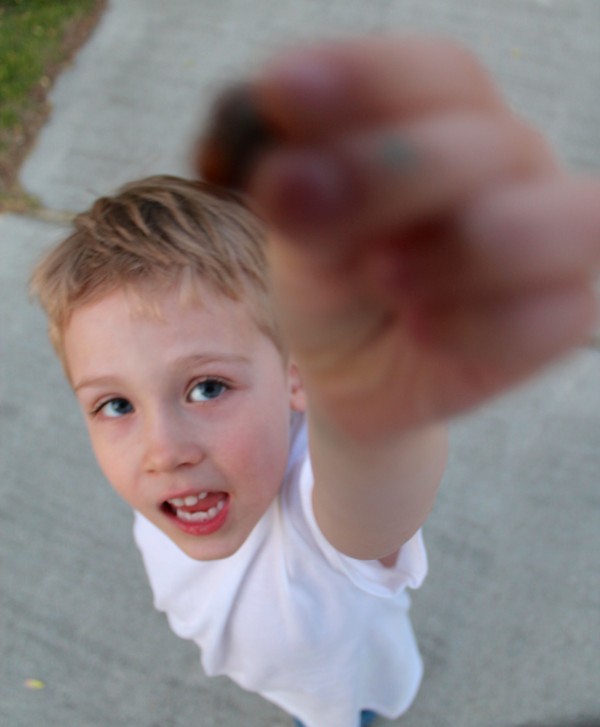 Feb. 19: Heater finally fixed this AM….At Chick-fil-A after lunch, V boosted P up to climb each level of the playground—then had to shove him down the slide headfirst to get him to come down when it was time to go.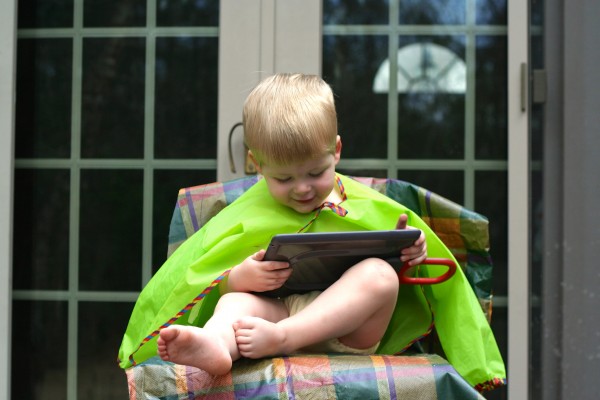 Feb. 24: V declared today "Math Day." By the end of the night he was forming addition equations with his foam numbers. When he added "=9" to "4+5," he said, "Now it's even mathier!"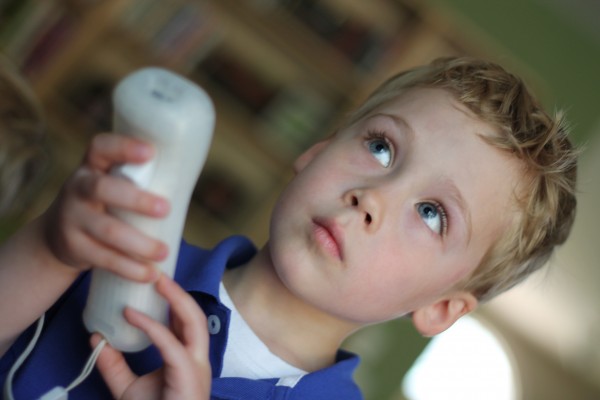 Feb. 26: Tonight five deer crossed our street. Percy said, "Oh deers! Oh deers! Ooooh! Deers!" with utterly breathless excitement. He is 20 mo. old.
Feb. 27: Got my first "smart phone." I can barely figure out how to answer it. (You might notice on the sidebar to the left there is a link to "a really good mobile deal." We pay $10/month per phone for unlimited calling and texting.)
Mar. 6: This morning Valor was trying to set the table and said, "Mom, Percy is not following my destructions!"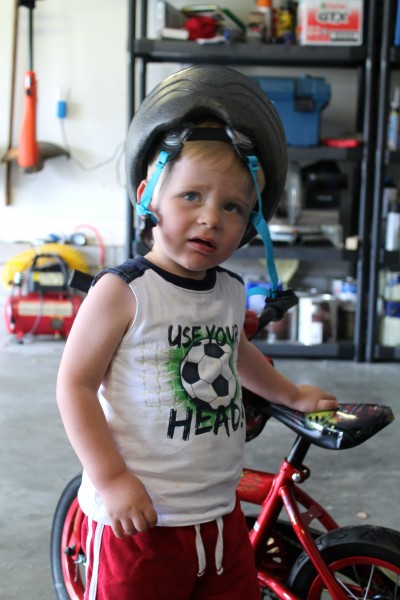 Mar. 13: Today's high was when V & P asked to go outside and play. I was busy but I bundled them up and sent them out alone into the back. It was like a Mom-fantasy come true to just watch them through the window, playing together, without needing me.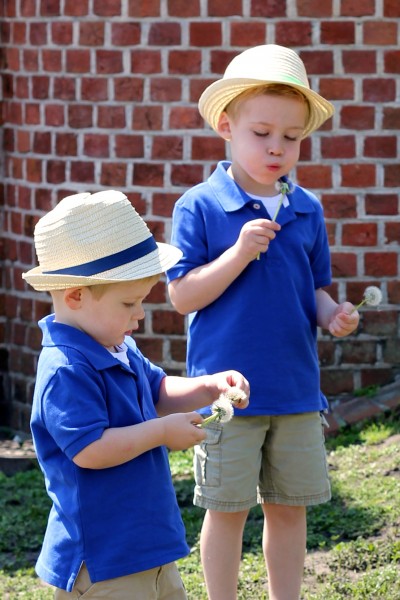 Mar. 16: We had green shamrock waffles for breakfast! Jesse K spoke about suffering. It was a good sermon and also reminded me that I don't feel the pain of suffering during this season.
Mar. 21: Today in the checkout line at Walmart, Percy put his arms out to hug me and said, "Love you, Mommy." Melt!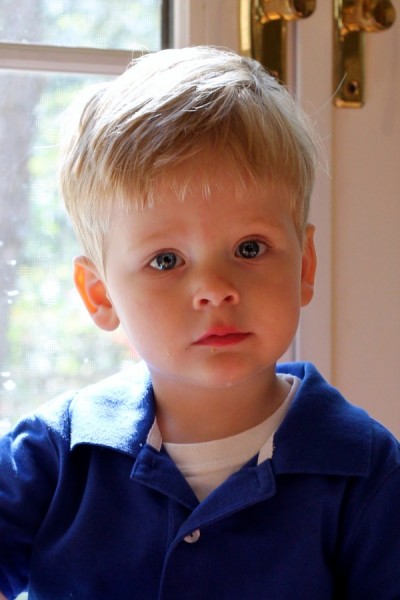 Mar. 24: Today Valor gave me a "trophy" for doing my chores. Percy correctly identified blue and brown for the first time. Went to the library and got lots. V reading more and more.
Mar. 31: At breakfast, discussing Jesus overturning the tables of the moneychangers, I said, "Jesus said, 'My Father's house is to be a house of prayer…but you have turned it into–what?'" and Valor said, "A grocery store!"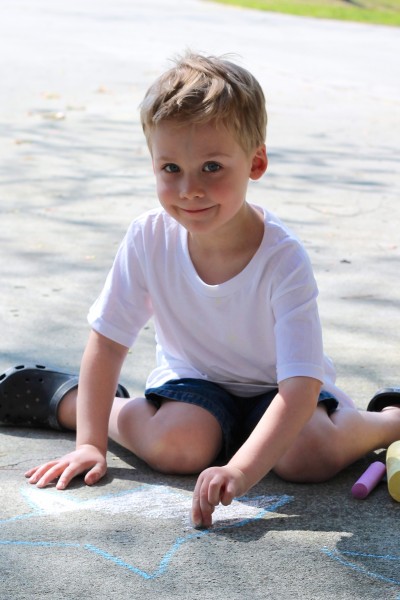 Apr. 2: If Percy doesn't like something, he says, "Like it!" and makes a raspberry. If he does like something, he says, "Dat!" or "Dis!" with excitement. He pronounces the color orange as "or-norge."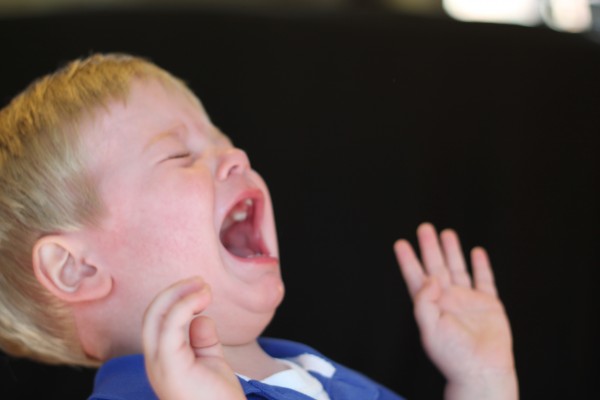 Apr. 4: Percy is falling in love with Winnie the Pooh. He also likes Mo Willems' Pigeon and Elephant & Piggy; frogs; the Three Little Pigs; and Goldbug from Richard Scarry.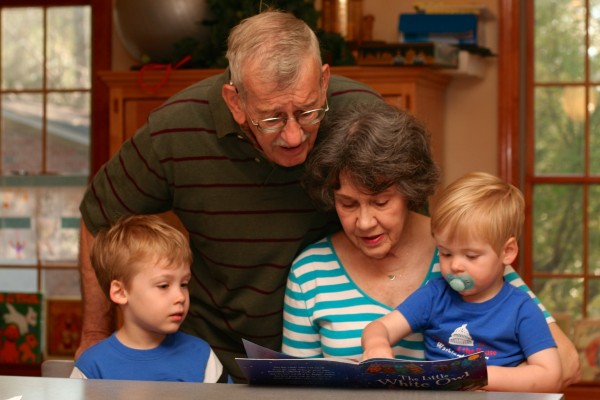 Apr. 5: I call Percy my "dancing bear" because he is barrel-shaped and loves to dance (to music, or when excited or praised). At night, for a lullaby, he requests the "ACBs." Unaccompanied, he sings it, "A C B…" (pause) "…me!"
Apr. 7: (After church) V: Riley [pastor's son] doesn't know something big boys know.
A: Oh, what's that?
V: That beans are the musical fruit.
A: (pause) Did you explain what that means?
V: I tried to, but the teacher said not to talk about it.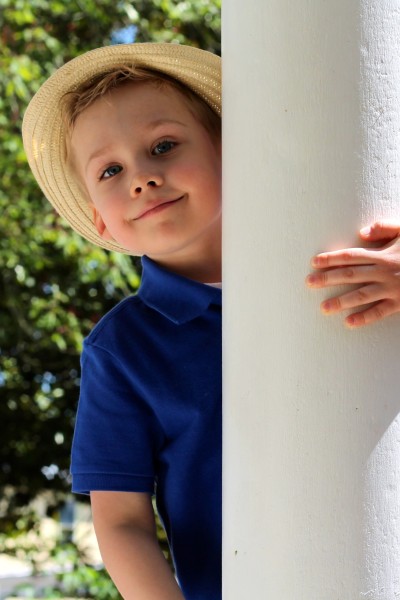 Apr. 12: Kelly and I got to work on our Sabbath study today. We have about four more chapters to write, but we decided to focus on the big picture during her visit. We ended up reworking the intro. But it was a good time.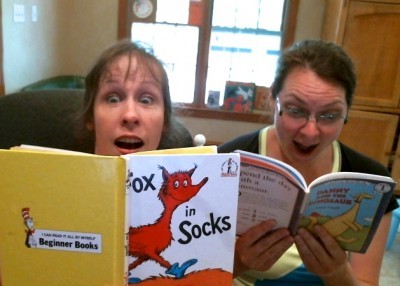 Apr. 17: When Percy realizes something, he says, "Oh!" And when we say grace before a meal and end with "Amen," he likes to add on similar-sounding words, like "Snowman. 'Piderman."
Apr. 20: Easter! V sprang out at 7 to look at his basket, and we woke P up to be able to look at it all together. P was determined to unwrap and consume candy despite our threats and explanations. The terrible twos are here!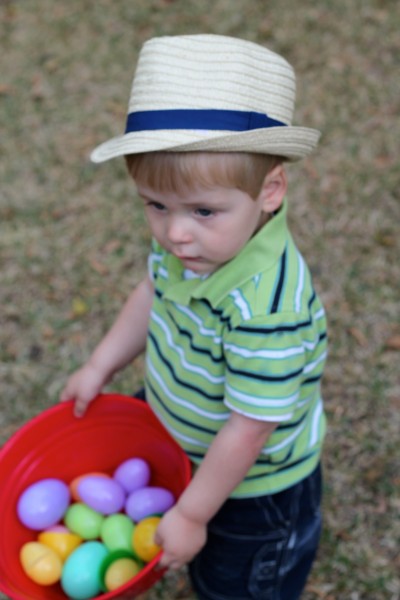 Our first year of homeschool with Classical Conversations is finished, and Valor and I loved it. He learned a ton, and his appetite is still insatiable now that the weekly flood of memory work has stopped. I took a couple weeks off, then we officially started our math curriculum (we are using Singapore Math). It's my first experience teaching him something academic on my own, and it's been fun for both of us. I have been praying about adding a foreign language since his memorization powers are so good right now. I don't want to bite off more than I can maintain if I get pregnant soon.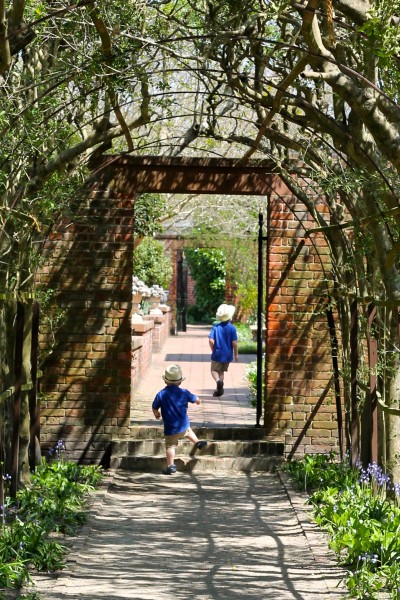 We will write about our second embryo adoption soon. Please pray that my body prepares a good environment for the baby or babies that we adopt on May 16.