Percysaurus turns 2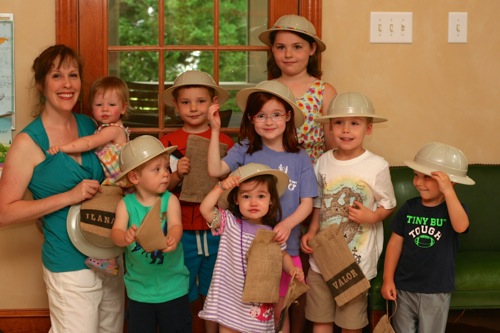 Percy turned two June 8. Planning a little dinosaur party was a fun distraction from the miscarriage, so I might have gone a little overboard for a two-year-old's party. My mom was visiting for the week prior, so it was like having two of me to get things done. Awesome! I put her to work on some adorable almond dino cookies for the goody bags. Thanks, Mom!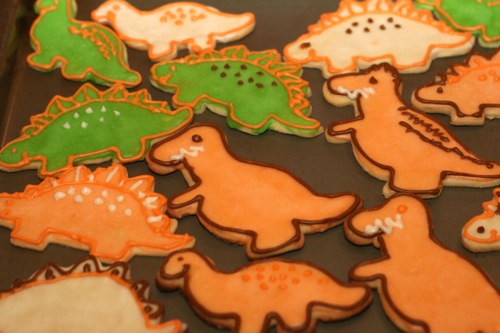 I made salt dough for the first time. I hate the mess of playdough, but this seemed like the best way to get the idea of fossil impressions across to little ones. Each child got a ball of colored dough to flatten out and press dinosaur skeletons and plastic bugs into. (Of course, Percy tasted his dough first.)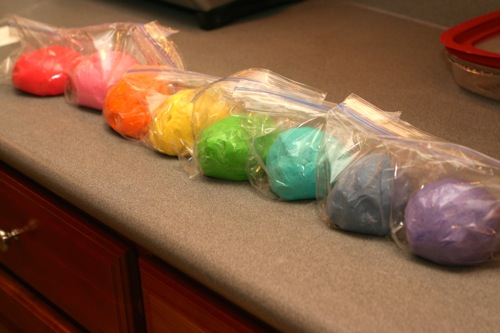 Then we stamped their names into their creation, baked it for hours, and sealed it with acrylic spray. I didn't get any pics of the kids making them, but here is the finished product.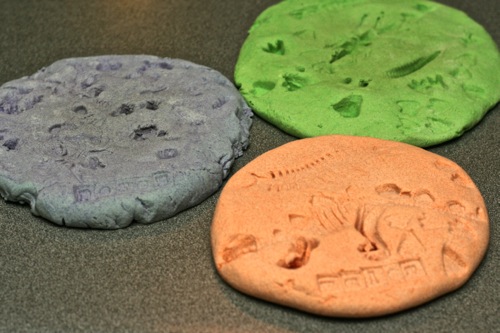 After the fossil impressions, we sent the kids outside on a dinosaur egg hunt. That was a big hit!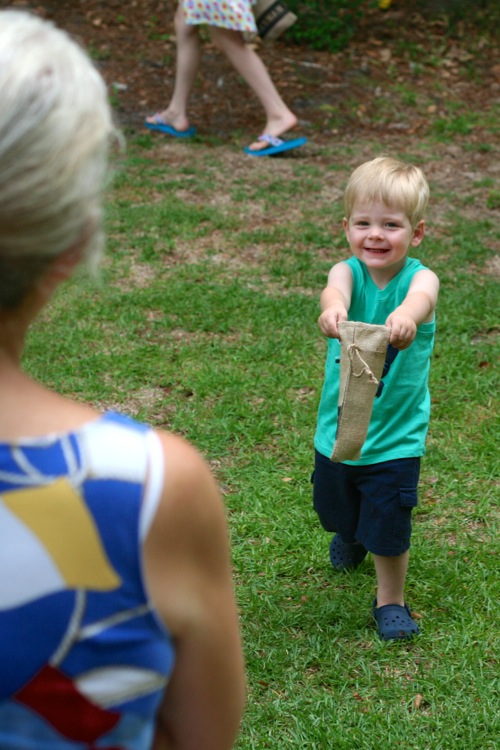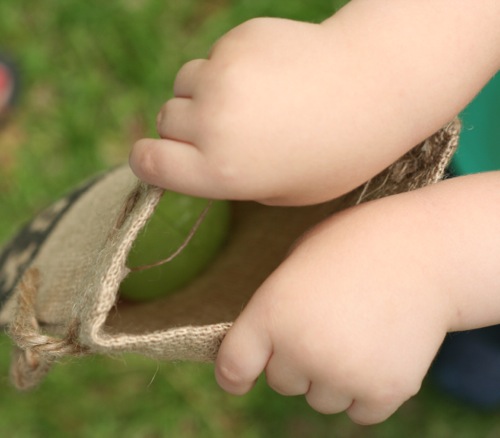 I bought the favor bags at Walmart and stuck the kids' names on with stickers from Hobby Lobby, then masked off a stripe and spray painted them black so the names would be reversed out when I took off the stickers. We used them to hunt eggs with as well as for favor bags.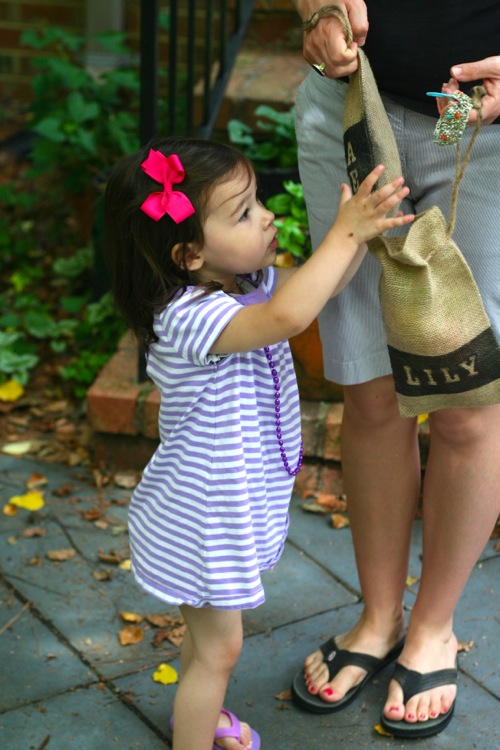 Finding out what dinosaurs everyone had gotten was very exciting.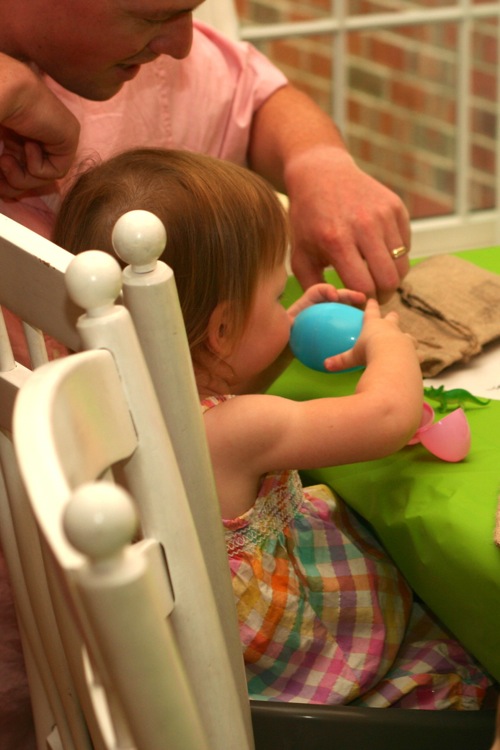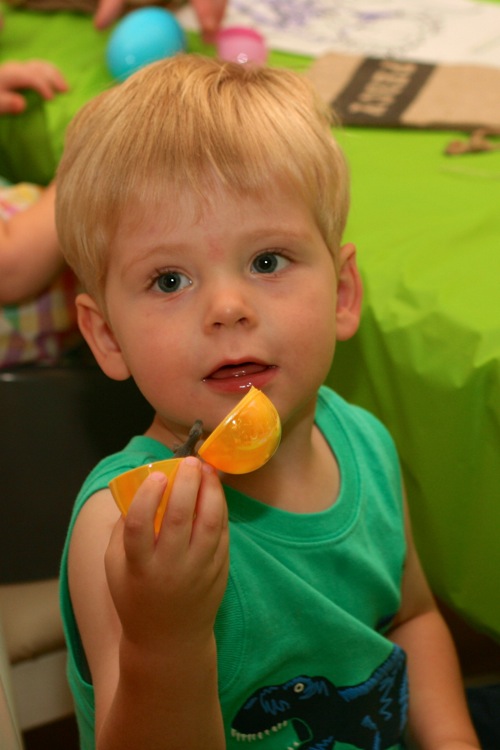 John prayed for Percy, we watched his two-year-video (see end of post), and opened gifts. Then it was time for hot dogs, homemade coleslaw, fruit, chips, prehistoric punch, and of course, cake and ice cream.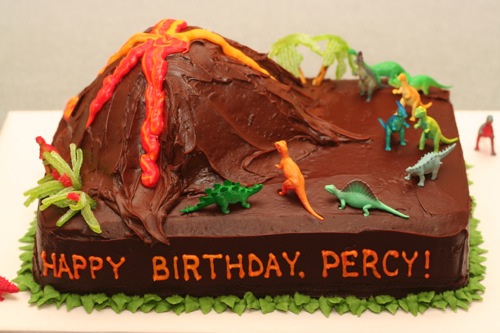 Percy wanted chocolate cake and ice cream, so that made it easy. This cake design was simply two 9x13s with a volcano on top. I carved the volcano from the soccer ball hemisphere pan I had from Percy's one-year-old Ball party. I freehanded the cuts, iced it with storebought chocolate icing, and dropped it on top of the iced rectangle cake. Then I blended the icing together to seal it. I piped orange icing with red streaks for the lava and his name, and green leaves around the bottom.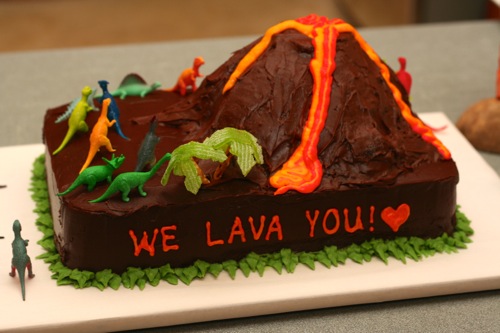 Meanwhile, Mom fashioned jurassic vegetation and palm trees from pretzel sticks and Rips candy. Despite the inviting vegetation, the dinosaurs still look a little concerned about the volcano, though, don't you think?