bunk brothers
Before Percy turned two, he surprised me one afternoon by popping out of his room at the end of his nap time. When I asked him how he got out of his crib, he pantomimed climbing a ladder with his hands and said, "climbed." He also defeated not only doorknobs but child doorknob defense devices. If we taped them on there, he just would peel the tape off. Did you remember his name was Perserverance?
Percy frequently cried because he wanted to sleep in Valor's bed. So we decided to give him a shot at sleeping in Valor's room and put a twin air mattress on Valor's floor. That didn't last one night—the boys kept jumping on the mattress, so we took it back out. Second idea was to get Percy a real twin mattress and just put it on the floor of the nursery, to get him used to a bed without it being very far to fall from. We thought it would also be a good time to take away the pacifier, which at this point he only was getting for sleep or the car.
Well, he loved his Big Boy Bed. Its novelty did not make up for the Loss of Paci, however. He asked us where paci was, and we lied, "Paci is gone." Cue mayhem. We turned the doorknob around and started locking it after tucking him in. After five nights of screaming and banging himself to sleep (on the floor by the door, not in his new bed), we caved. Totally exhausted from his screaming, I asked him, "Do you want paci back?" and he spread his hands and said, "Paci gone!" Interesting that even though he accepted our explanation, he couldn't just tell himself to do without it. So we are back to paci at bedtimes and in the car.
That sleeping setup worked well for a couple months. The next step in our plans was to bunk the boys in Valor's room so we could get the nursery prepped for a new baby. The baby plans still aren't working, but the boys were really psyched about the bunk bed idea, so we decided to go for it while they were excited and let them start getting used to sleeping in the same room.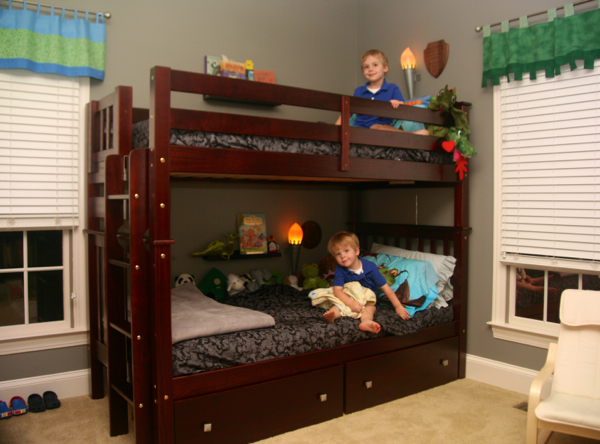 We had to tear out a bunch of shelves and other things to clear the wall space, but we got everything filled in and repainted in time for John to drill new holes for the boys' MINNEN FAKLA torches (no longer available from Ikea, alas), life verse plaques, picture ledges, curtain rods and banner rod. The torches are great for reading lights, and the RIBBA picture ledges (also Ikea) are like nightstands to hold books.
Percy, the fearless climber, was convinced that his name was on the top bunk, so that took some training. We had to convince him that the "man cave" was his cool place to sleep (with all his stuffed buddies). It also took a couple weeks for them to calm down and go to sleep in the same room. The first week they would stay up until 11 before passing out: Valor would read to Percy, Percy would try to climb up to Valor's bed, they would throw stuffed animals, etc. Gradually, sleep time got closer and closer to when we tucked them in.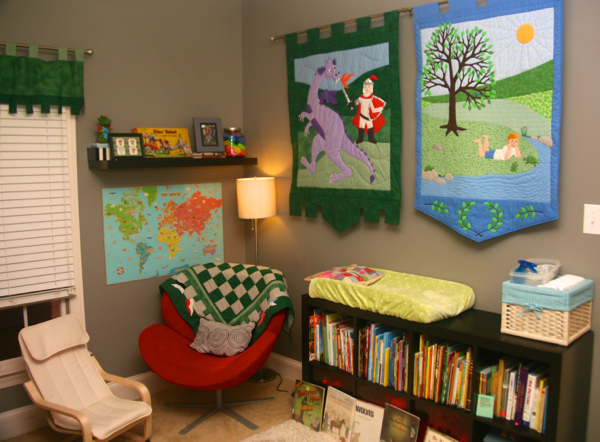 Right now this is the routine: after baths, we have "Jesus time" (Jesus Storybook Bible, catechism, worship music/dancing, and/or Valor reads a story from his children's Bible). Then we read a book together. Then Valor brushes his teeth and goes to the bathroom one more time. Then we have one more book and if it's not too late, they can read for a few minutes with their torches before we return and order lights out.
Today I asked Valor what he liked best about his bunk bed, and he said it felt like his own castle.