everything is awesome
Just about a month ago, I posted my largest double crostic to date. Though a number of you did solve it, I'm sure quite a few of you sat it out. I just realized I never posted the answer. Well, now I have.
My apologies to those who thought we were encoding some secret message about where we were moving or what our next baby's name is. I recognize that has been the trend, but this time I was only hiding some sage investment advice in plain sight, a quote from a book The Most Important Thing by Howard Marks.
In late August we took a family vacation to Florida, including a weekend in Tallahassee with Gaga and Papa: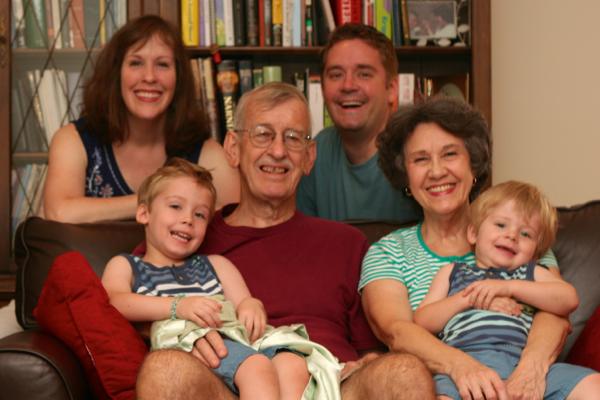 Most of the week we spent in Orlando, where I attended the IRS Tax Forum in Orlando for continuing education to keep some of my professional designations current. This post is not primarily about how awesome the IRS Tax Forum was. We were able to stay at our friends Paul & Joyce's house while they were away visiting family, and kept a pretty busy social calendar meeting with lots of other Orlando friends.
And family.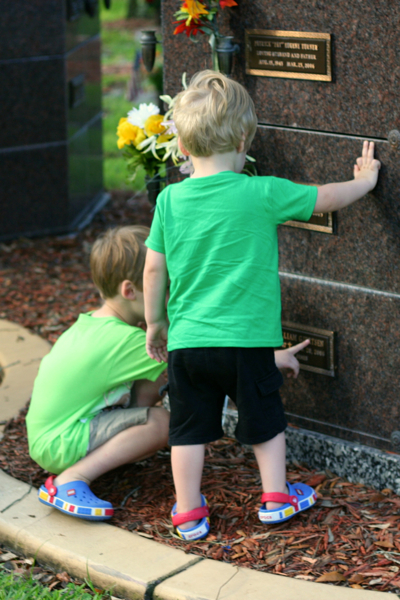 The highlight of the trip—the veritable piece of resistance for you master builders out there—was a trip down to Winter Haven for what was essentially the culmination of Valor's multisite Lego birthday party: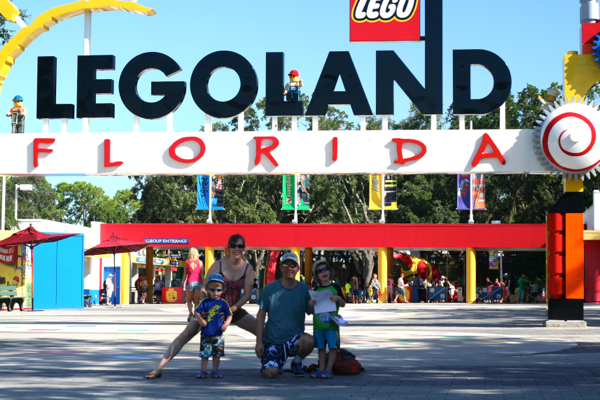 I fear the pictures in this post do not come close to conveying how much fun we had at this theme park. Everything was awesome. Because school had just started up and because Legoland is kind of tucked away from the other major attractions in Orlando, we were not only able to get some crazy good deals on tickets, but there were certainly less than 1000 people in the park with us. Maybe a lot less. We met up there with our friend Kelly, as well as our friend Julianne and her son Isaiah, who would easily be Valor's closest friend if we still lived in Orlando. We felt like we practically had the park to ourselves.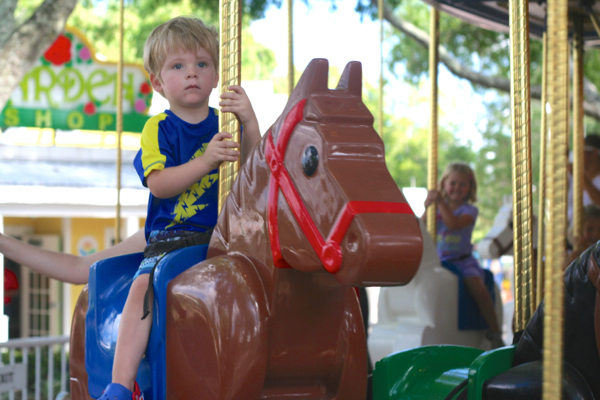 At the center of the park is an exhibit called Miniland USA, which contains dioramas of iconic landmarks in cities like Washington, DC, New York, Miami, Daytona Beach, and Las Vegas, all built entirely from actual Legos. Like 30 million actual Legos. (Plus a little Kragle, I would have to believe.) It was pretty impressive, and we would have spent more time there were it not the least shaded area of the park. August in Central Florida is generally brutal.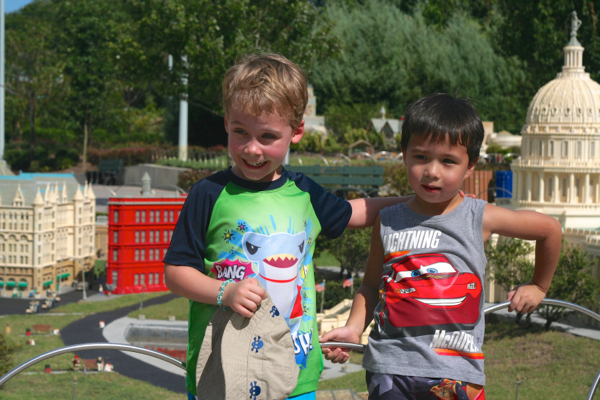 Speaking of the heat, we were well-prepared with water bottles which could be filled with ice and water for free at any of several restaurants around the park. This was a good suggestion I read online the night before, and I second it. The other good way to beat the heat was to visit some of the indoor attractions like Build & Test, where Valor was given a couple axles, four wheels, and a bunch of Lego bricks to create a car to race against his dad.
In another area of Build & Test there was a Duplo table where you could control the amount of shaking/vibration applied to the green baseplates to see if your tower would stand.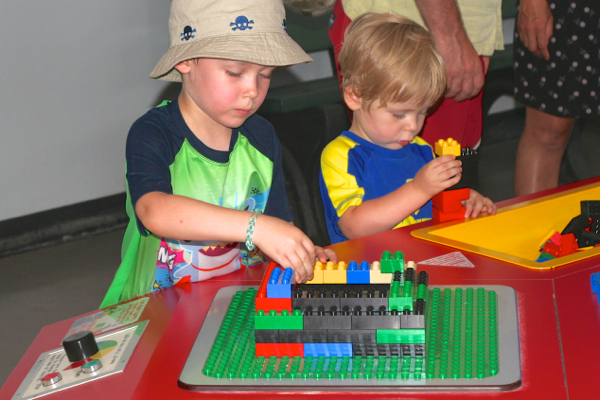 Valor got to drive a little car around a track that basically went half as fast as Johnny Tractor in high gear, but at the end he got a little Legoland driver's license.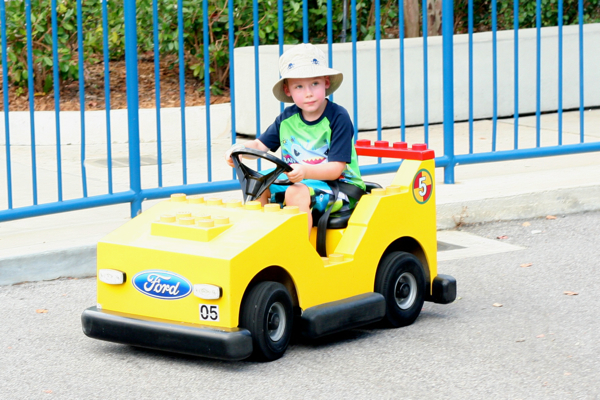 What did go fast were the roller coasters. Valor is now 43″ tall, tall enough to ride all but a couple of the rides at Legoland. While Abby took Percy through Duplo Valley to do some of the attractions geared for younger kids, Valor and I split off with Kelly to ride the big rides. It is a fulfillment of a theme park fantasy when you finish riding a roller coaster and there is no one in line to take your seat, and the ride operators tell you to leave your seat belt on if you want to ride again. This happened several times in a row on Coastersaurus, a wooden roller coaster that for some reason was overlooked, easily the "best kept secret" in the park. It was fun to test out the physics on the front car vs. the back car. I'm a bit of a roller coaster enthusiast, but I don't know if I experience the adrenaline rush like maybe I used to. But I had a lot of vicarious pleasure in listening to Valor talk about how it was a little too intense, but then in the next breath eagerly ask to ride it again.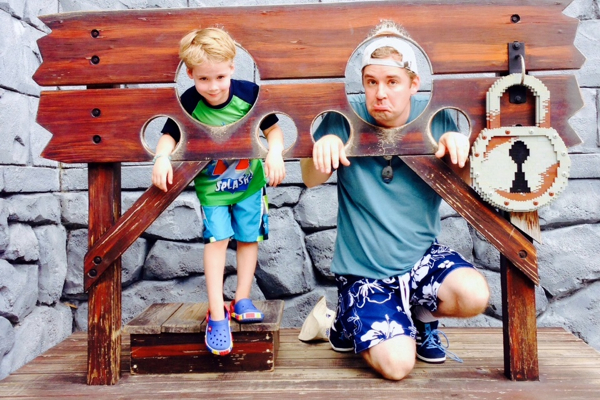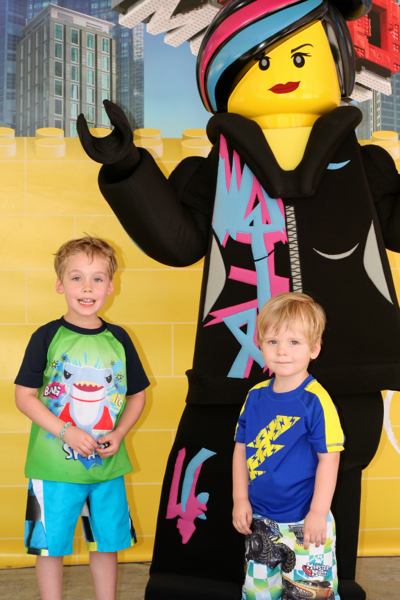 It was pretty cool that we got to see Wyldstyle for a photo op, since The Lego Movie is pretty much our family's favorite movie right now. I think Wyldstyle is my favorite character.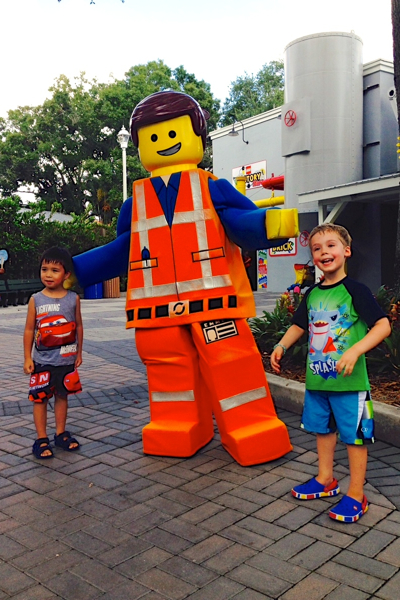 We also saw Emmet, which was pretty special.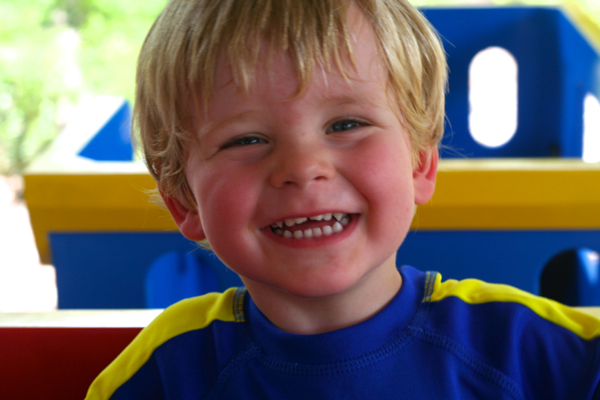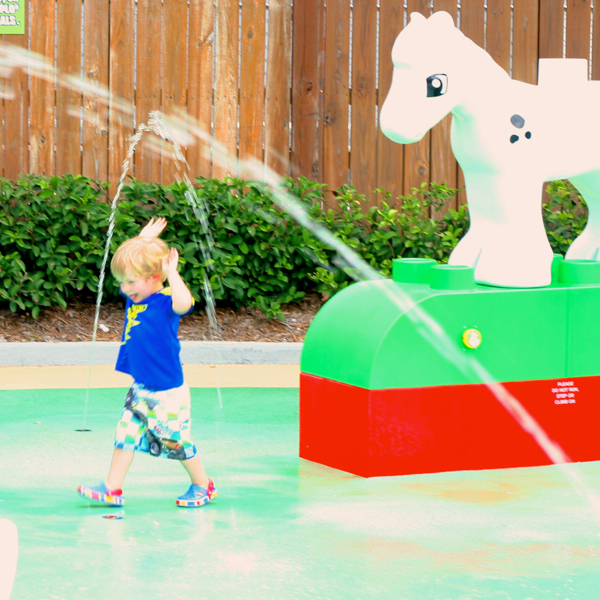 Percy loved the Duplo Valley farm train and the mini splash park. Wearing the bathing suit was definitely a plus here. He ran through the water jets, pushing buttons and dodging squirts, for 20 minutes straight.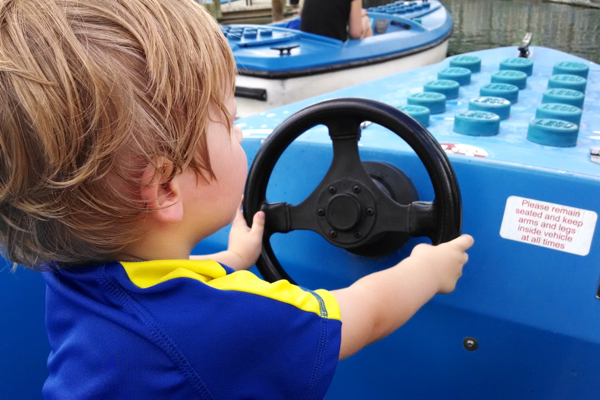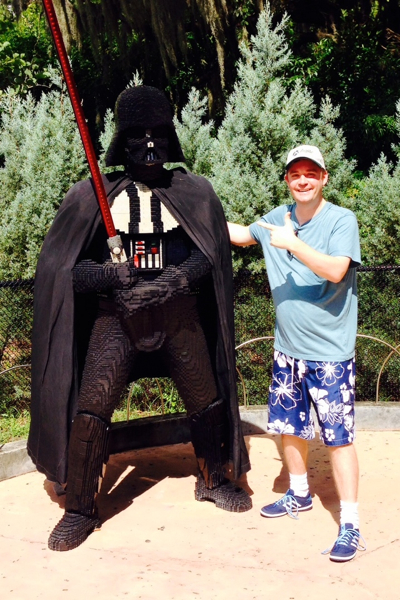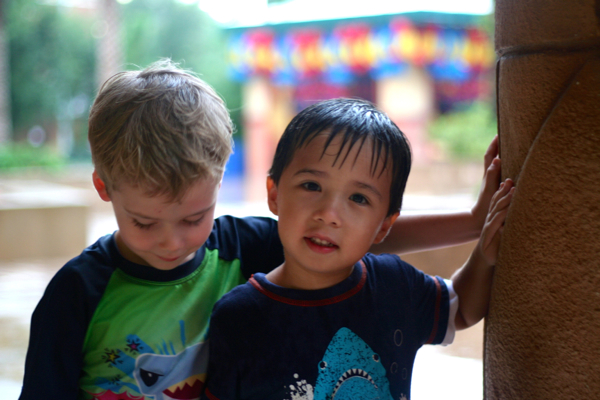 Typical for a Central Florida summer afternoon, there was a thunderstorm, which unfortunately shut down just about all the rides and attractions from about 3:30 until 5:15. Since the park closed at 6pm, we really did just about have the place to ourselves by the time everything reopened. We rode a few more rides, I scored a few sweet minifig trades, Abby bought a bunch of tile pieces (Valor's favorite) in the pick-a-brick area, and we had to leave.
Outside the turnstiles, Valor's first question was when we were going to come back. When Abby said something foolish like "I'm not sure we're ever coming back" there was, on cue, a mini-meltdown which was only repaired by amending the original answer to something more tactical like "we are definitely coming back, but we just aren't sure exactly when."
But it wasn't just tactical, it was true, Lord willing. I used to think of SeaWorld as my favorite attraction in Orlando, but I seriously think it just got bumped. Every member of our family had a really really fun day at Legoland, and somehow the total family fun felt like it was greater than all our individual fun combined. Everything is awesome when you're part of a team…
We had to say goodbye to Julianne and Isaiah, but the rest of us then met up with other friends Deborah, Zane and Daisy for dinner. Deb and Zane had moved to Tampa, and since we were just about halfway to Tampa, I found a Groupon for a tortilleria in Haines City. There could not have been a more perfect way to close out our amazing day at Legoland than this little authentic, hole-in-the-wall Mexican joint with TVs showing Mexican soap operas pumping out the drama. Great company, great food, and, oh yeah…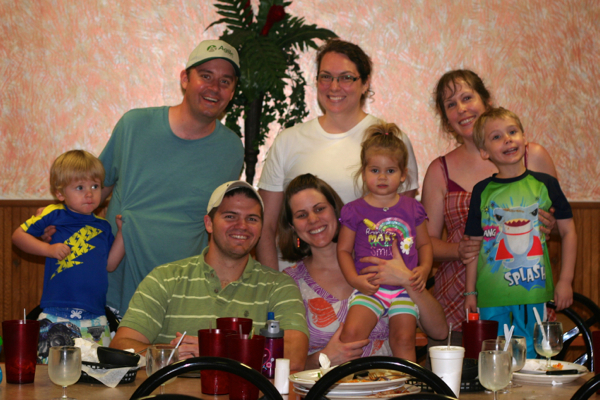 …fresh-churned pistachio ice cream.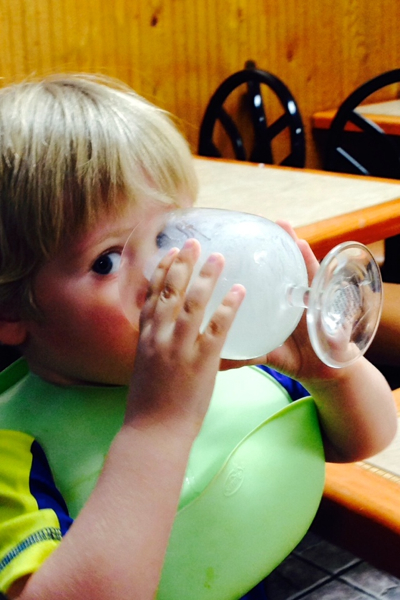 Everything is awesome when we're living our dream.
When are we going to come back?
10/22/14 update: Abby is teaching Valor how to play the tin whistle for our Classical Conversations homeschool curriculum, and she has the score to "Everything Is Awesome" now notated for the tin whistle!