faith and the furnace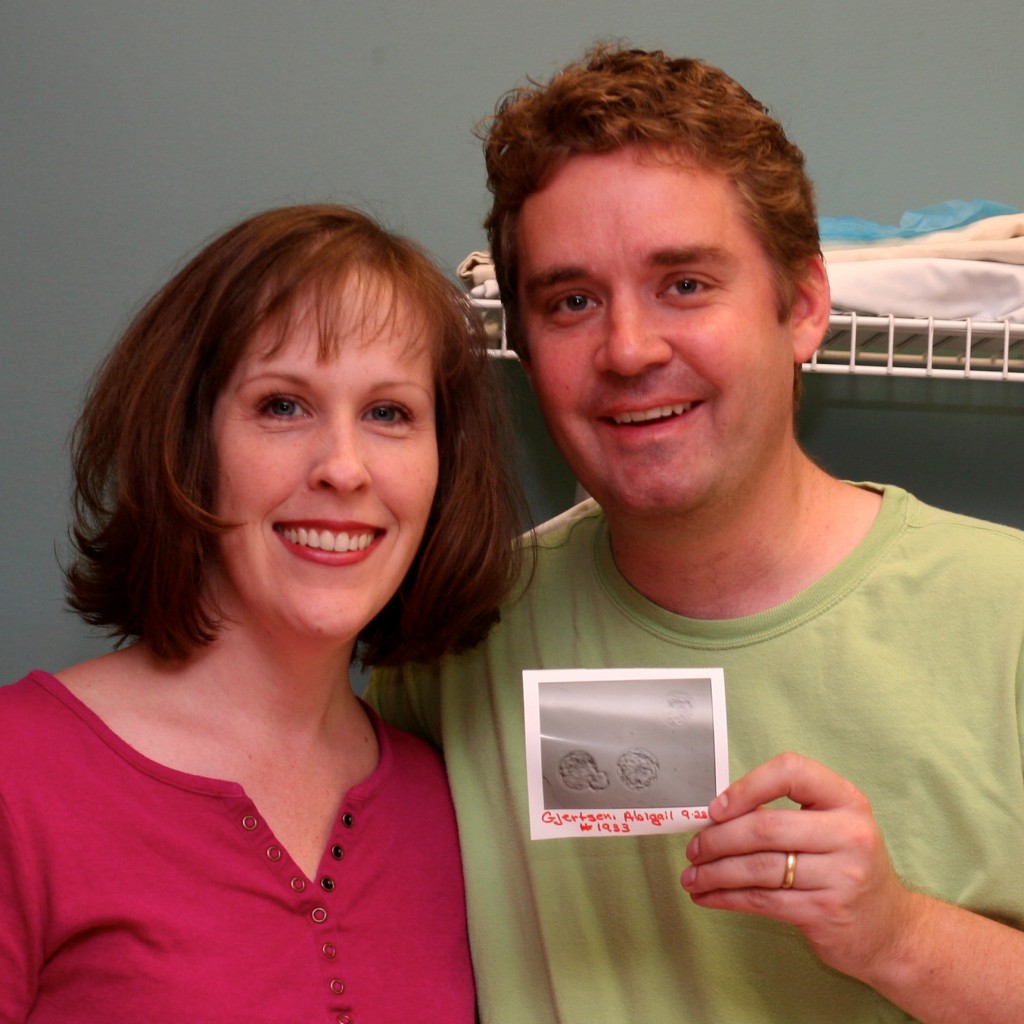 Meet the newest Gjertsens: Shadrach, Meshach, and Abednego. Last Tuesday we adopted them, the last remaining siblings of Nemo, Luke, and Leia. Please pray that they grab hold and grow.
To that end, I asked my NEDC doc several weeks ago if there was anything else we could do to make pregnancy more likely to work this time. I was expecting him to say, "No," but instead he ordered an "aggressive endometrial biopsy" last month to create some bumpy terrain for little floating embies to snag on. The procedure was painful, but my awesome ob/gyn (who initially told us about the NEDC) did a great job and then placed her hands on me and prayed for us and the babies. That was a really moving experience for me, to have a doctor pray for us.
I was a little nervous about adopting three at one time, but we went for it in faith, since this is our last opportunity. We also didn't want to leave one of them behind in the freezer. Most people want more than one embryo at a time, so if one of these were left behind s/he might languish for a long time, especially since all the egg donor's info was unknown. We did confirm that we'd never know more about her than her age. It was either misplaced at some point, or she was a designated egg donor, like a family member, helping a particular couple out.
John noted that my womb might not be a fiery furnace, but it's a lot warmer than the freezer these guys came out of. I actually chose the names because of a message I heard Beth Moore teach on Daniel 3. She talked about the terrible trial of Shadrach, Meshach, and Abednego, who were God-followers thrown into a white-hot furnace because they refused to worship their conqueror, the Babylonian king. They told the king that their God was perfectly capable of saving them, but that even if He didn't choose to, He was still sure to deliver them:
"If we are thrown into the blazing furnace, the God we serve is able to deliver us from it, and He will deliver us from Your Majesty's hand. But even if He does not, we want you to know, Your Majesty, that we will not serve your gods or worship the image of gold you have set up." (Daniel 3:17-18)
Beth said that when the Christian faces a fiery trial, s/he can be delivered in three ways: either delivered from the fire (the trial is removed, and our faith is built); delivered through the fire (we endure the trial to its finish, and the experience of walking through it refines and strengthens our faith); or delivered by the fire, straight into the arms of Jesus. This helps me frame my understanding of how God is using our rocky adoption adventure to increase my faith, no matter the outcome. It also reminds me that the children are totally happy in the event that they don't implant. If they are not with us, they are with Him.
I also love to imagine that the Holy Spirit is somehow present with them in their womb experience, just like He was with Shadrach, Meshach, and Abednego. Isn't that an interesting thought?
So without further ado, here are the beauty shots of the little ones. First (left) is Shadrach. At first I thought he was messed up, but it was actually really fantastic that he's oozing out like that. He is a 5 1/2 AA, which is starting to hatch out of the shell (or whatever it is called) and getting ready to grab on! By the time the embryologist loaded up Meshach (middle), he was also hatching out, but in this photo he is a super duper 5AA. Then little Abednego up on the right was a 3BB, which was like medium-expansion, good-baby and good-placenta parts.
Once more a doctor prayed for me, this time the one who performed the transfer. And I know so many others who are thinking of and praying for us, too. We are so grateful for you taking part in our faith adventure, and we hope you receive a blessing from it.
Valor is right there with us, too, praying for life and accepting what God decides as a good and pleasing plan. He joyfully reminds us that if they all live we will have triplets. I hope he has learned something of faith and hope from this experience. We have tried to include him in it, and he seems to understand that we can pray for something, yet still accept with faith when God's answer is different than what we wanted. In his own words…