free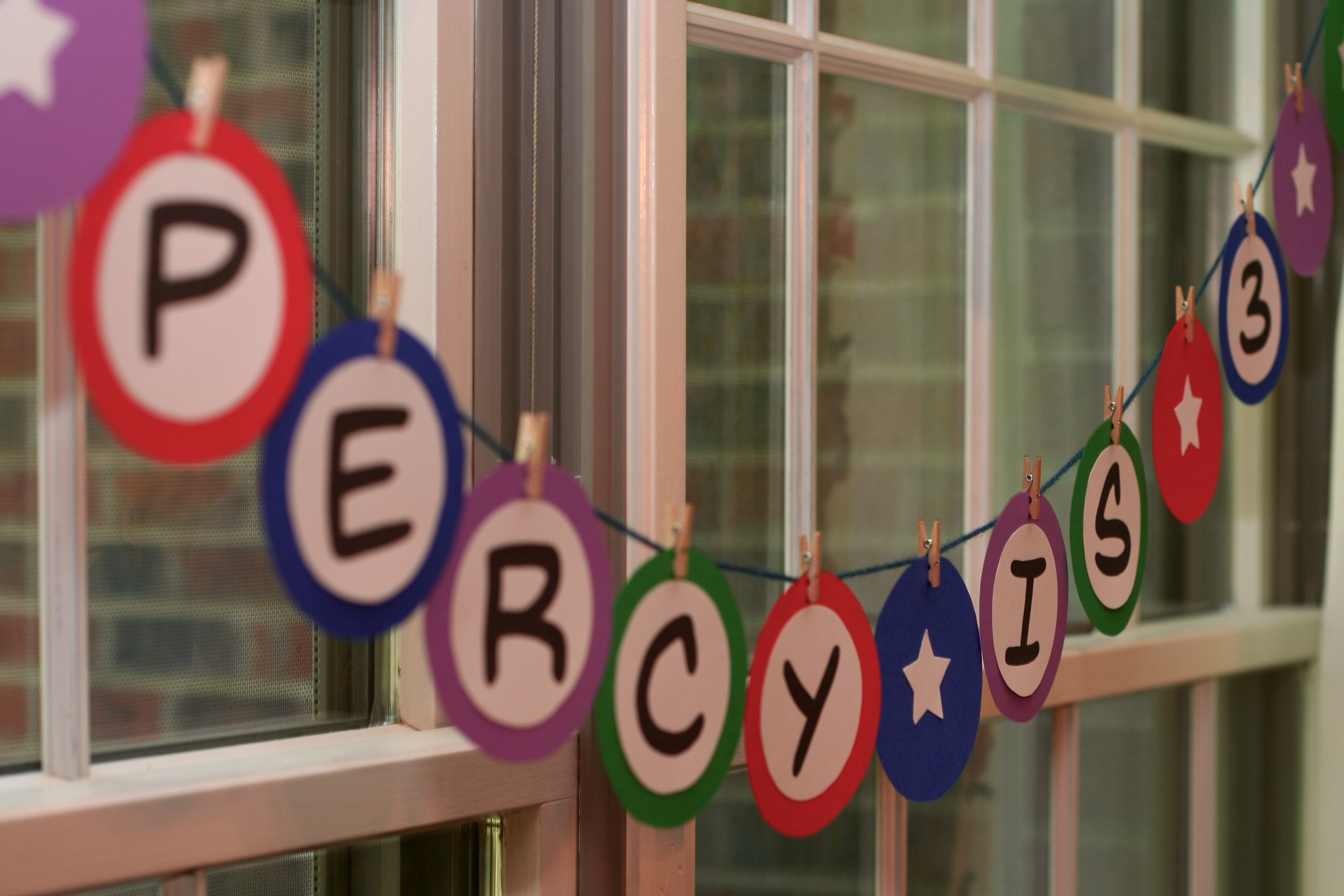 If you ask him how old he is now, Percy will laboriously unfold three fingers, hold them up, and proudly say, "free!" We celebrated his birthday superhero style, since he spends much of his waking hours (and who knows how many of his sleeping hours) living in an imaginary world of heroes, sidekicks, and bad guys. His favorite heroes are Captain America, Ironman, and Batman, but we focused on Cap and Hulk and used red, white, and blue and green and purple for his colors.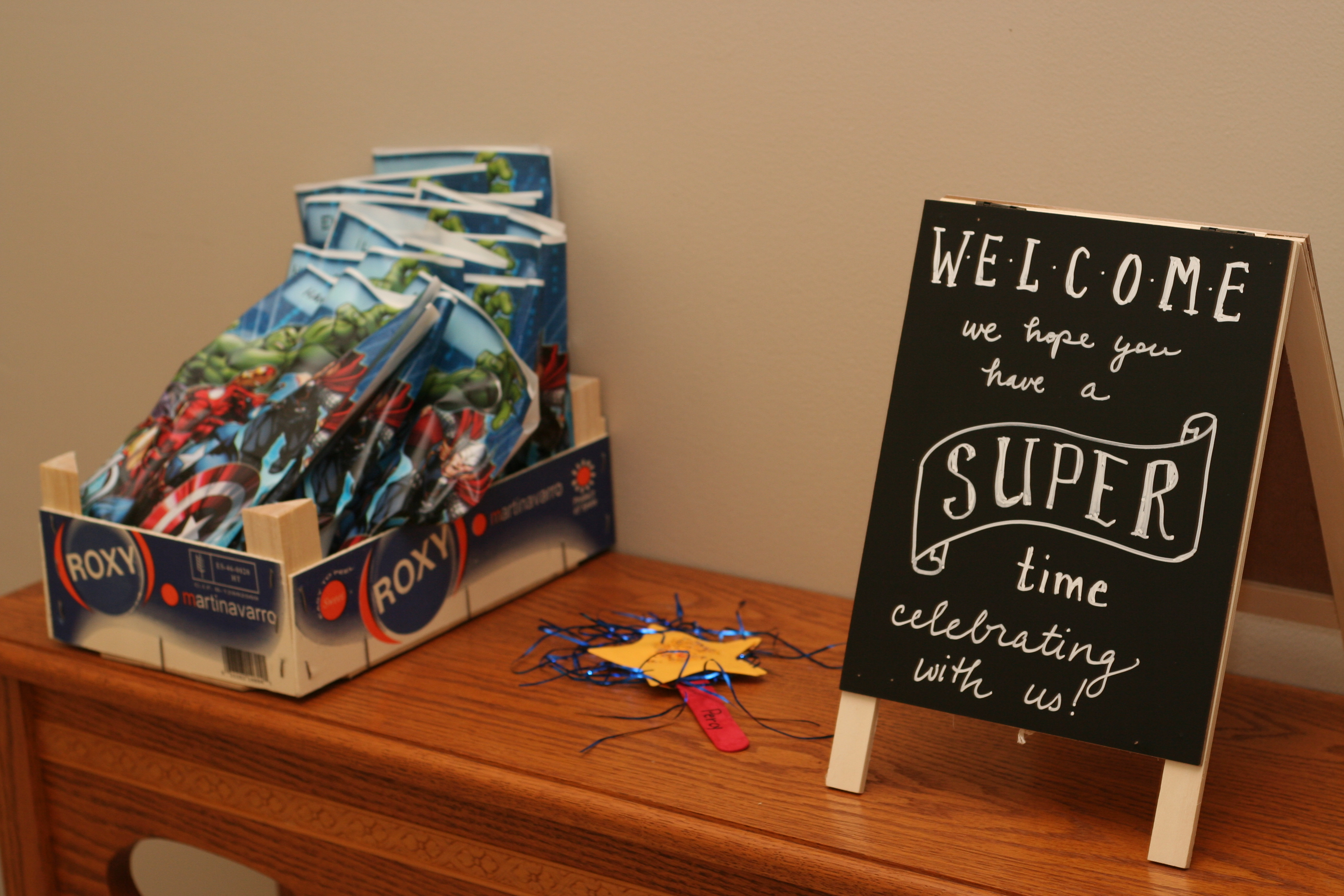 In a fit of insanity, I decided to make Captain America shields for all the kids. They cost less than a dollar each, but they did take some time. I got 15 large red plastic plates (and one small for the baby), cut slits in opposite sides, inserted a 9-inch strip of 1" wide elastic, and stuck down the ends with white duct tape. Here is Percy with the prototype. I ended up making the center circle larger in the rest of them.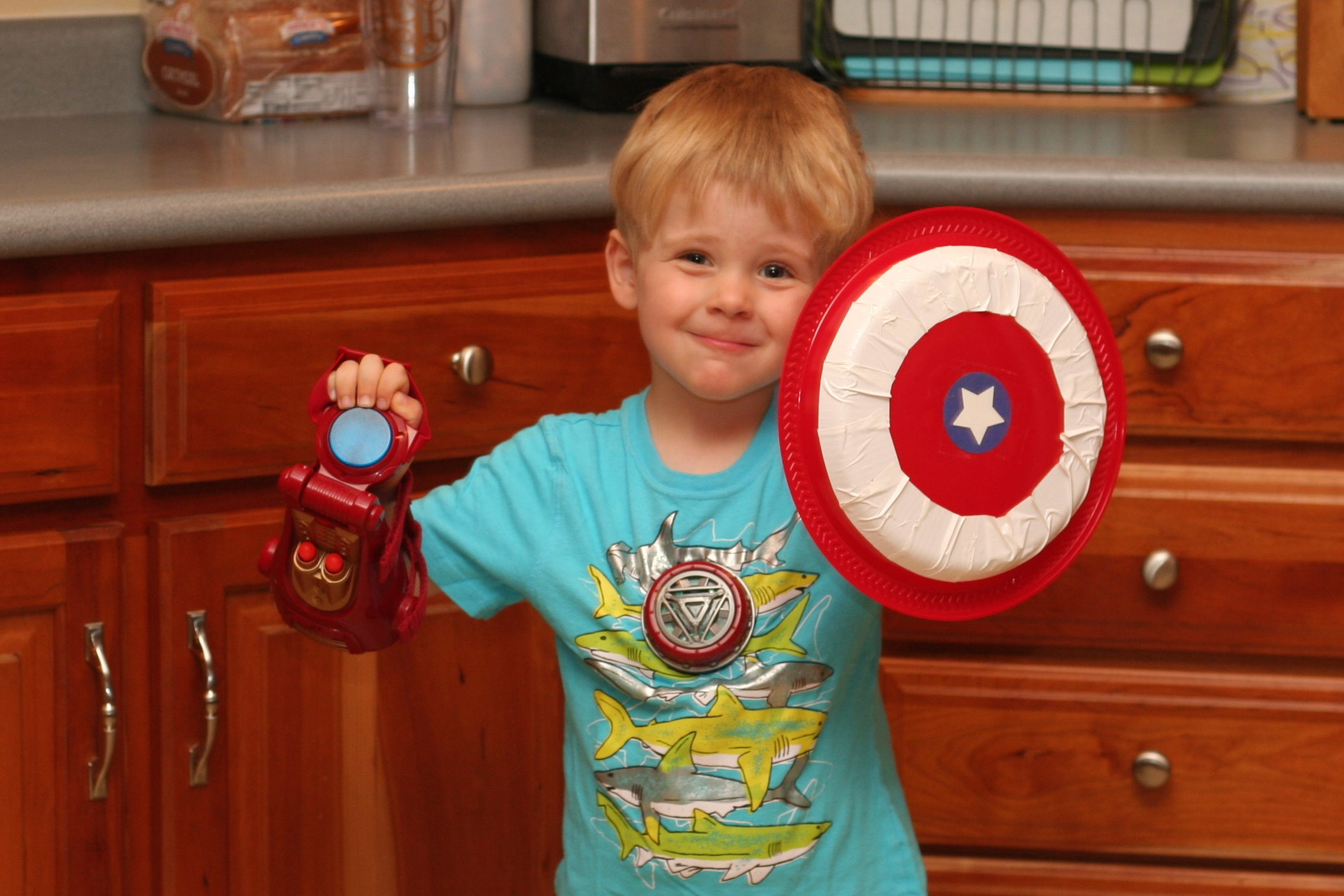 I learned to cut duct tape more efficiently by sticking a strip down to a self-healing mat and cutting it with an X-acto knife. SOOO much easier and cleaner than my previous scissor-hacking method! I cut a bunch of trapezoid pieces to piece the white ring around each shield. I also made all the center circles out of different colored cardstock so they would be unique. Finally I covered the center circles and white stars (from a star punch) with packing tape to make them waterproof.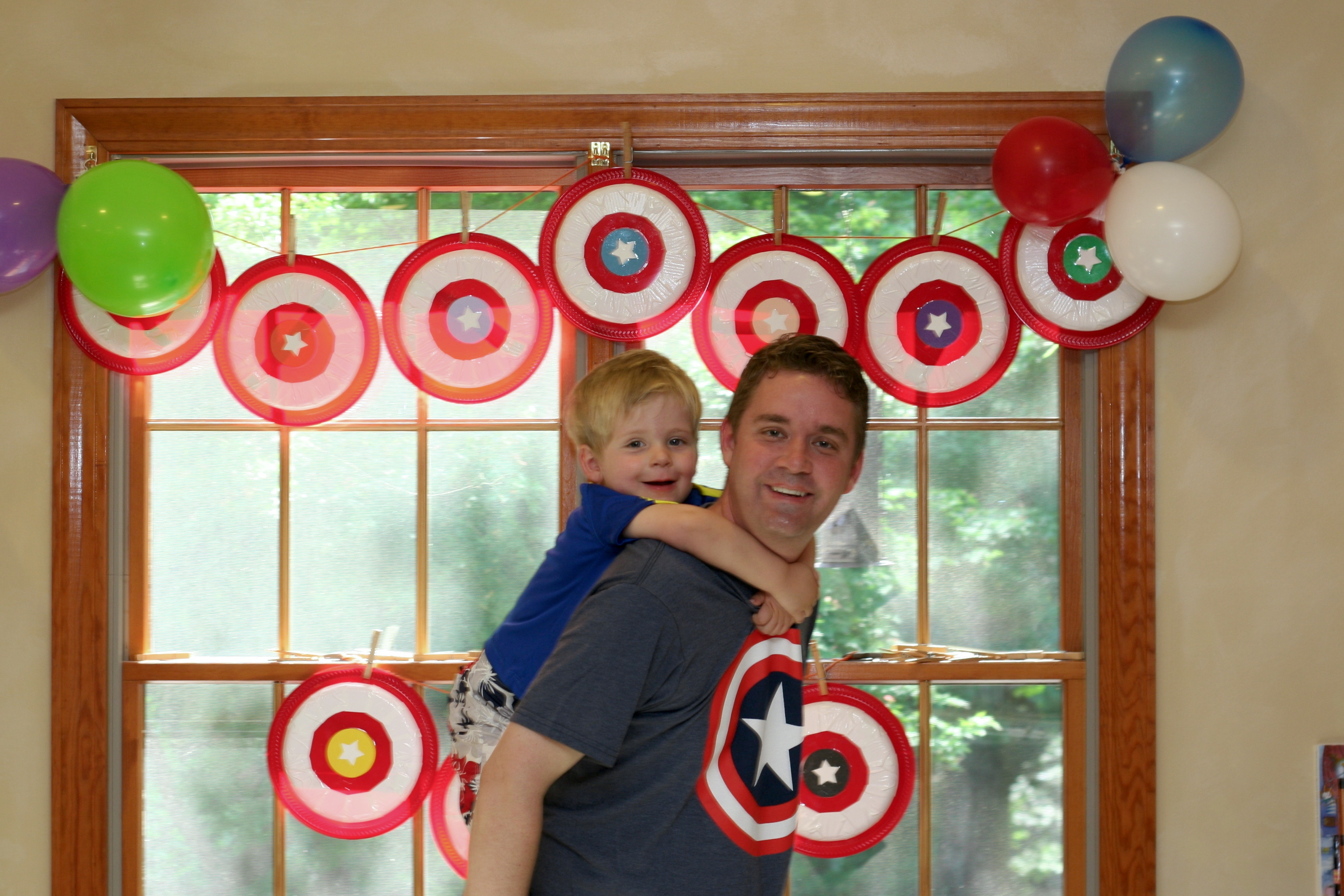 My mom beat me handily in the cheap hero gear department, though. She fashioned super capes, individually sized to fit each attendee, for 33 cents apiece. She made them from plastic tablecloths and used packing tape to create folds for volume and drape. They closed with velcro dots. You should have seen the kids sailing around in their super capes! Instant fantasy fulfillment!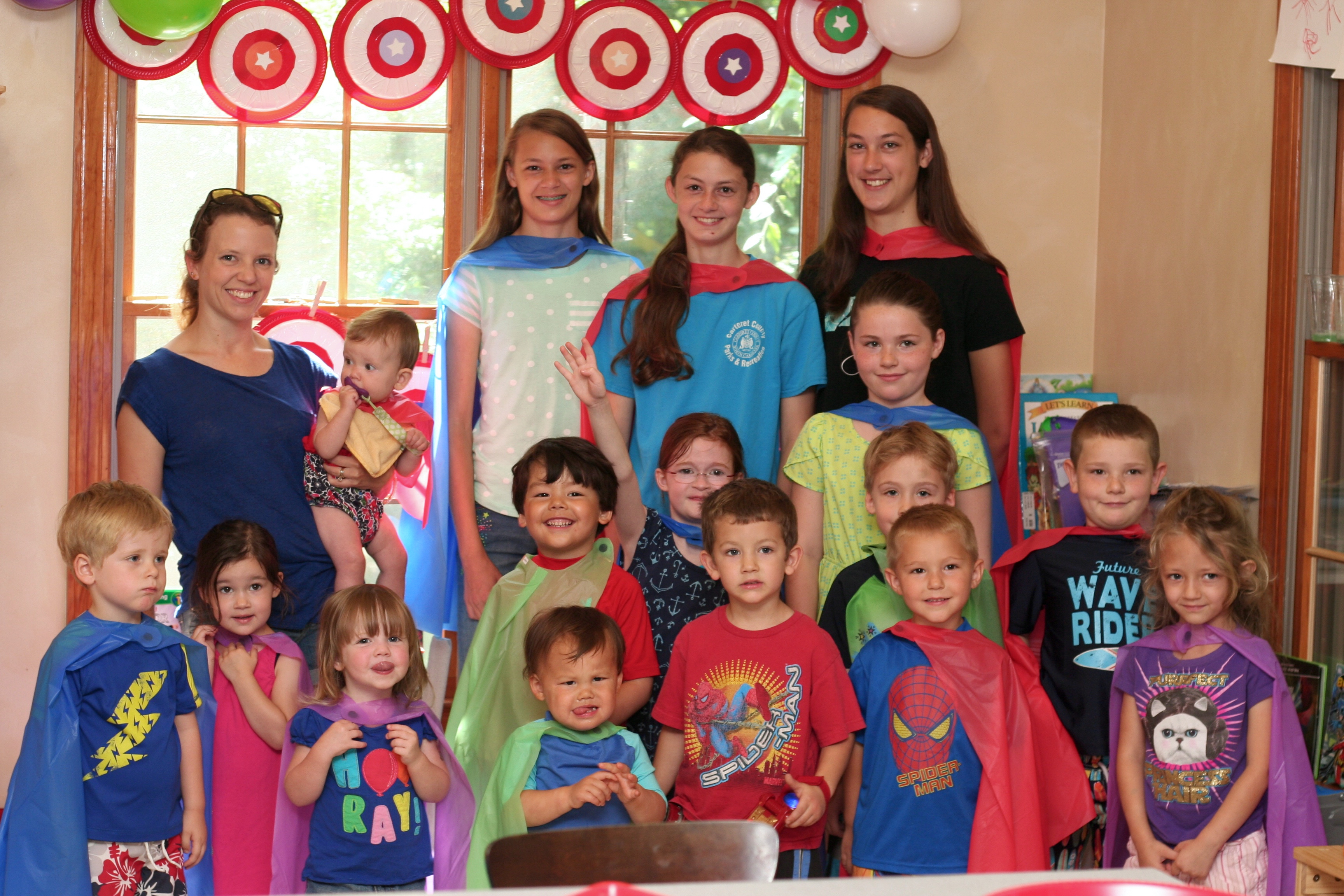 My alert readers may have noticed that I mentioned waterproof in a description above…dear readers, this consideration was necessary because we fired up the Super Slide (aka Wingo Wash, aka Rocket Launcher) and pulled the kids through our homemade water-spraying, inner-tube riding, pool noodle-bonking slip 'n' slide. This time some of the kids were big enough to do it on their bellies, without the inner tube or the rope tow. John made this water experience for Valor's third birthday, and it was the perfect time to break it out for the next generation.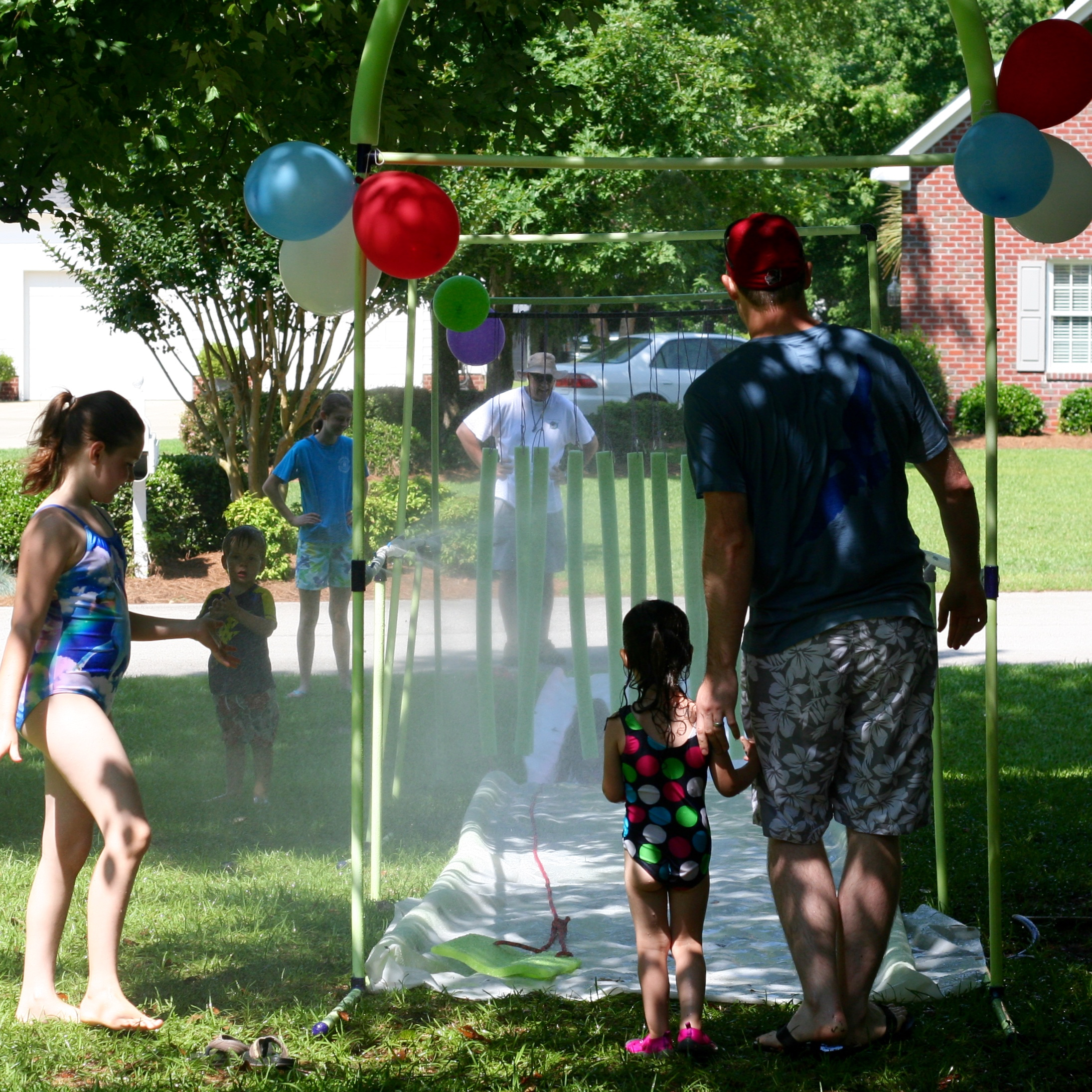 After I made all those shields, I realized the kids would need to defend themselves against some type of offensive attack. We ended up making sponge bombs out of regular sponges, cut into strips and tied tightly so they splay out like stars. We brought out a couple water-filled buckets of these, and they were perfect for throwing while waiting for a chance to go through the Super Slide.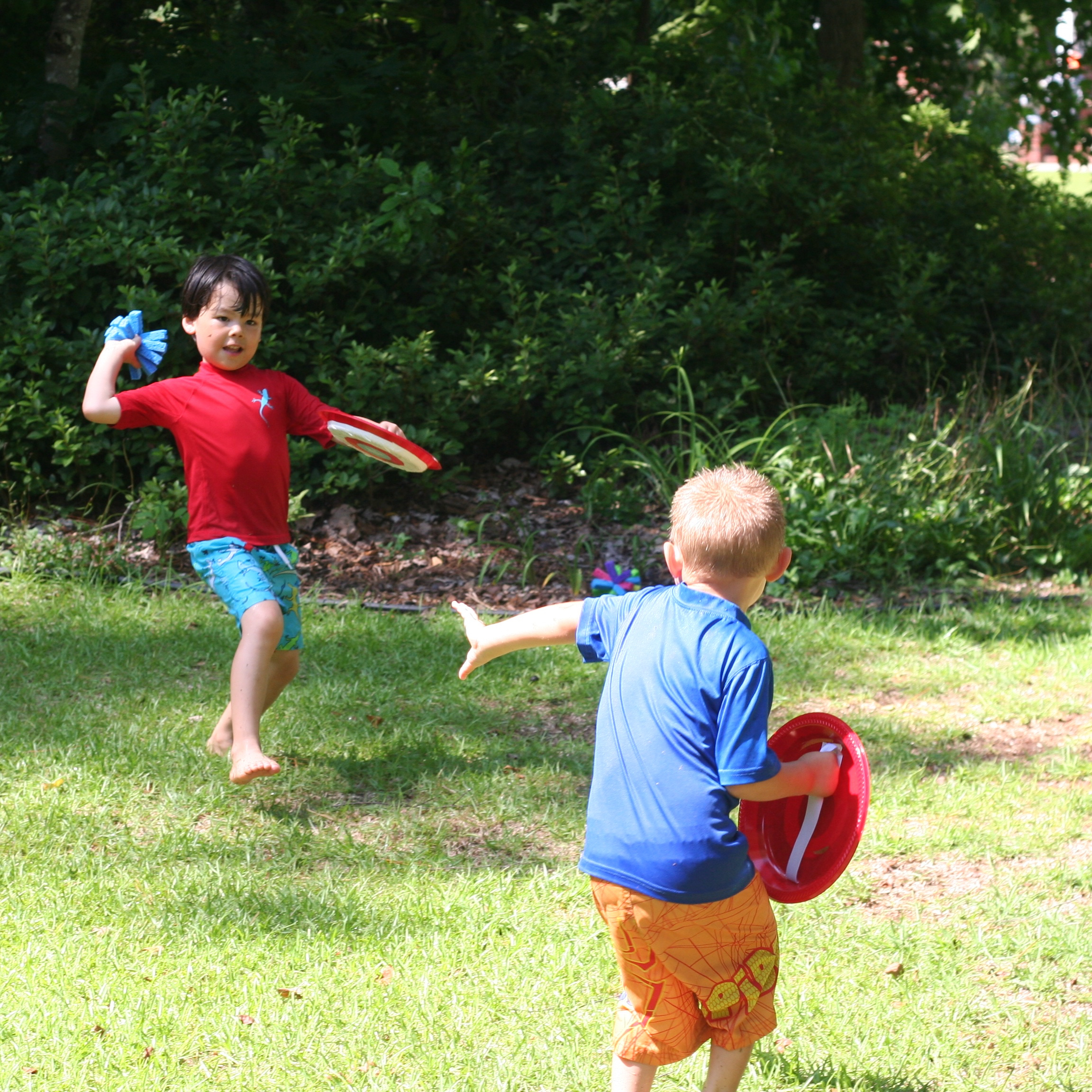 For the lunch menu, John smoked another 17 pound brisket in his new smoker, which has now smoked 3 packers in about a month. He fork-shredded the very tender beef and put it on top of toasted french rolls halved lengthwise, topped them with several dill pickles and cheddar slices, put it under the broiler, and assembled brisket "heroes" which were each cut into several slices.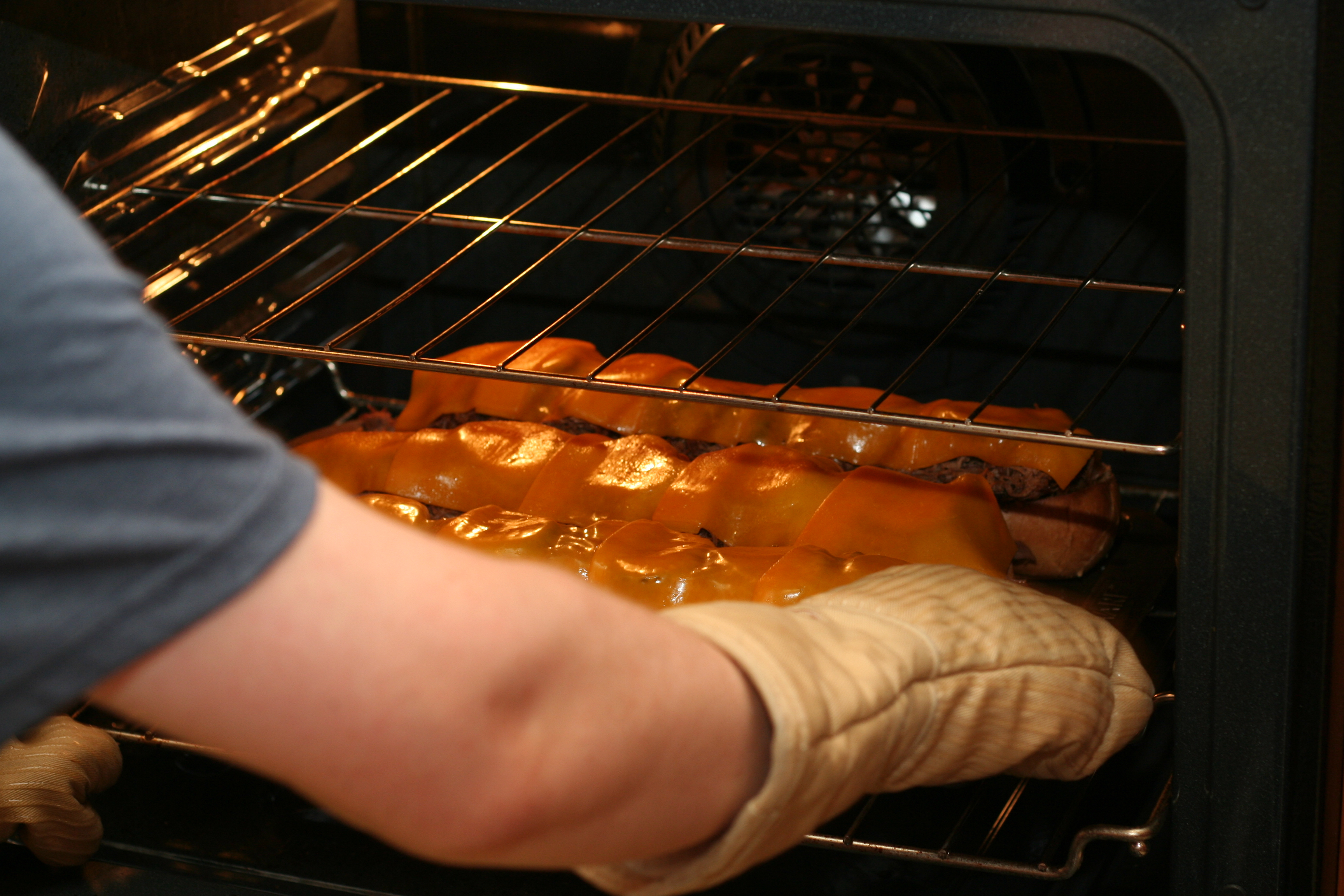 As far as the birthday cake, Percy requested strawberry, so I made a 3-layer strawberry cake with a Captain America shield on top and a batch of matching cupcakes. The design was straightforward this year (compared to last year's volcano with vegetation), but there were a couple new things for me: I got the clear vanilla flavoring so the icing was true white, and I learned how to make red icing that doesn't taste bitter: make bright pink, then add orange and other colors (including a little brown and red) until you get something close to red.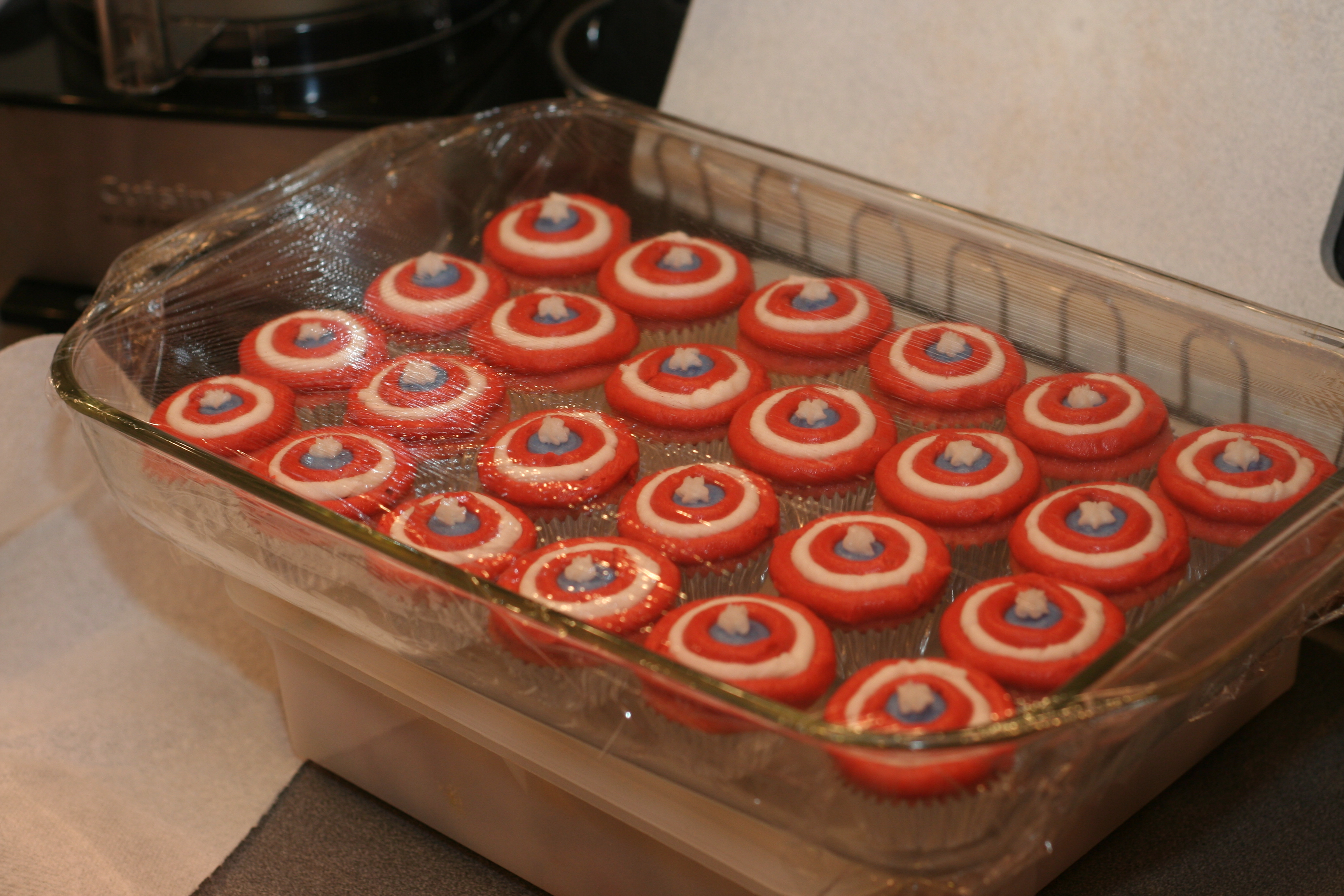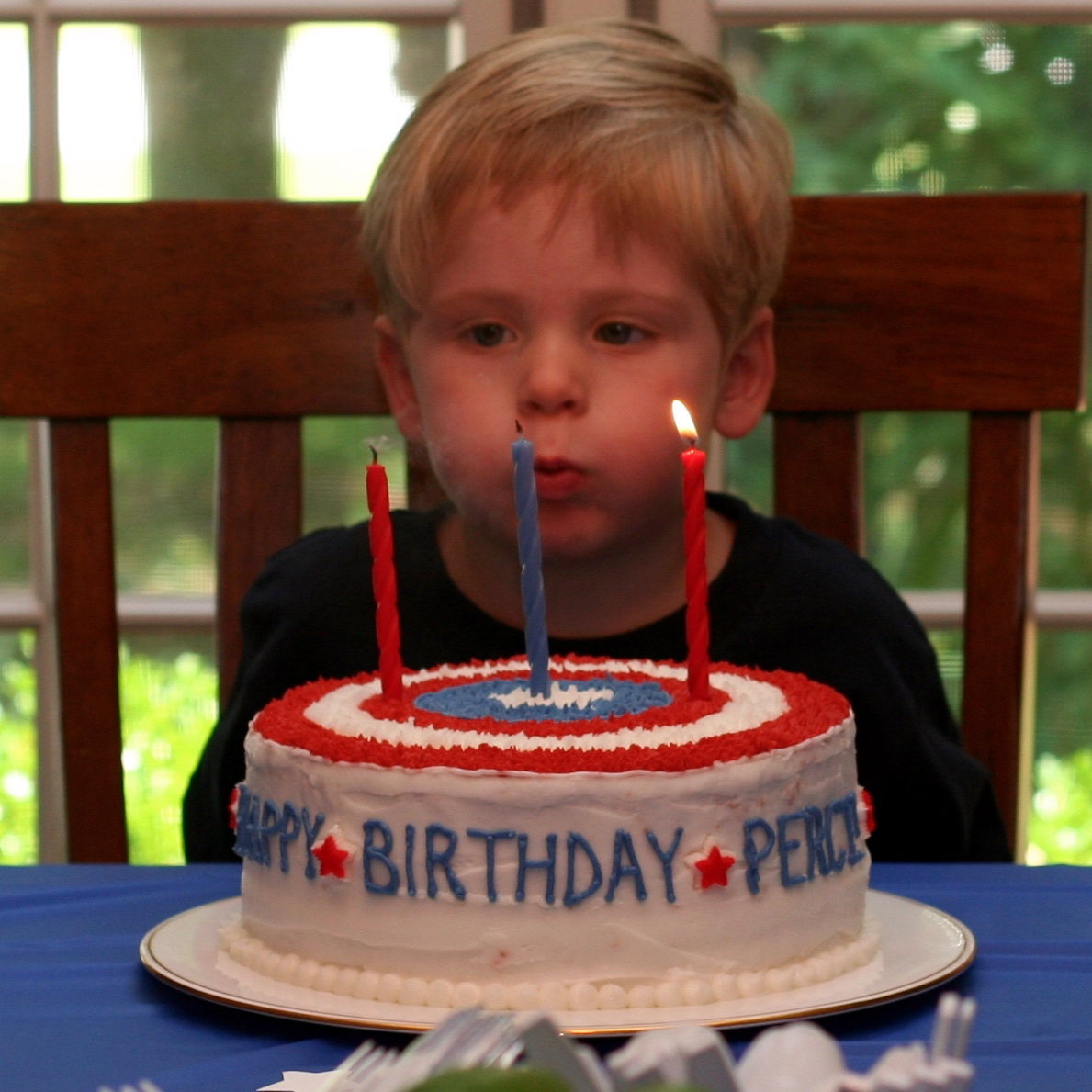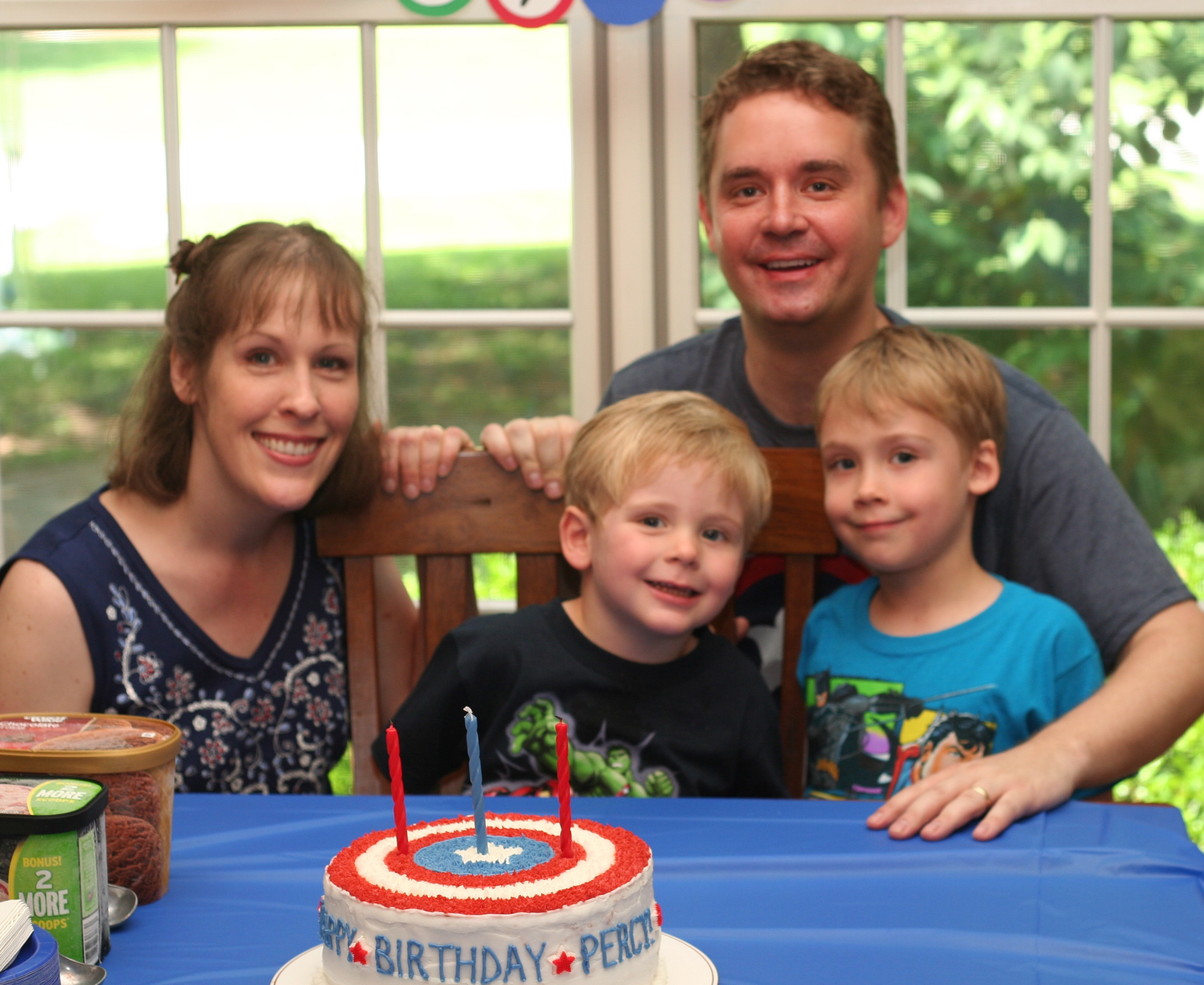 So, who is this little Gjertsen who is now "free"? Percy loves to dress up and imagine being a superhero or any character from a movie. At these times, if you call him Percy, he will say, "NO! I'm not Percy. I am [insert hero here]." We had to establish that even when he is these other characters, he (they) are still subject to the rules of the house.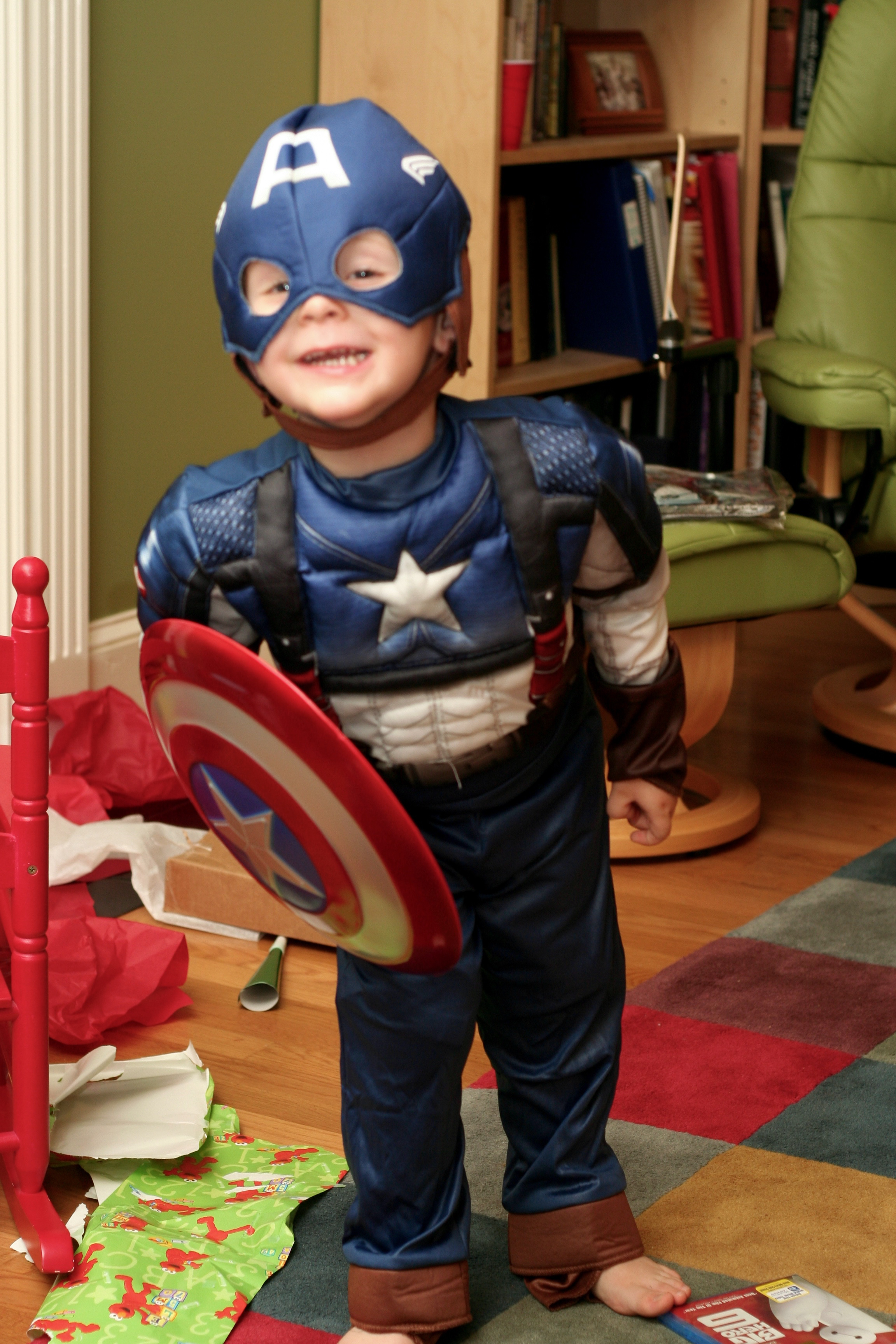 One of the things we are learning about Percy is that he is not a people-pleaser. He does not feel obligated to do what others expect of him. His preschool had a little program at the end of the school year, and the week before it his teachers told me that he was not singing the songs with them and needed to practice. He's only there once a week, and the other kids are there 2 or 3 days a week, so we practiced all that week together until he knew the songs. On the night of the program, he stood with his class, silent, throughout the program. The kids around him sang, did motions, bounced, waved at their parents, but Percy just stared up into the lights. He knew the songs… he just didn't care to sing. We laughed, and I apologized to his teacher, but she said that it was actually progress that he had even stood in the right place instead of wandering off!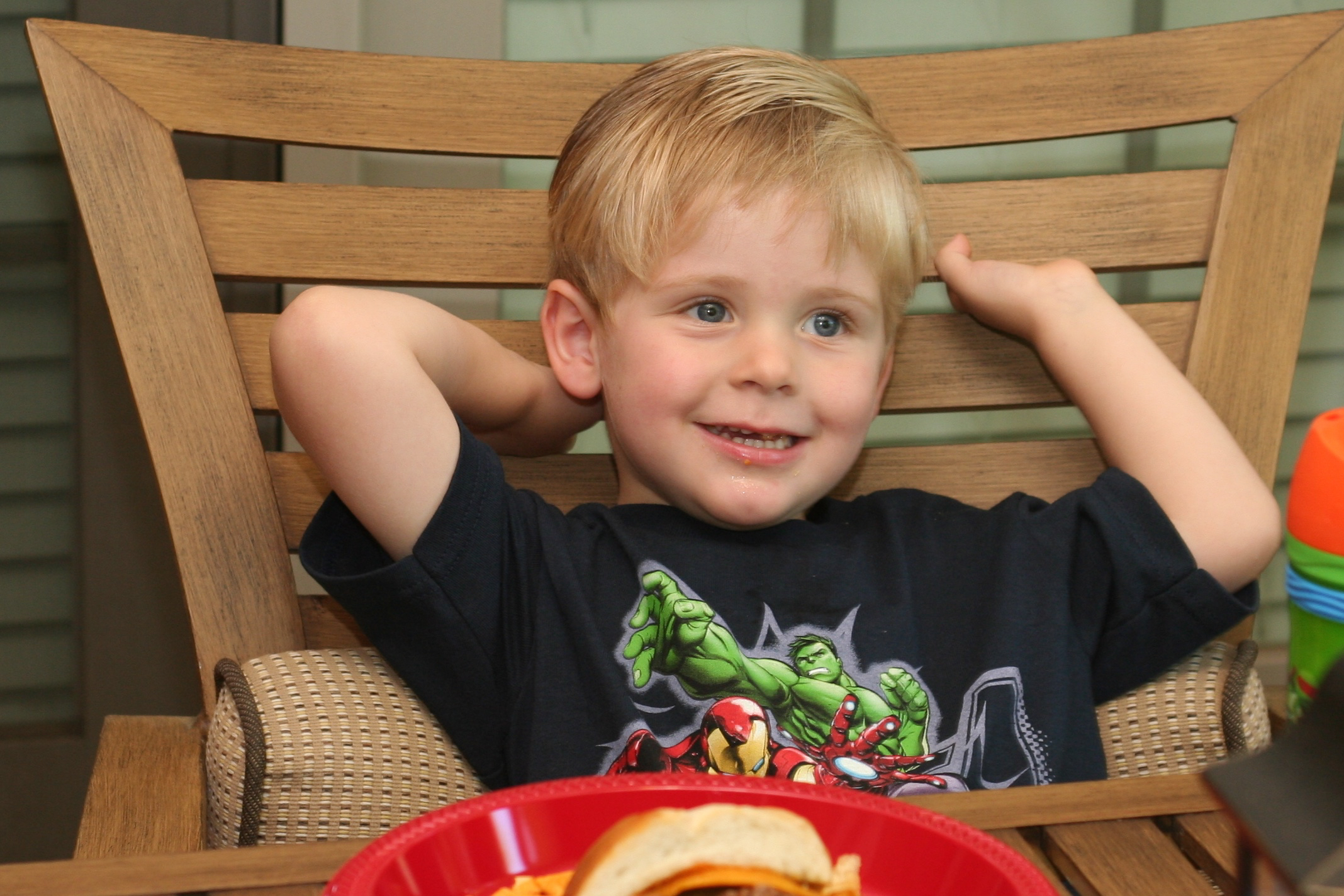 Percy's imperviousness to external pressure is enviable in some ways, in the sense that it does keep him "free" from peer pressure or restrictive expectations. But it also presents a challenge in parenting! We don't want to take away his independent spirit, but we do want to teach him that obeying God is more important than following his own preferences.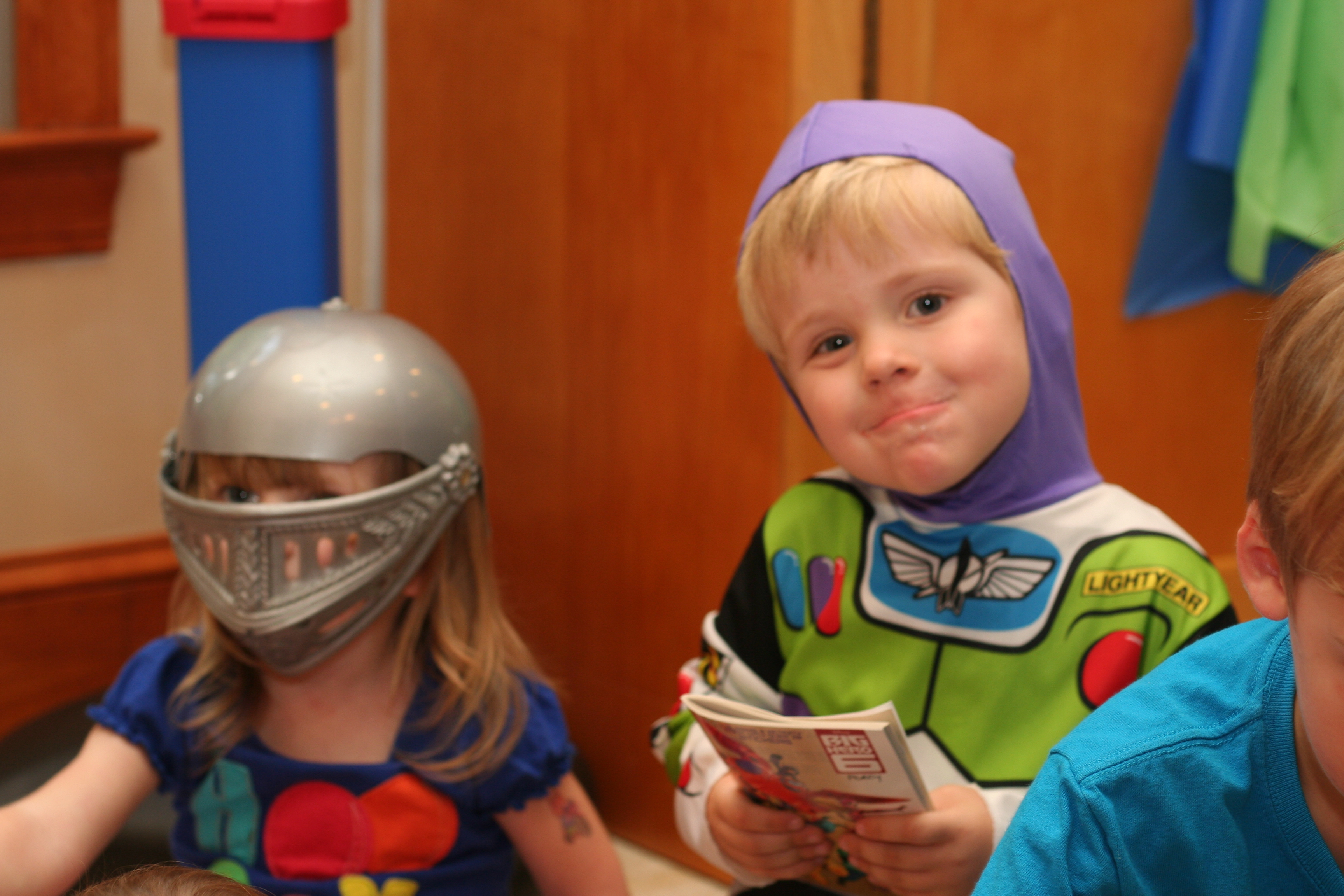 As is our custom, John cooked up a slideshow/video at the last minute, capturing some of the memorable moments of our little toddler who is now "free."