reflections on a month of fostering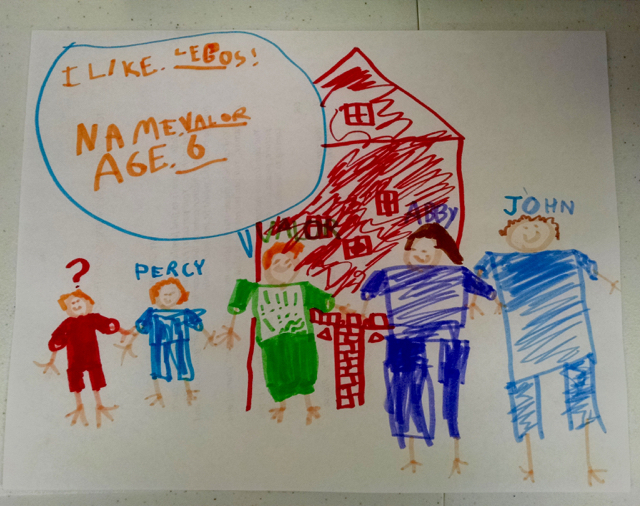 About a month ago, we suddenly became a family of five. Not because Mystery had arrived (delivery is scheduled for May 13), but because we welcomed a two-year-old foster son into our home! We will call him C here, for security's sake, and we are not able to post identifiable pictures of him, but we are allowed to blog about his stay with us without sharing certain details.
We got a call around 3pm on a Friday asking if we would consider taking C. We prayed and decided pretty quickly to say yes. He seemed like the best possible fit for our family: younger than Percy, an only child (later we'd learn he does have half siblings), healthy, old enough to walk and not need me to pick him up while I'm pregnant. We have plenty of boy stuff for him to wear and play with. It seemed like the best possible foster scenario for our family.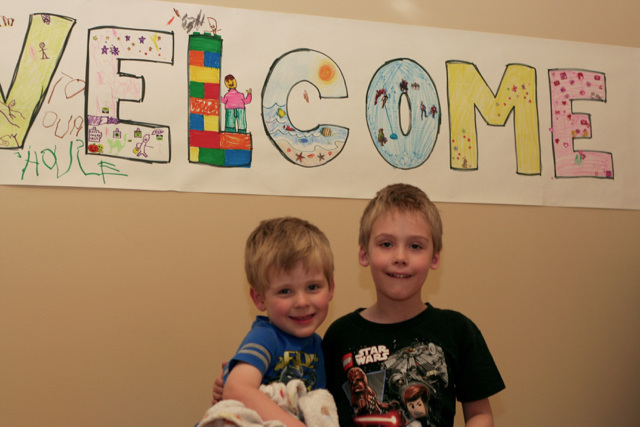 We told Valor and Percy we were on a family mission: to fill up C's heart with love, and that he had been running on an empty heart for a while. They nodded earnestly and accepted.
And C arrived about 4 hours later.
When I introduced C to my neighbors, their 5 year old said, "He's 2? How come you just got him?" I replied, "We're borrowing him." We don't know how long he will be living with us. Already, God is using him to take a massive wrecking ball to our hearts. I am learning how much I am like a two-year old and my unkind heart needs to change. I like to be in control; I like my plans and rules; I like my time alone and with my boys; and my heart is very focused on me and what I think of as "mine."
I didn't realize how much our family was set in certain roles until a stranger came into the mix. C arrived with habits that were more independent than I am comfortable with for his age, and it really stressed us all out until we could get him to fit better into our idea of a kid's role. He wanted to climb onto the kitchen counter and into the fridge to get his own food. Unlock the door and go outside by himself. Lots of things that would be really helpful if he were a couple years older, but which, at two, are dangerous or unwise in my opinion. Another recent example: he has a stomach bug right now, and he threw up last night. Before finally coming to get me, he tried to clean the mess up himself. With Kleenex. I keep telling him, it's my job to make the food, clean the clothes, empty the dishwasher. You can go play! Enjoy being a kid! Just let me do it!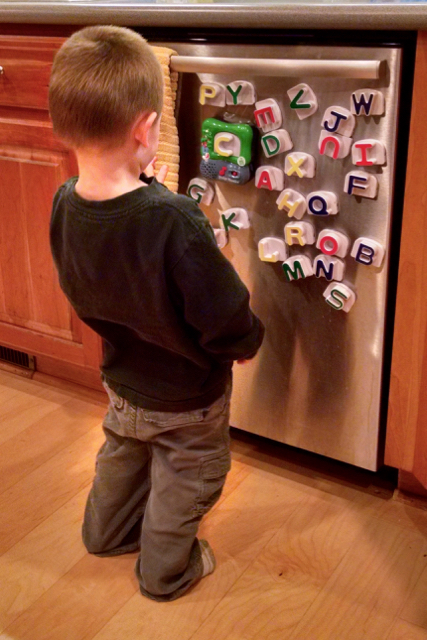 Sharing our possessions is something else I didn't expect would be so hard for me. C's favorite words were "no" and "mine." We haven't been able to change the prevalence of "no," as he grasps for some tiny shred of control over the totally confusing changes in his life, but we have been able to convince him to modify "mine" to "I like that." Somehow the child's declaration of "mine!" over something that is "ours" arouses a possessiveness I did not realize I had, and that I am ashamed to feel. (I have found my heart responds better if I encourage him to use words like "please.")
C has been taking a crash course in adjusting to our somewhat nerdy habits and expectations, and he has done very well in just a month. He is much less aggressive now when playing with toys, and has learned to build with Legos instead of kicking and throwing them, work quietly on a puzzle by himself, and use an iPad without hitting or throwing it when he gets frustrated.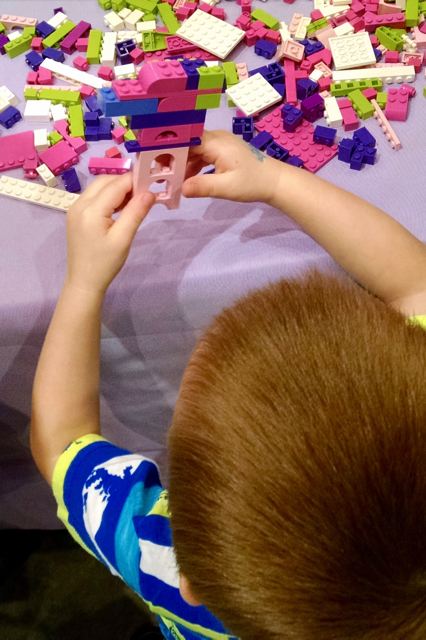 Two of the biggest struggles in foster parenting C have been getting him to eat healthy meals and have some quiet alone time or a nap. He has improved a lot on the food front, and we are still working on the quiet time. He does not like to be alone and he cannot go to sleep in his bed for a nap, although he clearly still needs one. He is sleeping well at night, though.
One of my favorite things about fostering so far is seeing the boys rise to our challenge. Valor has transformed into a different type of older "brother-friend," teaching C simple board games, making him Lego cars to play with that he knows C will break, and acting silly to make C laugh. He treats Percy more as a peer, I realize now, and C more as a little brother who needs help and guidance.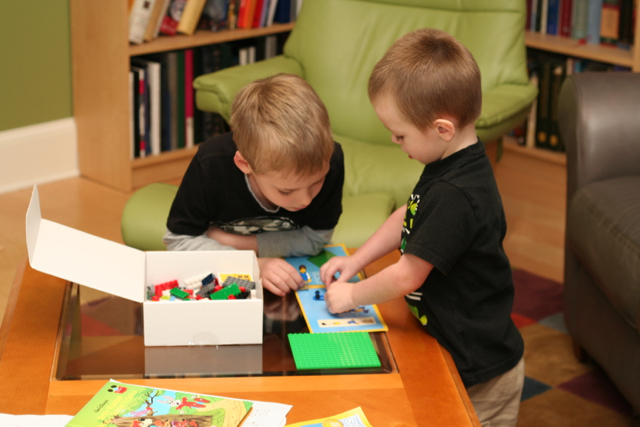 Percy has had moments of spontaneous kindness and affection, but he does have a hard time sharing his toys with C. I am trying to teach him that sharing will make him as well as C happy, but he doesn't always believe that. When he does, he comes straight to me and smiles, as if to say, "I did something to fill up C's heart!" Perhaps the hardest thing for Percy to share is me. He often comes to me and says, "Mom, I want to play a two-player game in the Batcave. You and me." Please pray for Percy. He is a little emotionally precarious right now and he lacks the maturity to understand what Valor does about God's love and about C and his situation.
John has evolved into an even more amazing dad and husband than he was already. I still remember how his face lit up at the prospect of fostering C when we first got the call. He has thrown himself energetically into every challenge, from shifting bedrooms and toys all around the house, building playground equipment and IKEA furniture, shouldering extra chores and making disciplinary interventions with the kids when needed, to reading to the older boys and getting them to bed every night so I can be with C.
I guess the last thing I am thankful for about fostering is that God is using it to change me. That first week, I cried so much, it was like I was the one who had been taken from my home instead of the other way around. I have not felt so weak and needy in a long time, and it is good for me to be reminded that I still need Jesus every second.
The biggest thing that I mourned for was how our family dynamic had changed. C was requiring so much attention and supervision that I could no longer build complicated Lego machines with Valor, or play in the Batcave with Percy, or even do homeschool the way we had been (fortunately we were almost to the end of the CC school year anyway). I felt like I couldn't be the same kind of mom as I had been. It was easy to feel frustrated with C when it was actually our decision to bring him into our family dynamic, and our belief that the challenge would be good for us as a whole. But as I had to tell my kids, "No, I can't" over and over again, I nursed a lot of self-pity.
Change is hard, loving a stranger is hard, adjusting to a new family dynamic is hard, and taking away my time with my own kids and giving it to another kid is hard for my little dried-up raisin of a heart. But it is oh, so much better to be stretched and changed and enlarged by God's processes than to remain secure and unchanged and complacent.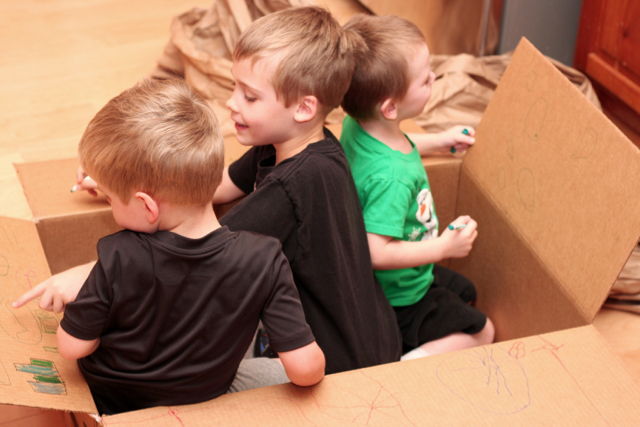 Last weekend we carried C, literally kicking and screaming in full tantrum fury, into Ikea to buy him lunch and some nice furniture for his room. It reminded me that, figuratively, that is what I was doing when God chose me and invited me into His family. I was resisting, I was protesting, I was disrespecting, and I can see more clearly now that I still often do. However, He saved me and adopted me and gave me every privilege of a family member, not because I deserved any of it, but because He simply chose to love me. He's still using C to teach me about my own grasping for control, my selfishness and possessiveness, and what it means to be part of a family and be welcomed and accepted. I am so thankful for this wrecking ball.