America the Beautiful, Part 2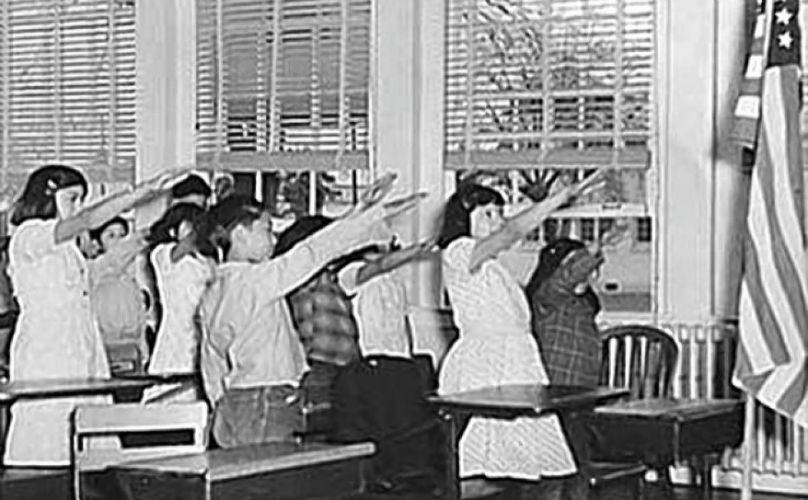 Fall is here, and with it our Classical Conversations homeschool campus, Trail Life troop, and AWANA Clubs have all started in full swing. I view all three organizations as beneficial for the purposes of education, character formation, and nurturing Christian faith. It seems strange to me that all three of these groups begin their group assembly with a ritual hardwired into our national identity: in unison, the children are directed to pledge allegiance to the American flag.
A few years ago when Valor started with Trail Life I had a good conversation with him in the car about what it means to "pledge," why most people he will ever meet will say it, and why his father no longer does. Ultimately, I assured him I was comfortable with whatever approach he took, so long as he considered it carefully and took the matter seriously. Because Percy started Trail Life this year, and they will place a big initial emphasis on the Pledge, I recently had The Talk with him. A few years from now I'll be having The Talk with Mystery.
I don't break fellowship with anyone over the Pledge of Allegiance, and I have put off writing this post for a few years over my tendency to avoid controversy. With a diverse group of readers I suppose the ruffling of some feathers will be unavoidable. At the risk of being written off as "un-American," I'd like to lay out the basic outline of why I no longer do it:
1. "Indivisible"
Before I was convicted to remain silent during the Pledge, I chose to omit a single word. While I'm not presently advocating for the secession of any one or group of states from the union, I have trouble squaring the idea of indivisibility with the essential thesis of The Declaration of Independence, which I consider to be the primary statement of American identity. One passage reads (emphasis mine):
We hold these truths to be self-evident, that all men are created equal, that they are endowed by their Creator with certain unalienable Rights, that among these are Life, Liberty and the pursuit of Happiness. — That to secure these rights, Governments are instituted among Men, deriving their just powers from the consent of the governed, — That whenever any Form of Government becomes destructive of these ends, it is the Right of the People to alter or to abolish it, and to institute new Government, laying its foundation on such principles and organizing its powers in such form, as to them shall seem most likely to effect their Safety and Happiness. Prudence, indeed, will dictate that Governments long established should not be changed for light and transient causes; and accordingly all experience hath shewn that mankind are more disposed to suffer, while evils are sufferable than to right themselves by abolishing the forms to which they are accustomed. But when a long train of abuses and usurpations, pursuing invariably the same object evinces a design to reduce them under absolute despotism, it is their right, it is their duty, to throw off such government, and to provide new guards for their future security.
Growing up saying the Pledge of Allegiance every day in school, I was subliminally led into a line of thinking which admired the founders for their bravery and yet regarded their separation from their government as a peculiar dispensation of liberty never to be repeated rather than a natural right of all free men. Thomas Jefferson and the other signers of the Declaration of Independence took care to show otherwise.
2. Indoctrination
It is important to understand that the Pledge's author, Francis Bellamy, was a Christian socialist and precursor to a Fascist movement in America. His utopian vision was for state control of all economic resources, and regarded capitalism and property rights as obstacles to his goals. His goal in writing the Pledge in 1892 and immediately campaigning for its use in the public school system was to indoctrinate students into the idea of the elevated position of the state in every aspect of life before they reached any age to question it. The Pledge was instructed to be recited in unison, with a prescribed hand gesture that became known as the "Bellamy salute" (pictured above). In the 1920s, Italian fascists began using a similar gesture, and later the same gesture was adopted by Nazi Germany. Following World War II, the Bellamy salute was replaced with the current hand over heart gesture to strategically disassociate our own nationalistic mass indoctrination program from the nationalistic mass indoctrination program of the Nazis.
The language of the Pledge of allegiance is, in fact, a much better fit for the monarchic system we separated from than for the Constitutional Republic we have. Our Constitution recognizes that only people have natural rights, and that governments, by contrast, have only derived powers. It enumerates them and limits them. The beauty of the American experiment is that our government is subordinate to its citizens, not the other way around. As Benjamin Franklin stated at the Constitutional Convention: "In free governments, the rulers are the servants and the people their superiors and sovereigns." Pledging allegiance is about fidelity of a subject to a sovereign, and Bellamy's Pledge sounds in my ears like the whole point of America flipped 180 degrees. Is the concern of our Constitution that our citizens be faithful to their government, or that their government be faithfully constrained to its limited scope?
Remarkably, the issue of whether or not public schools could make the Pledge of Allegiance compulsory made it all the way to the Supreme Court. In 1943, in West Virginia Board of Education vs. Barnett, the Court found it could not.  In the majority opinion, Justice Robert Jackson wrote: "If there is any fixed star in our constitutional constellation, it is that no official, high or petty, can prescribe what shall be orthodox in politics, nationalism, religion, or other matters of opinion or force citizens to confess by word or act their faith therein."
To borrow some words from another blogger who wrote "What I Expect My Child To Learn From Not Saying the Pledge of Allegiance," with which I substantially agree:
What do I expect my child to learn by not saying the Pledge of Allegiance?

Initially it will be what my child doesn't learn that will be important. The first thing my child will learn not to do is thoughtlessly repeat what others say. I hope that lesson translates into my child having the courage and independence of mind to not parrot the dictates of the central state and the mob.

I know it will be difficult for my child to do this, but standing quietly and respectfully while others chant will give my child the time to consider the next lesson: that the vast majority of people willingly give up their freedom without even knowing it. I expect my child to learn that citizens are not subservient to the central state, despite the beliefs of the vast majority of people that everyone's freedom depends upon that state.

The most basic lesson in all of these things that I expect my child to learn is the importance of words and the necessity of asking questions and thinking to see the ideas behind the words.

As in Orwell's Animal Farm, where the animals recite words by rote, and reduce all speech to slogans chanted endlessly to prevent opposition speakers from being heard and also to prevent any rational thought by those doing the chanting, mindless recitation of the Pledge of Allegiance prevents understanding of America.
3. Inferior Masters
Regardless of whether or not America demands my allegiance—and I love her so much more that she does not—there is a separate matter of whether she deserves my allegiance.
On this question I recognize that reasonable people can disagree. For my part, I love some things about her (like the Bill of Rights, the industrious legacy of the Puritans, innovation, free enterprise, I could go on all day…) and I find other things less lovable (over $20,000,000,000,000 in federal debt as of this writing, military interventionism, civil asset forfeiture, the enormity of the federal register, extrajudicial killings, I could go on all day…) But for me, whether or not she deserves my allegiance is not about creating two lists and seeing which one is longer. I think if I'm honest with myself, I would admit that on the balance I love America, or maybe more accurately the idea of America, more than I identify as a dissident. It's less about the word "America" than it is about the word "pledge." I view a pledge of allegiance as a vow or oath, a serious and irrevocable matter of fealty. On June 13, 1998, Abby and I made vows that we would remain married until one of us dies or the Lord returns. However I may love America, it's nowhere near that serious. Would my allegiance to America become a benefit or a hindrance if we became foreign missionaries? Or what if we emigrated for economic opportunity? Sometimes I indulge my imagination on what it would be like to live in one of 22 nations scoring higher on a broad measurement of personal and economic freedom than the United States. It just doesn't make any sense to me to render ultimate allegiance to a nation when I can easily envision revoking that allegiance by choosing to live elsewhere.
4. In Christ Alone
The final dimension of my rejection of the Pledge of Allegiance is by no means the smallest one. Understanding a pledge of allegiance to be ultimate (and therefore meaningless if subordinate to a greater allegiance) my allegiance and loyalty are already spoken for. For I have died, in the sense of Colossians 3:3, and my life is hidden with Christ in God. The mystery of how God, in his perfect wisdom and justice, can regard a sinner like me and impute to me the righteousness of his perfect Son who for my sake was killed makes me forever his subject. Having been set free from sin, I regard myself as a slave to God, the fruit of which is sanctification and eternal life (Romans 6:22). No man can serve two masters—the Bible calls this idolatry.
I know some Christians that are satisfied with the "under God" phrasing (not original, but added in 1954), as though it qualifies the Pledge by recognizing that the nation is subject to a higher sovereignty. But what is the point of pledging allegiance to that which is subordinate? How does pledging allegiance to the state have any real meaning if, in every case the state's priorities are in conflict with the Word of God, the latter always holds sway?
In summation
I do not pledge allegiance to the flag of any nation, not because I have any subversive intent or hate the country I live in, but because:
I see it as propaganda antithetical to our founding documents,
I reject it as a tool of mass indoctrination towards a socialist worldview incompatible with our Constitutional system of government,
I take seriously the weight of "allegiance" and do not offer it lightly to a nation which neither demands nor deserves it, and
I have already committed my ultimate loyalty to Jesus Christ.
Part of me cares very little if this is a lonesome argument, which I expect it will be. One of the best things about the country is that people can disagree fervently and usually live in peace with each other. But another part of me, probably a smaller part, would be delighted to see 125 years after its origin, a grassroots movement to removing the Pledge as a ritual start to gain some traction. It seems most appropriate that such a movement could begin in the American church, among those of us who the Bible calls "sojourners and exiles" (1 Peter 2:11). Might we one day cast off the conscience-dulling idolatry of national tribalism and find our identity uncompromisingly in Christ?
If a Christian worship service is an inappropriate place to pledge allegiance to a flag, is it not at least as inappropriate to lead children to say the Pledge in the context of a Christian discipleship program—children who aren't yet old enough to consider the depth of the meanings of the words they are saying?

The title of this post is "America the Beautiful, Part 2" because I posted a puzzle several weeks ago and later decided it made sense as the first of a series. I intend for there to be a Part 3 which will address the national anthem and the competing #TakeAKnee and #TakeAStandNotAKnee perspectives. Those who solved Part 1, as well as those who read this post, should know exactly what about America I find beautiful. Her beauty is her freedom, and the language of the Pledge of Allegiance is the language of conscription, making it not an adornment but a blemish.
SaveSave
SaveSave