Happy Birthday, James
I can remember just about everything that happened two years ago. Instant messaging a friend to say I was scared. Adjusting the overhead light in the operating room because I was taller than the doctors. Sitting behind a curtain shielding me from all the blood. Not knowing if he was out yet, and then being surprised to see his tiny little body lying on a scale across the room.
The trouble is remembering much of anything before James.
We've both been thinking a lot about James today. We guest-authored a post on our friend Jen's hugely popular Cakewrecks blog to remember his first birthday. Just as it was after the Cakewrecks readers were informed of our last blog when James died, we have been flooded with more traffic and comments with the kindest words that strangers can ever write.
Earlier this week, Abby found a mini-DV tape with footage I had taken of the underside of our kitchen sink in December 2007 (I was looking for a leak). In the background she heard her parents talking and singing, and the precious little noises that James made. I get points for being the kind of husband who doesn't make light of such unexpected treasures, nor tell her to return the candle in the shape of the number 2 that she bought at the grocery store.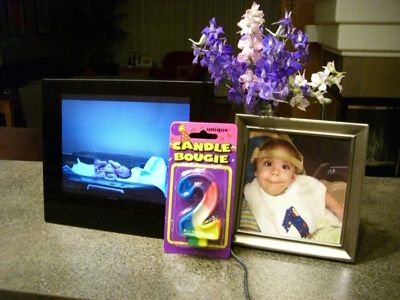 I figure in 2 years and 17 weeks, maybe it will come in handy.