for the faint of heart?
I realize that my last puzzle was a bit of a challenge for many of you, and I am glad that many did, in fact, attempt and finish it. But I'm also aware that many probably rolled their eyes and did not even bother to print the thing out.
When my friend, Michelle, who is visiting us this week with her two children, asked me if I would craft a puzzle for her 7-year old, I had an interesting challenge. Generally speaking, the easier a double-crostic is in terms of vocabulary, the harder it is to make all the anagrams work out.
Nathan, with a little help from his mom, did eventually prevail in solving the puzzle below. I offer it now both to other children, and any who thought my last puzzle was too diabolical to work out. If you are new to double-crostics, this might be a good primer. Just click on it to make it bigger.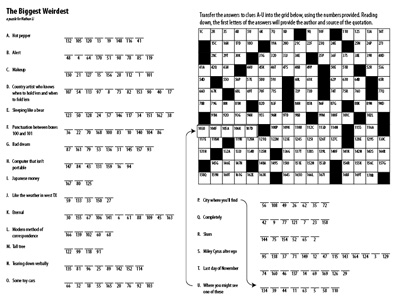 (The title of the puzzle, "The Biggest Weirdest," refers to an inside joke I have with Nathan's father—and my college friend—Xiaojian Li.)