birth story
John has been so busy that I had to spend time yesterday catching up on my own blog. Whew. Thank you so much to everyone who has stopped by to comment and congratulate us and celebrate Valor's arrival. Again I say, we are rich in friends.
So here is my version of Valor's birth and some of his early days.
On Thursday, we couldn't sleep, so we got up at about 2:30 and made some more preparations before leaving for the hospital. Pastor Curt met us there and prayed for us all before we checked in. I felt pretty relaxed, having had a c-section before, and of course considerably less worried about the baby this time. We chatted with the pre-op nurse and nurse anesthetist, and John thought he recognized the nurse anesthetist from James's delivery. She said no, her name was not in his records, so it must be someone who looked like her. As we talked about James, though, she suddenly said, "Are you the hope for the childproof family?!" (which was our first blog about infertility and also where we started blogging James's story before we got the sweetbabyjames domain). She had not only assisted with James's delivery, she actually remembered it and had also followed our blog afterwards. It was just the first time that day that James and Valor crossed paths in someone's memory. It was a joyful thing.
We started naming all the NICU nurses we knew, and soon the pre-op nurse got on the phone with the NICU and a couple of James's old friends, Barb (the venipuncture specialist of the "hard stick" babies) and Carla (RT), breezed into the operating room with excitement and energy. I don't think they were scheduled for our delivery, because when someone else showed up for duty a couple minutes later, they waved him off and explained that "these are our friends."
By this time I had the epidural in, my legs and tummy were numb, and John had donned the yellow hat, robe, and slippers of the dad-to-be. I was rolled onto the table, and to be honest the birth was a fast, joyful, calm experience. It really helps me when the nurses tell me what to expect before it happens, and I had a good narrator in Christine. The burning smell was a little hard, and there was some pushing and tugging, but suddenly we heard the ob-gyn (the same one who delivered James) say, "OK, Dad!" and John was standing up, snapping pictures. He later said he was disappointed he didn't get to see the baby "come out," but when he looked at his photos, he got pictures of all of it, so I guess his eyes weren't processing as fast as his shutter finger. We'll spare you those where my body parts are visible. Discretion is, after all, the better part of Valor.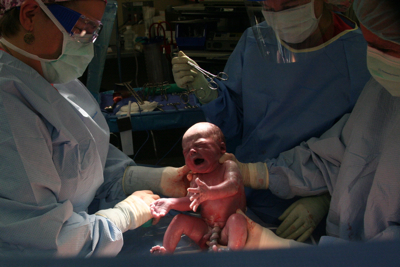 I was delighted to hear the sound of his little cries as he coped with the great imposition of birth. It was, again, a strange feeling not to "recognize" or instantly feel connected to the baby. With both my sons I knew they were mine, it's not like I considered rejecting them (although James looked pretty unusual at birth), but there was no metaphysical connection like love at first sight or destiny or anything. My new hypothesis is that bonding really happens for me when I have eye contact, and at this point babies' eyes are all scrunched shut, so I just move forward on faith that I'm going to bond, and later I do.
Not only did I get to hold him in the operating room, but as I noted previously, we had time together as a family in the recovery area as well. It was sort of a shock to see Valor putting his hands in his mouth (a feat James greatly desired but never accomplished), lying under an open warmer, and connected to so few wires. He didn't seem to look a lot like James; he didn't really look like me in the face, either, although he has long legs and fingers and small ears. Who was this new guy? Was he really ours to keep? Would we get to take him home? I felt awed, happy, and very, very thankful.
I'll fast forward now to Saturday, when we were cleared to leave a day early in spite of the "dusky drama" chronicled earlier. This might not seem like a big deal to most people, but during the 135 days that James was in the NICU, I saw literally hundreds of new moms pushed out of Winnie Palmer in wheelchairs, proudly clutching their sleeping babies, accompanied by nervous dads carrying the car seat, carts of flowers and luggage, and grandparents fussing and taking pictures. It was hard to watch every day without my eyes filling with tears of disappointment. This ceremonial exit through the water-fountain doorway symbolized an initiation into "normal" parenthood, independent from constant medical interventions, but special needs parents like us never knew that thrill. Hopefully now you can understand why this wheelchair ride with Valor was a very special one for us.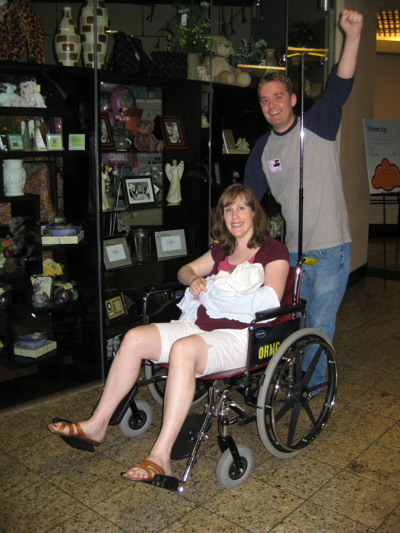 After we got home, I of course overdid it again (see losing it 4/28 after James was born) with trying to get everything put away and situated and so forth, and I was exhausted. I felt alone and overwhelmed. I knew the first couple weeks with a newborn are supposed to be very hard, and I was the only one who could feed him, and on top of that I could not get out of bed or stand up from a chair without a lot of struggle and pain from the c-section. I wanted someone to tell me how to do it, how to plan? I never had to care for James as a newborn for 24 hours a day, so I didn't have a paradigm of how to structure the task. Finally I shut myself in the bathroom and prayed. I reminded myself that this was my profession now, to be a full-time mom, and that lots of women have done this before me.
That first night was hard, partly from the reasons above and from the fact that my milk wasn't in yet and Valor was really hungry. My favorite memory of it is at the last feeding, when I literally could not get out of bed, John brought Valor to me to nurse lying down. It was a sweet time. It's been easier and easier since as he gets his days and nights straight, increases his appetite and endurance, and begins to organize his sleep and awake time. I think things are going well, and I am healing slowly but surely.
These last two days he's been more awake than ever before. I love to see those peepers!