all I can muster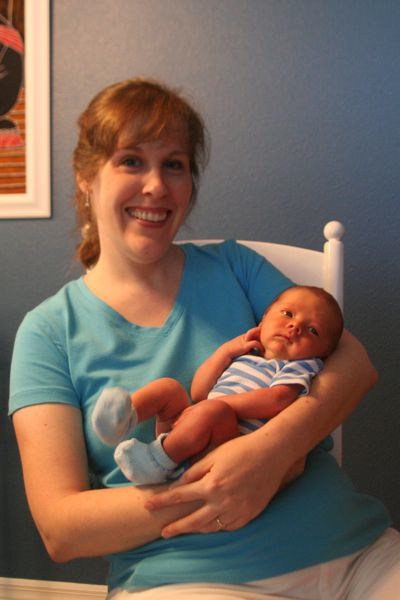 Lack of sleep makes it hard to think deep thoughts, or even write long sentences. Here is a sample from my brain at week 2.5, in no particular order.
1. Valor is starting to recognize patterns, which in turn bring comfort, like the onesie being first pulled over his head, then an arm pulled through, then the other arm. He is also starting to reach out more purposefully, I think (especially grabbing my shirt or the hand holding the paci, a precursor of a put-down-alarm system).
2. If newborns are supposed to sleep 16-20 hours a day, why can't I get more naps? Seriously, I don't think Valor sleeps quite this much.
3. Breastfeeding gives me good opportunities to read, pray, and talk on the phone. Writing and typing are harder (require more than one hand).
4. One good nap makes a huge difference in how I feel at midnight with a fussy baby.
5. Valor has already outgrown some of his newborn outfits! and his head is too big for some of James's hats.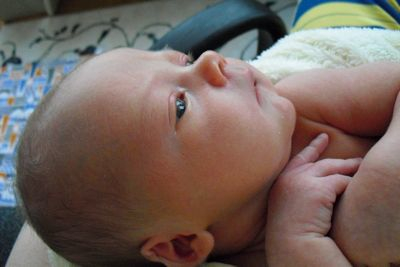 6. If I changed his diaper immediately every time it was wet/poopy, we'd go through over 20 diapers a day. Right now we are clocking about 14/day. Before too long we  plan to transition to cloth diapers.
7. My body can be reprogrammed to function on a 2.5-3 hour schedule. This is similar to getting used to the bell system at a school, except there are no breaks between classes, and the day starts at 4 am and doesn't end until about midnight.
8. It's funny how certain things can float up in your consciousness, like foreign languages do when I enter a non-English speaking context (for me it's usually an irrelevant foreign language, but my brain is trying to help). Scrambling mentally for a baby song to sing, I suddenly remembered two tunes that my mom sang to me long, long ago. "Lavender's Blue" and "Scarborough Fair" (or parts of them) have stayed in my long-term memory, apparently filed helpfully under "lullabyes."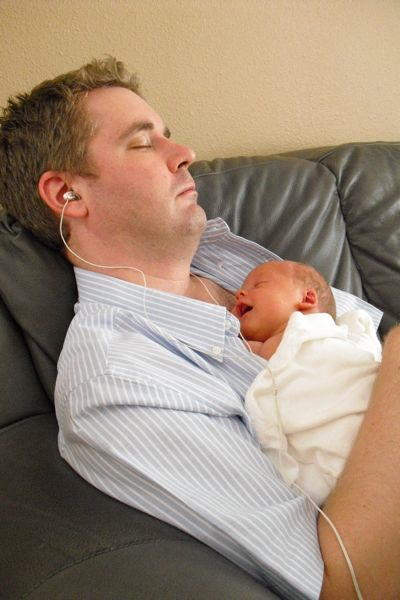 9. I get about one thing done a day, besides taking care of Valor. It might be cleaning the toilet, baking banana bread, or calling a friend, but that's apparently all I can accomplish beyond eating and napping right now. I don't know how people raise multiple children…obviously it's possible…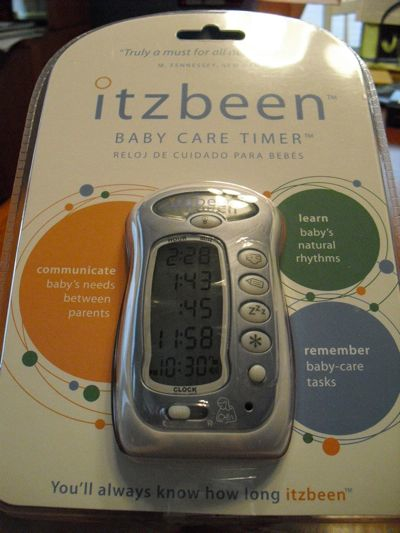 10. When I had James, I created a detailed Excel spreadsheet to track his feedings, meds, blood sugars, and other procedures. With Valor, I wanted to follow a schedule without having to write everything down like a nerd. To that end, this is my favorite new baby gadget:
It has four timers you can reset with the touch of a button, for tracking diaper changes, feedings, naps, and "other." (In other words, it tells you how long "it's been.") It was very useful in the hospital, where the nurses were always asking about those events while I was in a mental fog. I used it to time contractions before I delivered, too. My favorite feature is the alarm I can set to go off if I haven't reset the feeding timer by a certain point. It wakes me up so I can go feed Valor if he's sleeping too long (newborns aren't supposed to go longer than 5 hours at night without eating). It also helps me keep him on a flexible 2.5-3 hour feeding schedule during the day.
I fumbled and dropped my itzbeen in a sleep-deprived stupor when Valor was 6 days old, and it hit a chair leg and shattered the screen. I had to struggle to keep from crying (yes, I was that tired) because I had really enjoyed it and hated to mess up such an adorable contraption. To my surprise, John contacted the itzbeen's customer service and explained what had happened, and they sent us a new one (even though it was my fault)! It's a great gift for a new parent, especially a geeky one like me.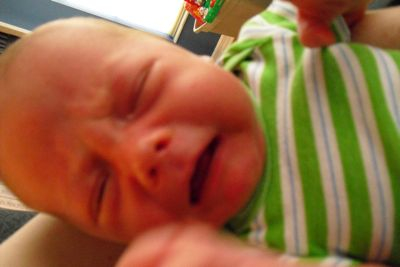 11. Valor's biggest struggle is getting to sleep after time spent awake. He can sleep right after eating, and he sleeps pretty good during the night hours, but he struggles for an hour to get to sleep after he's had some awake time during the day. That's the transition we are working on. I really want him to be able to self-soothe and get himself to sleep without me when he's older. Right now there's just a whole lotta hollering, with or without me.
12. It's hard to know what Valor likes because he doesn't smile (except when he's sleeping). Most of the time his reaction is a look of unimpressed concern: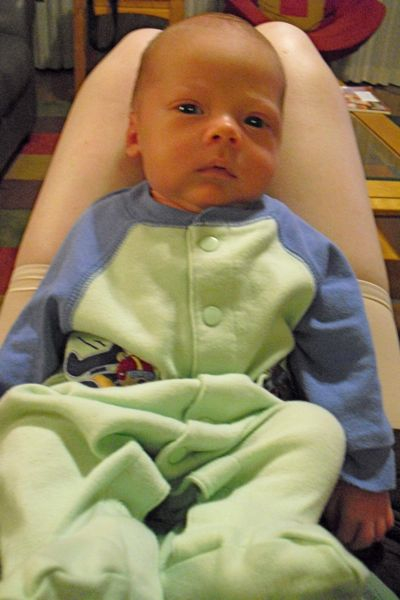 13. It takes about two weeks to discover and remove all the sticky remnants of adhesive tape after a c-section. This is partly because I can't see the underside of my floppy belly for a while. I hurt a muscle in my abdomen my first week home, probably from trying to get out of bed, but I'm feeling much better now. John installed a rope handle on the bed for me to pull myself up with, and the doctor prescribed a girdle to support my muscles. Now isn't that sexy?