no longer inclined to sleep
No, no… I don't mean as in "non dormis"… what I mean is, when Valor left the hospital, the nurses told us that because of the night where he had a couple "dusky" episodes where he wasn't taking in sufficient oxygen, that we should incline his crib, which somehow helps with his respiration, and monitor him for 10 days.
They actually told us that he should be inclined at 30 degrees. So I thought it was fun measuring the length of the crib (about 48 inches) and then dusting off a bit of trigonometry to determine how high we needed to jack up one end of it—until I felt stupid for forgetting that the sine of 30 is 1/2. Good grief… they want it elevated how high? No, I think someone's idea of what 30 degrees looks like is a little off. If we propped up the crib 24 inches on one end, Valor would instantly slide down to the other.
No, we settled for 8 inches, because that's the height of a standard cinder block. (Arcsin(8/48), for those of you who are curious, is about 9.6 degrees.)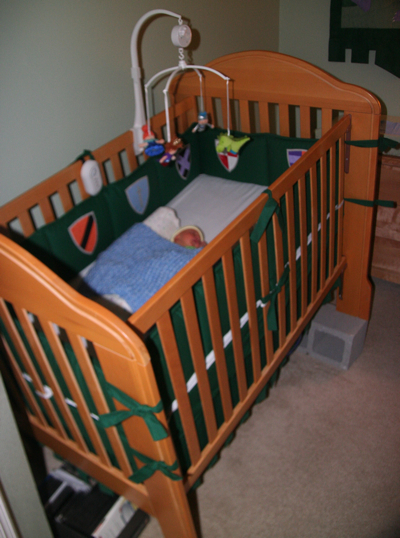 But anyway, he's been breathing fine as far as we can tell for the last 10 days, so I've returned the cinder blocks to Home Depot. Thus, we like to say now that he's no longer inclined to sleep.
Here are some other photos from Valor's completed medieval nursery: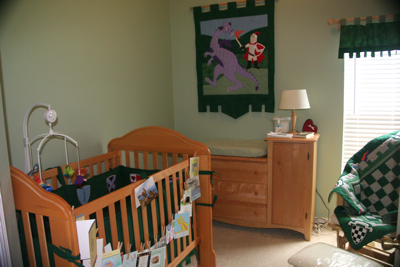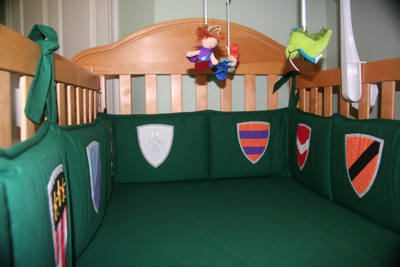 He loves to look at the bumper's shields, especially the one here on the left—with the three stars on top. It's really the only one he can see well from where we lay him down, so we hope he'll enjoy discovering the others later. He also enjoys his checkered quilt on the back of the rocker; the geometric pattern seems to really capture his attention.
We've also observed that Valor doesn't care too much to be swaddled (or maybe he doesn't like the fact that we refer to him as Cannoli?)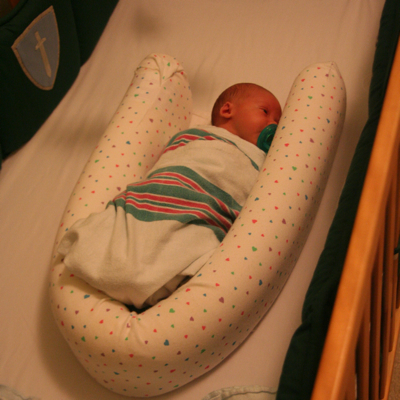 But he's pretty adept at getting his hands and arms out, with which he massages his face, grabs his ears, knocks out his pacifier, and does other hijinks that sometimes allow him to get to sleep: