fee-FIVE-fo-fum!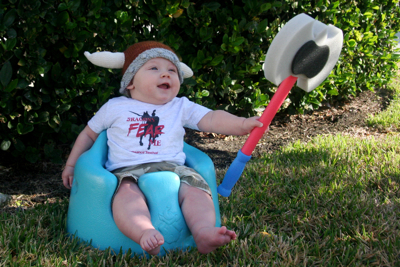 Arrrr! (or a Viking war cry!) The Mighty Valorbug is five months old today. He's in the 95th percentile for height and 90th for weight (almost 19 lbs.). I'm kind of relieved that he's not shrimpy with a tough-guy name like Valor. Right now he's so big, you have to put your foot on the Bumbo seat and pry him out of it.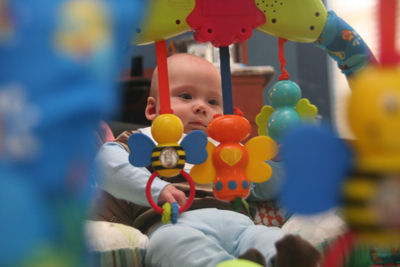 But not for long. He's starting to sit independently for longer at a time…about half a minute is the current record. I had been thinking that this was the goal in terms of being able to leave him alone to play while I get something done, but now I realize that will only happen when he can right himself after toppling over! He still shows no interest in rolling over, so that may be a while.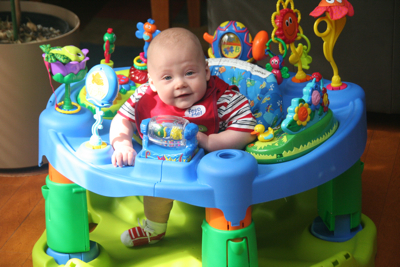 The jumperoo and exersaucer have been fun distractions that keep him upright. Valor loves to use his hands to play with all the toys. He's able to bang, grab, scoop (with two hands, towards his mouth of course), push, shake, smack, and shut (a book).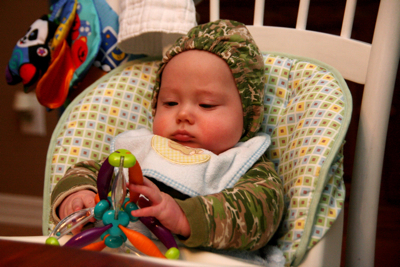 After a couple months of great anticipation about when his hair would grow in, we realized that it is in, and the color isn't brown or blond, it is invisible. Valor's hair manifests itself as a mist, a fuzzy aura, a slight decrease in definition around the edges of his head.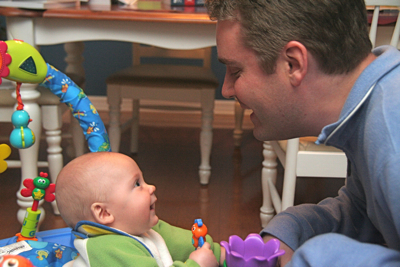 Valor's not the only one with room to grow in the hair department. My thick, lustrous "pregnancy hair" has heeded the call to flee the follicles, and I feel like half my hair has fallen out in the last month and a half. Bummer! At least I lost the pregnancy weight before receiving this check to my vanity.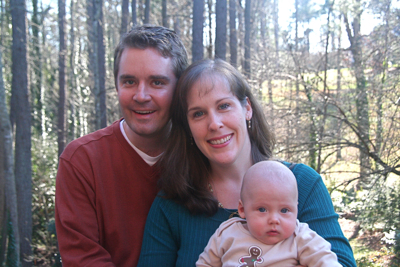 Sometime this month Valor turned 135 days old, and we didn't even notice. That is how long James was in the hospital before he came home. It seems incredible now that such a huge amount of his life was spent there, mostly lying in a crib or isolette, and how many shots and IVs and heel sticks he'd already had at that point.
Valor now weighs as much as James did when he died, and he's wearing some of the 12-month clothes James wore those last hot beautiful months. It is hard to see some of those outfits again. They stir up buried feelings of longing and sadness in my heart. I don't want to immerse myself in the intensity of his loss, but I don't want to lessen it either by diluting the memories with a new association. So I tend to put the newer outfits on Valor, the ones James never got a chance to wear.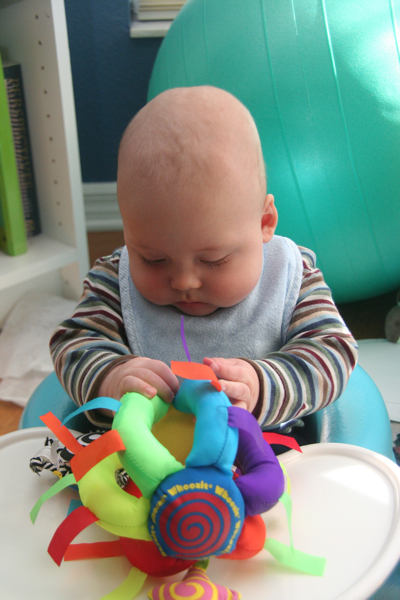 Valor is eating 6 times a day now, and taking 3-4 naps. I am having a hard time understanding what his nap schedule should be now that he is not napping between every feeding. I have been trying to let him show me what he needs so I can set up a schedule to follow, but it's not very consistent. He seems to take one long nap, and a couple 30-45 minute ones, at varying times. He's sleeping about 9.5 hours at night now. I started a slightly earlier bedtime routine, in which I bathe him, read to him, feed him, and put him down by 8:30 p.m. He took to that well and is usually asleep by 8:45. It's been nice to have an hour or two to do something else at night before falling into bed. However, now he's waking up around 6 am, so hopefully he stretches that a little longer soon.
The cue that tells me he is awake is a series of "thumps." This is what I call "stomping." He lifts up both his legs (he's still sleeping on his back) and drops them down together, thumping his feet on the mattress. This may be repeated for quite a while if he's happily sucking his thumb (aka Best Friend). Sometimes he'll go back to sleep after stomping a while in the middle of the night. Other times it's the prelude to a whimper, then a cry as he wakes up and puts in his breakfast order.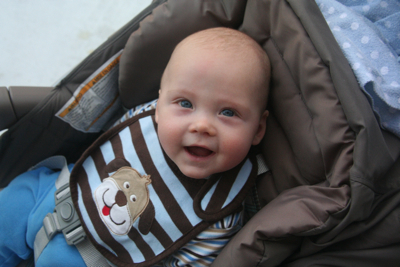 In December I started taking Valor to the weekly storytime at the local library branch. All the moms trickle in and seat their kids around the edges of a colorful rug. The 20-minute storytime incorporates nursery rhymes, songs with movements or stuffed animal props, and a couple simple books. At the end the storyteller sings a "thank you" song and blows tiny bubbles that swirl around the kids and rest on their hair and the rug. It looks really magical, and the older kids spin dizzily in them or try to pop them.
Valor doesn't really notice the bubbles yet, but he does like to watch the storyteller and the other kids. He's one of the youngest there (I think it's supposed to be 3-15 month olds). It's interesting to see how they all interact. One girl seemed friendly enough, came up to Valor (whom I was holding in front of me) and suddenly smacked the top of his head, leaving little scratch marks. He was tough and didn't react much. Her mother was embarrassed and tried to get her daughter to apologize, but who could have known her daughter was going to do that? She didn't really seem to premeditate it, and she certainly didn't want to apologize after the fact. I don't let the other kids get as close to Valor now. Live and learn!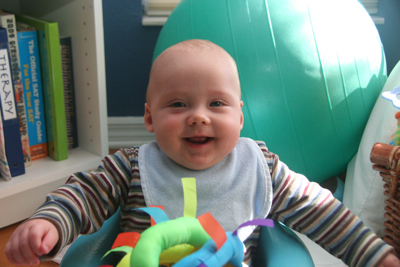 I started trying solid foods (rice cereal) with Valor last week. I was prepared for him to reject it outright, but he seems to be cautiously accepting. This morning he finished his whole tiny bowlful, and then at lunchtime he wasn't really too patient with it, so it just depends on his mood I guess. It's exciting to feed him without any worry of choking, swallowing issues, or blood sugars! This is so much easier than with James! One thing is true for both of them, they try to get their hands into the experience.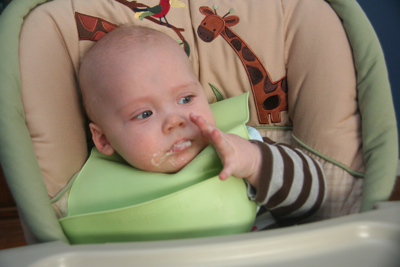 I love to listen to Valor's sounds. He is "talking" and cooing quite a bit now, and experimenting with his mouth. It seems like he is trying to learn to speak German or Hebrew instead of English because he loves to make a gutteral Greek "chi" or rough kkkk sound. He's also laughing a lot more, especially when Daddy is around.
It feels so good to hold Valor. His heft feels like the heft of James. I don't want to take his life for granted.