Dear Mr. Chapman
I've been a fan of yours since I was a young Christian. My first album was The Live Adventure; I chose it because it seemed to have the most songs on it. I remember listening to Heaven in the Real World in my freshman dorm room. I saw you in concert a long time ago, and I think I've gotten almost every album you've done since then. My husband and I danced to "I Will Be Here" at my wedding. (I think he used to be a little jealous of my mysterious enthusiasm for you, but eventually he grew fond of your music too.)
I really admire your skill with words and how I can always see growth and change both in your personal walk and in your musical skills. I'm not a "crazy fan" type of person; I don't write letters to celebrities or keep up with their personal lives. However, I've been writing this letter to you in my head for a year or so now, so I figured, tell you now or wait for heaven…so I hope what I say is an encouragement to you here and now.
I was only vaguely aware of your family. I knew you had kids, and adopted some, too. Like I said, I'm not really into your personal life. When the tragedy happened with your little daughter, I can't remember how I found out; I was in the midst of my own family crisis at the time, so to be honest I felt sad, but I didn't really have time to dwell on it much.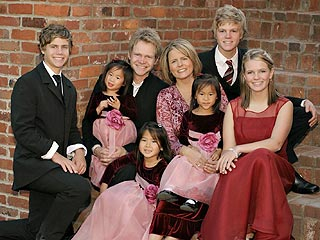 At that time in my life I was taking care of my firstborn, my precious son James, who was unexpectedly born very small with many disabilities. His brain did not form properly early on, and that threw off a lot of his other systems. He had diabetes, digestive problems, a dead pituitary gland, partial hearing, and a lot of physical and mental delays. He was in the hospital the first 135 days of his life, and had several shots a day most of that time. Once I learned to give him shots, monitor his diabetes, and feed him through his stomach tube, we got to take him home. He weighed 5.5 lbs. at 4.5 mo. old. He needed care around the clock; we even had a night nurse so I could rest at night.
There was no one in the world like James. Medically speaking, no one with his combination of problems was ever recorded before; but his irresistible personality made him really unusual. He didn't play with toys much; he couldn't sit up alone or use his hands well; but he loved to look at faces, and his smile was just incandescent. He connected with people in an amazing way. Although he endured constant discomfort from his unpredictable blood sugars, painful digestive gas, and several blood sugar pricks and shots a day, he didn't fuss very much. He displayed a lot of bravery and patience, and enduring love, considering that the people who cared for him had to stick needles in him every day.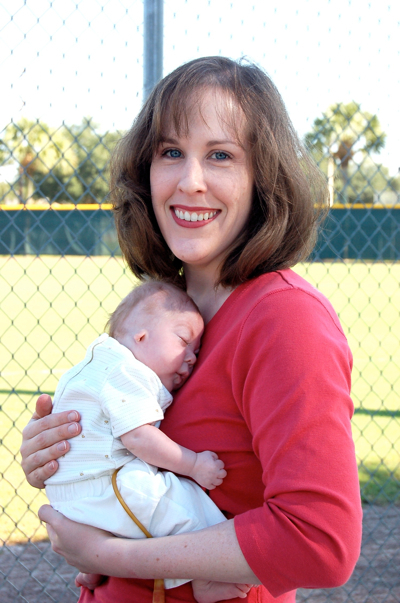 Statistically he didn't have a great chance of walking, talking, or using his hands, so we did a lot of therapy to help as much as we could. Every morning while I put him through his exercises we listened to a playlist of energetic songs that I felt encouraged me to believe God for big things. I named the list James's Morning Songs. There were 25 tracks on that list, and Mr. Chapman, eight of them were yours: "Believe Me Now," " Declaration of Dependence," "Whatever," "Dive," "11-6-64," "Only Getting Started," "Great Expectations," and "Still Listening." If for nothing else, I want to thank you for encouraging my faith during a very difficult time, a time when I didn't see James improving much, when I was tempted to be bitter about the past and fearful when I looked into the future, and a time when I miscarried our second child and lost that hope as well. Through reminding me of His character through Scripture and your music, God encouraged me to trust Him no matter how dark things seemed.
You have probably noticed that I'm referring to James in the past tense. We knew that he wasn't expected to live long; but after his first birthday we started to think that he might be past the hard part. He was able to go through the night without a nurse; he had an insulin pump and a hearing aid. Thanks to all his work in therapy, he was standing with help and starting to try and walk!
James was 482 days old when I found him, lifeless, in his crib. All the stress his body was constantly under finally caught up with him. He died on 8-20-08, and the life verse we chose for him before he was born—one that God challenged us to believe over and over—was Romans 8:28.
Later that week on the radio I heard the verse you added to the song, "It's All Yours." At first I wasn't sure it was you; the voice sounded so raw compared to your normal recordings. Then as I listened closely, I remembered what had happened to your family and I realized that you were singing about the same valley that I was in right then. I felt relieved and blessed that I had this common bond with another Christian, even though it was a sad bond.
This feeling of connection was nothing compared to the shock I felt at hearing "Heaven is the Face" months later. You put into words exactly what I felt after my son died…I was ready to be done with life and go to heaven and be with him. I felt sheepish that, as a Christian who loves Jesus, I wanted to see someone else as much as Him in heaven, but at that time…I just wanted to hold my little son again and feel him nibble on my shoulder. I wanted to see his smile that lit up his eyes, and I wanted to know if he could fly, and hear, or whether God somehow retained yet transformed disability in a more glorious way than by just fixing it all.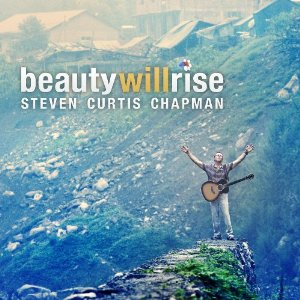 My husband and I listened to Beauty Will Rise together from start to finish early this year, tears of empathy streaming down our faces. I don't know how "popular" it is compared to your other albums, but we want you to know we felt tremendously honored and encouraged to listen in on your journey of grief and faith and hope—a journey we completely identified with. As we prepare to remember James's third birthday next week, it seemed like a good time to thank you.
So, thank you for being public and transparent with your emotions and struggles to understand how a loving God could allow personal tragedies to happen. You expressed in 50 minutes what it took us months and years to write about on our blog about James (www.sweetbabyjames.info). We admire (and share) your fight for faith, your struggle for joy, and your wrestling for true, honest words. And we believe that God will bring beauty from your family's ashes, just as we are confident, by God's grace, that He is working all things to our good because we love Him and we are called according to His purpose.
in Christ our hope,
Abby Gjertsen