Finding a home: Part 2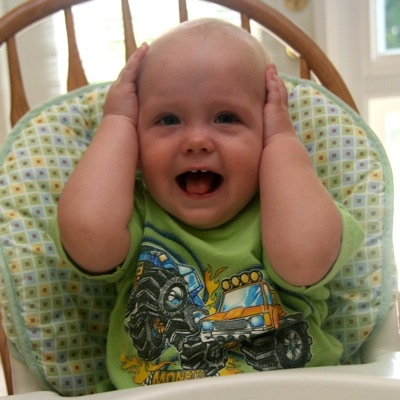 Moving…again?!
Tomorrow at 10 am, we plunge headlong back into homeownership. After our home in Central Florida sold—a miracle, given the distressed real estate market there—we started looking in New Bern, but we didn't find anything compelling, and we had more or less decided that we would continue to rent for another six months or so.
And then, in the same week that we learned that the house we were renting was going into foreclosure in mid-August, this gem hit the market. It had House of Gjertsen written all over it (at least, we thought we could make it out under all the overgrown foliage):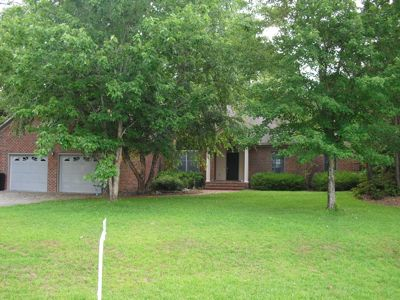 It's in a great, established neighborhood (Trent Woods), but in a newer section built in the '90s so it has an open-feeling kitchen and no formal living room. It has the cheaper of the two utility companies in New Bern (Progress Energy), plus natural gas heating & stove…a great park just around the corner…walking distance from a good elementary school…and it's only FOUR minutes from John's office!
It hit the market on a Thursday night at a pretty attractive price; we saw it that Friday, made an offer on Saturday, and by Monday morning we were under contract. The many houses we looked at in May and June helped us see what a great floorplan, and awesome deal, this one was.
Here's the floorplan, as I roughed it in for my dad, who was trying to picture it from our shaky video footage. There is a 1-3 split of bedrooms, with the master suite on the left and the other three bedrooms on a private hallway to the right.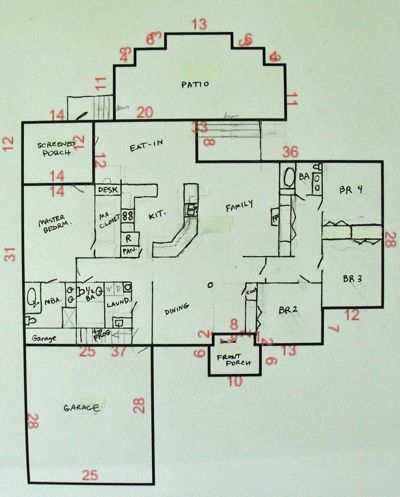 Almost 3,000 SF, 4BR, 2.5 BA, with a finished room over the garage ("FROG" in Realtor lingo) and an air-conditioned brick workshop building in the backyard. Drool, drool!
Here's the foyer and the dining room…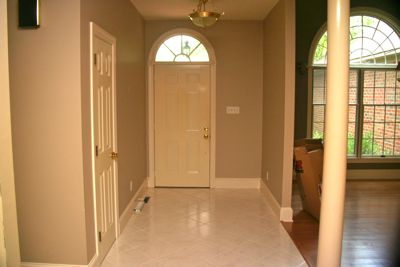 Better shot of the dining room…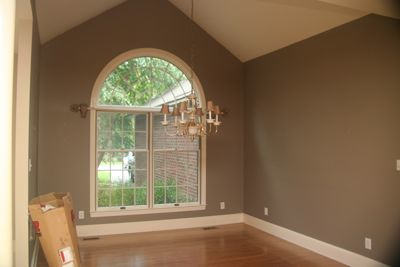 Big family room with a gas fireplace! more wood floors, and prewired speakers…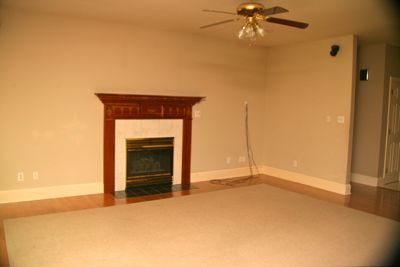 Sliding doors to the back patio from there, and the kitchen back to the left…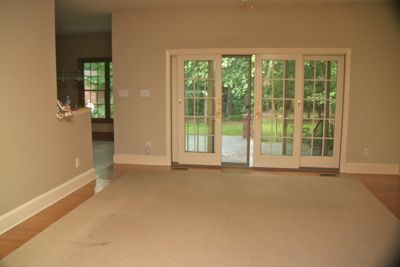 Kitchen has a gas stove and tons of cabinet storage space…this pic only shows part of it. I've never had so many drawers!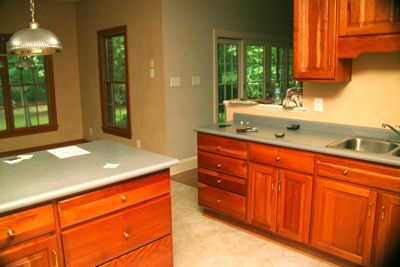 One of the things that really sold us was the built-in computer desk in the eat-in area behind the kitchen. We really like having the computer in a "public" part of the house, ideally near the kitchen, yet not in the front of the house (because the desk is always a mess!). So this was a super sweet configuration.
Painting the master bedroom and closet (they're copper-brown right now) and replacing the worn carpet in all the bedrooms will be our big projects next week, before the furniture is moved over on Friday. I can't wait to see the transformation!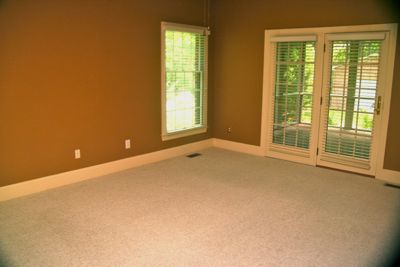 We chose a sort of aqua or blue-green for the walls to accent our silver and dark wood furniture. We will post photos after we're done!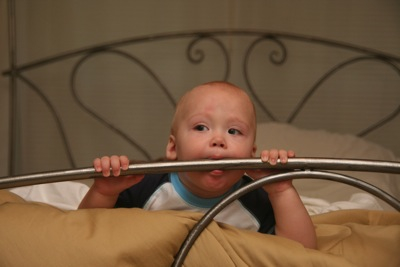 The master bedroom opens up onto the brick screened porch, which also connects to the desk area and the patio: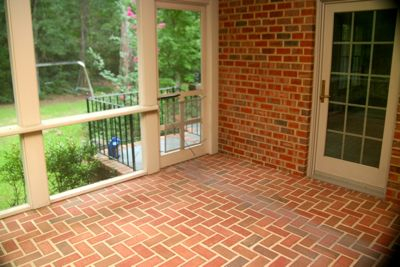 The master bath is painted with gold stripes, which we're not crazy about, but it has a lot of light and a fancy cultured marble tub…
We love this floorplan because it has four bedrooms, all on the ground floor. I wasn't crazy about becoming a turbo StairMaster on laundry days or whenever the baby woke up. Here is the private hallway for the secondary bedrooms and second bath, with a great closet to boot: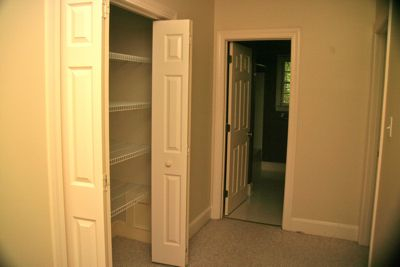 Here's a sample secondary bedroom. This will actually be the guest room. Notice the trees that create lots of privacy and shade!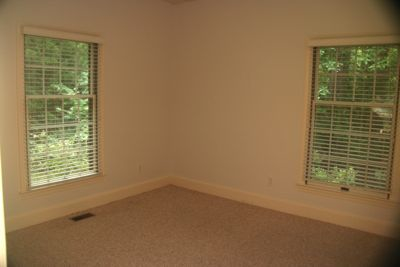 The only thing on the second floor is a huge bonus room, which will be empty for a while until John and I divide it into a sewing room and a home theater someday. Here it is with the prior tenants' stuff still in it: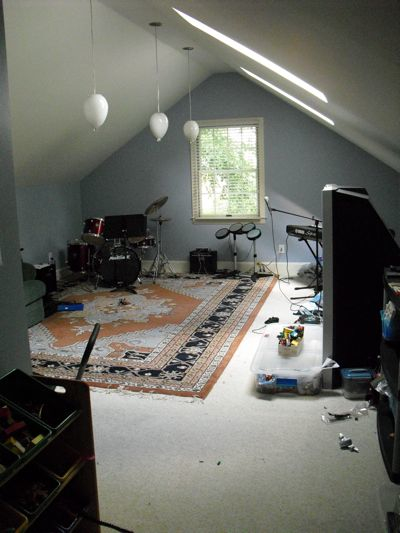 The house is on 0.72 of an acre, with a great stone tile patio and lots of backyard privacy—only one neighbor to the side, a wooded lot on the other side, and lots of trees in the back. There is a small backyard lawn area right off the patio. Lots of room to garden, if we can get some trees out eventually! At this time of year, the shade is delicious.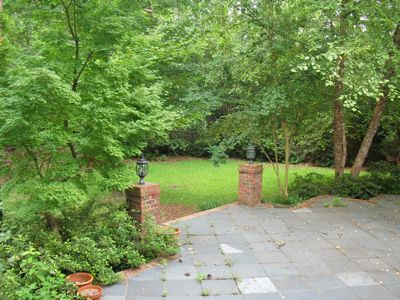 Aaaaand…a 16 x 18′ brick workshop. One word: mancave!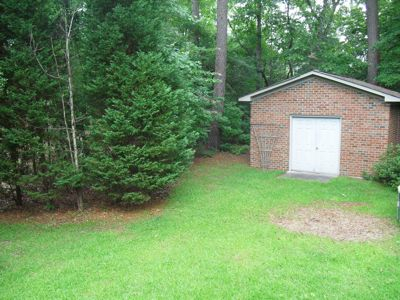 Woohoo! We are so excited! We will start moving boxes, ripping out carpet, and prepping to paint tomorrow, so we may not post for another week or so. God has provided a new House of Gjertsen, and we hope it will someday be filled with as many happy memories and great friends as the last one!