oneish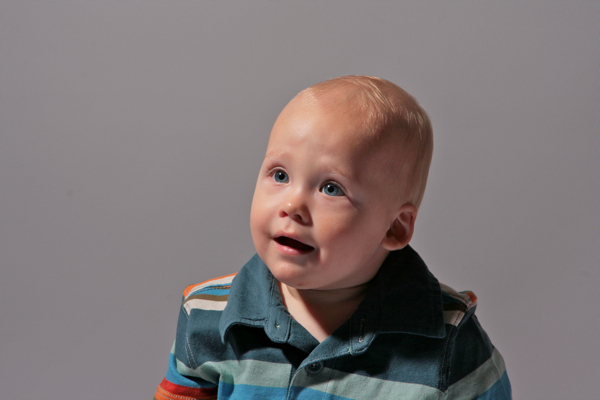 I've been meaning to post a sort of description of Valor at age one, but I've let it go so long that now it will be more like Valor at about 13 months. This is mainly to capture this fun age for my own reference, but my readers (and someday Valor) might enjoy the update as well.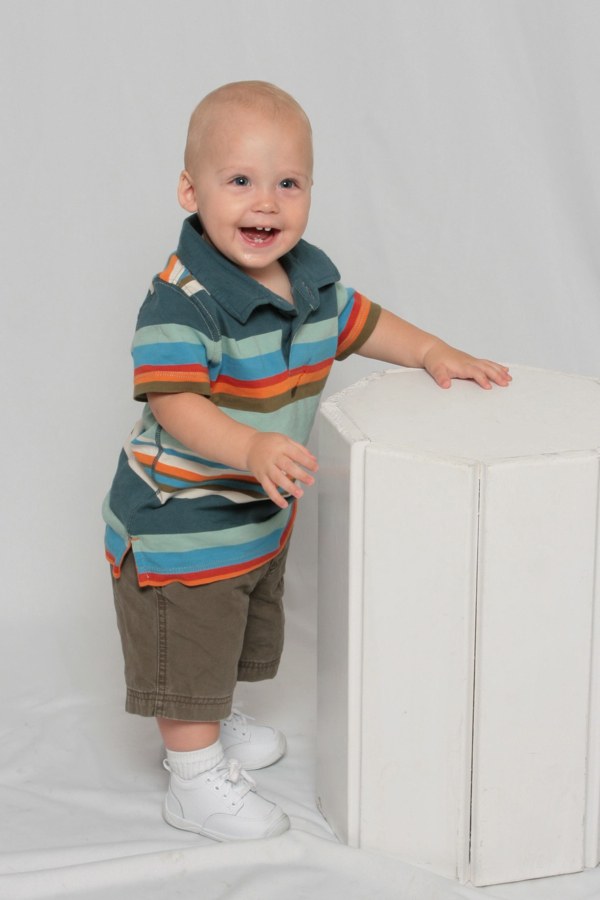 Valor's most distinctive characteristics right now are his good nature, his developing sense of humor, and his gross and fine motor skills. I don't know if it was BabyWise (which is a regular sleep/eat/play routine that helped him sleep through the night early) or just good genes 🙂 but he still gets lots of compliments from childcare workers at church events who say he is a very happy baby. He recently cried a couple times when I left him in childcare at church or Bible study, but I just told him I'd be back and left quickly, and now he seems fine when I leave again.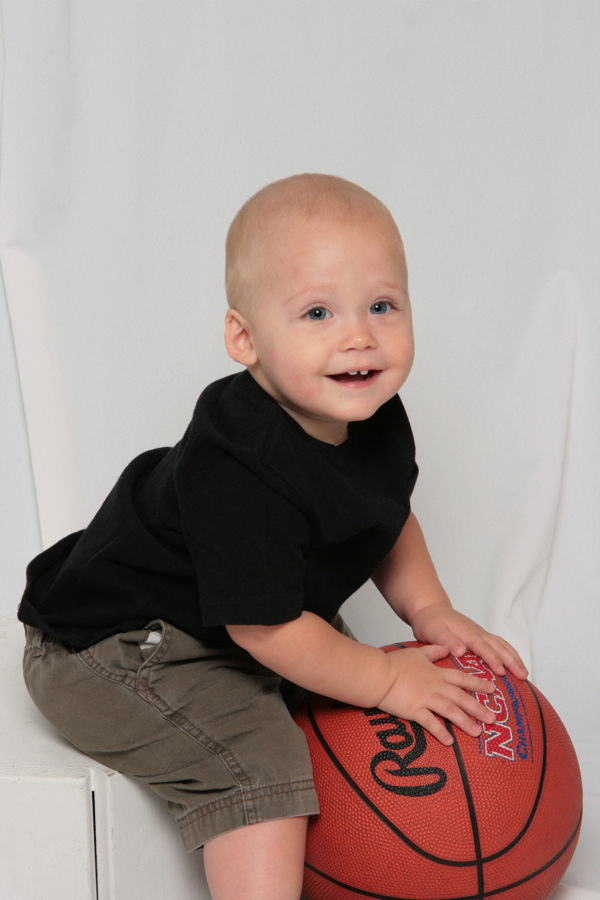 Valor does have good sleep habits, no doubt about that. He takes a bath and goes down for the night at 8 pm, sleeps until about 7:45 am, then naps about 10-12, and again about 2:30-4:30. When I get ready to put him down, I change his diaper, give him his favorite blanket or lovey to hold while he sucks his thumb (which he only does when he is going to sleep), and hold him while I sing "Jesus Loves Me." Then I put him in his crib, say night night, and shut the door behind me. He gets himself to sleep, and when he wakes up he plays quietly in his crib (usually babbling or throwing all his blankets and toys out, or this week, taking off his pants or socks!) until I open the door and find him standing up, beaming at me. What a great kid!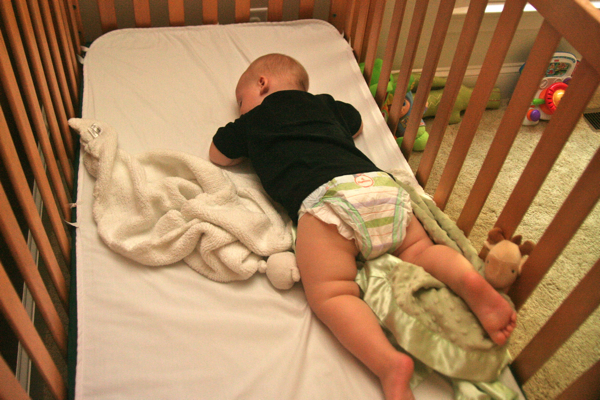 Since he turned one we have been gradually weaning, and we are down to three breastfeedings a day right now (morning/midday/evening) and of course his meals of solid food are more substantial. In fact it surprises me how much he eats. A typical meal might be 1/2 banana, 2 pieces of lunchmeat, a couple slices of cheese, 1/2 slice wheat bread, 4 oz. yogurt, some chips, and milk or water.
In the past month or so Valor has started rejecting some kinds of food, when he used to eat almost anything. He doesn't like apples or nuts (too hard?) and he rejects mild cheeses like Swiss, but he likes cheddar. He doesn't like beans, lettuce, tomatoes, or green peppers, either, and sometimes he rejects the whole-wheat bread I used to always give him. He has never taken to PB&Js, and he's not a seafood lover yet. I definitely notice that he gets tired of foods that he has had too often (e.g. blueberries!), but he will go for them again if some time has passed. This has encouraged me to shop for variety. His favorites right now are:
bananas, grapes, strawberries, sometimes pears if they are soft, blueberries, cherries
all kinds of meat, including lunch meats, chicken, stew beef, ground beef, sausage (I never offered him baby food meat…)
whole-wheat bread, wheat crackers, Nutrigrain Eggos, Multigrain Cheerios, other cereals like Life, whole grain pasta
broccoli, corn, peas, mushrooms, potatoes, sweet potatoes, cooked spinach, cooked tomatoes
yogurt (I usually give him the fruit/veggie mix kind or vanilla with fruit), cheddar cheese
Valor has been eating finger foods for a long time now, thanks to his excellent fine motor skills, but he is still not good at hoisting a sippy cup high enough to drink from it all by himself. (He can drink out of the ones with straws easily, since they don't need lifting.) He drinks water and whole cow's milk. I don't give him juice, because I want him to enjoy water and not get insistent on something sugary. He also likes playing with a spoon, but is not feeding himself yet. I could let him do this more, but I hate the mess :b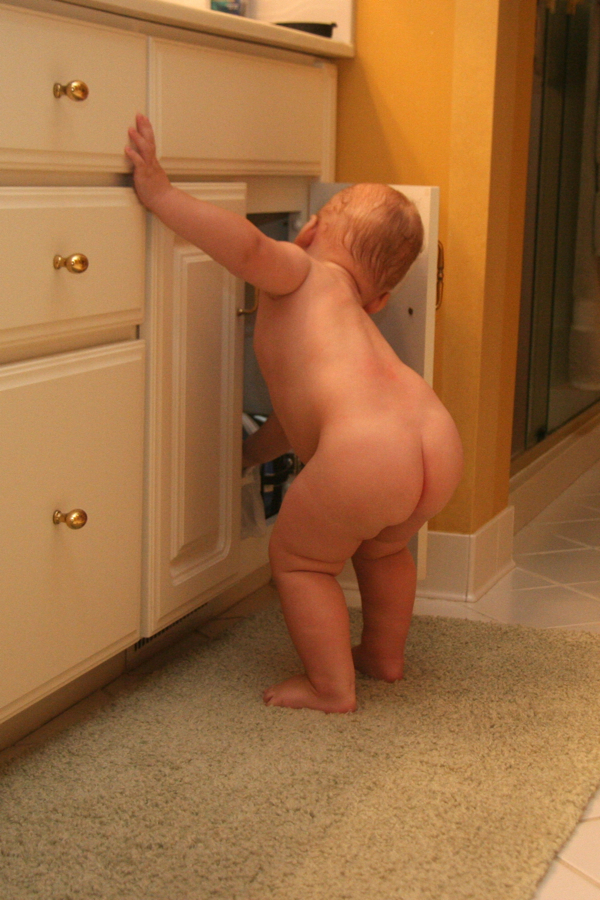 His favorite toys and games are opening cabinets, taking everything out, putting things into containers or bowls, holding my hand(s) to walk around the house, and (news flash!) stacking things like blocks. He also loves chase, in which I crawl after him, but when I get too close, he turns around and crawls towards me, which is a little confusing. I guess I represent comfort and safety as well as a threat in the context of the game. Valor loves to ride on Daddy's shoulders, push his little wagon toys, and pat dogs.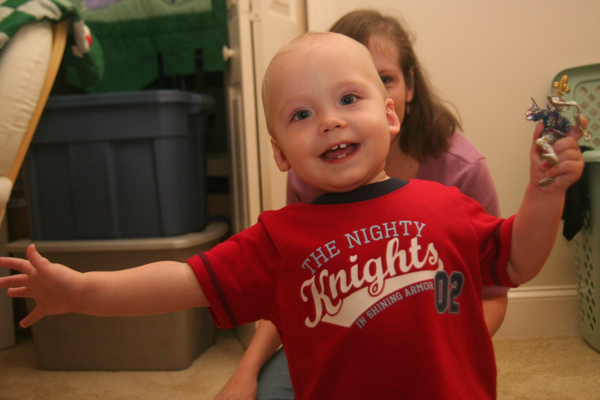 V-bug started walking the week after he turned 1. For about a month after that he would only walk between two people (usually Mommy and Daddy) who were holding their arms out to him. Gradually we moved further and further apart to make him walk farther. But at almost 14 months now he still only walks maybe six feet and then drops to all fours for a more confident crawl. He has recently discovered stairs and loves to climb them, even though he needs help getting down.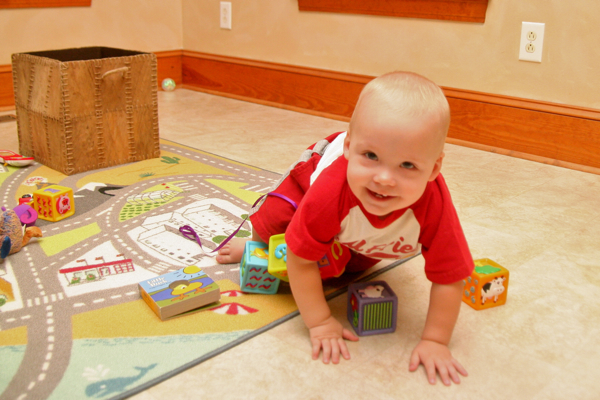 He is also really getting into books. He has begun insisting on being read several books at a time, although he doesn't always have the attention span to make it through all of them in entirety. He looks at board books by himself and points to all the pictures, babbling to himself. It's pretty exciting to see the beginnings of a reader! Makes my English teacher's heart swell!