toy boxes
Is your house covered up in toys? Or is your baby bored of his or her toys, even though it seems like you have a ton of them?
My best friend Susan stays at home with her two girls, so she has a lot of toys for them to play with during the course of the day. Once she told me that she sorted their toys into large plastic tubs that she rotates into and out of use every so often. This was one of the best tips I've used for Valor, which I started when he was about 9 months (but you could start as soon as your child is able to sit up and play with toys).
When Valor turned one, he got some great new toys, but I didn't want them spread all over the house all the time. Also, I noticed that there were some "baby" toys that he rarely touched anymore. So I took advantage of some empty bookshelves we had at the time and sorted all the "0-12 mo." toys into a storage bin to go to the attic, and the rest I sorted by type into four groups.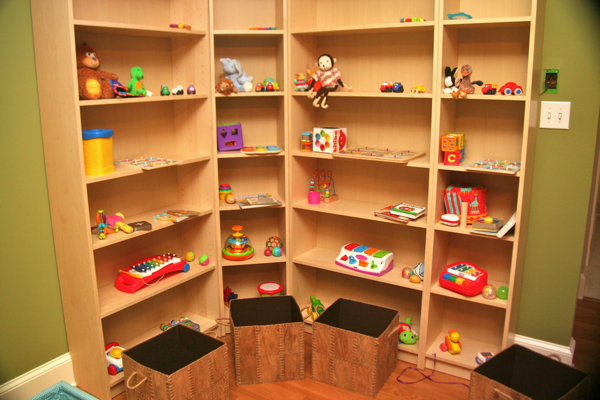 Categories included board books, stuffed animals, electronic toys, musical toys, mechanically-interesting or tactile toys, pull toys, teething toys, shape sorters/blocks, cars, puzzles, and balls. I distributed these categories evenly over four groups, then made adjustments so the big ones were spread out (otherwise they wouldn't fit into my containers). Instead of plastic tubs, I used the four canvas drawers that go into our IKEA "Expedit" bookcase in the nursery. (We originally got them to hold James's medical supplies so his room would look like a nursery instead of a hospital room…it's wonderful that they can hold toys now instead of diabetic supplies, needles, and feeding tubes.)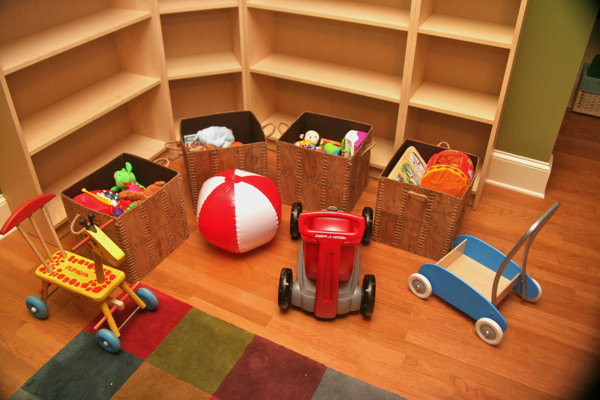 Now I have four drawers of toys, plus a larger push toy for each drawer, that I rotate out every few days when Valor is tired of the old drawer. In rainy times he plays with toys more, so I switch them sooner; when grandparents visit, he plays with them less, so I keep them out longer. He attacks the fresh ones like they are brand new. This tip alleviates toy clutter, the pressure to buy more, and his boredom, plus it gives me time to do something else (like blog) while he plays by himself…