Puzzle correction
A few of our courageous readers managed to solve the double crostic I posted a month or so ago,
but I regret to inform all of you that there was a mistake. That is to say, all the anagrams worked out,
but there was a small problem with the source of the quotation. If you're familiar with these puzzles,
you know how the very first letters of every answer spell out the author and source of the quote.
In this case, the source of the quote changed on me. Yes, that's the risk I took when I chose to use a
source prior to publication. Not a problem, though. Especially for those who have not yet solved it, I
present to you the latest double crostic, version 2.0. Same quote—all new clues.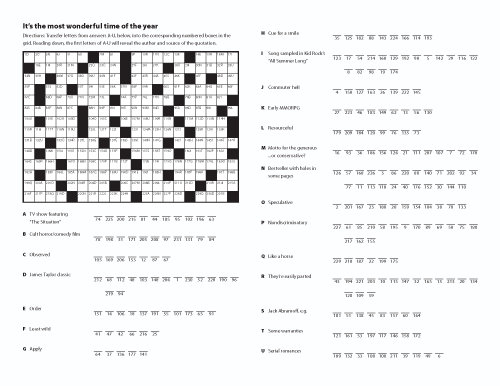 Reading down this time, you'll get the correct author/source. (I suppose if you've already started the
earlier puzzle, you could transfer the progress from the earlier puzzle's quotation into the updated
grid and work backwards—sort of a triple crostic) For those who may be wondering if there is any
news of great importance every time you see a puzzle on one of our blogs, I'll remind you it's not
always the case. Sometimes I just love anagramming words and wish to share my delight. There's
not always an embedded bit of news or a hidden meaning, but hopefully it's more fun than "be sure
to drink your Ovaltine." Or maybe there is a hidden message after all…
[update 2/27: Greetings, Cake Wreckers! I've updated the .pdf download of the puzzle, above, to include some clues. You'll need to change the visibility of each layer in Adobe Acrobat (might be something like View->Show/Hide->Navigation Panes->Layers) to reveal an extra clue for the answers you're stuck on. Good luck!]