Answers
I finally got a chance to look at this last night and it was just the right amount of challenging! Mad props to your friend - he has got mad word games skillz fo shizzle!
That was overheard over at the "sister site".
Thanks, Famous Hat. It's for comments like that that I am known to spend a perfectly beautiful Saturday anagramming words like a madman for six hours straight without blinking. And thank you, Jen, for sharing the joy of my wordplay with so many others.
Of course, for those who didn't solve it, yet, I published a version with clues on separate PDF layers which can be made visible within Acrobat. And now that it's been out for some time, I guess I may as well publish a version with all the answers filled in for those who love to be let in on a little secret but don't have the patience or the desire to work one of these.
Of course, with every good puzzle, there is an afterpuzzle. In this case, the Puzzle Correction post had certain words italicized. Specifically, "first letters… reading down… hidden message." The ambiguity was intentional, but the afterpuzzle itself didn't pertain to the puzzle PDF, but to the post itself. The first letters in each row read vertically: ABBY IS PREGNANT. Most people didn't figure out the afterpuzzle, but if you did, props to you—you have mad word puzzle skillz.
Abby is twelve weeks along, actually, and today we got our first photo: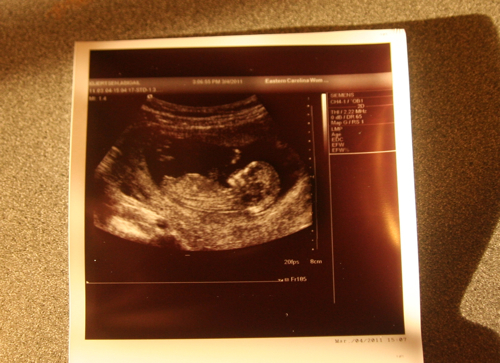 It's shaping up to be an exciting year in the House of Gjertsen!!