the monsters in our closet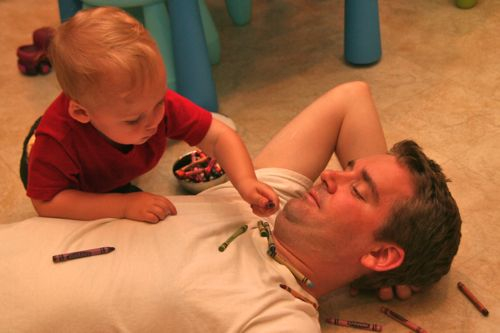 I've been working for a month or so on a baby book for Carolina Grace. It's just a scrapbook with her life verse, her ultrasound pictures, some photos of us during the pregnancy, our blog entries, pages and pages of your comments/fbs/emails of congratulations and/or sympathy, and all the cards we received in the mail. In the process I realized that I hadn't seen everything sent to us at the time, and I was blessed to see so many words of encouragement. I went through the hardest part of my grieving process a couple weeks ago (in which I had a hard time getting up in the morning, I cried in the grocery store for no apparent reason, and I wanted to hide and feel sorry for myself), and reading the words of friends and family helped me feel less alone and sad. Another thing I realized from the time stamps of the comments is that a few of you keep some crazy hours…go get some sleep!
I think I am past the "hopeless" stage of grief now. One thing that helped me was filling my calendar with playdates and activities, so I had something concrete to look forward to each day. I think the turning point came one sleepless night when I checked in at Glory Babies, a blog about miscarriage, stillbirth, and infertility (I discovered it after James died, when the author asked to re-publish one of my blog entries). I read a recent entry describing how grief can darken our spiritual vision and sense of God's purpose for our lives. That reminded me of John Piper's teaching that God is at work even in the darkest of times—even when our grief and bitterness keeps us from seeing Him properly—from his awesome 4-sermon series on the book of Ruth called Sweet and Bitter Providence. So those helped me climb up out of the pit.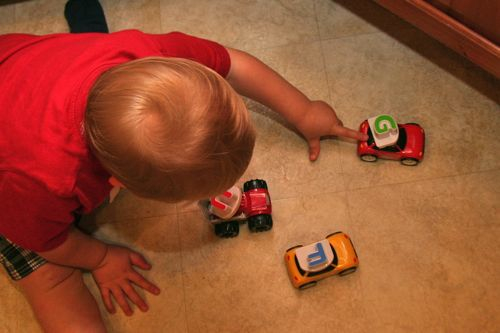 Thank you to everyone who prayed for the test results from Carolina Grace and our appointment with the high-risk doc. The results came in, so I met with Dr. L. and a geneticist Monday, fully prepared to hear them say, "I'm sorry, but we will just never know why this happened."
But that's not what they said.
First, the pathology report stated that Carolina was physically normal, just like Dora was. The karyotype showed that the chromosome counts were all normal, no missing or extra ones. The revelation came from the CGH test, which is a finer-tuned chromosome analysis that can find smaller deletions, rearrangements, and duplications. This test has only become available in the past couple years, so we didn't have it done on Dora (our first miscarriage).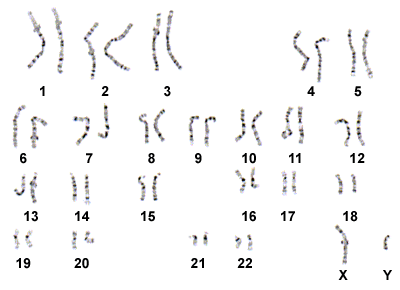 This gets technical, so the brief version is: We're mutants!—or, Together we make mutants!—I'm not sure which. Now let me see if I can explain this. You remember from Bio 101 that each parent contributes half of the child's chromosomes, so we each have 23 from our moms and 23 from our dads. They found that Carolina had a "loss of heterogyzosity" or LOH (also called runs of homogyzosity or ROH), which means that she had several regions in her chromosomes where the sequences from John were identical with the sequences from me. They said that normally you would find 0.5% of this occurrence, but Carolina had 3%. The regions mapped to about 80 genes.
The only identified cause of LOH is inbreeding! Straight out of a Faulknerian nightmare! But I've racked my brain and there's just no way that we could be related for several generations. My family is from the South, a mixture of English, Irish, and Cherokee, and John's are transplanted Yankees of German and Norwegian stock (update: actually both of John's parents have English ancestors as well). According to the geneticist, scientists know there must be other causes of LOH…but they don't know what they are.
So we don't know how the identical sections got there, whether we really individually contributed them or whether the DNA translation/recombination process had mistakes in it, duplicating one parent instead of taking DNA from each. But we do know that LOH opens the door for autosomal recessive disorders: instead of having a bad recessive gene from one parent that is covered by the dominant healthy gene from the other parent, if there are two bad recessive genes, the recessive disorder will be expressed. So the monsters in our closet are given tickets to walk. And one of those monsters apparently makes life unsustainable for a fetus after 15 weeks.
This discovery also opens the door for the scary hypothesis that our first son James's complex medical conditions could be multiple expressions of this same genetic problem, rather than just an isolated genetic mutation that would never happen again. In fact, it could mean that our healthy son Valor is the unusual case.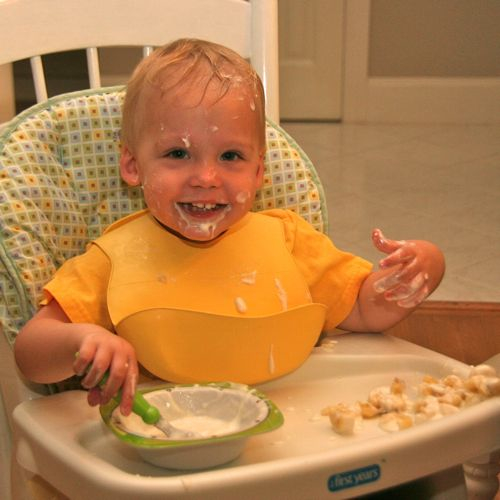 I had been worried that the docs would tell me that I had done something to cause the miscarriages; I had thought that the discovery of a genetic problem would be a relief (it would answer our questions, and it wouldn't be my fault!). But in fact the responsibility of this revelation falls on us in unexpected ways as we plan for the future. The next step on this journey is to see if the genes affected by LOH correlate to any of the conditions James had. That meeting will happen in a few months. And hopefully from there we can get some idea of how likely we are to have another healthy child.
John and I are still exchanging questions with the geneticist and processing what this all means for our family. We are thankful to know these results, even if they are scary; as Patrick Henry said, "whatever anguish of spirit it may cost, I am willing to know the whole truth; to know the worst and to provide for it." God's plans for populating the House of Gjertsen have never seemed straightforward or easy, so our prayer for the next stage of our journey is that He would expose selfishness, unbelief, and bitterness and replace them with steady joy, faith, and hope. However mutated or broken we start out, we want to be true and real expressions of our Father in the end.
And we all, with unveiled face, beholding the glory of the Lord, are being transformed into the same image from one degree of glory to another. For this comes from the Lord who is the Spirit. (2 Cor. 3:18)