behind door #3
Before we blog about the very important door at the front of the hallway, we thought we'd share with everyone the surprise waiting for Abby's parents, who will be arriving later this evening.
We didn't take any "before" pictures, but before the transformation, our guest bedroom had consisted of a queen bed on metal rails, a folding utility table in the corner, a couple mismatched nightstands and chairs, and scuffed white walls.
My mom said once that sleeping on a bed without a headboard feels like "camping out," so we've been searching Craigslist on and off for years for a cheap decent one but have never found what we wanted. A few weeks ago we decided to actually browse around a few real furniture stores, and we came across this white queen frame that fit the bill. It was originally $799, but it was in the back clearance room marked down to $299. Abby pointed out that it needed to be repainted and the side rails were missing, and the salesperson quickly adjusted it to $199. (After we bought it he found the side rails, and when we got it home all the marks washed off; all it was missing was the slats, which were easy to make.)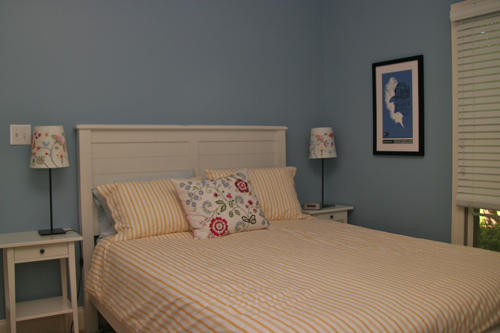 Once we had the bed, we felt we had the momentum and a window of time to fix up the rest of the room before Abby's parents arrived for baby day. As a contrast to all the white furniture, we knew we wanted the walls to create a nice contrast. We were trying to create an atmosphere of serenity and relaxation without being overly dark or "beachy." I had envisioned the walls being darker and more saturated, with greater contrast to the furniture. Abby envisioned them a little bit lighter and more neutral. In the end, I went a little bit lighter and she went a little more saturated, and we wound up with Valspar's Cool Springs.
(I have to mention this because I know some of you are thinking it. It was not our original plan to make the room Carolina blue and white, but at the same time I really can't say I'm disappointed. It is relaxing, reminiscent of a spring afternoon in the Dean Smith center, watching the boys play four corners after building a commanding lead. Nice.)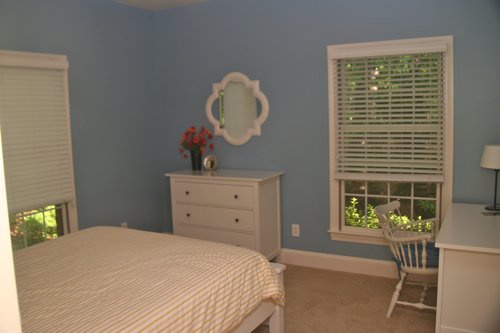 So yes, for those of you who aren't paying attention, Abby and I painted Valor's room when she was 4 weeks pregnant, the nursery—tomorrow's post—when she was 34 weeks pregnant, and the guest room when she was 36 weeks pregnant (plus the hall closet when she was 38 weeks pregnant, which is another story).
We spent part of Memorial Day weekend driving to Charlotte (leaving Valor with John's mom) for a romantic babymoon/Ikea pilgrimage. We brought home 2 HEMNES nightstands and a HEMNES dresser. The quatrefoil mirror was from Lowe's, but we had to paint it white. Elsewhere online we found a small white desk with a drawer and a keyboard tray. The chair was an old garage sale find. I think we'll either repaint it or find a different chair eventually.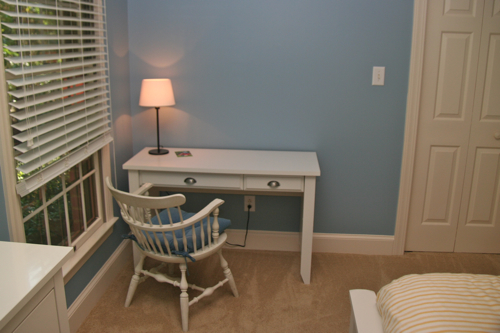 Behind door #3 is not simply our guest room. It is the Fortress of Solitude for some Supergrands for the next two weeks.