Euro zone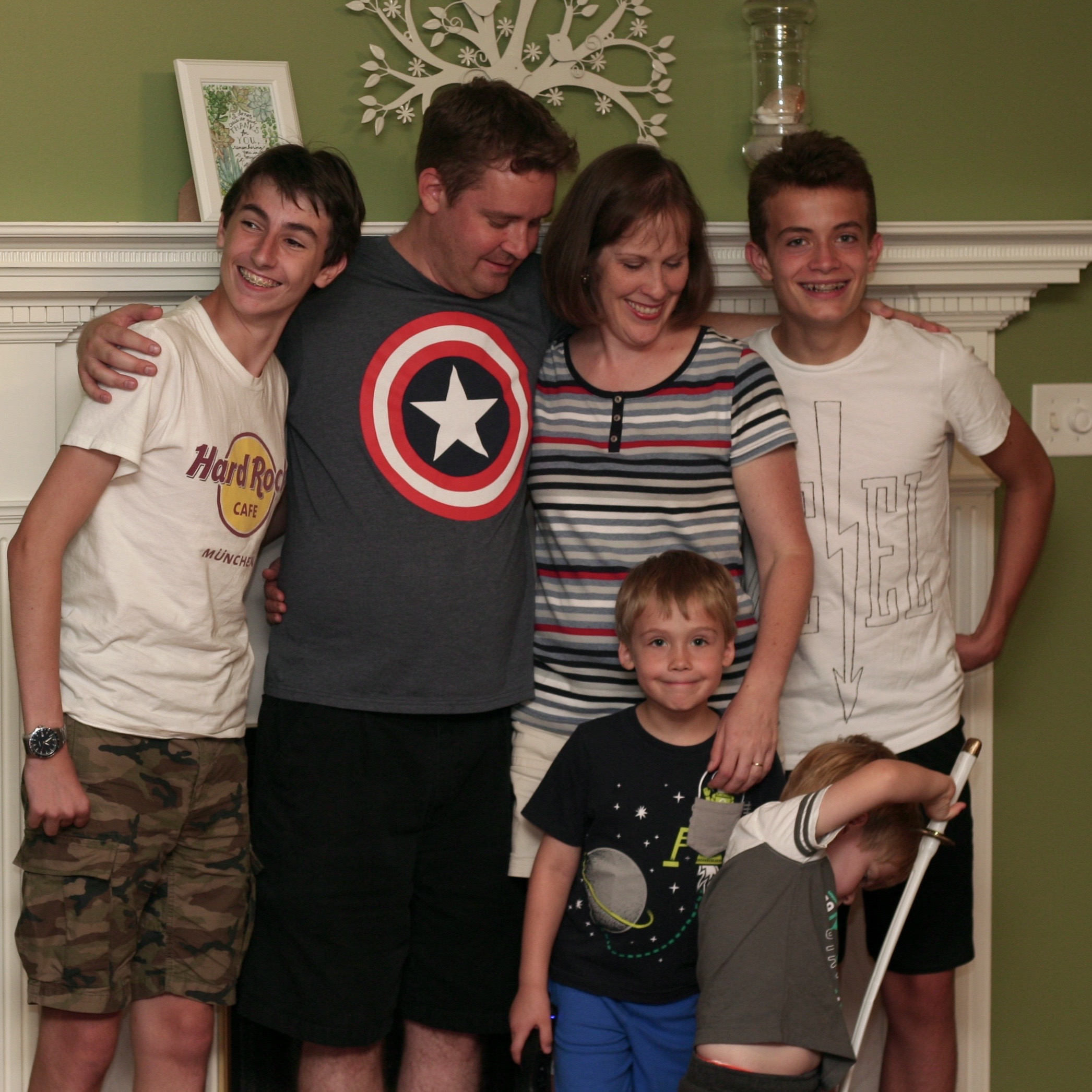 If you have known us long at all, you know we have some empty bedrooms in our house that need filling. So when we heard about an organization called Terra Lingua seeking host families for European teenagers this summer, you know we were curious. We had great experiences hosting with Mission to Japan in Orlando, which introduced us to Motoi and Megumi, but we'd never heard of anyone in Eastern NC doing anything like a foreign homestay program.
Long story short, Terra Lingua accepted our application, and we liberated a bedroom from the Legos so a person could sleep there without having minifig nightmares. A generous couple in our church lent us their Toyota Sienna minivan for the month in exchange for a Prius, so we had enough seatbelts to host 2 students. It was larger than we were accustomed to driving, and I was the primary driver, so we named the sand-colored minivan the "War Rig."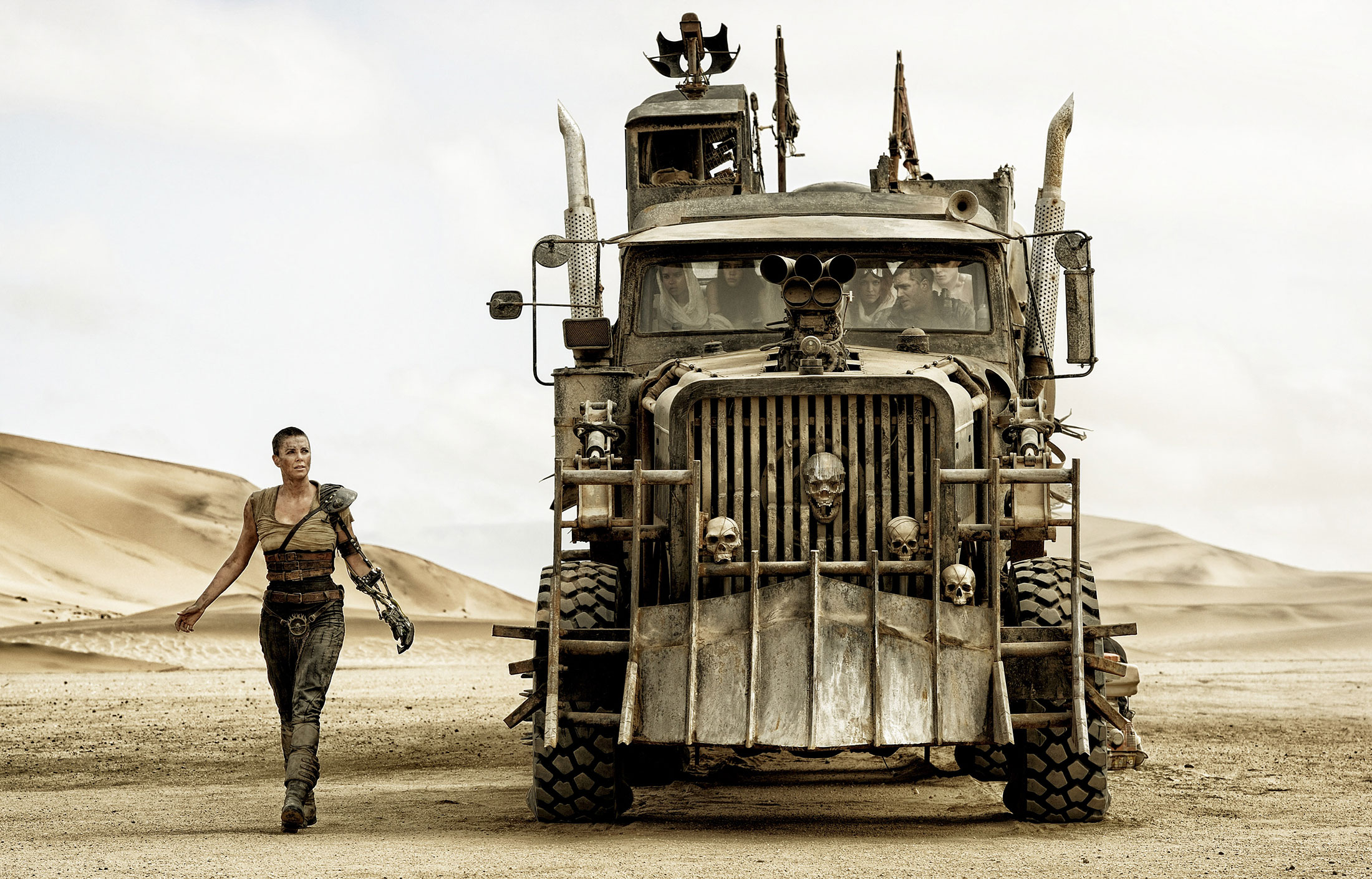 We had the privilege of being host family to Gabriel, from near Bilbao, Spain, and Jules, from near Lyon, France. Both boys were 14, came to experience American culture and improve their English, loved Cocoa Krispies, and hated ranch dressing. Other than that, they were quite different.
Gabriel had been to the US four times previously with his family, spoke very good English, and seemed hard to impress (maybe a common teenager quality). He proved to be a smart and competitive game player, and we played four different games with him on his first day. (His new favorites during the month here were Carcassonne and Pandemic.) Gabriel loved peanut M&Ms and Nutella. His first and last name have been passed down for seven generations. In addition to Spanish, he speaks French, English, German, and Basque. He collects Hard Rock Cafe shirts. He had never had Mexican food before his visit. He preferred tacos with just the meat.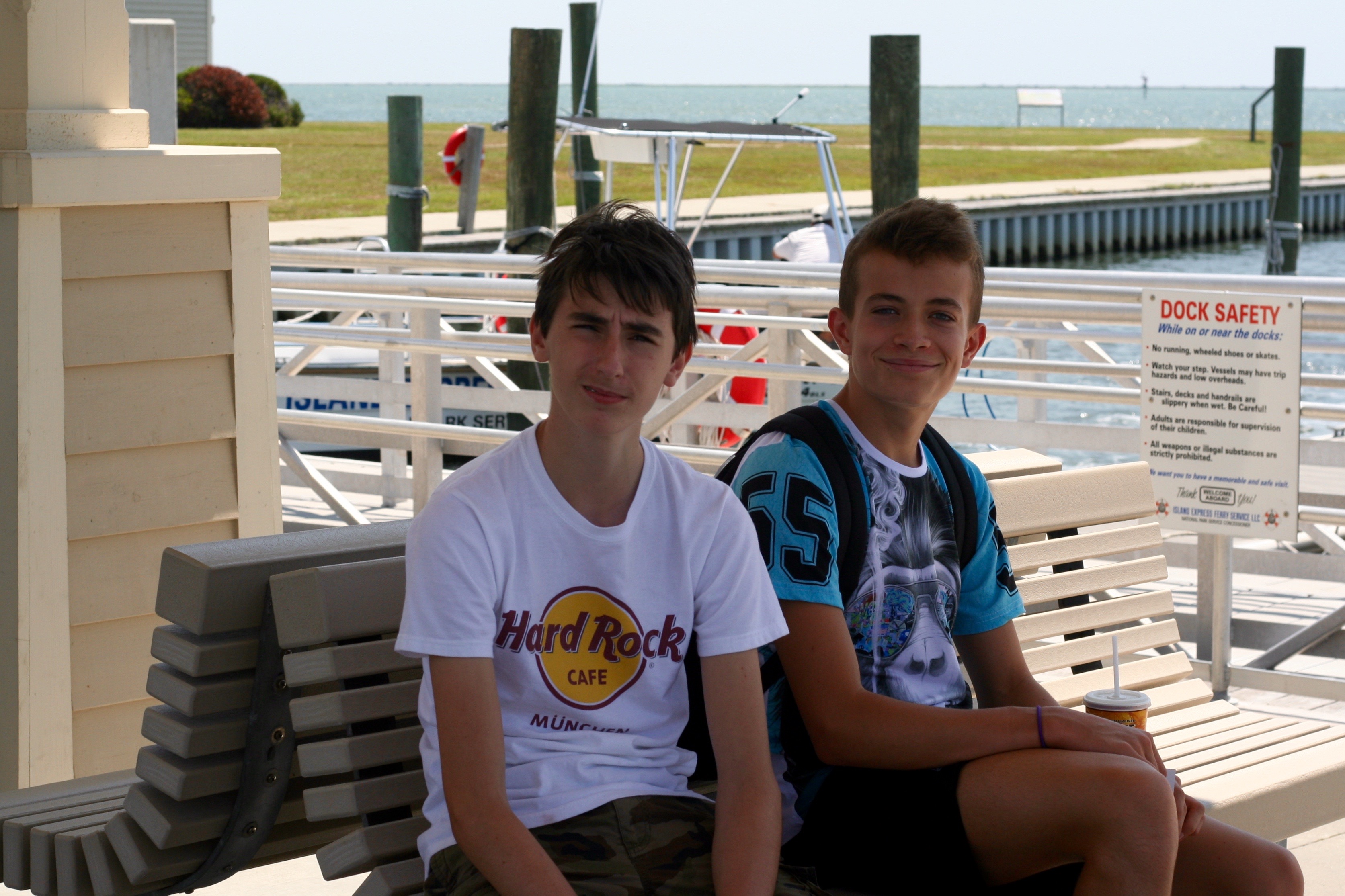 Jules was social, athletic, kind, and cheerful. He was wonderful with our kids, especially Percy, from the first hour he was with us. They had innumerable sword fights and superhero contests around the house. It was his first trip to the US, and his English was more tentative, so he was on the quiet side. Board games didn't interest Jules much (except Uno, which he kindly played with the kids), but he liked any kind of physical games in a group. He also got up early to jog on several days to keep in shape for his soccer team. Jules's favorite meal that we made was blueberry pancakes and bacon. He even took home the recipe.
Our first big event with the Europeans was the Fourth of July, which we celebrated at Peg's beach house and at our friend Phil's. We cooked out, played KanJam and corn hole, read the Declaration of Independence, sang the National Anthem, ate ice cream sundaes, and set off loads of firecrackers in the street.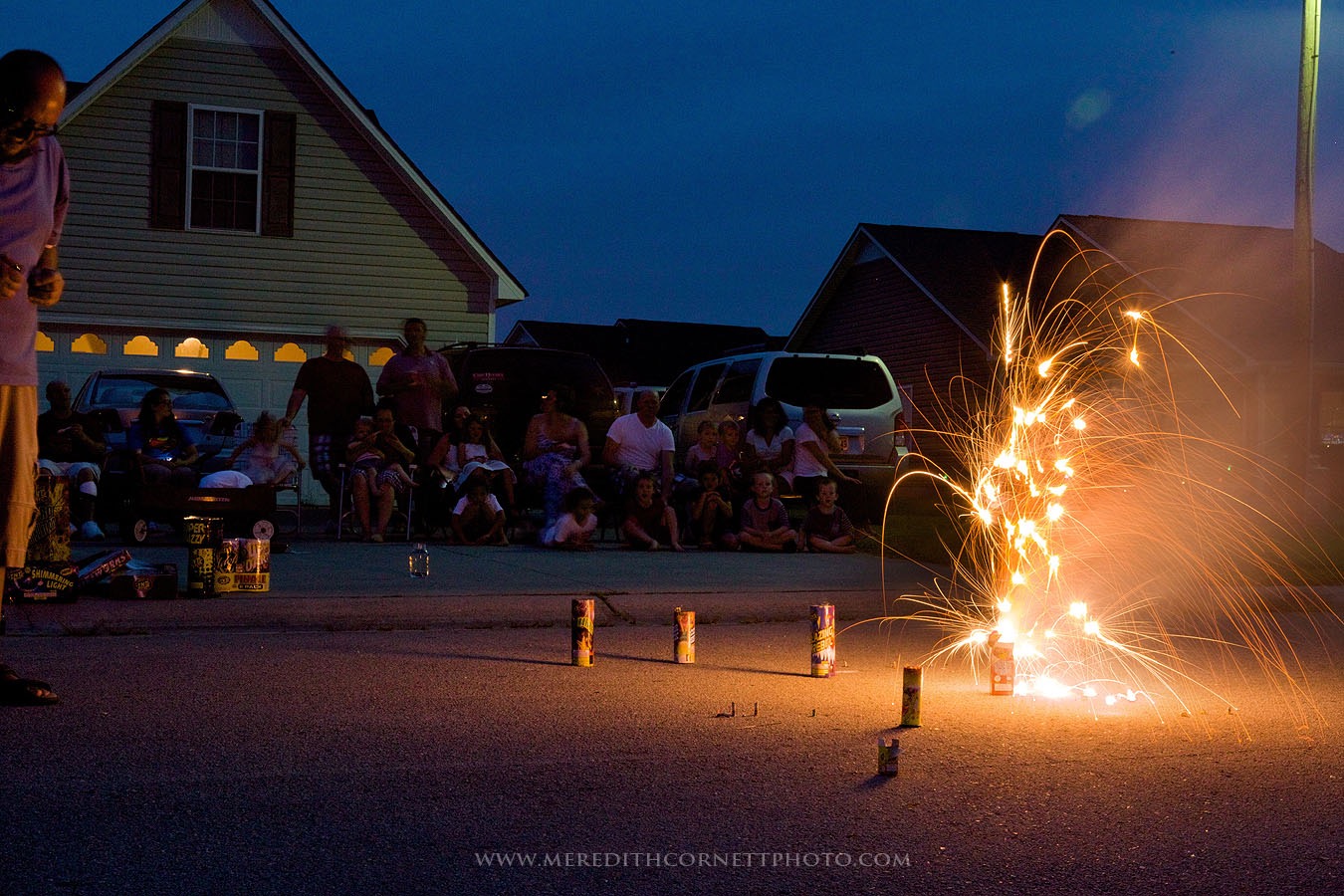 At the beach, the older boys were hesitant to go into the water due to the recent shark attacks.  We enjoyed family time on the beach before it got too hot and crowded (and before the teenagers woke up—they typically slept until 10).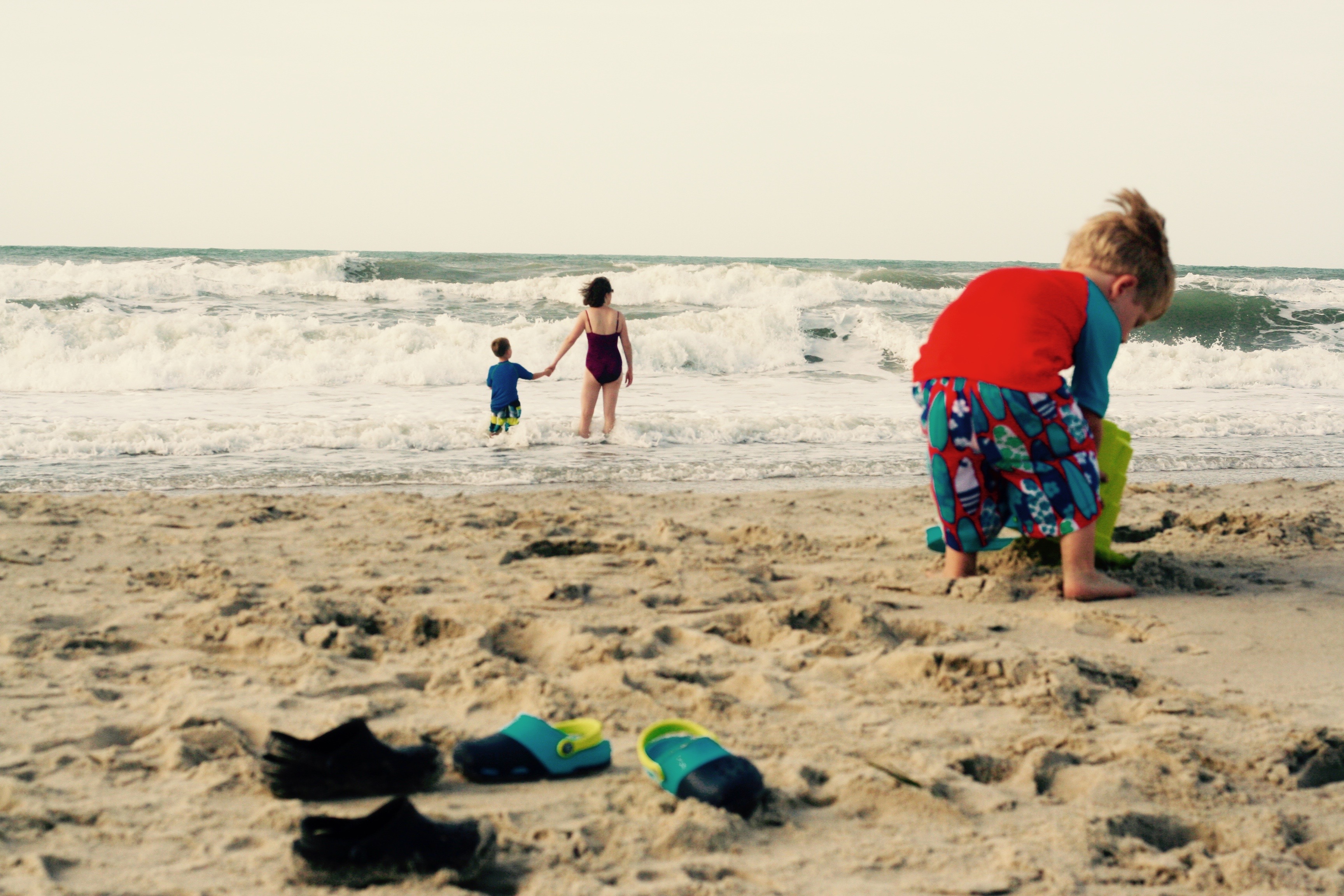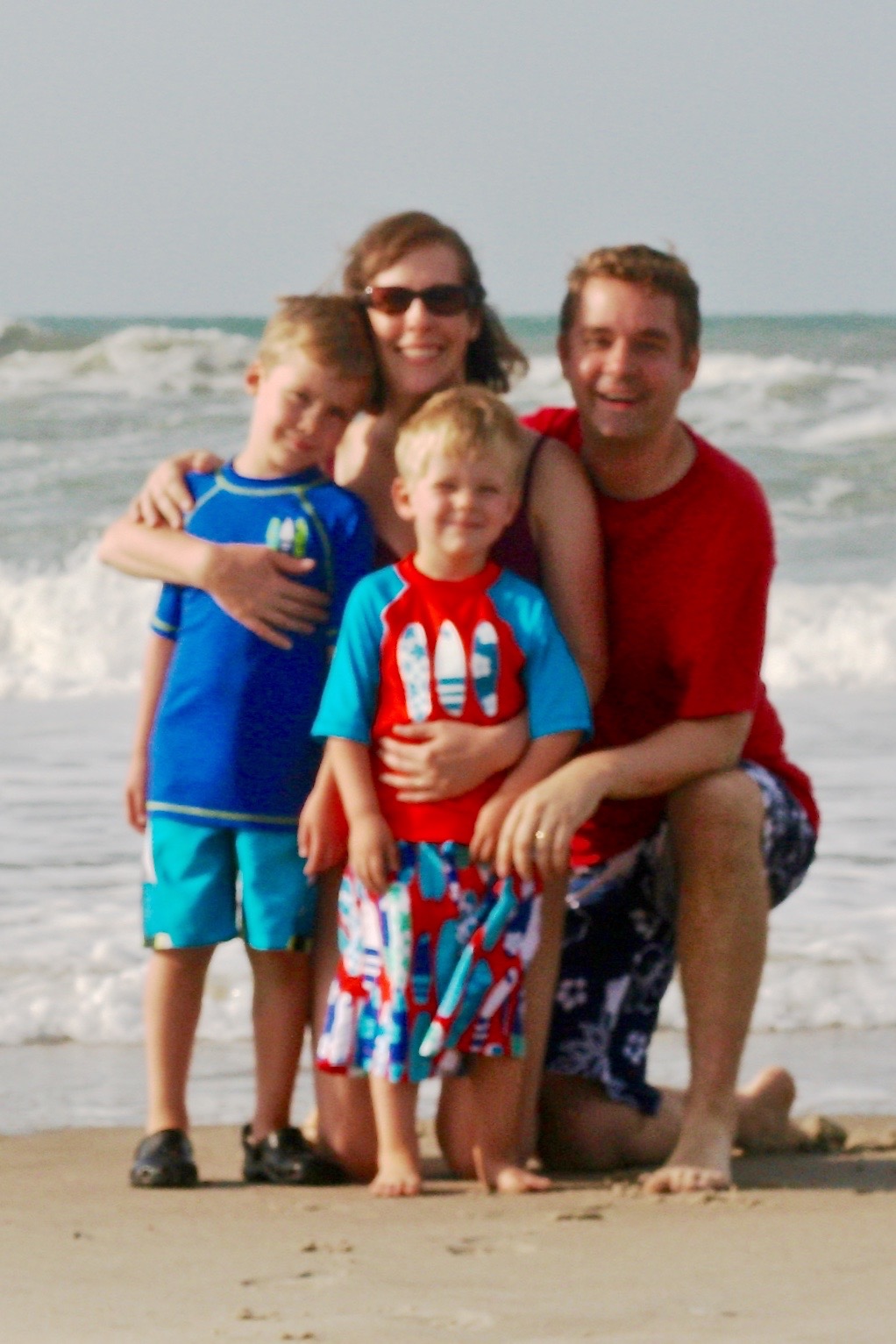 Celebrating a holiday with Jules and Gabriel for their first time made it more fun for us, too. Likewise, our enjoyment of the local sights was increased as we shared them with them. We sipped cold sodas at the local Pepsi museum (Pepsi was invented in New Bern); got a behind-the-scenes tour of the aquarium in Pine Knoll Shores (holding a baby alligator finally impressed Gabriel); took a ferry along with Nana to see the lighthouse at Cape Lookout and the wild horses of Shackleford Banks; and enjoyed bowling, mini-golf, and laser tag. Before the teenagers came, my plan for July was to stay inside as much as possible to beat the heat. Instead, we crammed our calendar with people and places, and although it was outside my comfort zone, it was honestly so much better for all of us to enjoy our area, have some adventures, and make memories together.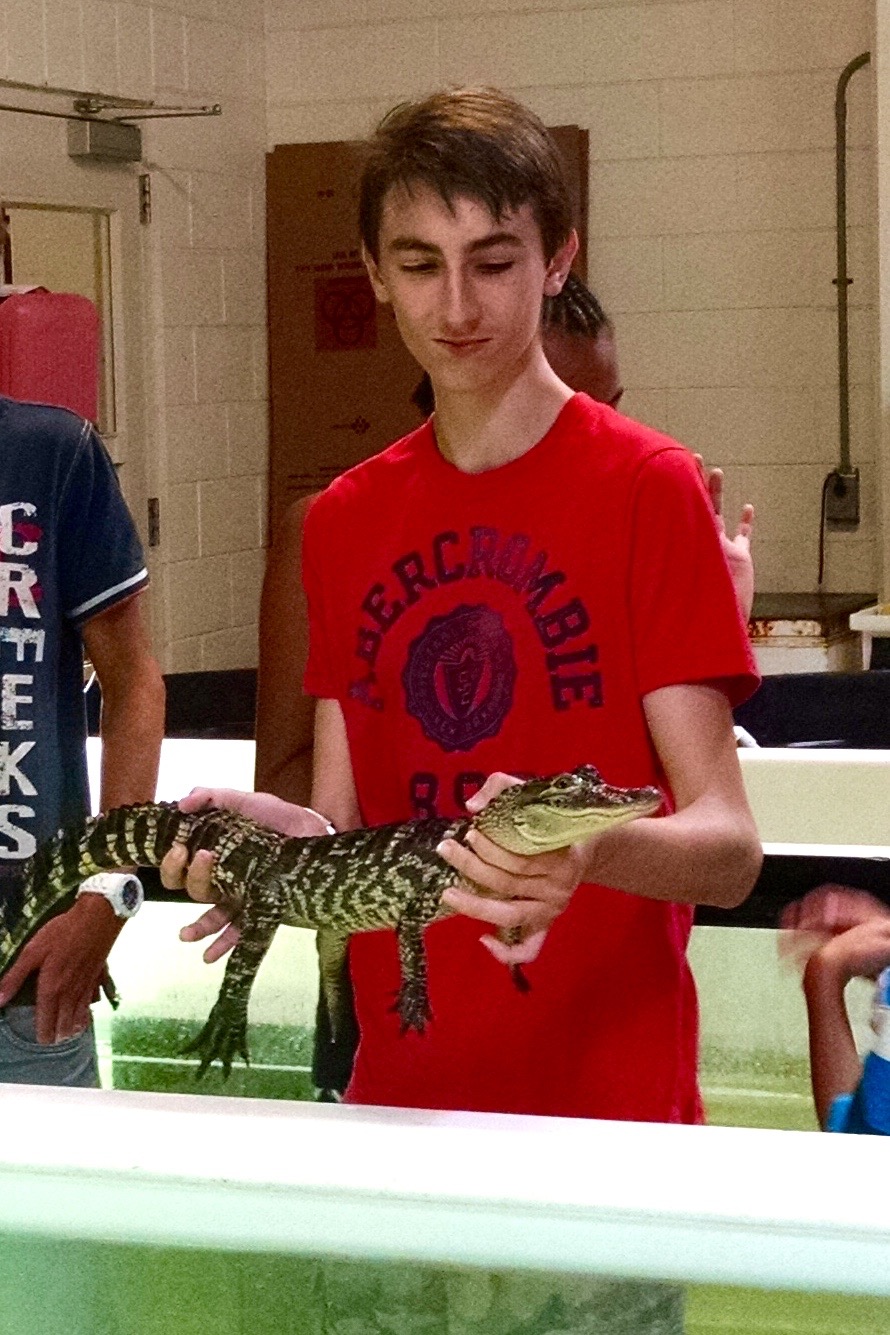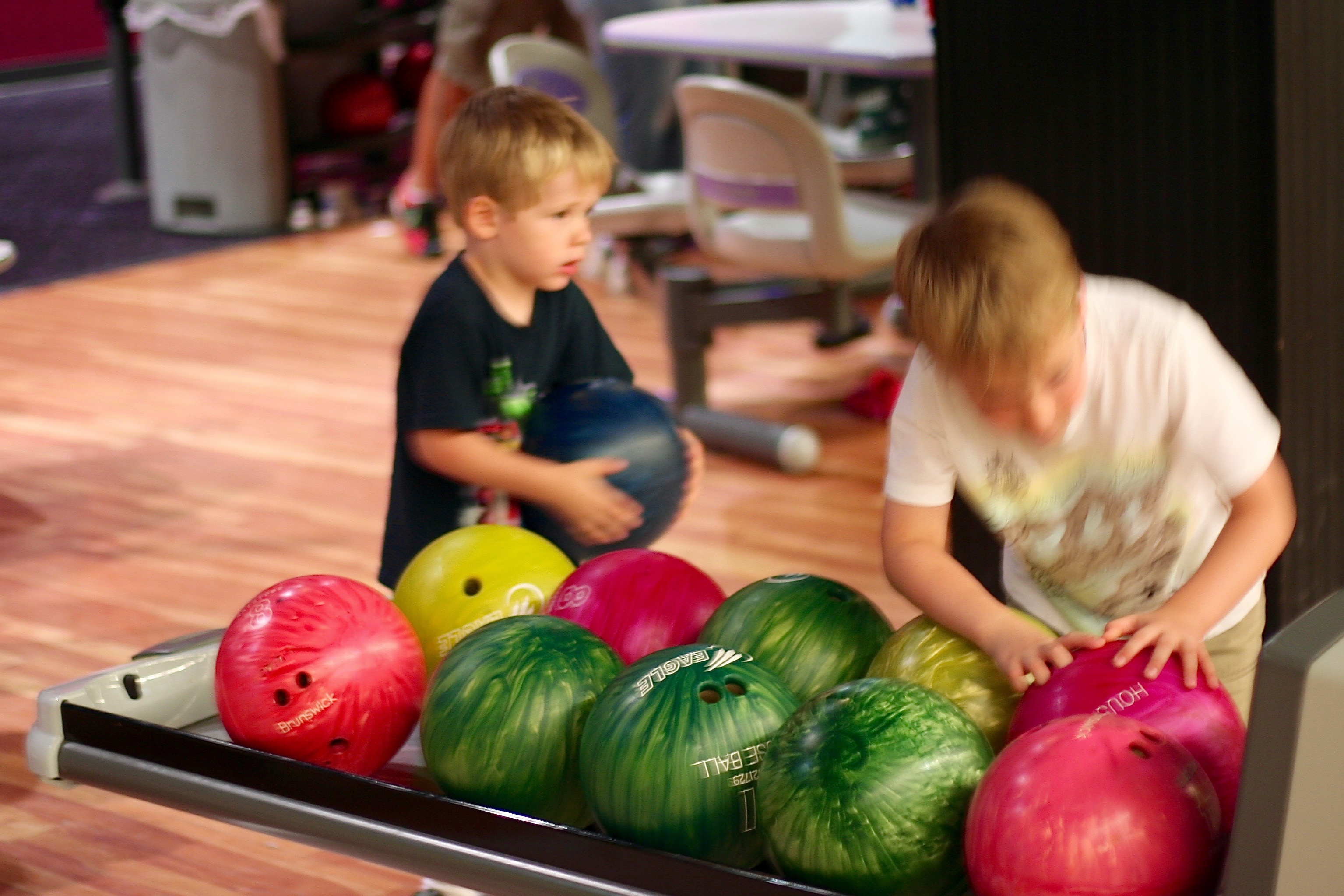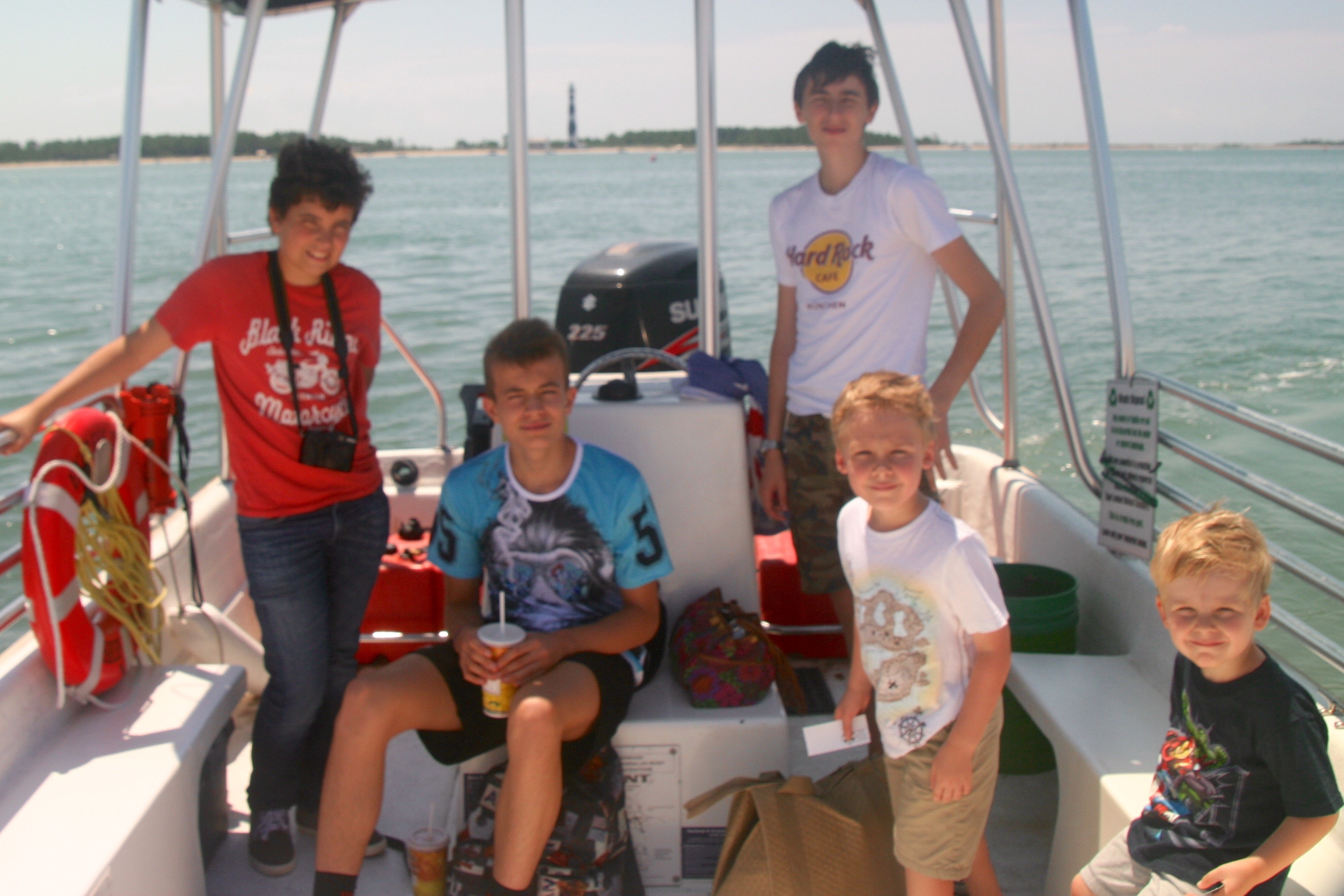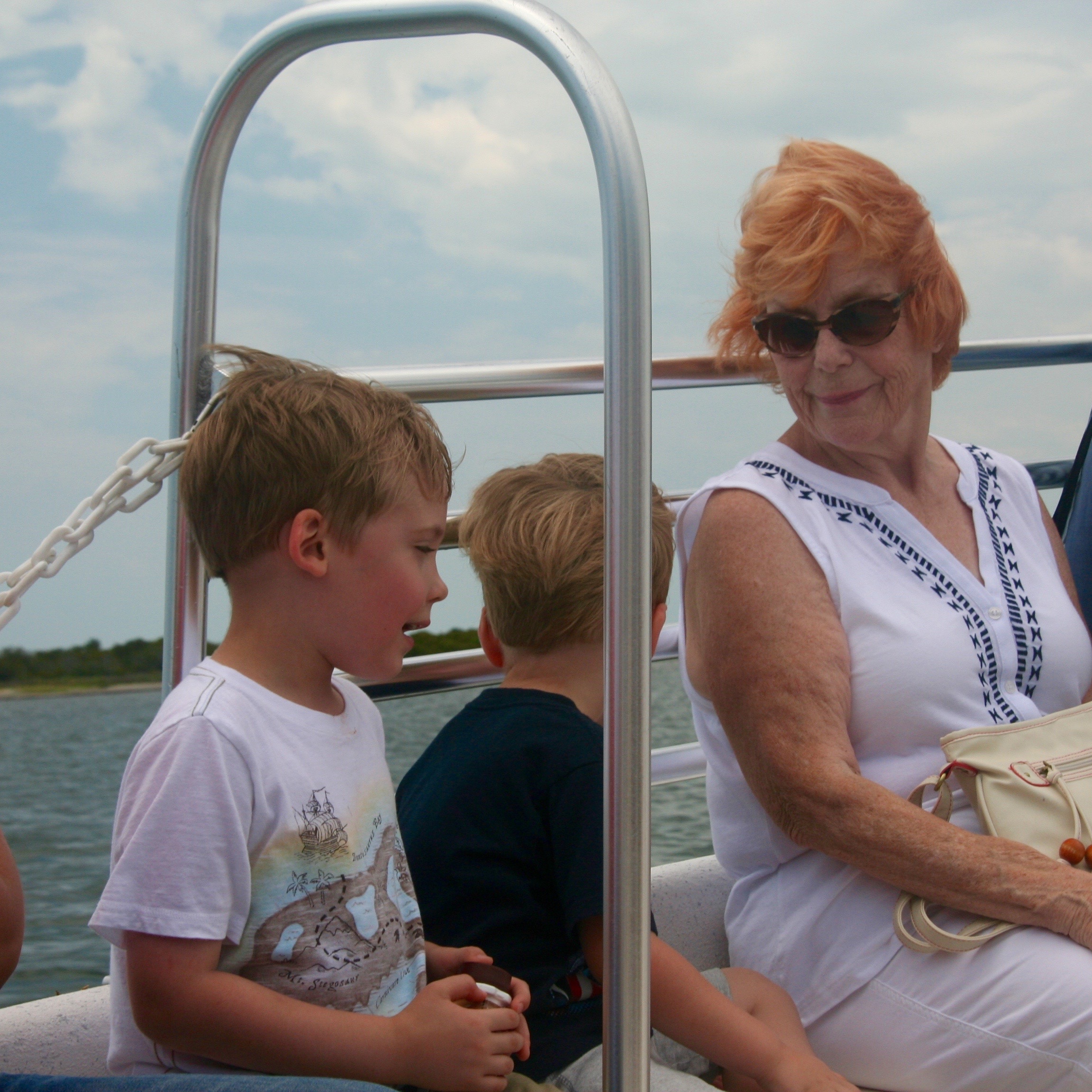 One of my favorite memories from these outings was climbing the lighthouse at Cape Lookout with Valor. The students wanted to play in the surf, and Percy did not meet the height requirement, so Nana kept him and Valor and I scaled the 207 stairs by ourselves. Valor stopped on every landing to take a swig of his chocolate milk and arrived at the top without even breathing hard. Sharing this special view with him, as well as the accomplishment of the big climb, was a thrill.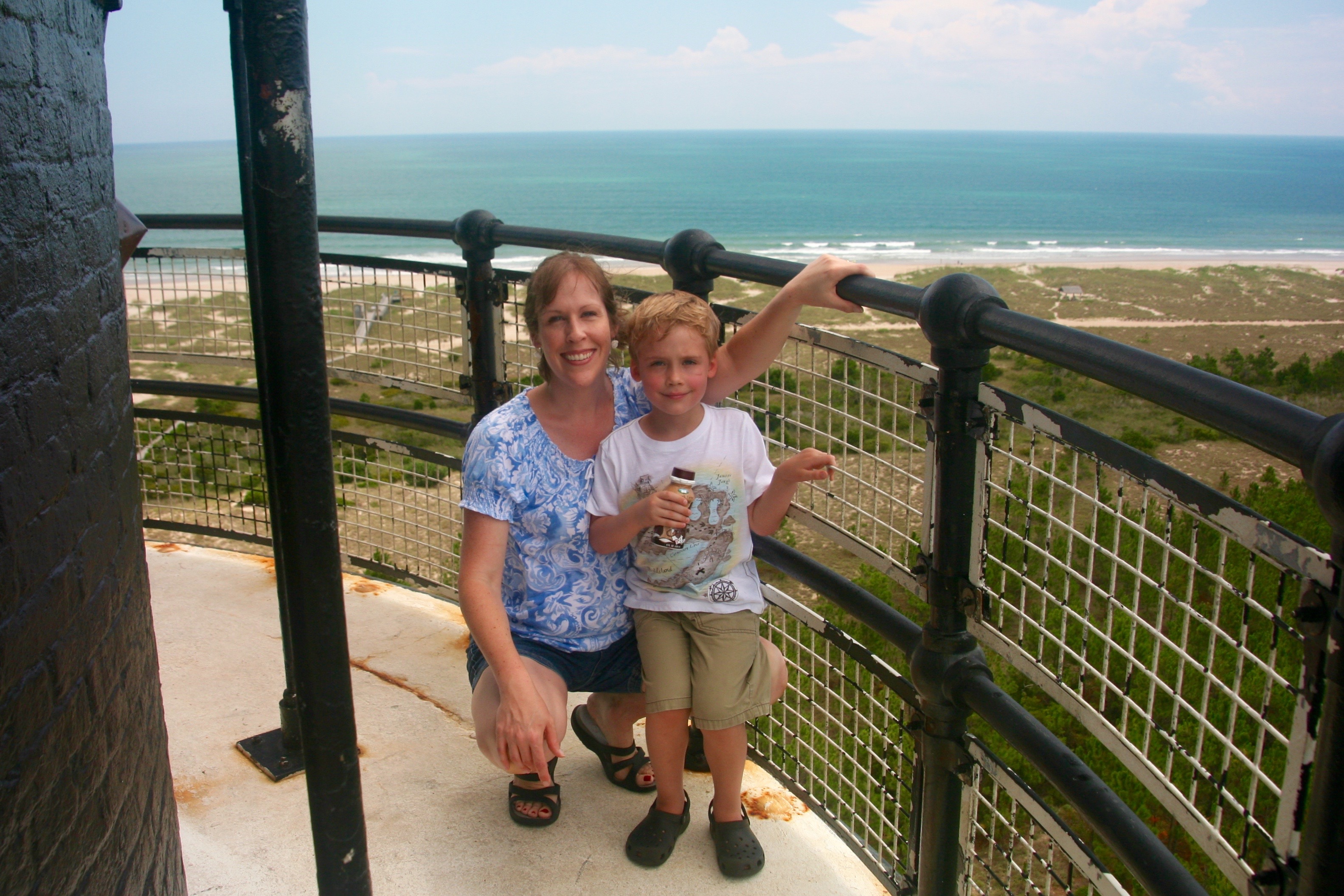 At the end of their time here, Gabriel told us his favorite part of the month was the road trip to Washington, DC one long weekend. The owners of the War Rig asked that we not take it out of state, so the trip up to Washington was just John, Valor, and the teenagers in the other Prius. They stayed with our Marine friends from church, Gretchen and Chris, who were recently restationed to Quantico. Gabriel's highlight from DC was the Smithsonian Air & Space Museum, where Chris, a pilot, was a very helpful tour guide. Valor's highlight from DC was the Metro, especially all the escalators that don't exist anywhere in New Bern. He didn't have an opportunity to visit the Wheaton station, which he told me has the longest escalator in the western hemisphere, but he said he did ride some pretty long ones.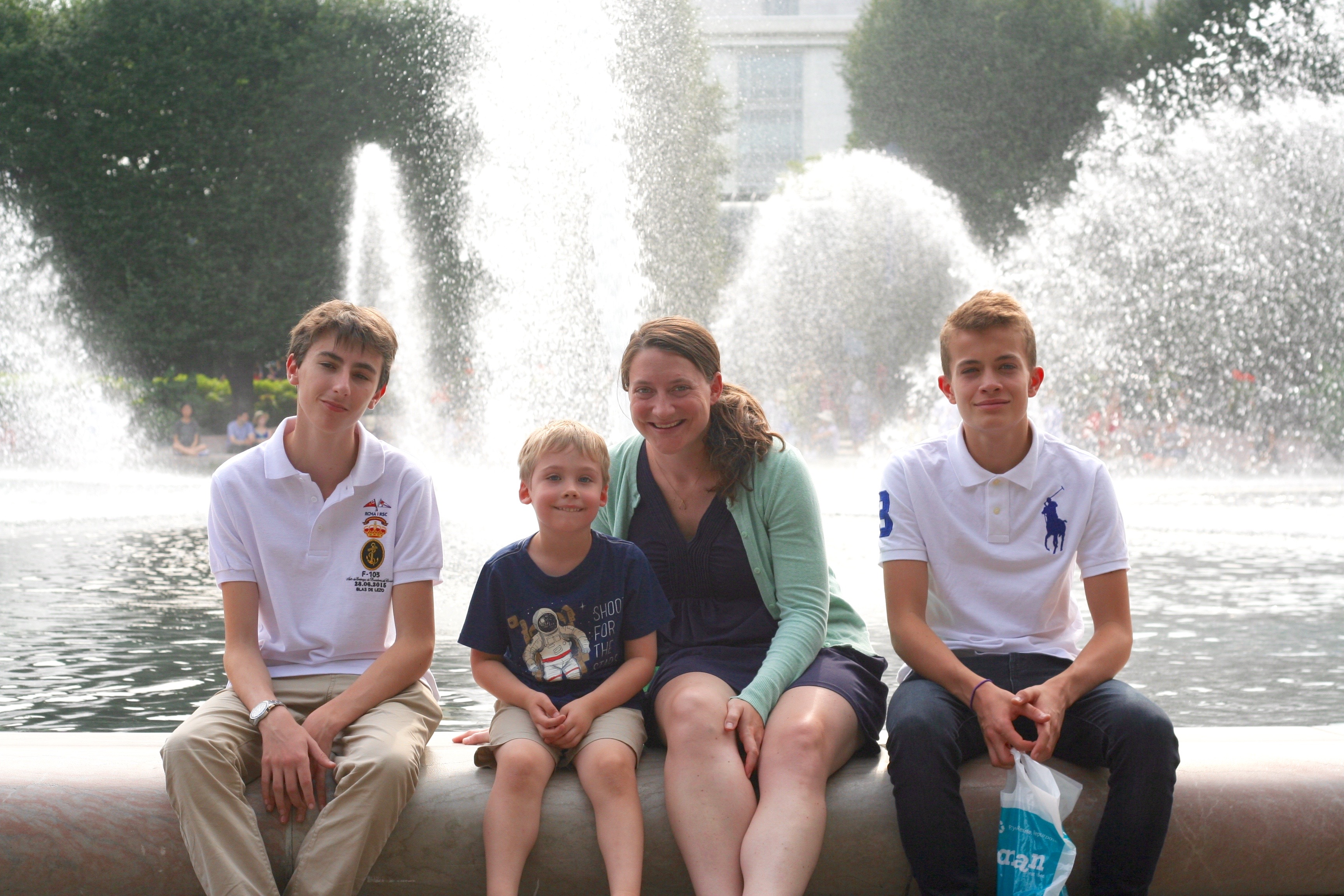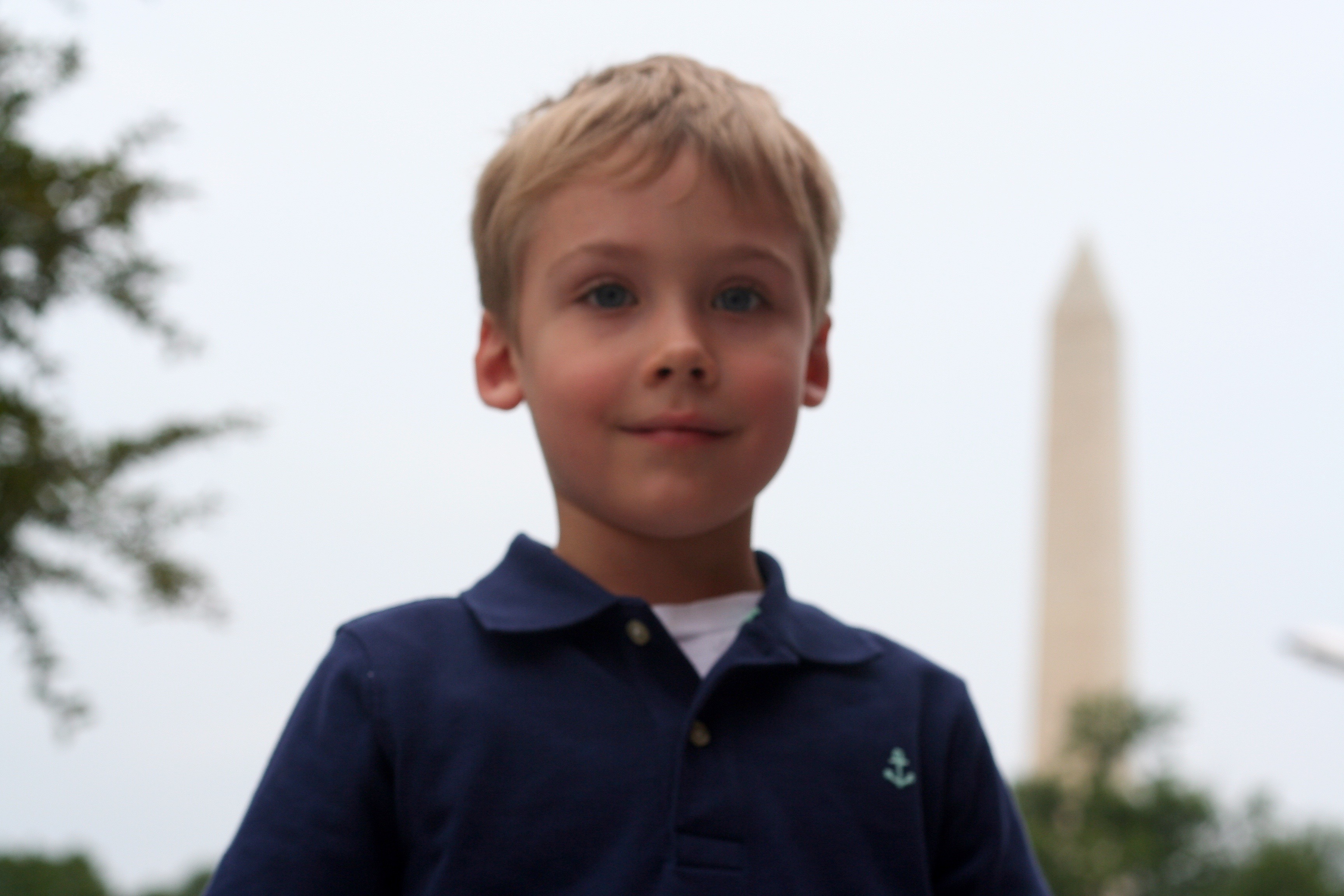 On Sunday morning in DC they all went to a church plant where Thabiti Anyabwile preached on how saving faith is supplied by God. Over the three Sundays the students were with us, they went to three different Protestant churches (their first Protestant experiences), and they were impressed by the worship teams' drums and electric guitars. Jules said one of them (in a HS auditorium) was like a concert. But we couldn't get much conversation out of them on a deeper level, and it was hard to tell what they gleaned from the sermons. Gabriel once asked why we have classrooms in our churches. Jules asked why people raised their arms during the singing. These were good questions, and highlighted how different this was from their Catholic experience. We did our best to show them God's love while they were here. Ultimately, as Pastor Thabiti taught, we rely on God to supply them with saving faith.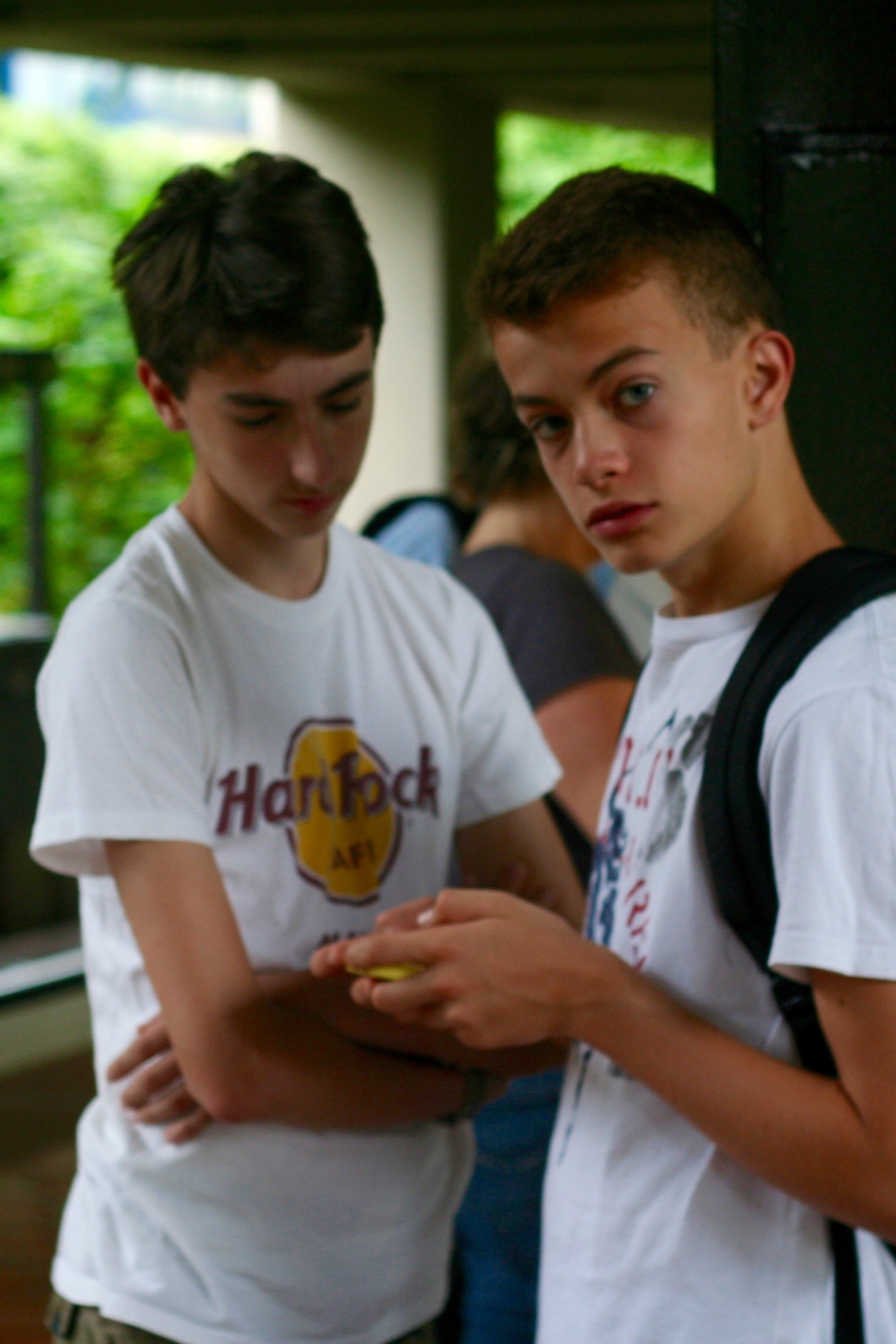 John's highlights from DC were meetings he had arranged with both our US Representative, Walter B. Jones, and another Representative from across the state, Mark Meadows. John formally presented Rep. Meadows with a resolution of commendation from the Craven County Republican Party that John authored.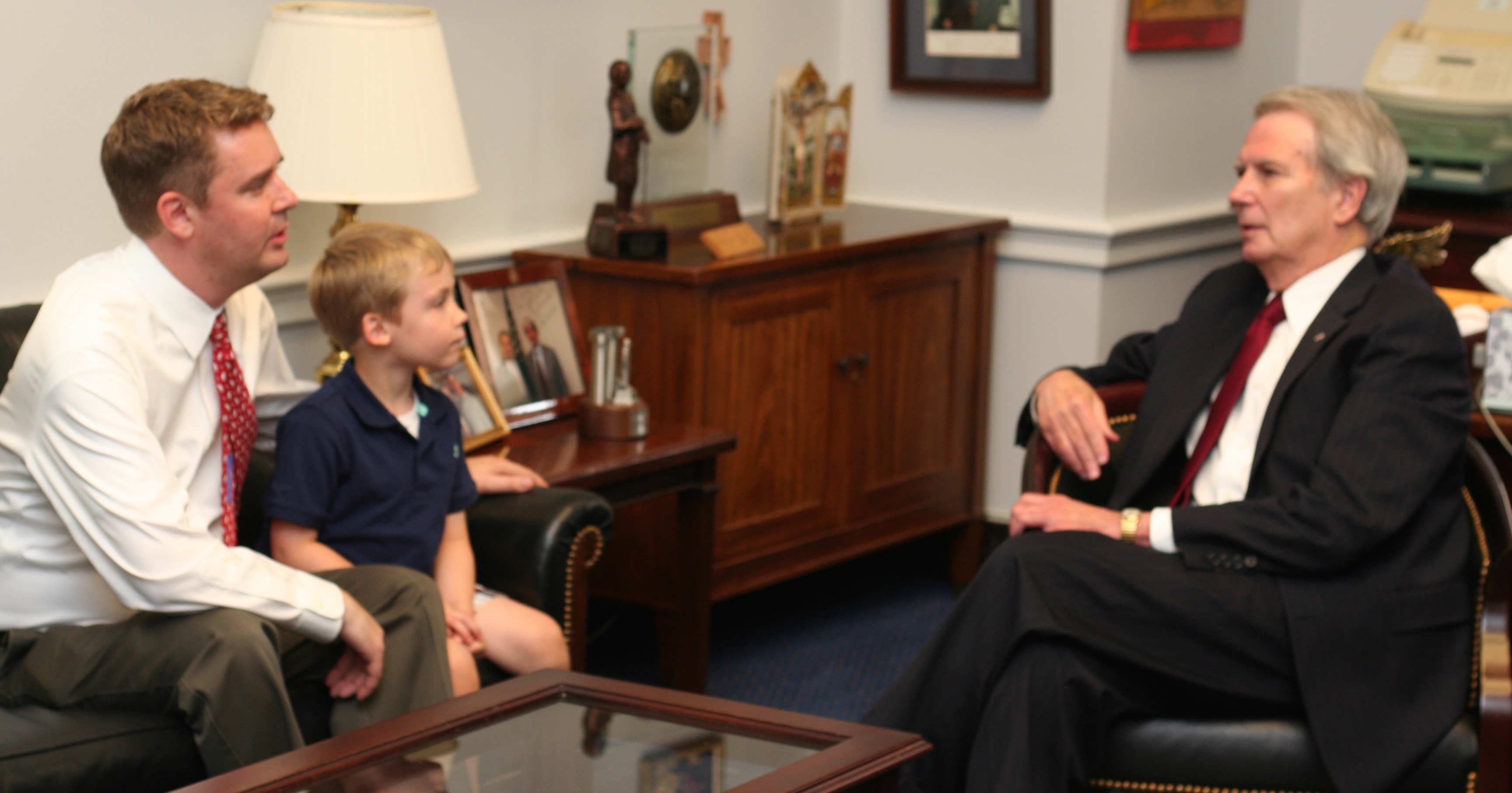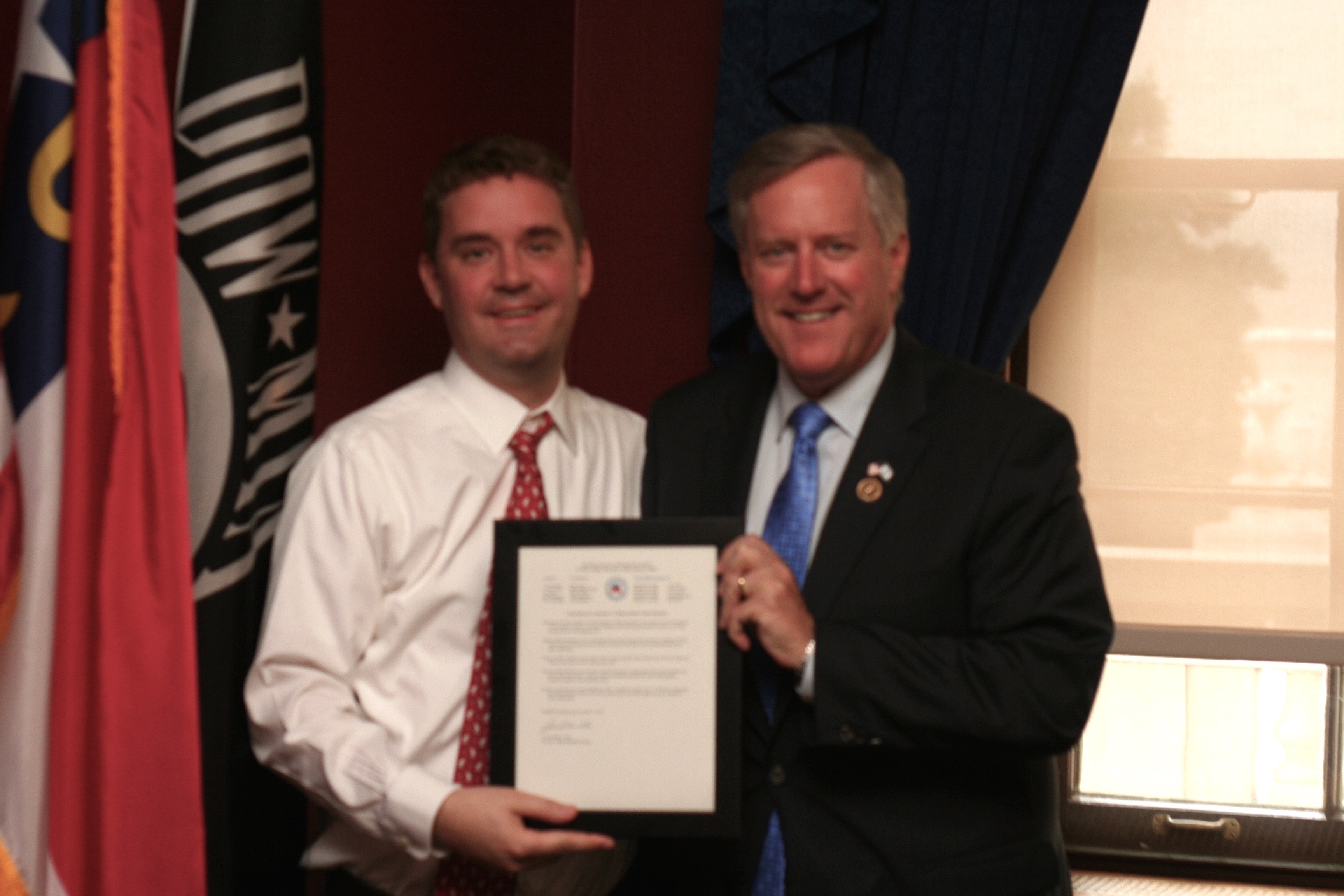 Valor, for his part, used his time at Rep. Meadows' desk to dismantle a Congressional notepad. Government waste, indeed.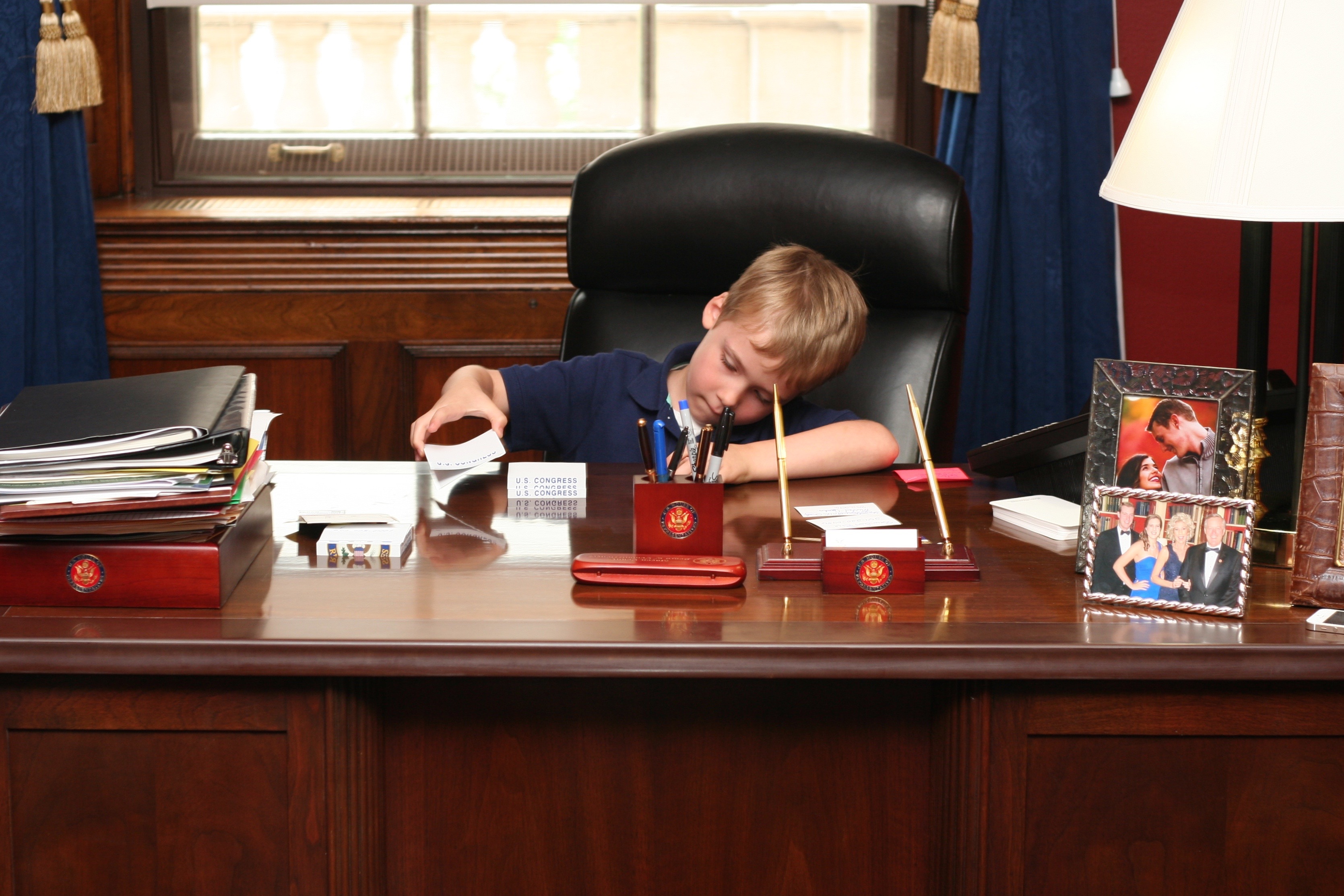 The highlight of the homestay for Jules was our trip to Raleigh to see the Carolina Railhawks professional soccer team defeat the San Antonio Scorpions 3-2. It was a nice family event, and despite the late hour, our little boys did surprisingly well. Percy likes to say, "We saw a soccer game, and we won." Jules got several team members' autographs on his ticket at the end, but he was disappointed that none of them would give him their jerseys.
A couple things I noticed during Gabriel and Jules' visit: teenagers are really nice to have around. They can make their own lunches. They can help buckle little ones into carseats. They can discuss politics and books and movies. They can play advanced board games. I look forward to having kids this age. Also: We like having more kids. It was fun to have a "big family" for a few weeks. (Plus, we got a taste of what it will look like in 10 years if we don't limit our kids' mobile device usage.) We are thankful for the chance to host these young men and be part of their world for a short time.