Moving and grooving (road trip, part 1)
At Classical Conversations this week we gave the Family Presentation, which I will share here because it kind of gives a quick snapshot of our lives right now. We let the kids choose what they wanted to talk about in front of the 60 or so kids and adults at CC. Percy chose to share his aspirations for the future, which is clearly a bridge between his love for God and superheroes. He wants to be a missionary that flies a plane called Bible Rain which shoots Bibles down to places that don't have them. During this presentation he revealed the design of his missionary suit (it has special pockets and a hood). He also wants to live in Vermont and make maple syrup.
Valor shared part of the Young Peacemakers' curriculum which we just finished going through at home. Abby will blog about this sometime in the future, but the upshot is that we really loved it and refer to it daily to resolve our family conflicts.
Abby shared that we are moving to Houston, and I shared how the the Classical Conversations community in New Bern has been such a welcome provision in our homeschooling journey.
Wait, what?! Consider this: you didn't even have to solve a double crostic to get this massive news. John's job offer from The Mather Group came about 2.5 weeks ago, and after agonizing about living so far away from the grandparents, we finally decided it was a good move in most other respects. We will miss so many things about New Bern and NC in general, which I intend to write about in another post, but for now we have been thrown into the whirlwind of purging, selling, packing, moving, and goodbyes.
Last year we took a roadtrip to Texas, and it was such a blast that before we unpacked our suitcases we resolved to do something similar this year. As God only knew at that time, the days we planned to drive out west are now ideal, not just for the nice weather and the holiday visits with friends and family, but also for looking for rental properties in Houston.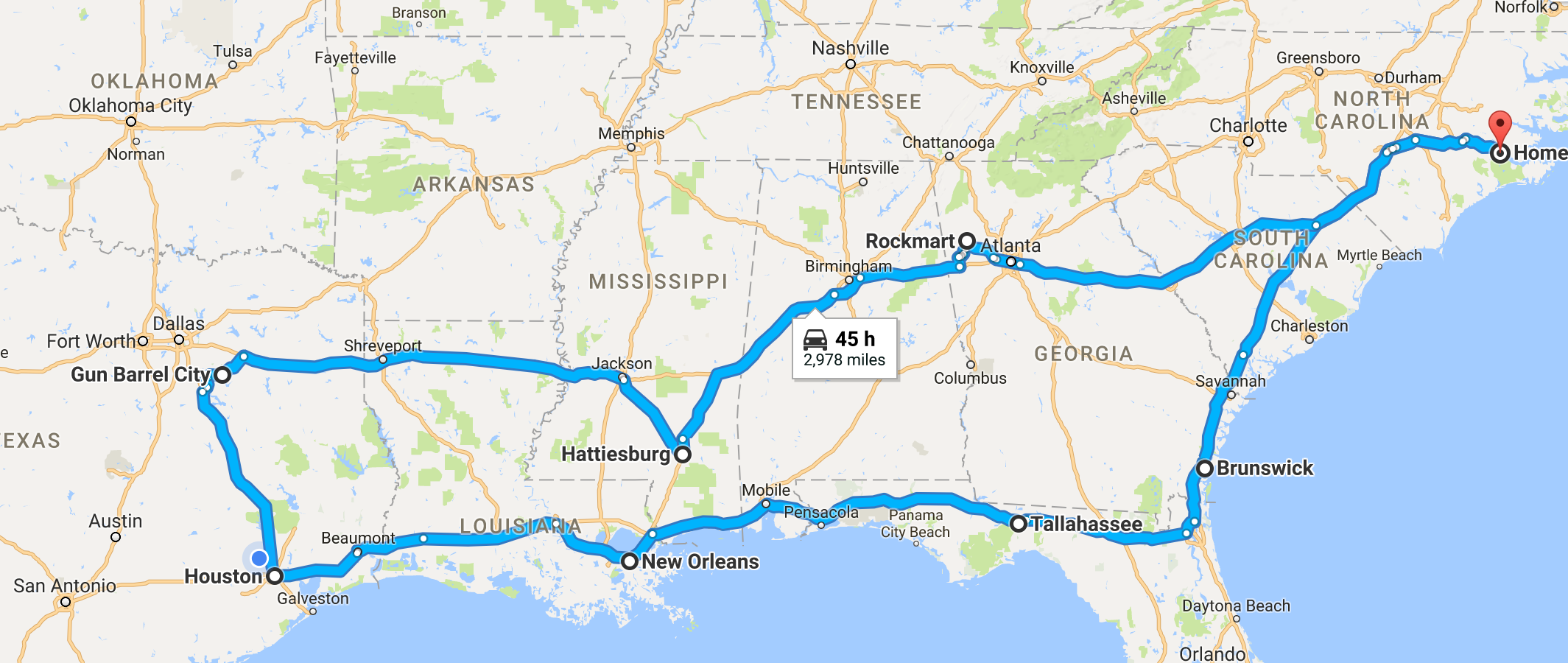 We made a few changes to last year's trip, but the circuit is very similar. One difference was, since we weren't able to leave until after Classical Conversations wrapped up on Thursday afternoon, we only made it as far as Brunswick, GA on the first day. It was a long, late drive before we finally made it to the hotel, and there was no purpose to our stopover there other than to rest our weary eyes.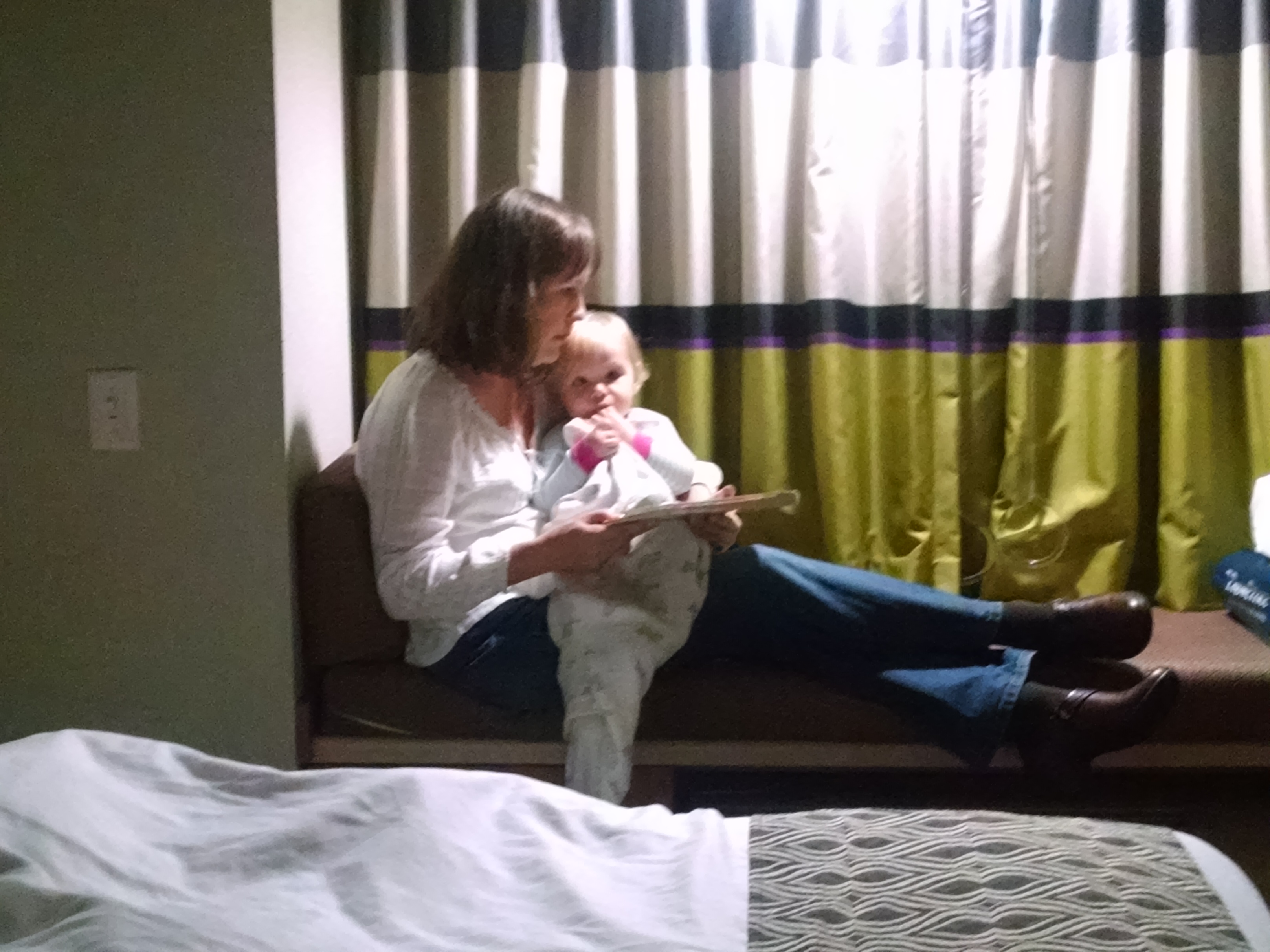 Arriving in Tallahassee late on Friday morning, we had a pretty condensed but quality time with Abby's parents, "Gaga" and "Papa" to our children. All the kids enjoyed playing out in the big yard. Mystery is moving constantly and has to be chased down frequently. She threw two rolls of toilet paper into the full bathtub while we were there.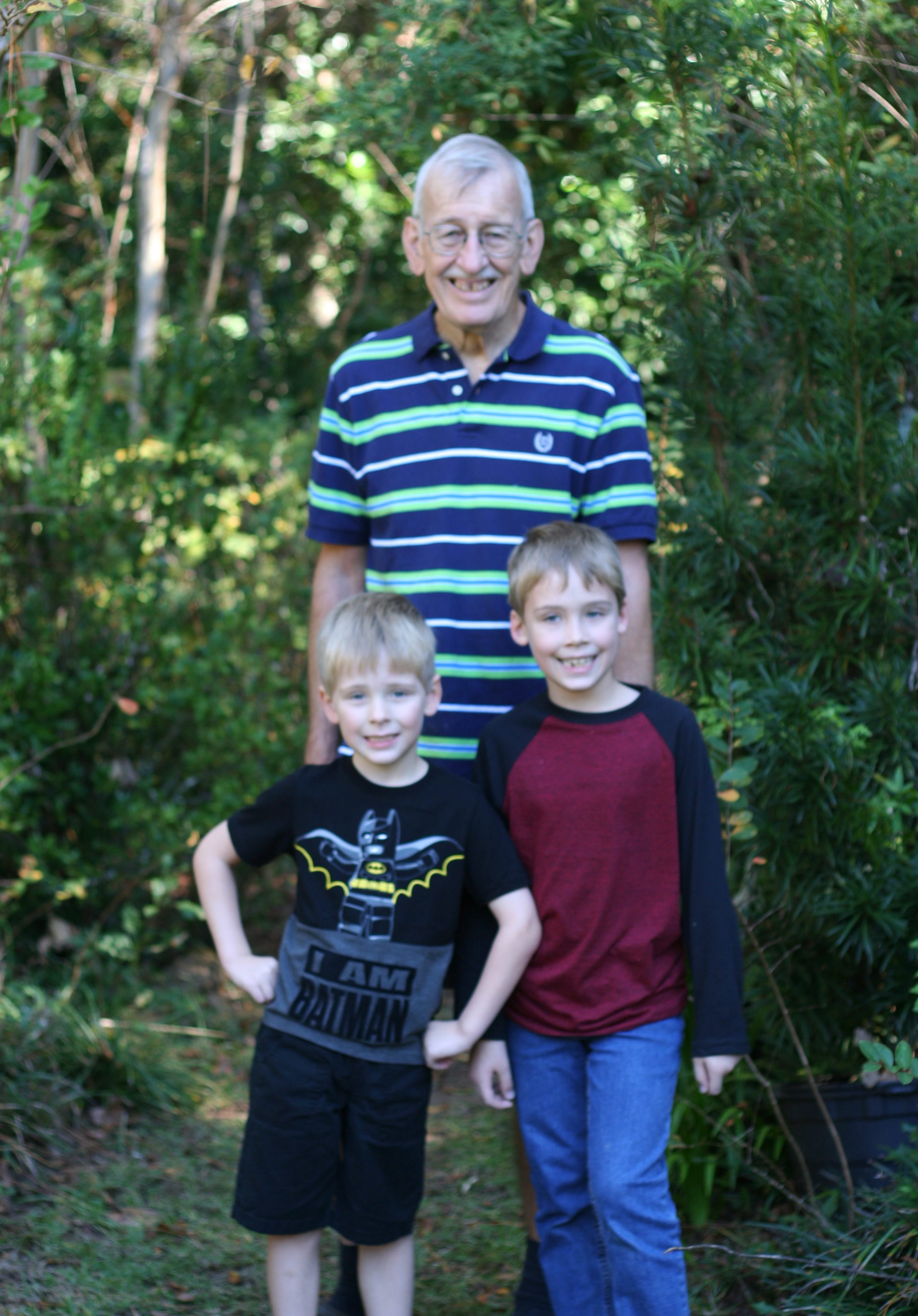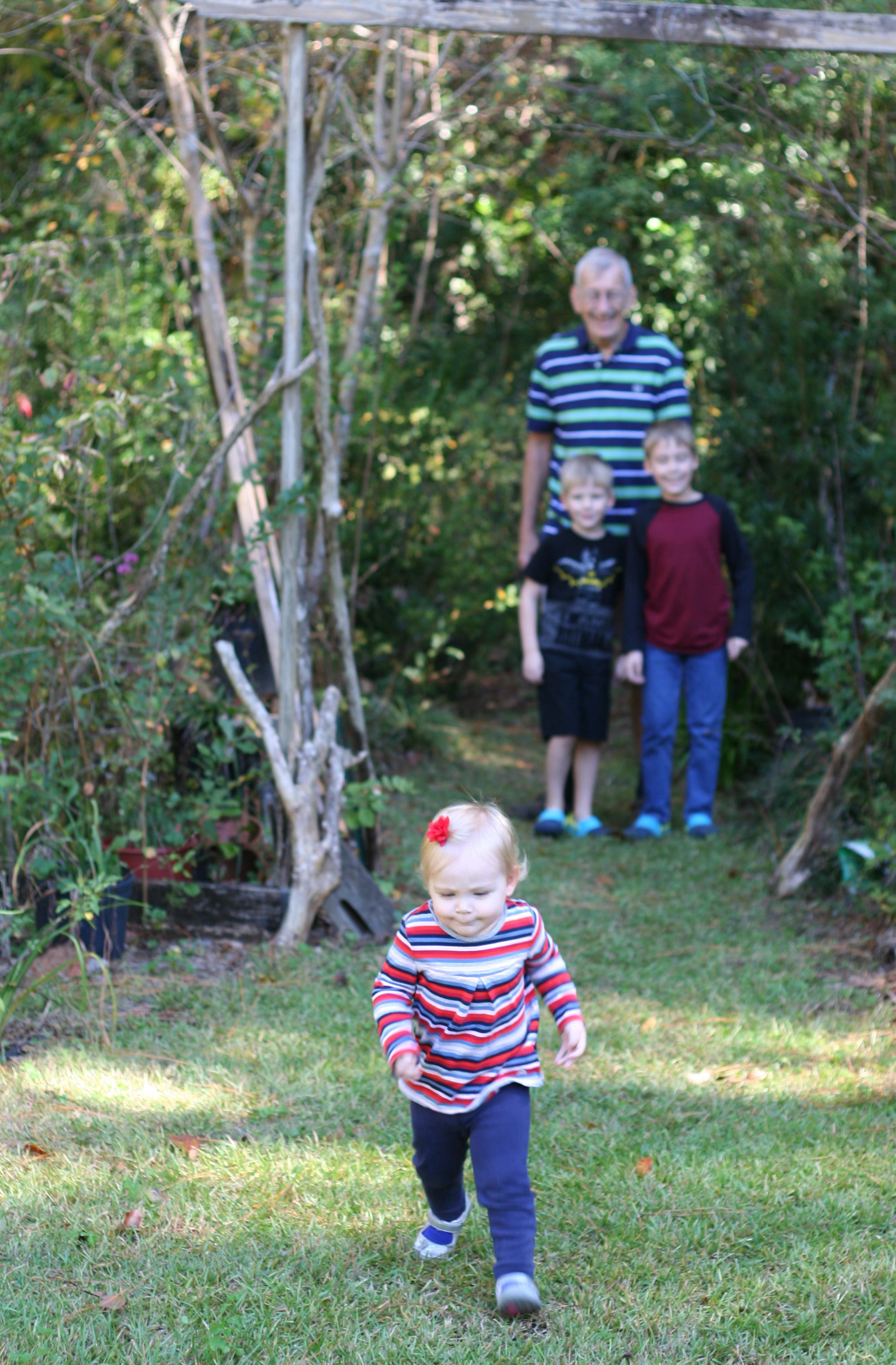 Last year, we made it from Tallahassee to Houston in a single day, which was the longest and most brutal day of the drive. This year we decided to visit New Orleans, and introduce our kids to streetcars, cajun food, beignets and zydeco. Our first stop in New Orleans was Brechtel Park to meet up with some homeschooling friends Dan & Katy Evans who relocated to New Orleans from New Bern. When we first moved to New Bern, Valor and Ginger were babies. Both our tribes have since increased.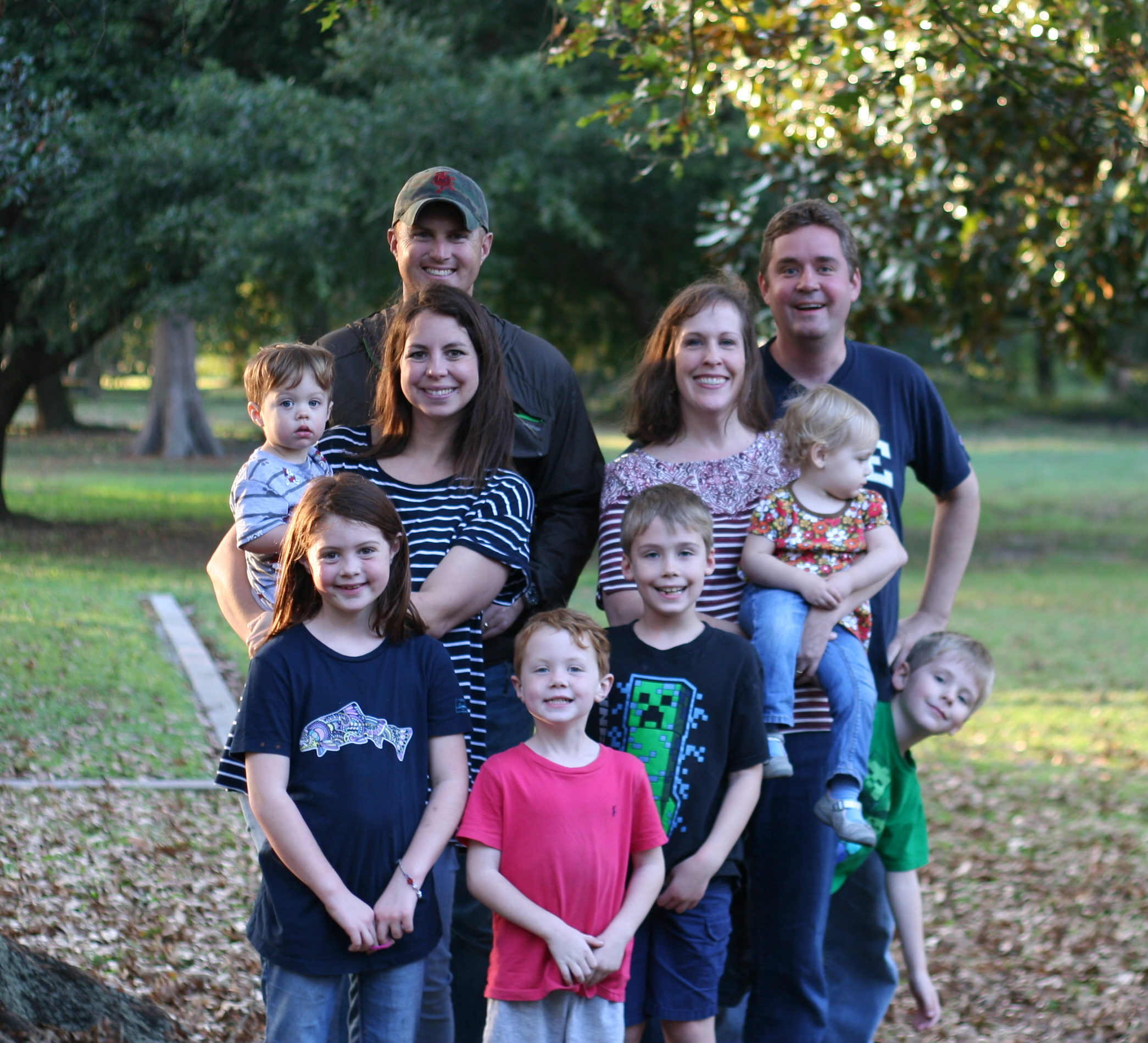 After that we checked into a very cool AirBnb studio above a pizzeria right on St. Charles Street, where the green streetcars helped us explore the city on Saturday evening and Sunday morning.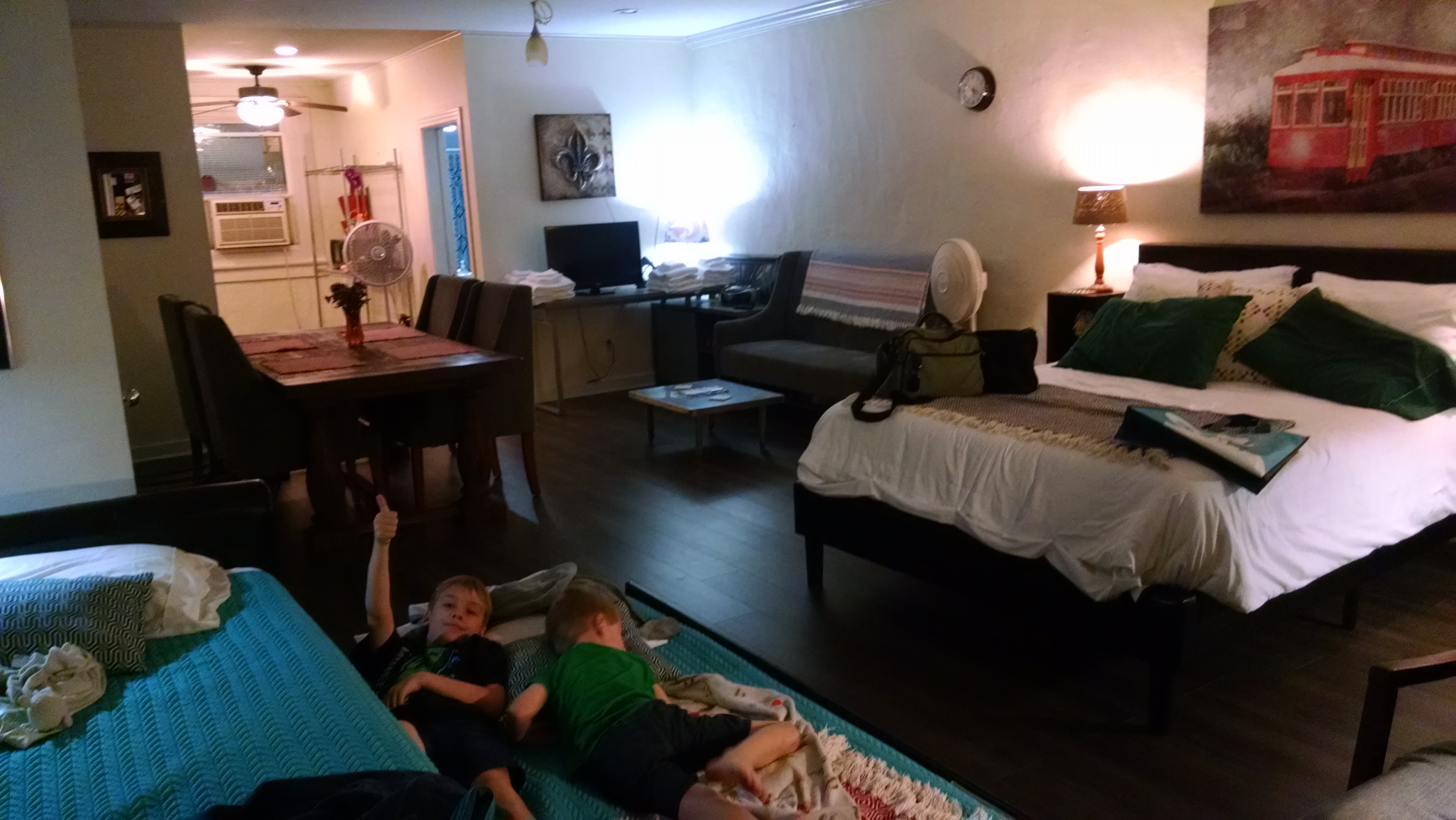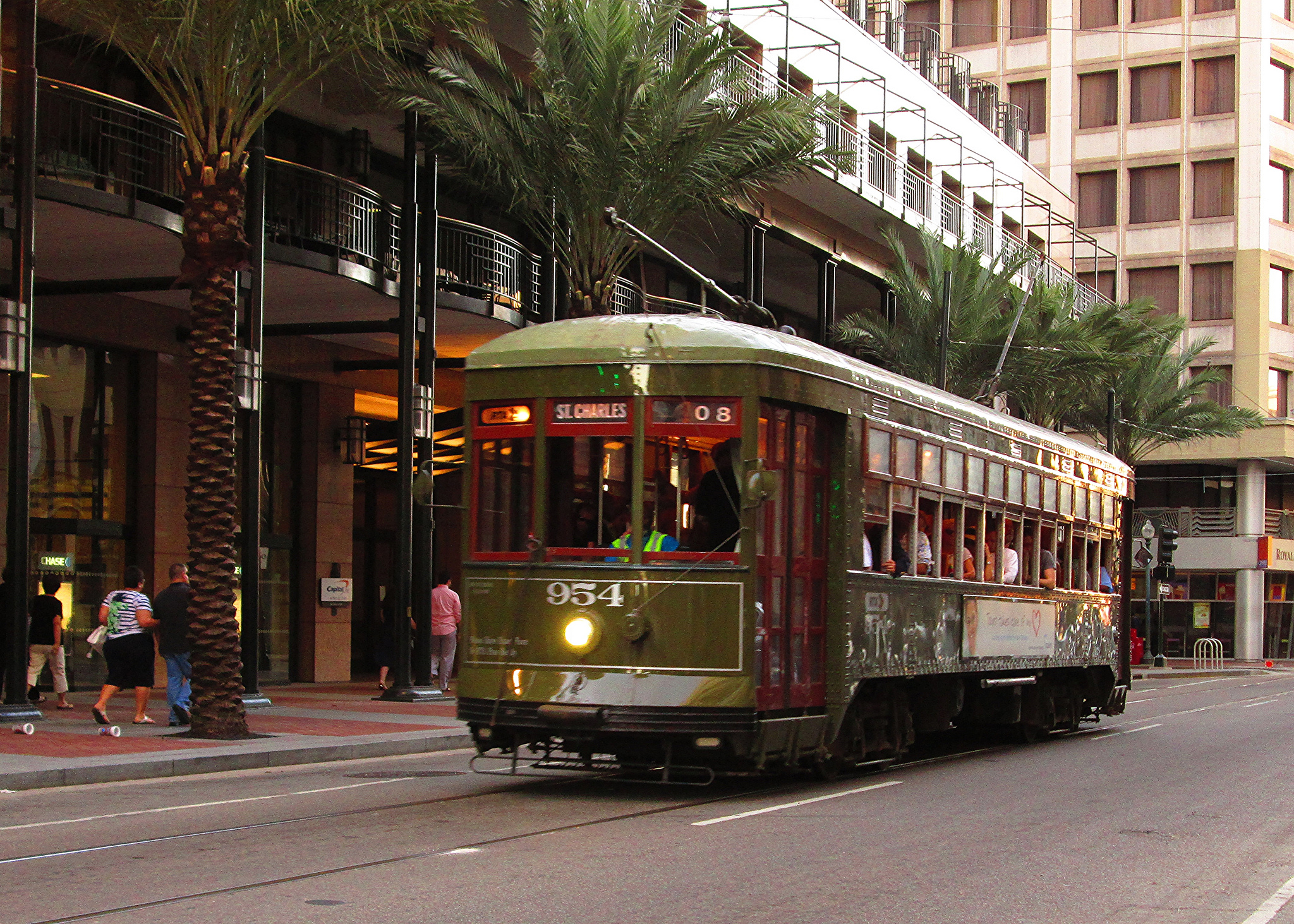 I had made reservations Saturday night at Mulate's, a Cajun restaurant with live zydeco music. Mystery protested the high chair with an epic tantrum, but rather than wander out of the restaurant she was content to stand in the middle of the dance floor and watch the band once we let her free.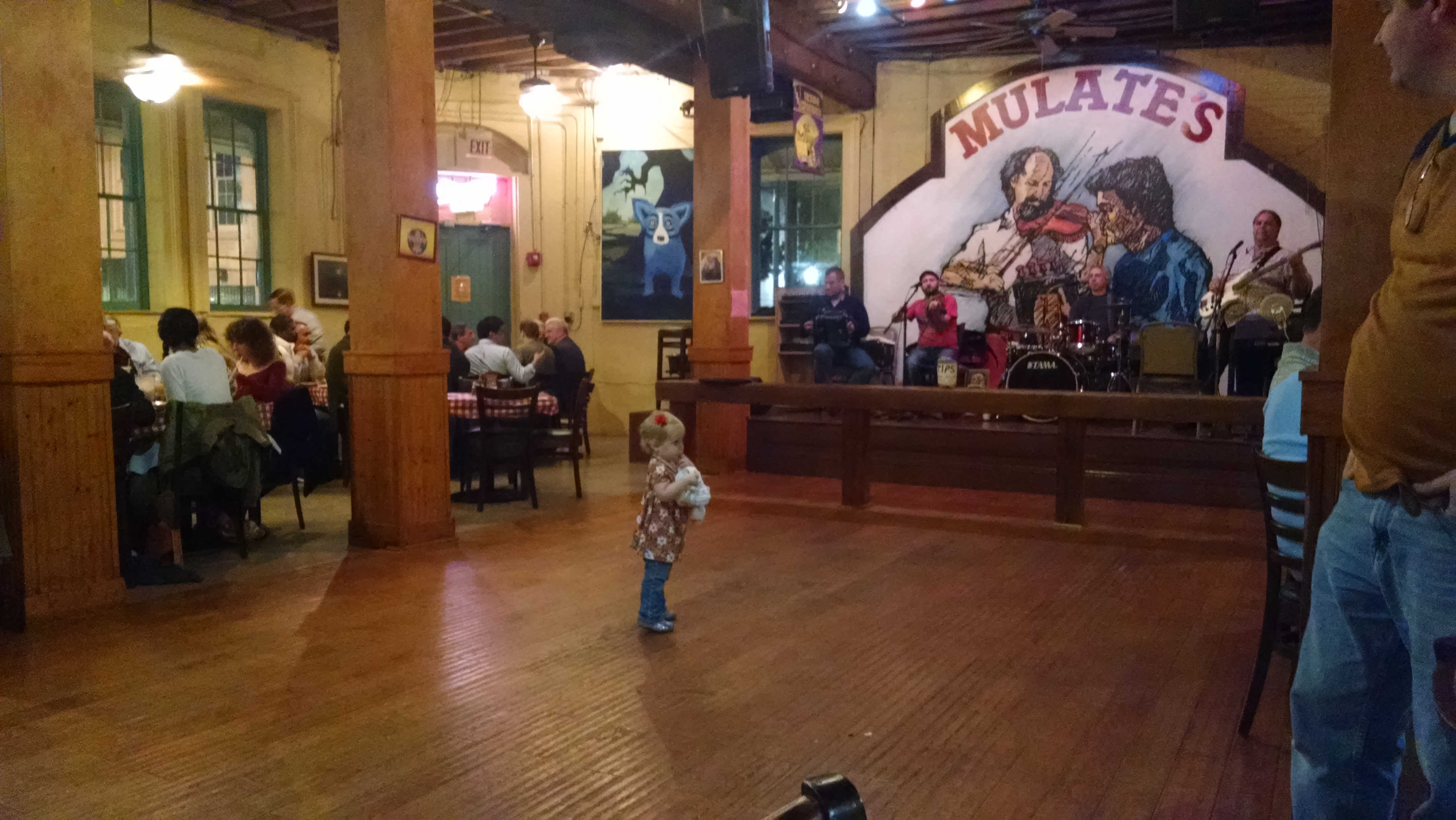 Later, after we finished eating an amazing Cajun feast, the dance floor filled up and she enjoyed spinning around the floor with both Mama and Dada. Valor even taught Percy his own understanding of the box step. It was an amazing time together as a family.
On Sunday morning, we took the streetcar into the French Quarter, where our first stop was Café Beignet, where we sampled the pastries that New Orleans is famous for. Mystery had no trouble at all with the introduction.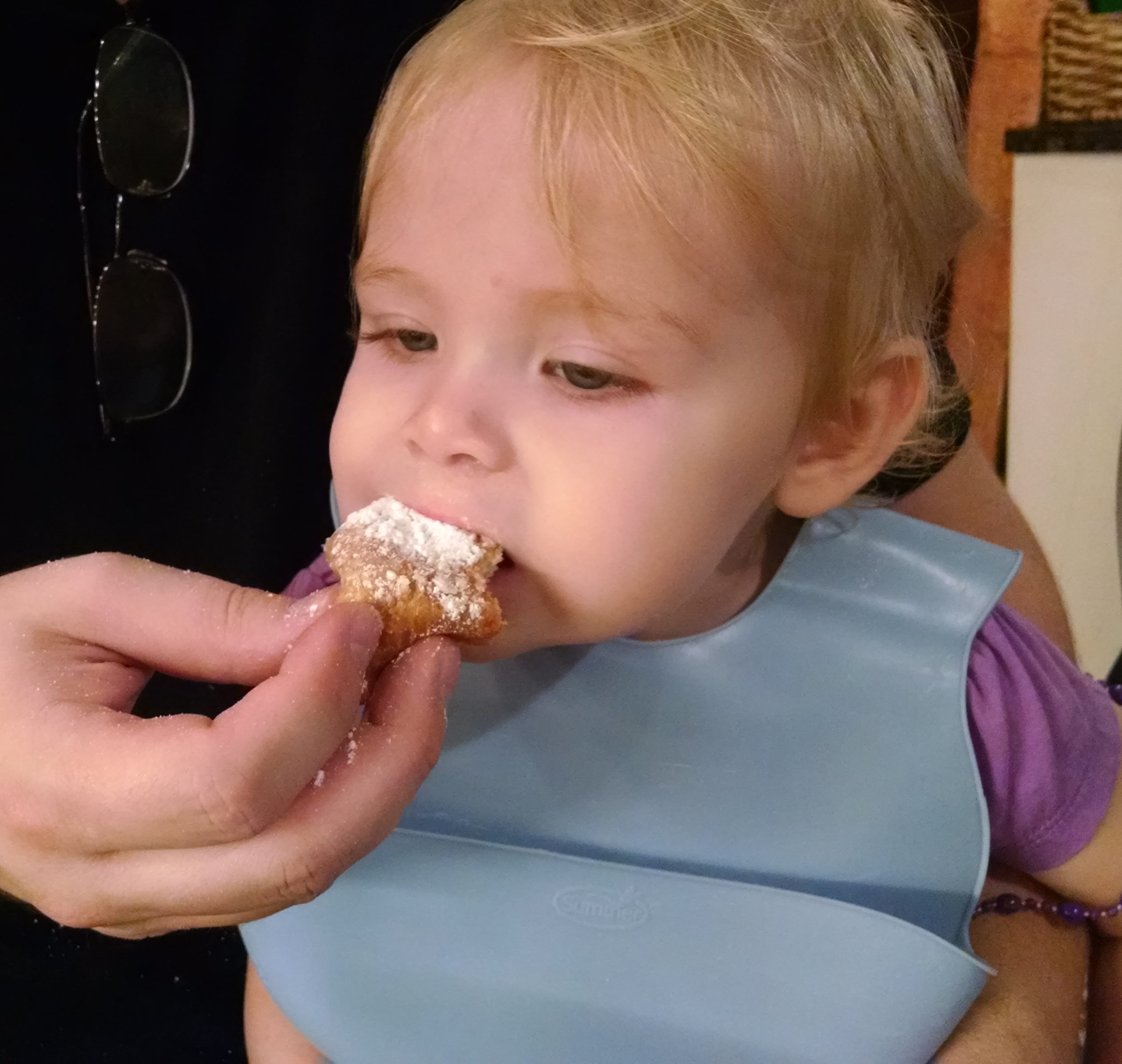 Our last stop in New Orleans was the Gospel Brunch at the House of Blues. I appreciated hearing about the history of gospel music from Lyle Henderson, especially how so many of the songs (about salvation, deliverance, freedom) had double meanings in their original context of slavery. The main show's evangelist/gospel singer Linda Wright poetically compared blues music to gospel music, explaining that the former asks questions to which the latter gives answers. It could have been an awesome morning of worshiping the Lord, but our kids were a little too close to the speakers and didn't handle it too well, so we ended up leaving a little before the concert ended.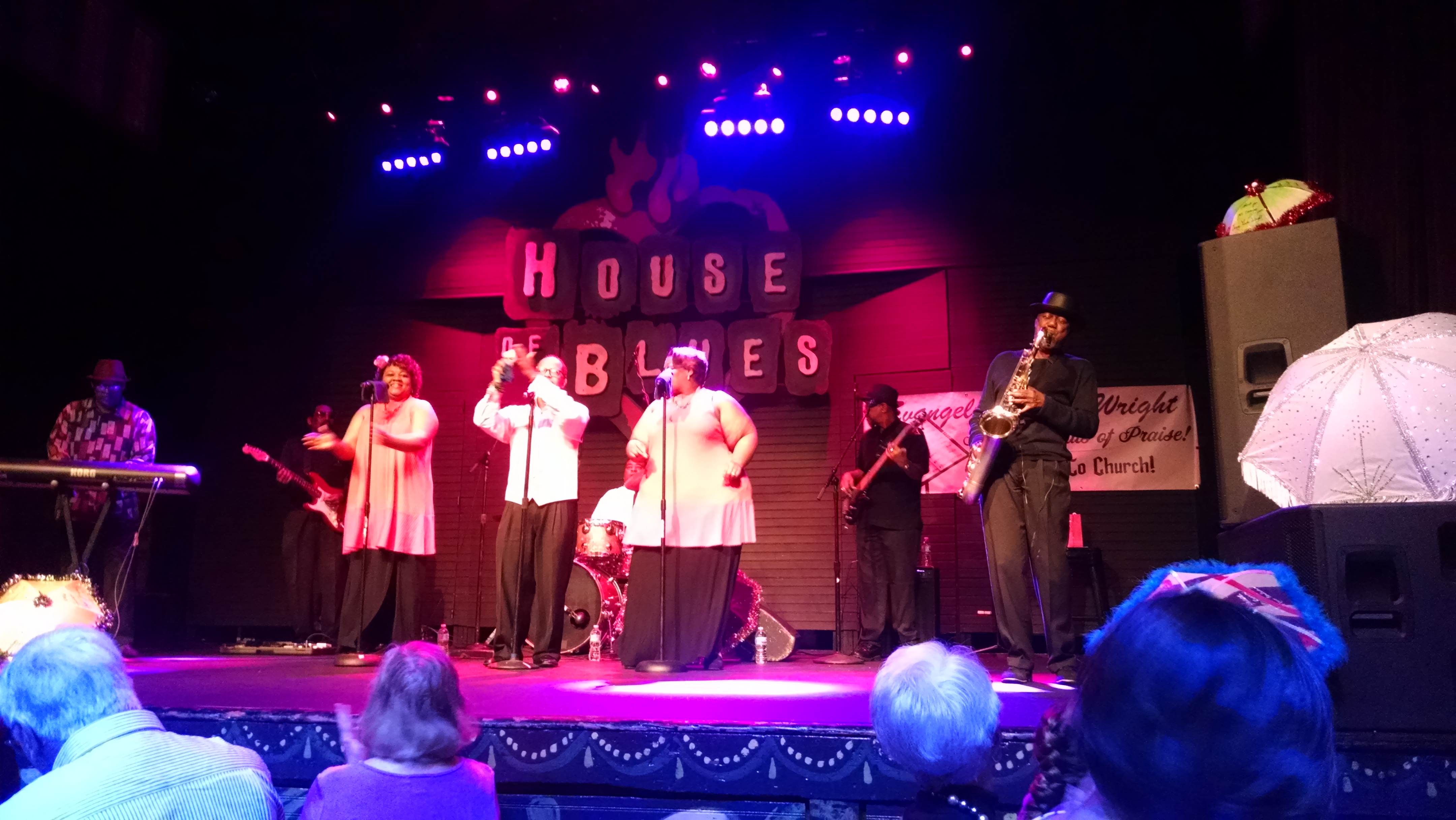 From there, our road trip took us to Houston.
Houston. Man, it is big.
Driving in at night on Interstates 10, 610, and 45, Abby and I drove for many minutes in silence, overwhelmed by the magnitude of the task before us to relocate here, to start over in many ways. Overwhelmed as ones who are leaving the 1,214th-largest city in the country to move into the 4th largest are overwhelmed. We have lived here. We met here, in college. But it's still a big adventure in faith that is mostly overwhelming at the moment. We're frequently reminding ourselves and each other that God is in control and has us in his grip.